Fall Decor But Make It Vintage – Autumn Home Tour
Take a tour of my home all jazzed up for fall and see how I added autumnal touches to my existing vintage and antique decor!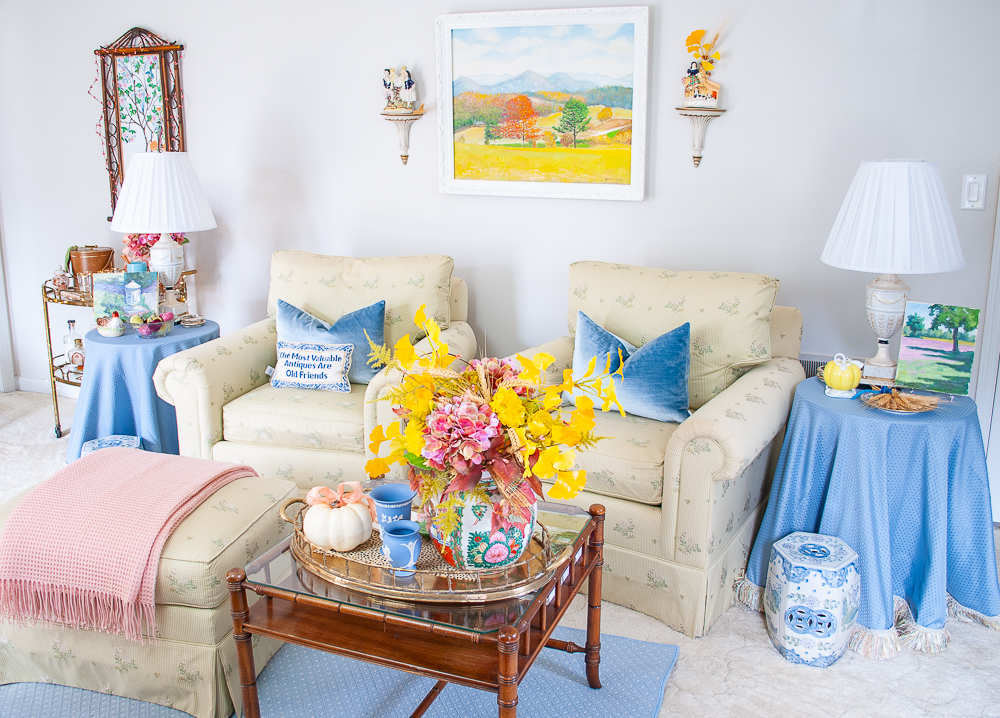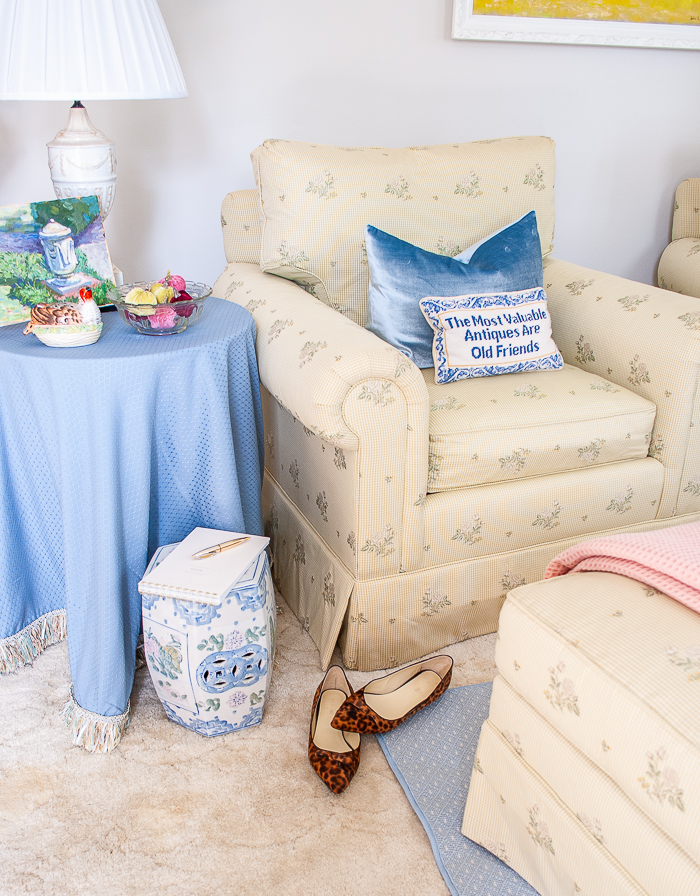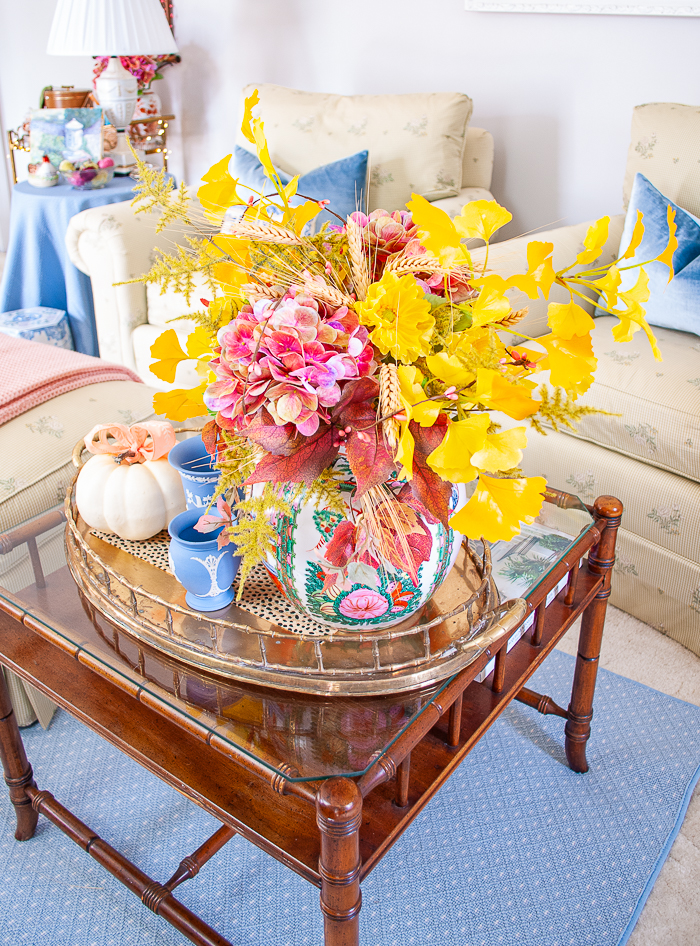 It's a Colorful Life Fall Blog Hop
20+ Bloggers & Their Fabulous Fall Homes
Welcome to My Autumn Home Tour!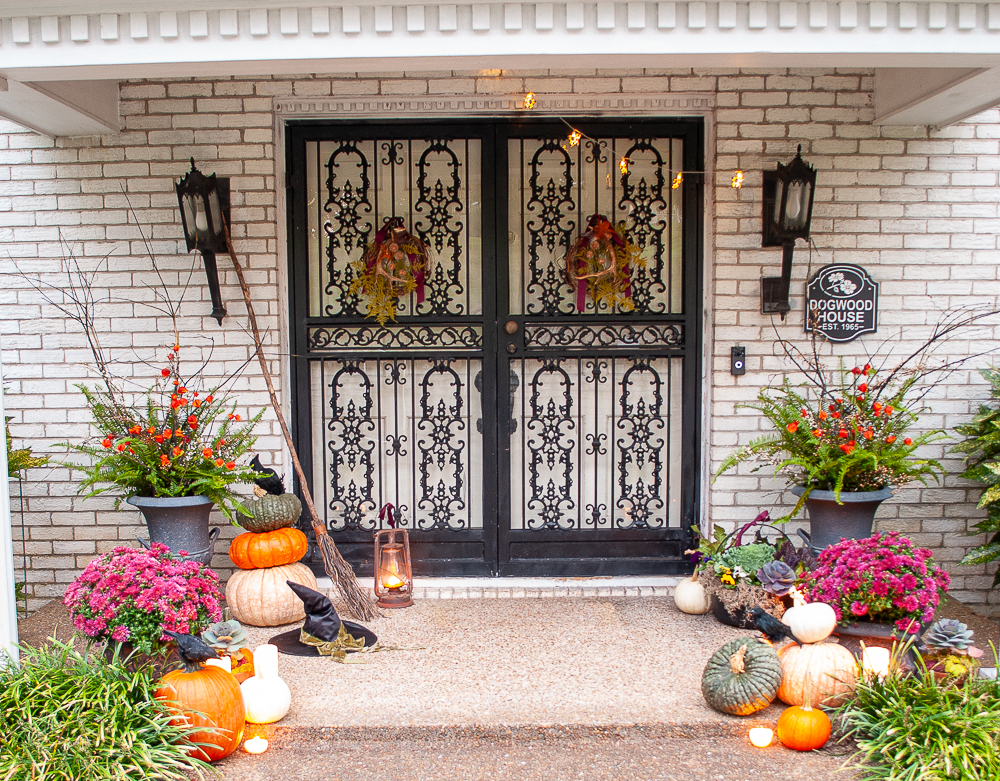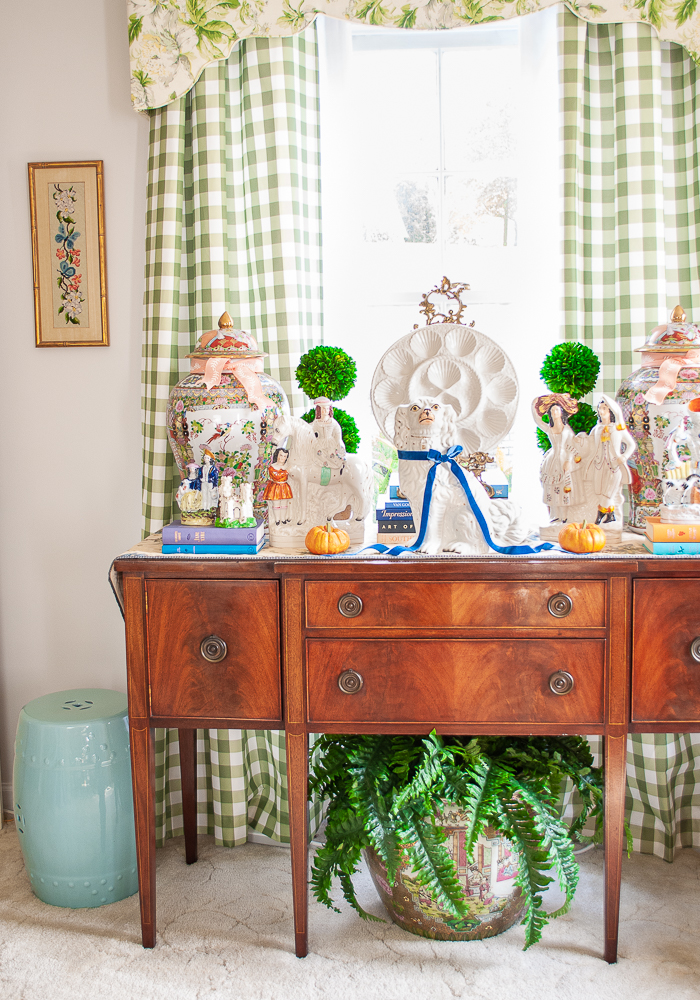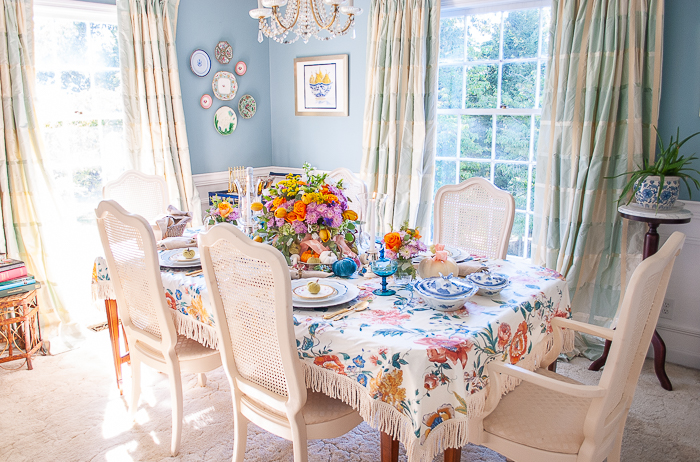 October is here and so is fall! I am beyond ready for the crisp, cool air and beautiful leaves. How about you?
This week, I've teamed up with 20+ bloggers to share our homes decorated for fall in the It's a Colorful Life Tour blog hop. Thanks to Jennifer and Jewel for organizing us! If you are stopping in from Carmel's, I'm glad to have you! Wasn't her porch just gorgeous?
As an added bonus this year, YOU can participate in our celebration of autumn too! Simply use the hashtag #ItsaColorfulLifeTour on an Instagram post during this week. On Friday Oct. 16th each member of the Home Tour will feature a few of their favorites on their own IG. Be sure to tag me, so I see your post!
For my autumn home tour, I'll be sharing my witchy front door, my formal living room, and my autumn tablescape.
A Witchy Front Door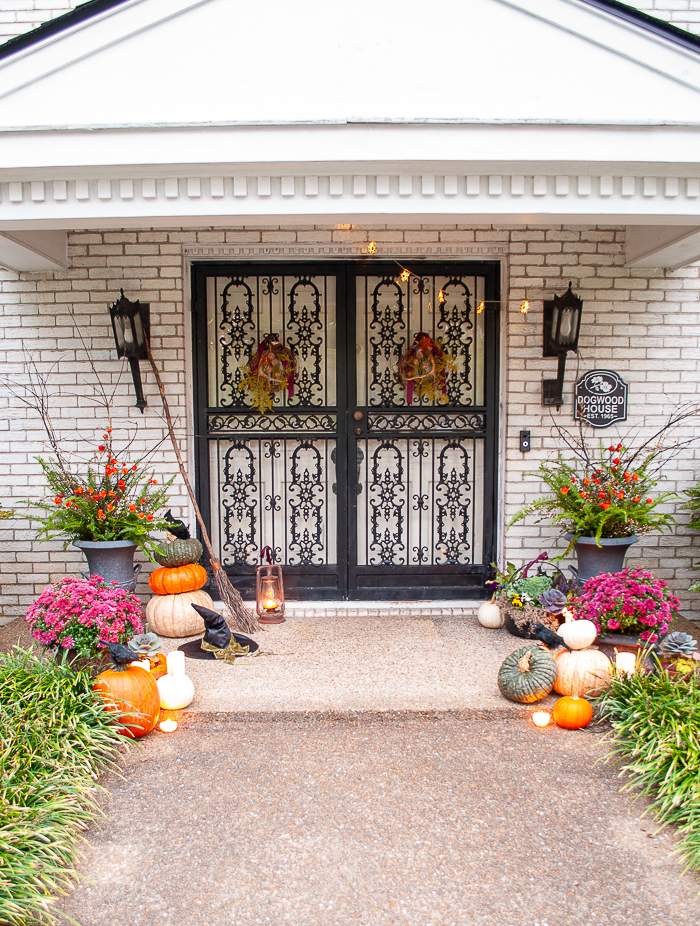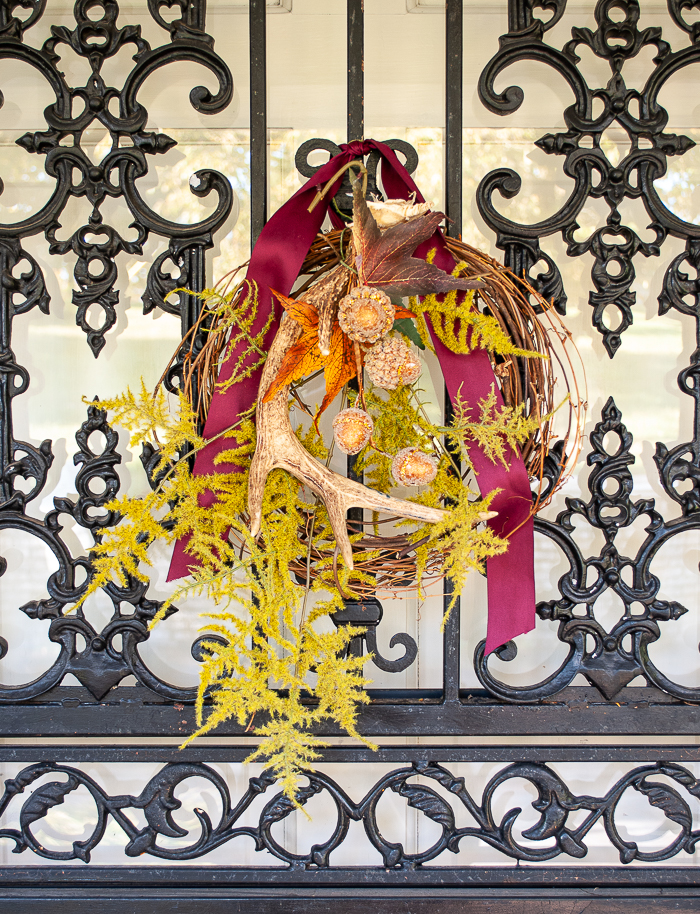 Feeling inspired by one of my favorite films, Practical Magic, I decided to create a witchy front door worthy of Sally, Gillian, and the Aunts! I wanted the decor to echo the botanical feel of the set and feel Halloween appropriate, but refined and just a bit supernatural.
The witchy feel is really created by the broom, hat, and lantern. It looks as if one of them has just come in the door and tossed aside their hat and broom.
Want to see my witchy front door aglow with candlelight? See it here!
Autumnal Touches in My Living Room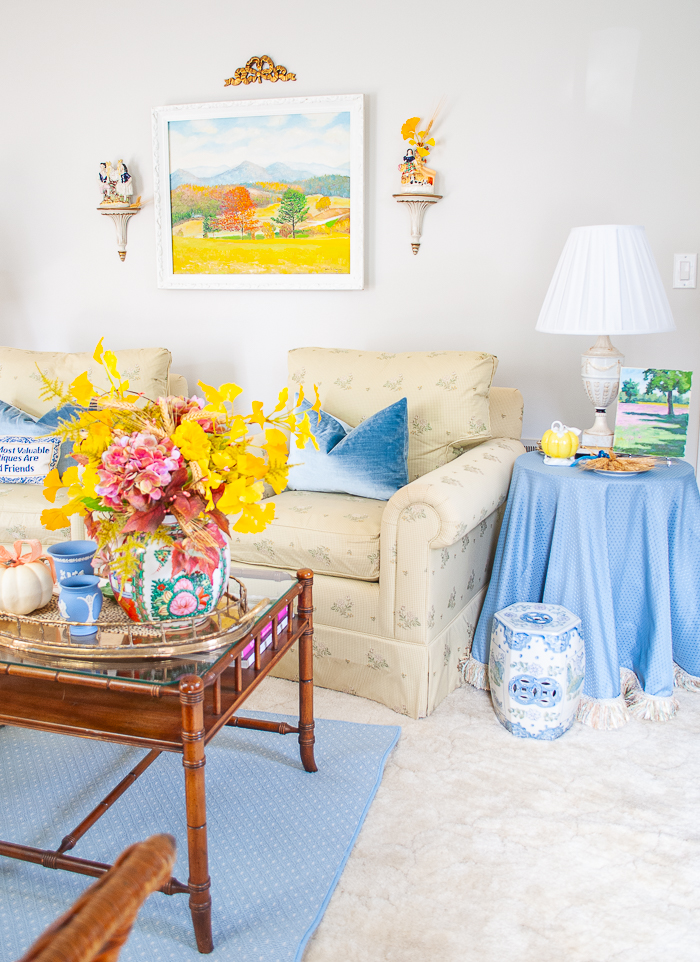 The first stop inside my home is the formal living room. My goal this year was to show you easy ways to add little autumnal touches to your vintage and antique decor. The three main things I used:
No. 1 Ribbon
No. 2 Faux Florals
No. 3 Pumpkins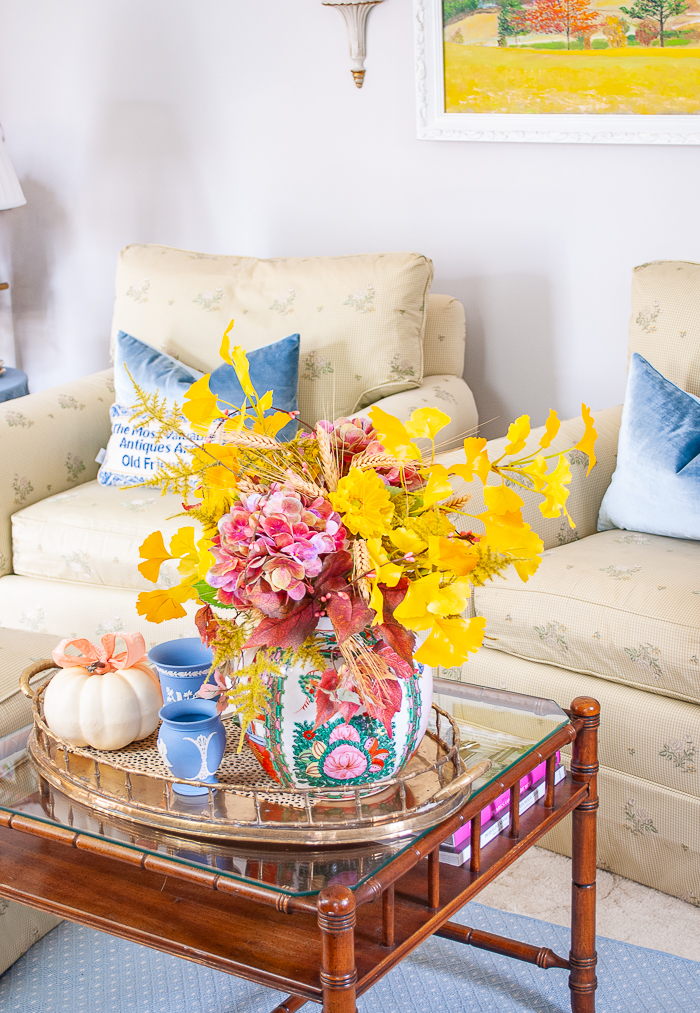 On my coffee table, I styled my vintage brass tray with Wedgwood, Majolica, and a Rose Medallion ginger jar. In the jar, I created a vibrant fall themed faux floral arrangement. It is filled with yellow poppies and gingko leaves, mauve colored hydrangea, burgundy maple leaves, and golden wheat. The florals really make a bold autumn statement.
On the side table, a vintage Mottahedeh ceramic pumpkin and a simple bouquet of wheat tied with a blue velvet bow create the autumn decor. I placed the bouquet in a Rose Medallion plate, which makes the bouquet feel especially elegant! There are several Rose Medallion pieces available in my shop, including this plate.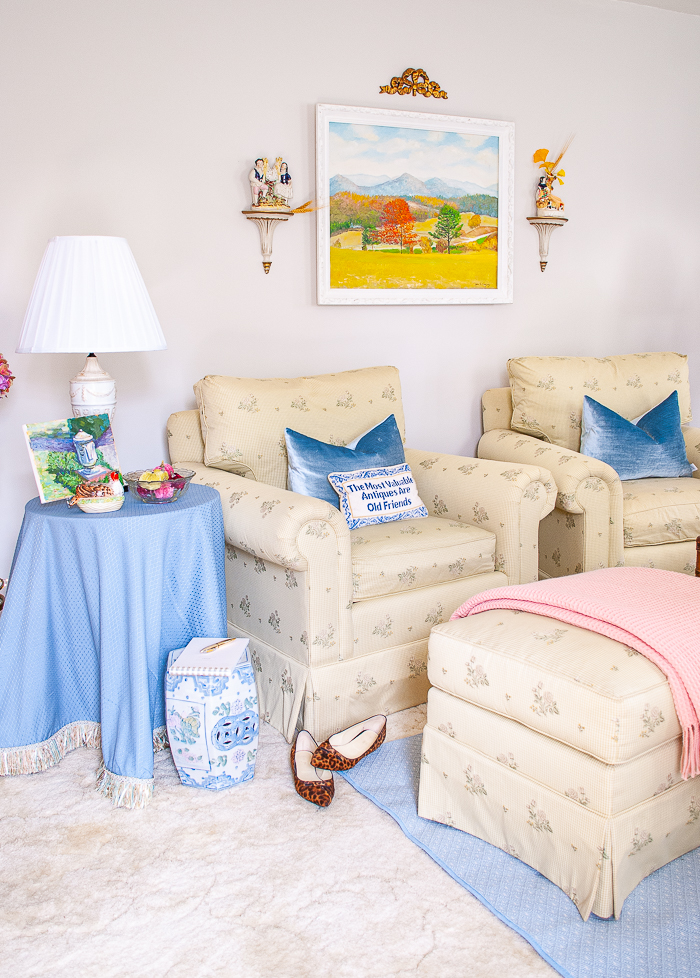 I also added a little touch of fall to my Staffordshire flatbacks, tucking gingko leaves and wheat in the spill vase.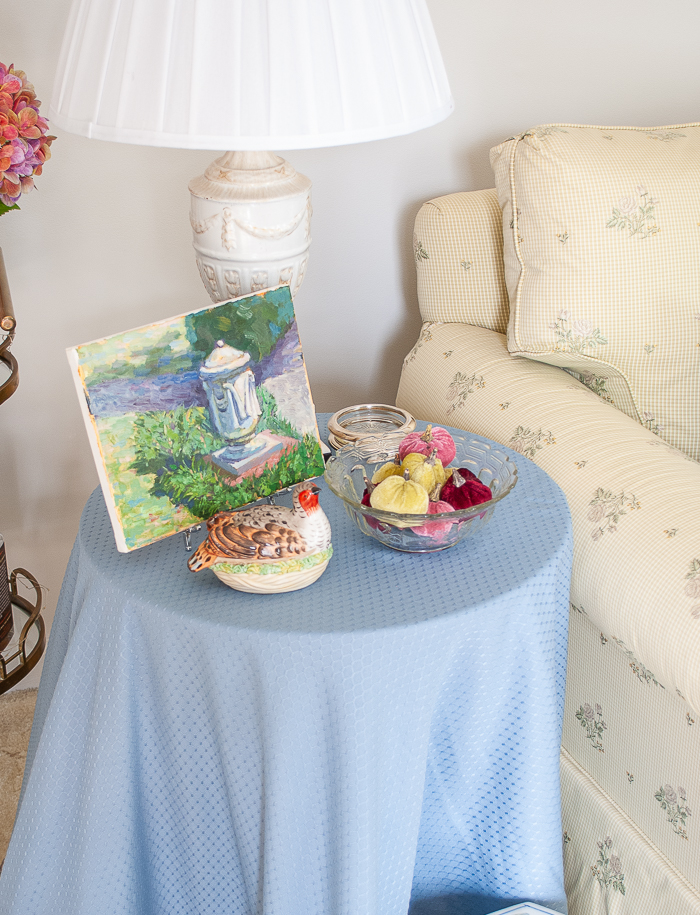 The autumn touches on this side table include a Mottahedeh quail box and an oak leaf glass bowl of velvet pumpkins. I used velvet pumpkins on my mantel as well, and this helps connect the two areas. To see the fall mantel click here.
This is a really important design trick by the way. Using a decorative element like velvet pumpkins or a type of ribbon throughout your house makes your spaces feel cohesive and emphasizes the theme.
Fall Decor on the Bar Cart & Sideboard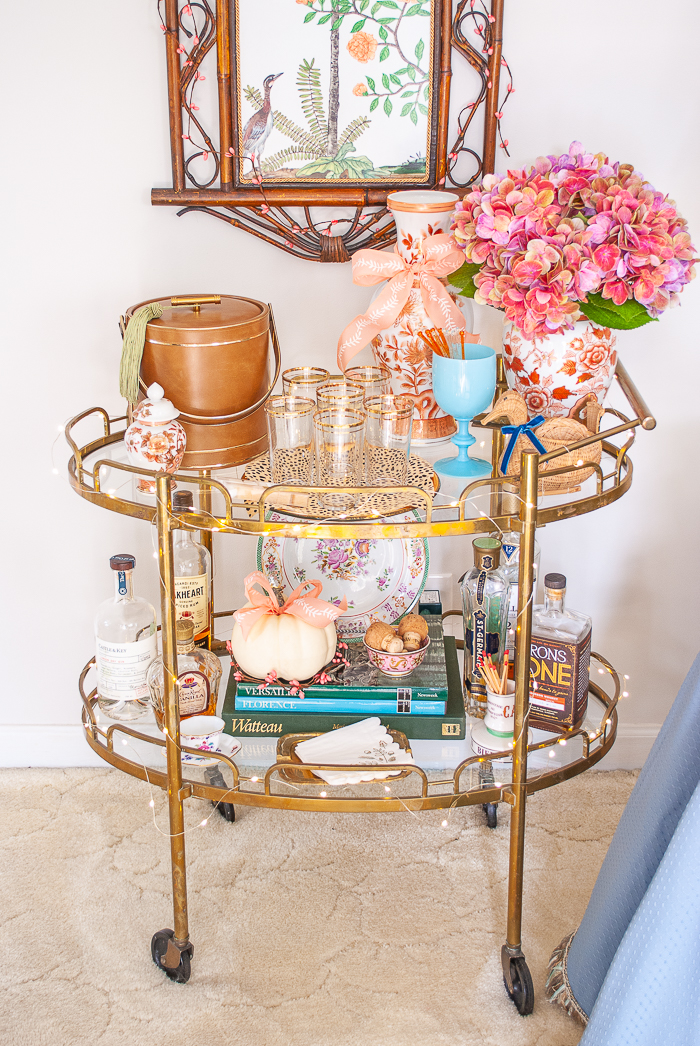 To make my vintage brass bar cart feel special for the season, I brought out my collection of coral and orange Chinese jars, my wicker turkey coaster basket, and added a white pumpkin on the bottom shelf tied up with a pretty pink bow.
Pretty ribbon instantly makes a faux pumpkin feel charming!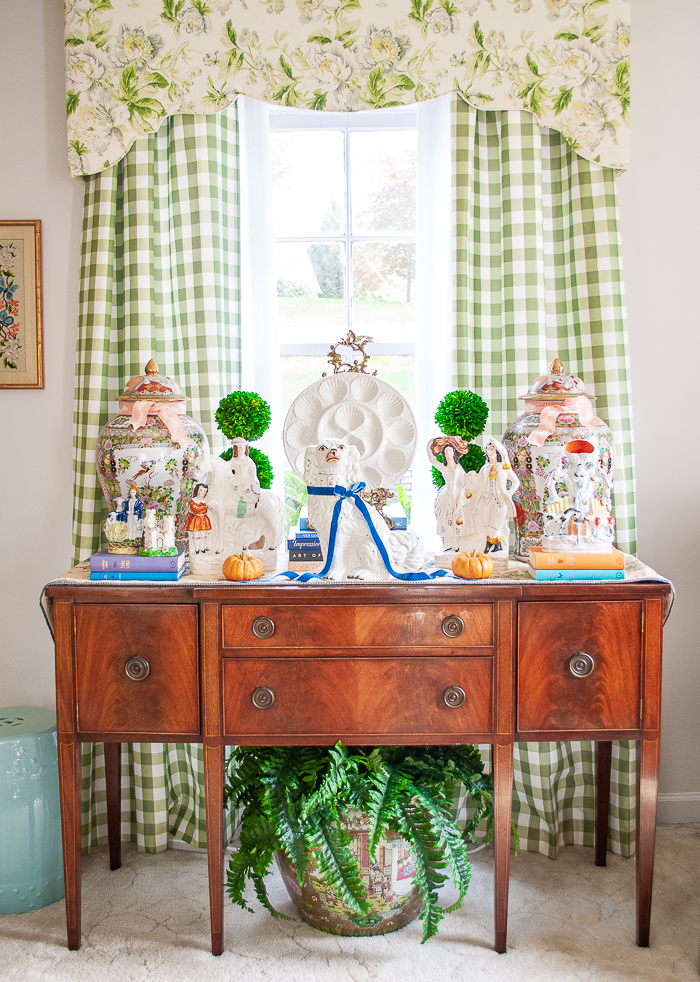 Just last week, I acquired this gorgeous mahogany sideboard! I am thrilled with how it looks in my living room, which is a long narrow space. The sideboard sits opposite my large china cabinet and now the room feels more balanced. I also love the opportunity for display and decorating the sideboard gives me!
For the autumn home tour, I displayed my collection of Staffordshire flatbacks on the sideboard paired with a pair of large Rose Medallion temple jars and a vintage oyster plate. For autumnal touches, I added some orange pumpkins and gave my spaniel a jaunty blue velvet bow.
A Fall Table with Pretty Chintz & Pastel Hues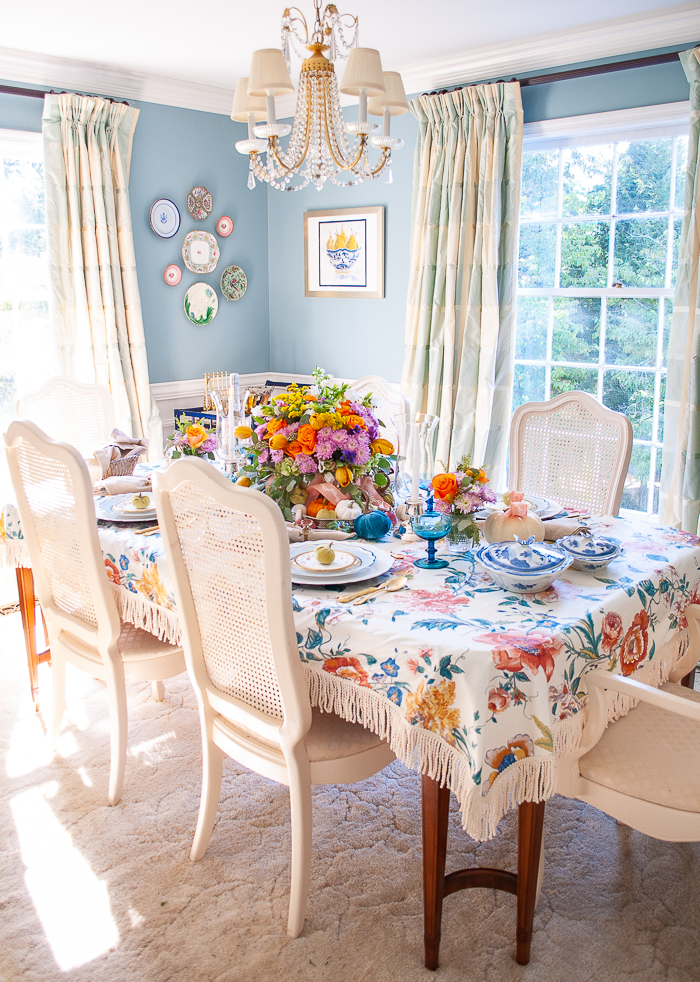 The next room in my autumn home tour is the dining room, which is connected by a door to the living room. This is a bright and airy space that we added wainscoting to and painted Interesting Aqua from SW.
For fall, I created a lush pastel tablescape, using a vintage chintz fabric that I made into a tablecloth (DIY tutorial here). The table is set with vintage tableware, gold flatware, aqua coupes, and more pumpkins.
The floral centerpiece really steals the show in my opinion. I arranged fresh mums, tulips, hydrangea, and roses in a lush display. Watch my video here to learn how to make it.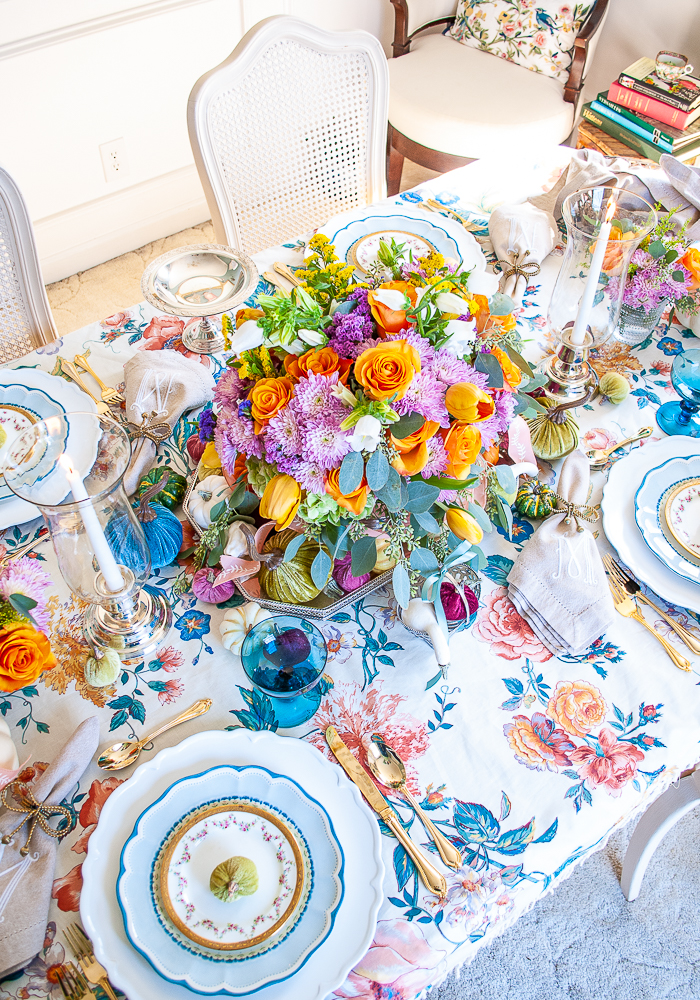 All the details about my fall tablescape are in this post.
Well friends, that is it for my autumn home tour. I hope you got some ideas on how to add autumnal touches to your vintage and antique decor to make it feel special for the fall season.
Several of the curios I used here are available over in my shop. Be sure to check it out if you are shopping for vintage and antique decor!
The next stop on the It's a Colorful Life Home Tour is the vibrant and color filled home of Sara at SKG Designs.
The Full Schedule of It's a Colorful Life Home Tour | Fall Edition is below:
MONDAY:
TUESDAY:
WEDNESDAY:
FRIDAY:
Join us on Instagram by following #ItsAColorfulLifeTour
[ttfmp_woocomerce_product_grid section_id="builder-section-productgrid_127″ columns="3″ type="all" taxonomy="tag_autumn-decor" sortby="date" count="6″ thumb="1″ rating="0″ price="1″ addcart="1″ paginate="0″ arrows="1″ dots="1″ autoplay="1″ delay="6000″ transition="scrollHorz" background-color=""]