Cocktails & Queries with Holly Holden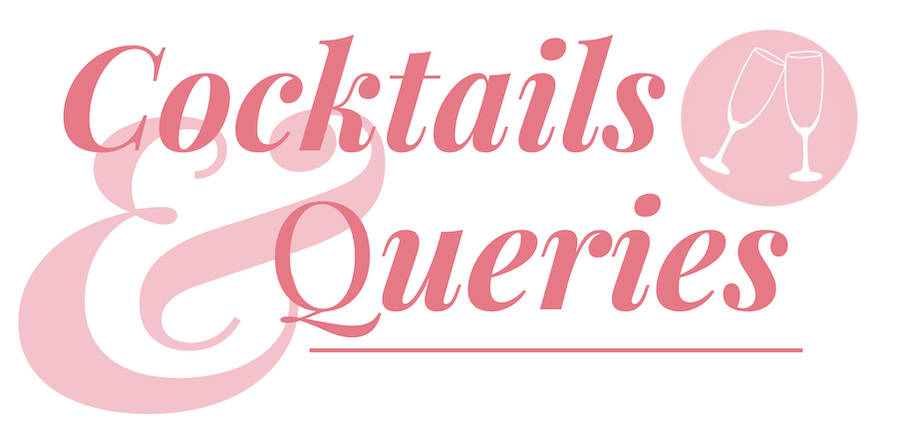 Welcome to a new series here on Pender & Peony…Cocktails & Queries – where we chat with inspiring female leaders in business, design, art, and fashion! The idea is to have a casual cocktail with a lady I admire and think has some sage advice to offer us.
I will be sharing the full interviews here on the blog, but part of the conversation will air live over on my Instagram. Watch for those announcements on social.
————————————–
On Friday, I had the amazing opportunity to speak with Holly Holden. She is a fellow pink lover and fabulous maven of classic design. Her new book Pearls of Palm Beach just came out, and it is a stunning peek inside some truly gracious homes on that island.
Holly is an interior designer, author, executive producer and host of her Emmy Award-nominated PBS television series, "You Are Cordially Invited". The show is a must see –a real treat! The series features privately-owned castles and palaces in England, including Blenheim Palace and Highclere Castle (aka Downton Abbey).
Her interior design company, Holly Holden & Company, Ltd. (an ASID member), features classical interiors for an international clientele. Her first book, The Pretty Proper Living Room is in its second printing. You should sign up for her weekly e-newsletter, Mummy's Monday Manners and Lovely Living.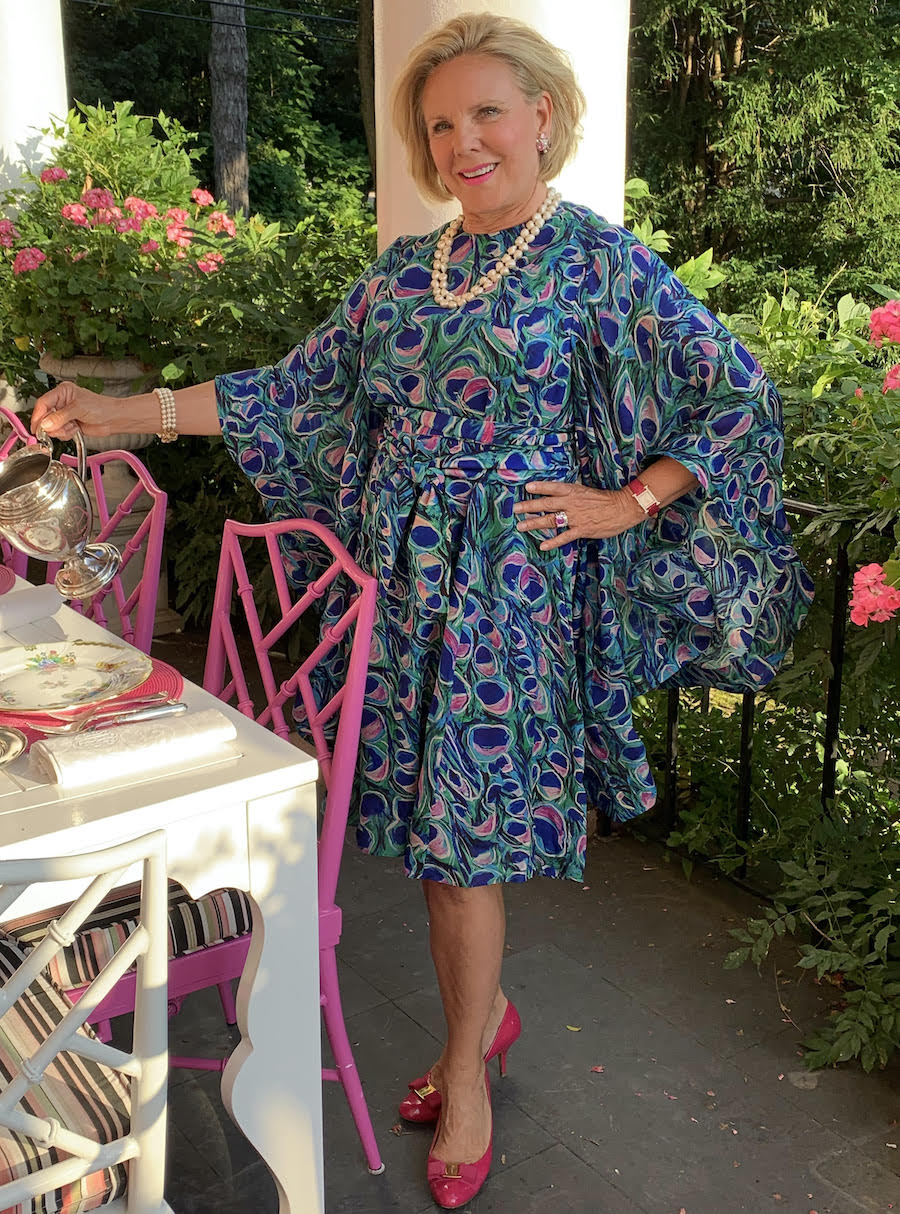 So grab a glass of champagne and let's see what Holly has to share!
My Full Interview with Holly Holden:
Did you always want to be an interior designer? (Tell us about your epiphany moment)
Holly: Isn't it amusing that sometimes when things come easily to you, it is easy to ignore them! I was a political science major at Mount Vernon College in Washington, D.C. before I finished with a BS in Business from the University of Richmond. At Mount Vernon College, there was a strong interior design department which had a stellar reputation. My friends and classmates were all studying it, and I remember saying to myself, why would I study that? It is so easy! I would enjoy helping them with their homework, though!
So, the short answer is no, I did not always want to be an interior designer. I saw myself marrying a Senator and living on The Hill! Glad that did not transpire! The long answer is that once I married my darling Stuart (we just celebrated our 45th anniversary this month!) and moved to Connecticut, we started renovating our first (out of four!) historic house. Soon after, friends asked me to design for them. It was then that I realized that it was a natural for me. What I had learned from my parents, who had impeccable taste, and who took me on trips all over the world, came out naturally in my design aesthetic.
What is your process like for designing a space?
I love making others happy by creating interiors that tell their story, and bring them joy!
Holly: I adore traditional design. As a girl, I only wanted to play classical piano music, and balked when my new teacher asked me to play contemporary music. Not that I cannot appreciate it (Motown being my favorite!), but there is a certain sense of comfort, and an emotional relationship that I have when I play classical music, to this day. My mantra is that I like to design once…. for a lifetime! That being said, my clients know in advance what I excel at, so they choose me. I work with the most extraordinary clientele and am so fortunate! I love making others happy by creating interiors that tell their story, and bring them joy!
I meet with the clients, or we have a phone/Zoom consultation, and discuss what it is that they want to create, how they envision living in the space, and if they plan to entertain in the space. I want to grasp an understanding of their desires and dreams. I ask them to look through books and magazines and share with me what they like and dislike. This is extremely helpful as a picture really is worth a thousand words, and more! Then, I visit the space. We discuss details more in depth , and then the exciting part is when I present my storyboard for the first round of what they like and do not like. It all comes together soon after that meeting, because I can then interpret and suggest what hopefully they will love!
How do you take classic design and make it feel fresh?
Holly: I think by making the walls and trim neutral, in either white or pastel tones, and lots of wood floor exposed around the carpet, the space will make antique furniture and accessories look as if they are in a more up to date. Also, simple curtains without ornate valances, or too many swags and jabots. Even though they are understated in design, they are still elegantly trimmed with a tape or quiet adornment.
What makes a home feel gracious?
Holly: First of all, it is the people who own the house. We as human creatures can instinctively feel if someone is real and wants us to feel comfortable. No velvet ropes, is what I like to say. You can have a formal house, but if you are not comfortable in it, then your guests will not be either. A house that tells a story about you, from the artwork, to the colors selected, room arrangements, and decorative accessories all tell a story. A house that is void of photographs and personal collections, to me, is sterile, and most likely, just like the owners!
What do you collect and why do you treasure it?
Mummy always said that everything tastes better on silver (and especially with candlelight!).
Holly: OH, goodness, my husband and I enjoy collecting many things… and most of all, we adore sharing what we collect with friends and family. I adore British sporting art, as a horseback rider, and I can never have enough horses surrounding me! We collect English George III antiques, along with American antiques.
My great grandmother collected extraordinary silver, and I too am attracted to silver. Mummy always said that everything tastes better on silver (and especially with candlelight!). Our c. 1803 Federal house, Fox Hall, is the perfect backdrop for foxes, as in paintings and sculptures. We entertain non-stop…. well, that is until COVID arrived. I adore giving parties and using what we collect to make our guests feel special and give them a memorable time.
For someone just starting to decorate their home and collect antiques, what's your best piece of advice?
My advice is tried and true, from buying at auctions all over the world for my clients and for Fox Hall: Only buy what you LOVE! If there is hesitation, don't be tempted. If you think you are buying as an investment, be sure you love it, so that even if it goes down in value, you will be proud that you purchased it and continue to enjoy it.
Holly: Also, if you are buying at auction, my husband and I both concur how important it is to see the item in person before buying it. Only once or twice have we not gone to the viewing, and because of that negligence, have always regretted the purchase!
When we were furnishing our first house, we were in NYC and I spied the most gloriously beautiful blue and white dragon rug from China. My husband said to me at that time, we can either get the rug and have an empty living room for a year, or we don't get the rug and get some furniture to sit upon instead. I chose the rug. I called the living room a "prayer-room" because I would go in and pray for furniture. To this day, I adore the rug, which remains in the living room of our fourth historic house, Fox Hall!
What do you think about the grandmillennial movement and traditional design making a "come back"?
Alleluia to Grandmillennials… we speak the same language which is creating an inviting interior that tells a story!
Holly: I have always believed that George III, also referred to as "brown furniture," is timeless. Like classical music, it just does not go out of style. It can easily be tweaked with the addition of contemporary artwork, a lucite table or a Christopher Spitzmiller gourd lamp. Alleluia to Grandmillennials… we speak the same language which is creating an inviting interior that tells a story! I am beyond thrilled that a younger generation is now seeing why purchasing classical, traditional furniture is such a clever way to furnish one's home, versus what is offered at furniture stores, most of which does not hold its value and are cheaply made. Those pieces will not stand the test of time.
If you could only do one thing to make your home feel magical for the holidays, what would it be?
Holly: Fill it with family and friends and have a blacktie party! That is our tradition, along with a band and dancing in the ballroom! If you are referring to decorative accessories, I adore small little vignettes sprinkled about the house on various table tops. Sometimes the smaller the decoration, the more joyous it is in an understated way.
Using fresh greens and oranges with cloves arranged in a silver Revere bowl, or a red apple topiary with boxwood in between and a pineapple on top as a table centerpiece are some of my most favorite decorations, an old fashioned Santa ornament surrounded with spruce cuttings from the garden, or my spiced rosemary southern pecans in silver porager cups are also wonderful!
What is your go to cocktail?
Holly: Stuart and I enjoy collecting wine, French Bordeaux and Burgundy wines in particular. So, we do not have a go-to cocktail, unless you call Veuve Clicquot champagne our version of a cocktail! We like to commence all our events with champagne.
We have an English antique wine-serving table in our dining room so that when we have a large party, we offer an assortment of open bottles of wine for our guests to help themselves to and enjoy tasting. We also have a large silver Revere punch bowl filled with our secret "Holden Punch" recipe, which is a tradition at our parties… so much so that it is a disappointment for our guests if we don't offer it!
What piece of common sense has helped you succeed?
I call these secret tips "inherited manners." They are not necessarily found in books, but they will give you a quiet, understated polish, along with confidence to be in any social circumstance.
Holly: Actions speak louder than words… that is what my father instilled in me since I was a child. Don't talk about it, just do it, and do the best you can. I like to underpromise, over perform, and keep my clients delighted with exceeding their expectations. In Mummy's Monday Manners and Lovely Living, my weekly e- newsletter, I share not only the etiquette tips that have been passed down from mothers to daughters (and sons) through generations, but also secrets for regal refinement. I call these secret tips "inherited manners." They are not necessarily found in books, but they will give you a quiet, understated polish, along with confidence to be in any social circumstance. I am grateful to my parents for what they shared with me.
When I created, hosted and produced my PBS television series about masterpiece privately owned castles and palaces, You Are Cordially Invited, (which is still airing nationally), knowing these secrets was invaluable! From attending a dinner at Buckingham Palace, to filming with Lady Carnarvon at Highclere Castle (aka Downton Abbey), to filming at Blenheim Palace with Lady Henrietta Spencer-Churchill, knowing the roadmap to polished manners was a treasure to be cherished!
Favorite travel destination?
Holly: I travel to England quite often to visit my daughter and her family, and to film for my TV series. The architecture, the countryside, the gentility… England is a utopia for me! Paris is the place my husband and I savor every year when we visit for a month, as we never tire of visiting museums, walking the city, dining and enjoying the romantic aspects of the city of lights.
What are your sources of daily inspiration?
Holly: Nature gives me such inspiration! I adore walking in the woods, galloping on a horse over fields, fishing in streams, hiking mountains, swimming in lakes… nature speaks to me and inspires my creativity. I am most grateful to be able to enjoy all that New England has to offer, especially with the seasons.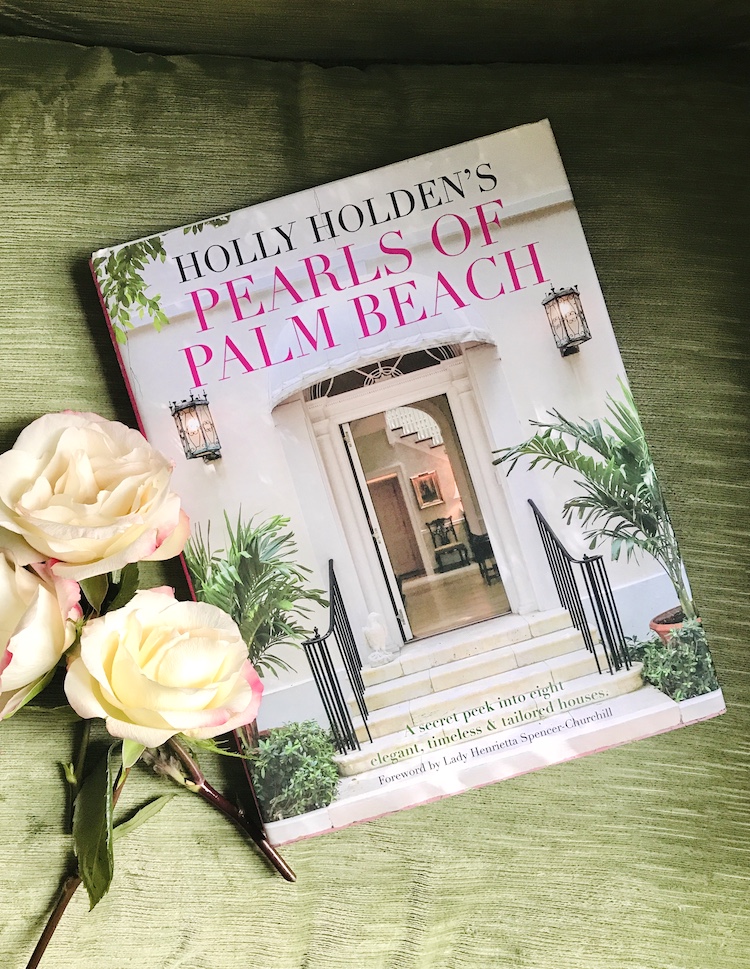 What project are you most proud of?
Holly: My family, which includes my three children, their spouses, and eight gorgeous grandchildren! The project that I am also quite proud of is having written two books, most recently, Pearls of Palm Beach, which just debuted this July. A teacher in my prep school told me, in front of my classmates mind you, that my paper was alright, but that I would never write a book. Oh, it felt so grand to finish my second book, and to also author a weekly newsletter for almost two years. I am honored by the sponsors that we have garnered for my newsletter, including the New York Social Diary, The Glampad, Elizabeth Gage Jewels from London, and The Enchanted Home. All of the sponsors, and subscribers, are near and dear to my heart. I hope you might inspire your brilliant blog followers to sign up for my newsletter, too! The more the merrier… it's a party for all!
Where will we see you next? ( Tell us about upcoming projects)
Holly: What a grand question! Well, when my horse died after riding him for 30 years, I learned how to fly a helicopter… and, recently I learned how to play polo, and now, we are planning some launch parties for my new book, Pearls of Palm Beach in Palm Beach in December… depending on the COVID situation, that is. I am really putting all of my energies into my Mummy's Monday Manners and Lovely Living newsletters… and getting such satisfaction seeing it grow so rapidly. I would love to bring it to television someday, as I have so much to share!
This or That:
Coffee or ✔️ Tea
Definitely Countess Grey loose tea from Fortnum & Mason in London.
Early Riser or ✔️ Night Owl
I do most of my best work late at night… through the night! Maybe because there are no distractions and I feel like I own the time!
✔️ Biscuits or Scones
OH, I love to make biscuits, which comes from my years of living in Richmond, VA. A dinner party is not the same without biscuits!
✔️ Lipstick or Nail Polish
Hot pink lipstick is a must from the moment I get out of bed until I go to sleep… I almost feel naked without it. I never have nail polish on my fingers… it just isn't done in England (but my toes will always have pink nail polish on them!).
✔️ Chintz or Stripes
Definitely a chintz girl… I can't get enough. It will never go out of style.
✔️ Silver or Brass
Silver is my middle name, and everything tastes better when served on it! I find it appropriate for any occasion. I would even bring cupcakes to my childrens' sports games on silver trays because it does not break!
✔️Wallpaper or ✔️ Paint
It depends on the room. I am a big advocate of wallpaper for a bathroom, dining room, hallway, and even a bedroom, but never in a living room.
✔️Mountains or ✔️ Beach
We have a ski house in Stratton, Vermont, so I do enjoy the mountains, but also love the beach!
Flats or ✔️ Heels
At 5'3", heels are my best friend. My Ferragamos, with their signature grosgrain bow on the front, feature the perfect heel size and are made in the greatest assortment of pinks, among other lovely colors. I have worn them for over 25 years, especially the black patent leather which I wear as my work shoe and play shoe… they are like slippers. With patent leather, I can wear them on a job site, cleaning out a horse stall, or even to a Garden Club meeting.
Speaking of slippers, there is no shoe, in my opinion, that is as comfortable as a Belgian Shoe… the ultimate flat that I wear all summer, and when I travel. They have such happy colors, and a match made in heaven with Lilly Pulitzer patterns.
——————————
Holly Holden and I also chatted on Instagram Live, talking decorating, entertaining, and collecting. You can view that conversation on my IGTV- click here!
I'm so grateful to Holly for sharing her knowledge, experience, and impeccable taste with us. I hope you enjoyed learning more about her and found something inspiring in her words. I know I sure did!