Rose Medallion 101: Building a Collection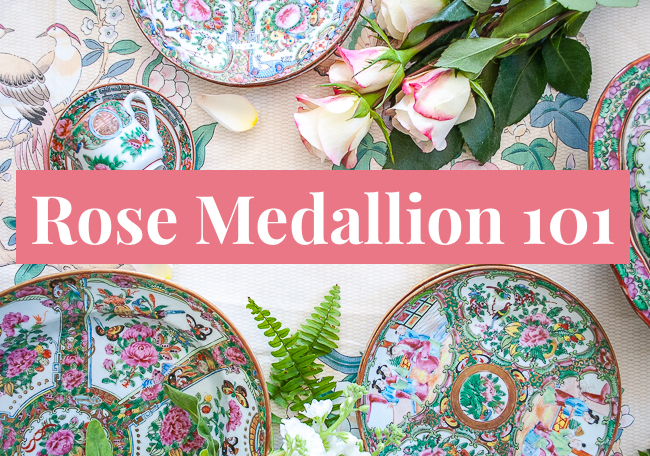 A Collector's guide to understanding and buying Rose Medallion.
What makes Rose Medallion so appealing?
Is it the darling details? The whimsical flora and fauna? The curious figures strolling about in gardens? Or perhaps the vibrant play of colors?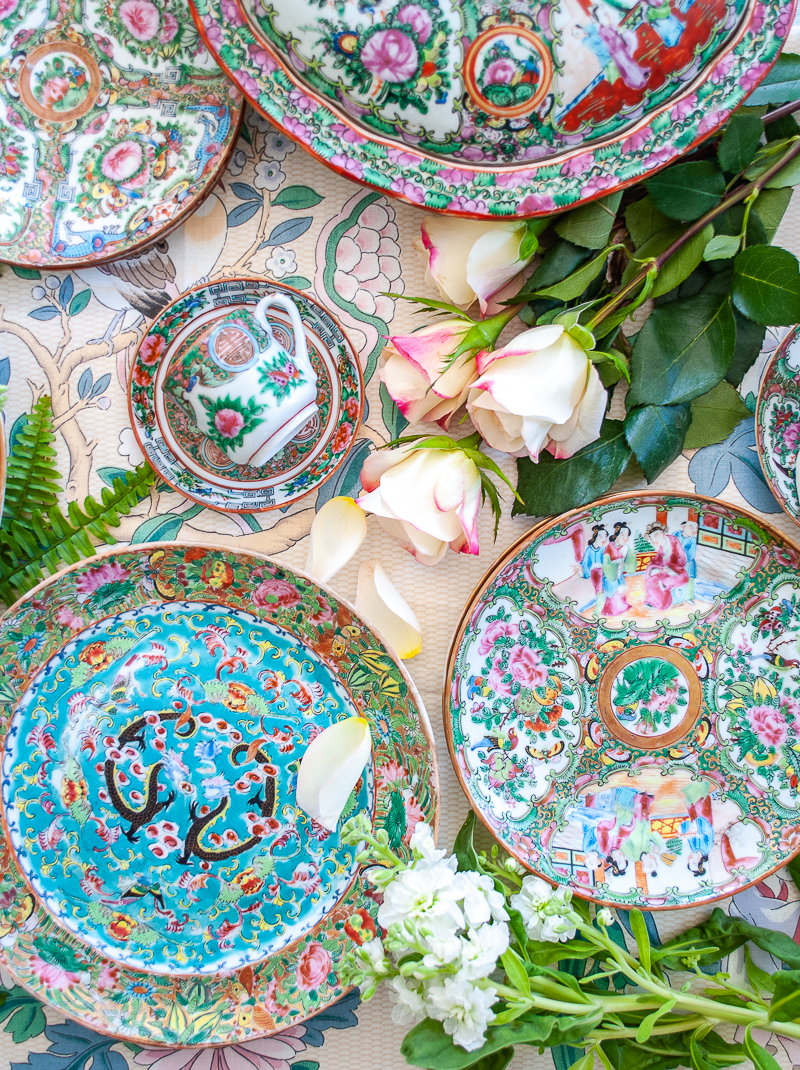 No doubt the appeal is a combination of all of these characteristics, and really it is quite hard to define the je ne sais quois of a well painted Rose Medallion porcelain. It just has a pleasing quality and a verve that is captivating!
After all, this style of Chinese porcelain has commanded rather steady popularity for more than two centuries among lovers of stylish design and Chinoiserie. Of late Grandmillennials have revitalized this love affair and found much to admire in the vibrant palette, whimsical motifs, and pretty luster.
If you've been captivated by the spell of Rose Medallion and want to learn more about these porcelains, then this article is for you! Whether you've already started your collection or are just beginning to shop around, it is critical to understand the history of this porcelain style, how it is made, and what makes it valuable.
Every collector wonders: Am I getting a good deal…paying too much…buying a true antique?
In this guide to Rose Medallion 101, we'll explore those fundamentals as well as examine the differences in patterns, the symbolism of motifs, and the evolution of styles. But most importantly, I hope to set you up with strategies to determine the age and quality of a Rose Medallion porcelain.
If you need help decorating with your Rose Medallion collection, read this post!
Rose Medallion 101
A Rose By Any Other Name
Well…if we are talking about Rose Medallion, it is not actually a rose, but a peony! The rose in Rose Medallion refers to the color, and the actual flower depicted in the pattern is a peony - the national flower of China.
Let's talk terminology: Rose Medallion is a style of porcelain or china pattern, if you will, that developed in the first quarter of the 19th century, about 1820 or so. It was produced as part of the Chinese export market largely for European and American consumers.
The term Rose Medallion gets widely applied to a group of patterns with similar characteristics that were all part of this export production, but there are actually specific names for those patterns, and they all can be grouped under the umbrella category of Famille Rose.
Think of Famille Rose as the genus and the subsequent patterns as species— related but not the same!
Famille Rose (The Rose Family) is a French term applied to Chinese enamel decorated porcelains first produced in the early 18th century that utilized the newly introduced pink or rose colored enamel along with a palette of enamels in green, blue, aubergine, and yellow. These overglaze low-fired enamel paints were known to the Chinese as "fencai" or "yangcai" depending on the time period, and they are notable for the opaque quality that blended powdery white to produce soft gradations in color.
Click the plus sign to use the accordion drop down and read about each of these topics:
Rose Medallion 101 -Determining Age & Quality
This has to be said in a Rose Medallion 101 collector's guide no matter how many times you've heard it before:
The best way to become familiar with Rose Medallion and other Chinese porcelains is to handle lots and lots of them! Go to auctions, antique fairs, and museums. Talk with dealers about what makes a piece old and special. Find a trustworthy regional auction house and go to their previews. They will let you touch things, and they have subject matter experts who are happy to expound on the details and history of a piece!
Most of my knowledge comes from years working as a registrar in a museum and in an auction house where I was able to see and feel different forms from different periods and learn from curators. Be aware that there are always exceptions to every rule. Not any one of these factors is in and of itself a complete determination. Rather you have to look at all of these indicators in a piece, how they related to each other, and in comparison to other examples.
Don't expect to nail a particular porcelain down to an exact date unless it has an established provenance. Ranges of dates, for example mid to late 19th century, are acceptable.
Here are some key factors to be aware of when trying to determine age and quality of your Famille Rose piece:
Attention to Detail
Rose Medallion and Canton are highly intricate patterns, featuring layers upon layers of delicate painting and multi-faceted borders. The intricacy declined over the course of the 19th century. Experts agree that the facial and clothing details on the figures became less defined as well as the depictions of the birds. In earlier pieces, figures often have gilt outlining in the hair and softer more discernible expressions, while birds are shown with longer tails and defined feathers. The designs between the reserves are also usually tighter and more intense towards the beginning of the 19th century.
The Color Orange
Another notable development over the course of the century and particularly evident in 20th century productions is the increasing intensity of the color orange. This color frequently appears in older pieces and newer ones as the floor of a figural scene, an accent to butterfly and bird wings as well as the rim color. Over time the orange becomes more reddish and more acidic.
Take a look at these two teapots! The one on the left is 19th century and the other is 20th century. Note the changes in colors.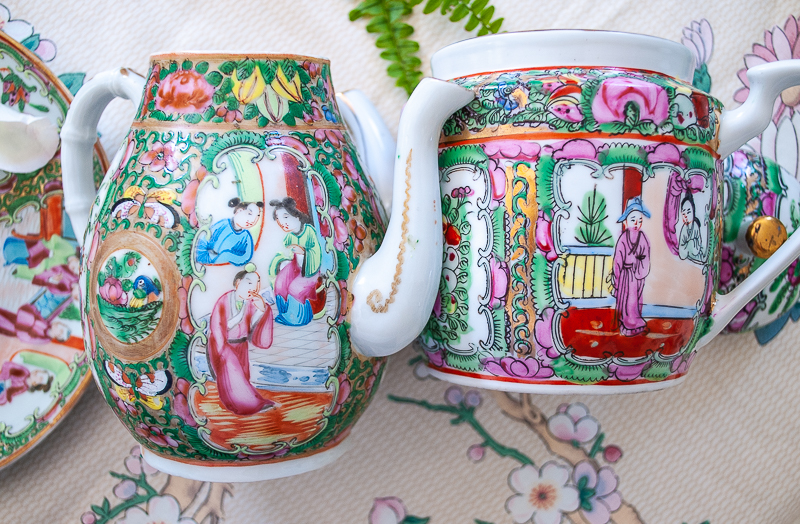 Weight & Shape
Porcelain for the Chinese export trade was fairly weighty and sturdy in the early 1800's but over the course of the century it became lighter.
Many of the forms for porcelain were derived from European silver, especially tableware pieces like gravy boats, teapots, and pitchers. Ken Rivenbark's Southern Heirloom series shows some fabulous examples of this relationship.
Marks
Early Chinese export porcelains are by and large unmarked on the bottom. As part of the United States' McKinely Tarriff Act of 1890, imported goods had to be marked with the country of origin, so you will commonly see pieces after 1891 with a red mark on the bottom of the porcelain stating "CHINA." After 1919, pieces were required to bear a "Made in China" mark — at least those pieces intended for the U.S. market.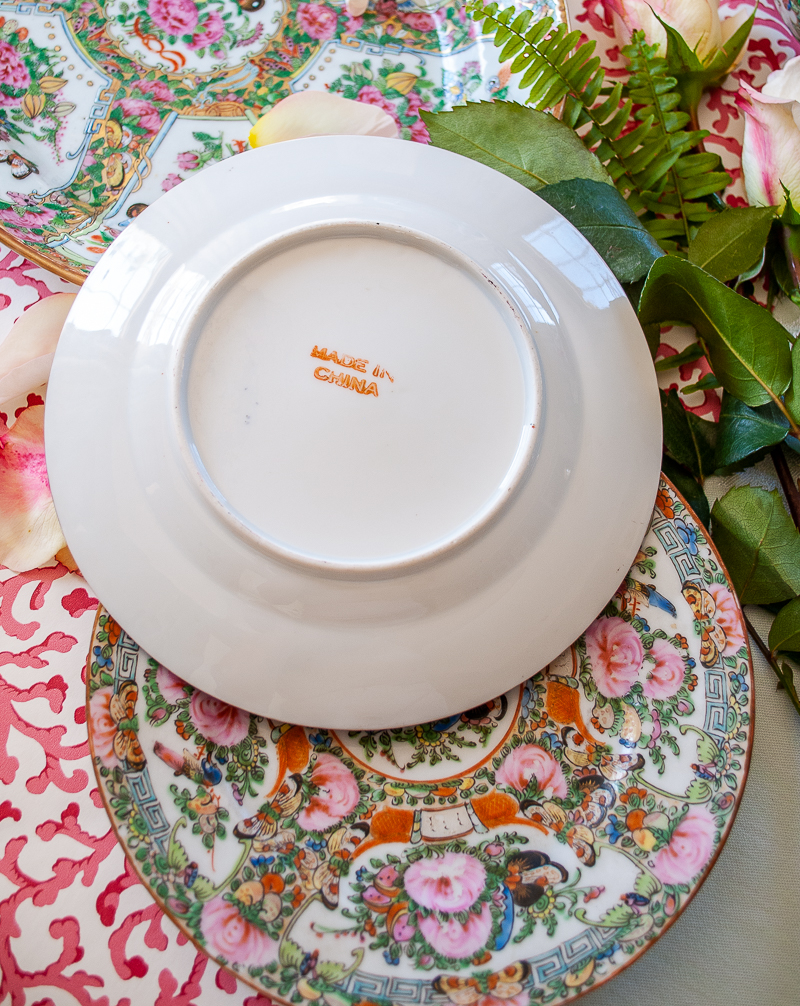 By the mid-20th century it is quite common to also see a Chinese character or seal mark for the factory where it was produced or you might even see an emperor/dynasty mark for the Qing although these pieces were produced after 1950 or so. For more on identifying late 20th century marks read this.
It is important to understand that marks or lack there of are not in and of themselves the determining factor to a piece's age or quality. Marks were often filed off of later pieces or altered. An early 20th century piece not intended for the American market might not have the "CHINA" or "Made in China" designation. Dynasty marks were often used to dedicate the ceramic as homage to an earlier emperor. These are just a few examples of the dilemmas with marks and dating!
Common 20th century marks:
ACF or YT - This mark indicates the porcelain body was made in Japan, but painted in Hong Kong. The porcelain trade in Hong Kong reached a peak in the 1960s and at this time demand was so high that workshops had to import plain porcelain forms from Japan to meet it. By the mid 1980s, this production slowed.
Macau - You will see a wide variety of more inexpensive enameled porcelains with a made in Macau mark on the bottom in enamel or paper form. This indicates the porcelain body was usually made elsewhere and then decorated in Macau. This production line really began in the 1950s and continued until the end of the 1980s.
Some notable characteristics of Macau porcelain are more cloudy or opaque enamels and a less "Chinese style" of decorations. Sometimes the borders in particular seem to have a Middle Eastern influence.
Click the plus sign to use the accordion drop down and read about each of these topics: