5 Tips to Set a Glam Halloween Table
Dreaming up a fabulous Halloween party this year? Start with a glam Halloween table to dazzle your guests with some spooky style!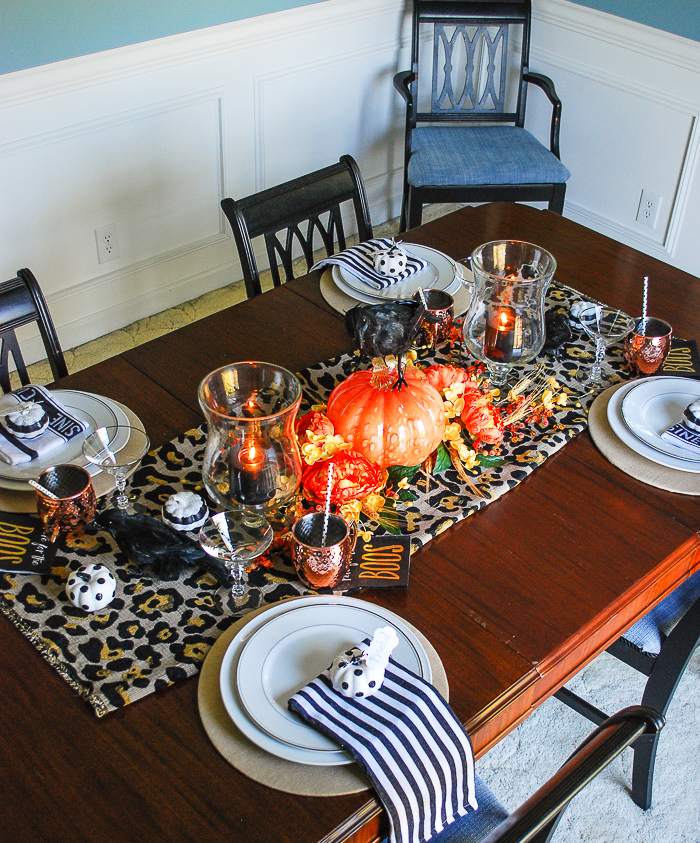 Happy Halloween! It is never too early to start planning for fall festivities, and with the start of October it's the perfect time to think about your Halloween plans. I'm sharing 5 tips to help you set a glam Halloween table perfect for a spooky dinner party.
The fabulous thing about Halloween is you can go funky or eclectic, full on goth or simply playful. There are so many options with this autumn holiday. This year I've opted for a glam look with a traditional orange, black and white color scheme filled with funky pattern play and dramatic florals.
For that spooky element, I placed some creepy crows around the table and perched on top of the glass pumpkin as well as black candles for a touch of goth. Silly cocktail napkins that say "Here for the Boos" and black and white painted pumpkins keep this glam Halloween table cheeky.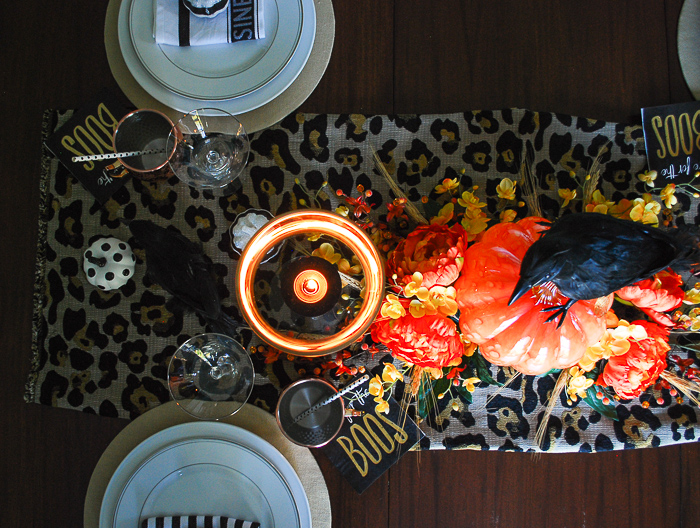 I'm using this same budget friendly centerpiece for my autumn table. See the transformation here!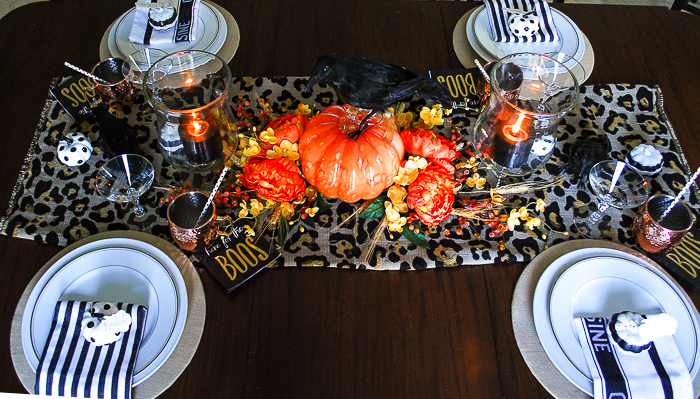 This Halloween tablescape is all about the pattern play and layered texture. The leopard print runner and the linen chargers set the color scheme and anchor the eclectic mix, while the black and white dishtowel napkins play up the palette. The fabrics, florals, and mixed metallics create the varied textures.
I actually made the fabric chargers. See how in this post no sewing or painting involved!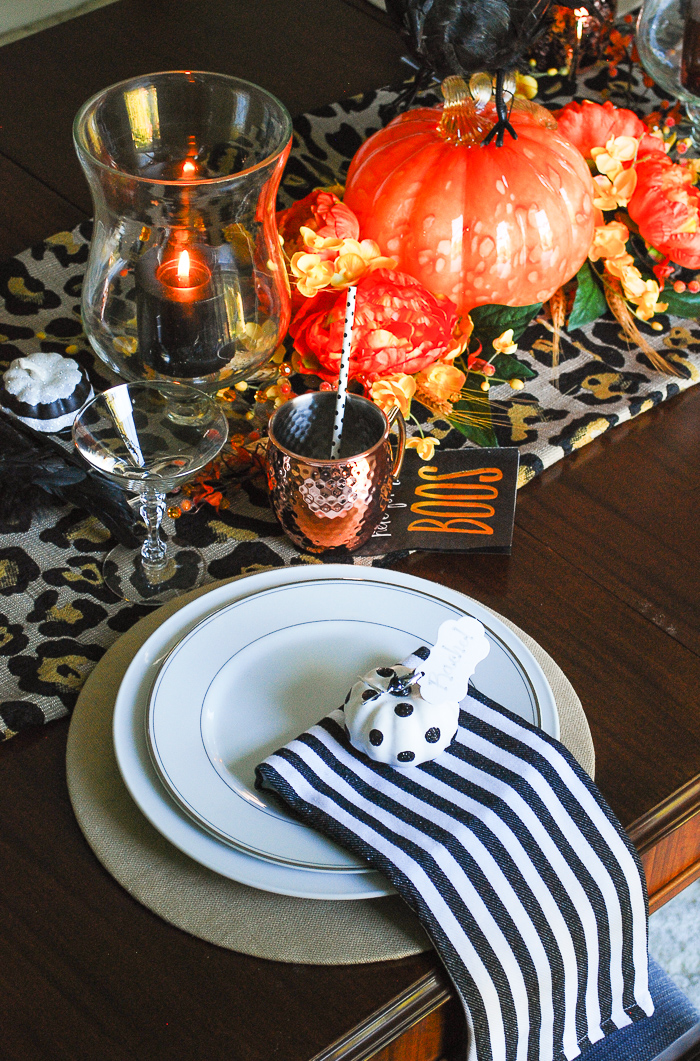 5 Tips to Set a Glam Halloween Table
No. 1 Choose a Classic Color Scheme
By classic I mean something recognizably Halloween. You could opt for black, white, and orange like I did here or go for something more goth like black and red. Purple is also a spooky stylish choice!
No. 2 Mix Your Metallics
Glam is all about the bling bling, so you simply must amp up the drama with bright metallics. Use all three ( silver, gold, and copper) in small touches like on the rims of stemware and china to keep your Halloween table chic.
No. 3 Play with Bold Patterns
Like I mentioned earlier, Halloween is permission to go a bit funky, so get playful with your patterns, mixing stripes and polkadots with leopard print and even florals. Keep your colors neutral or within the same palette so that the whole table harmonizes.
No. 4 Candlelight is Required
This one is obvious, but still worth mentioning because flickering candlelight is so important to set the spooky mood! Opt for candles in unique colors like black, orange or purple to play up your spooky style.
No. 5 Add Dramatic Florals
Bring on the glam with dramatic florals in rich colors like orange, yellow, red, purple or even black. These orange peonies simply glow when layered next to the glass pumpkin and on top of this neutral leopard print. Use faux flowers to keep the tablescape longer or fresh ones if you are only decorating for an event.
My Glam Halloween Table Shopping Sources:
*Affiliate links to the products I used and love!*
Glass Pumpkin – found mine at T.J. Maxx for $14, here is a similar one.
Florals: yellow orchids, orange peonies
Fabric – I snagged this remnant from the bargain bin at Hobby Lobby. Here is a link to buy online -be warned it is $$.
Cocktail Napkins – couldn't find exact ones online, but these are even better… Witch Please!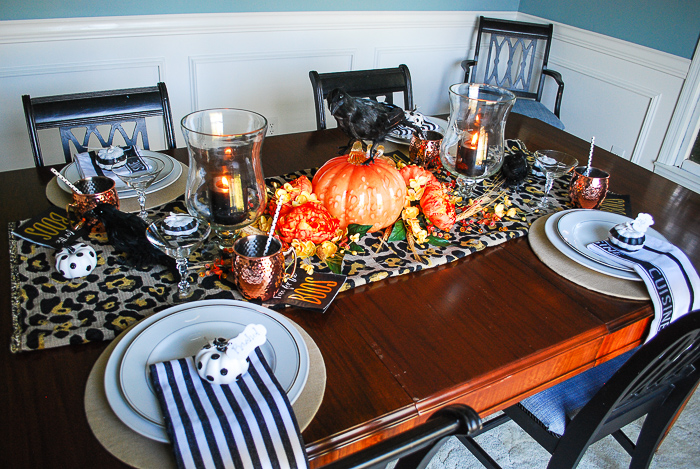 Partying with the Dedicated House…Between Naps on the Porch…
SaveSave