Budget Friendly Pumpkin Centerpiece Fall to Halloween
This budget friendly pumpkin centerpiece under $50 will take you from fall to Halloween to Thanksgiving with just a few easy change-ups!
Pumpkin Centerpiece for Fall: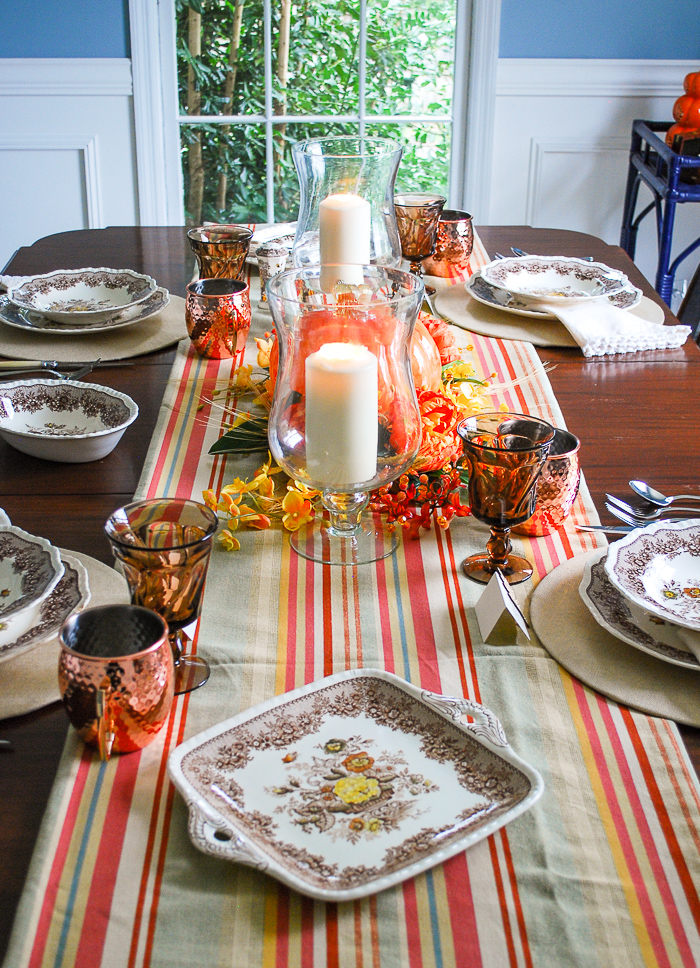 Pumpkin Centerpiece for Halloween: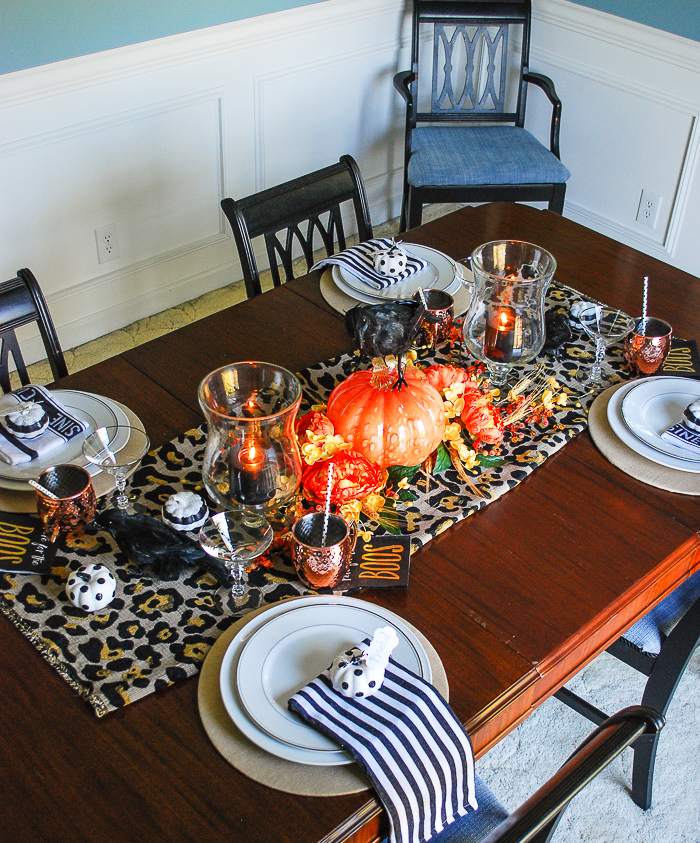 If like me you love decorating for the autumn season and all the holidays up ahead but find yourself short on time then you need quick decorating solutions that you can easily transition from one event to the next. This budget friendly pumpkin centerpiece created from a darling glass pumpkin and fall florals will do just that! With a few simple change-ups you can transition your table from fall to Halloween to Thanksgiving using the same centerpiece.
Don't get me wrong, I love decorating with real pumpkins and flowers, and I'll share some more fall decor featuring those soon, but this year I needed decor for the table that I could leave sitting and not worry about. Thus I opted for this gorgeous glass pumpkin in a vivid orange for only $14. It just sings autumn to me and when the light hits it, the pumpkin just glows…so pretty!
I surrounded the pumpkin with cheery fall florals, including orange peonies, yellow orchids, fall berries, and wheat stems. Just snip the stems on the peonies and cut apart the berries and orchid bunches then layer them around the glass pumpkin. The variety of florals and natural elements add texture and visual interest to the centerpiece, creating a lovely autumn mix.
Oh! Did I mention this little table decoration is easy on the wallet?
Budget Friendly Pumpkin Centerpiece Price Breakdown:
Yellow orchids $5 x 2
Orange peonies $3.50 x 4
Fall berries $3.50 x 2
Glass pumpkin $14
Total cost = $45
I already had several sheafs of wheat, so I snipped a few heads off of a big bunch I bought last year. You can find affordable bunches at T.J.Maxx!
Want to see more of the Halloween tablescape? I'm sharing the full look with details and tips to set a glam Halloween table in this post!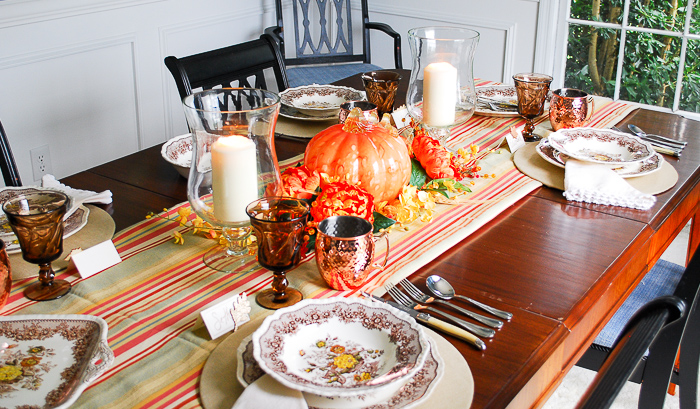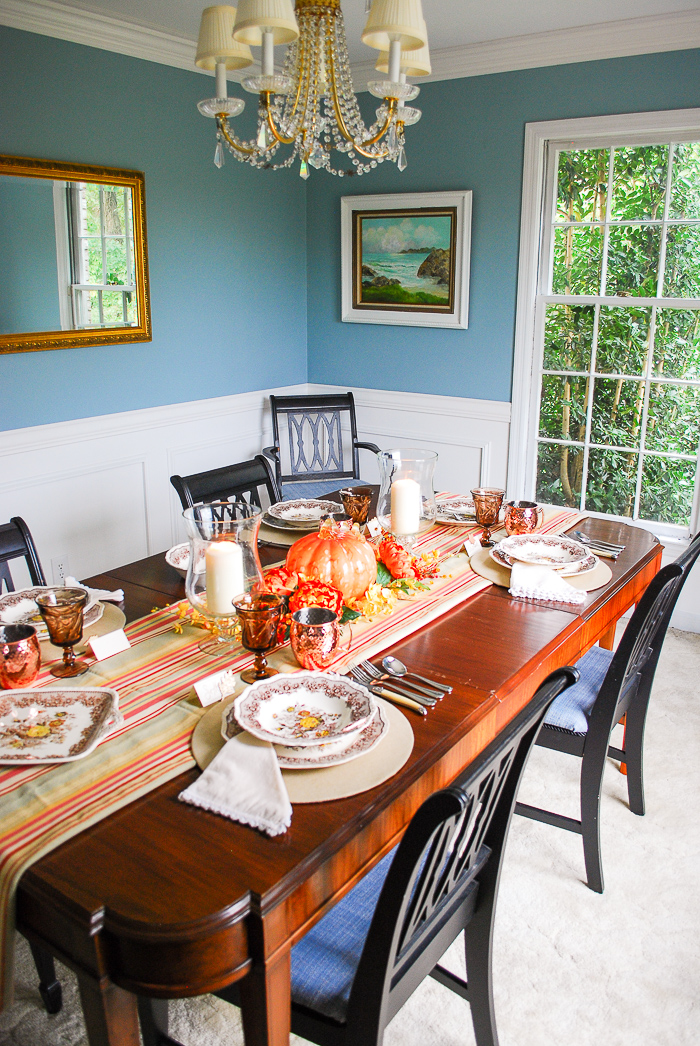 Fall to Halloween Transition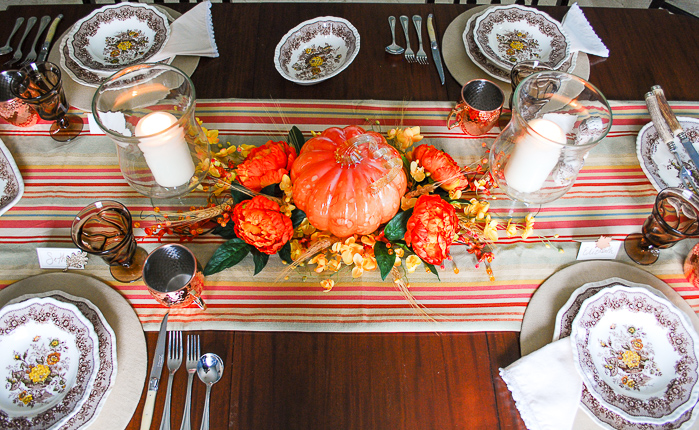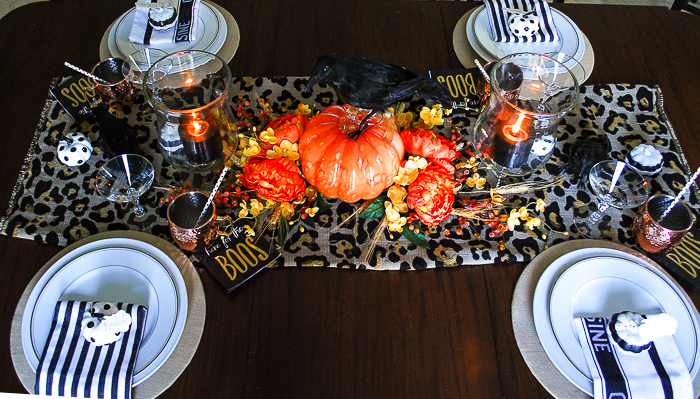 Steps to change-up:
No. 1 Change the linens: lay down a spooky stylish table runner and coordinate your napkins.
No. 2 Change the candle color to a darker Halloween-ish color.
No. 3 Change the china from autumn themed to bright white or Halloween themed.
No. 4 Add in the appropriate glassware and table settings.
No. 5 Introduce the spooky element with crows or spiders or snakes. Oh my!
After Halloween use this same budget friendly pumpkin centerpiece for Thanksgiving by either switching back to your fall linens and china or if you have special Thanksgiving tableware use that instead.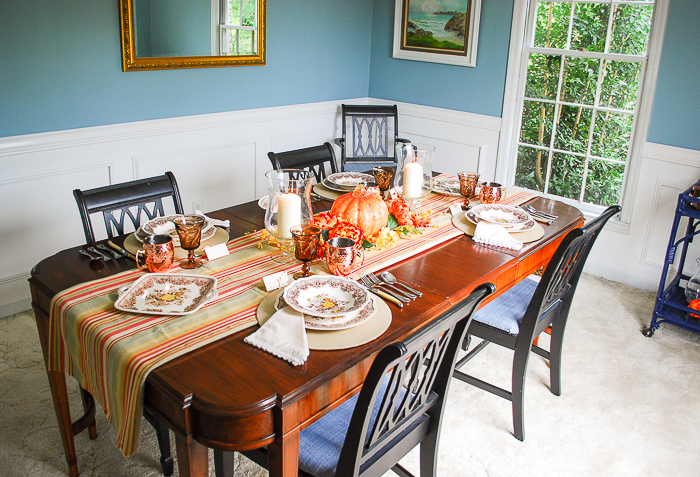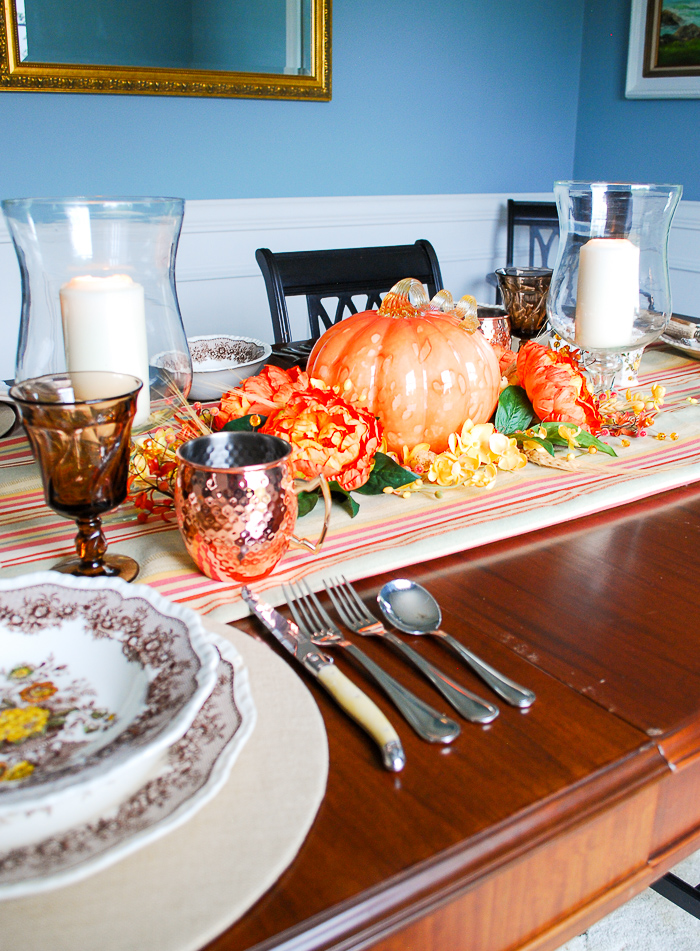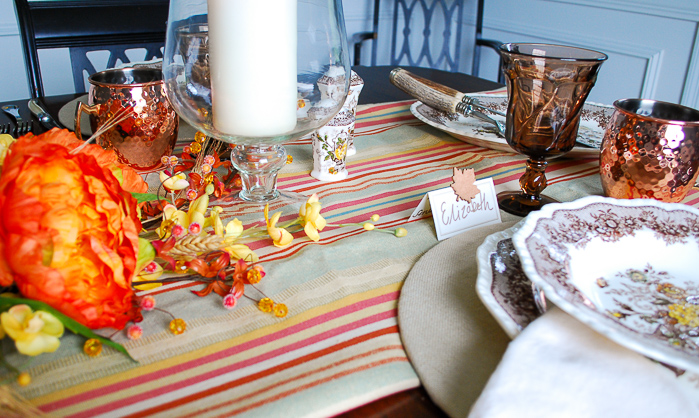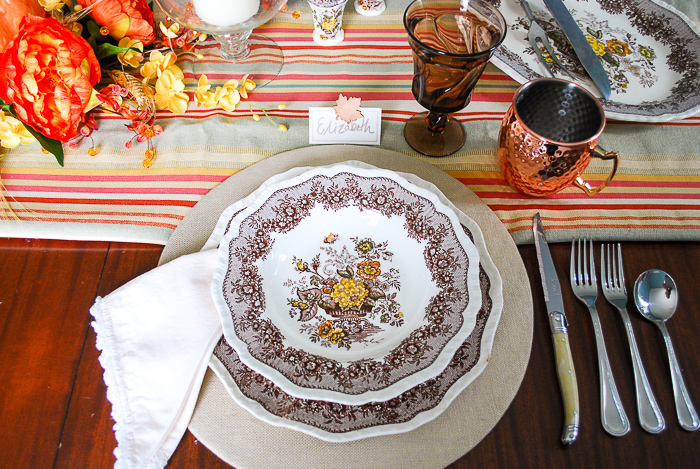 Fall Tablescape Shopping Sources:
*This post contains affiliate links to the products I used and love!*
DIY Chargers – that's right I made the chargers!
Glass Pumpkin – found mine at T.J. Maxx for $14, here is a similar one.
Mason's Ironstone ascot pattern
Napkins – Vintage, similar here
Table runner – Scrap fabric, similar linen striped runner here in earth tones and woven striped runner in aqua and orange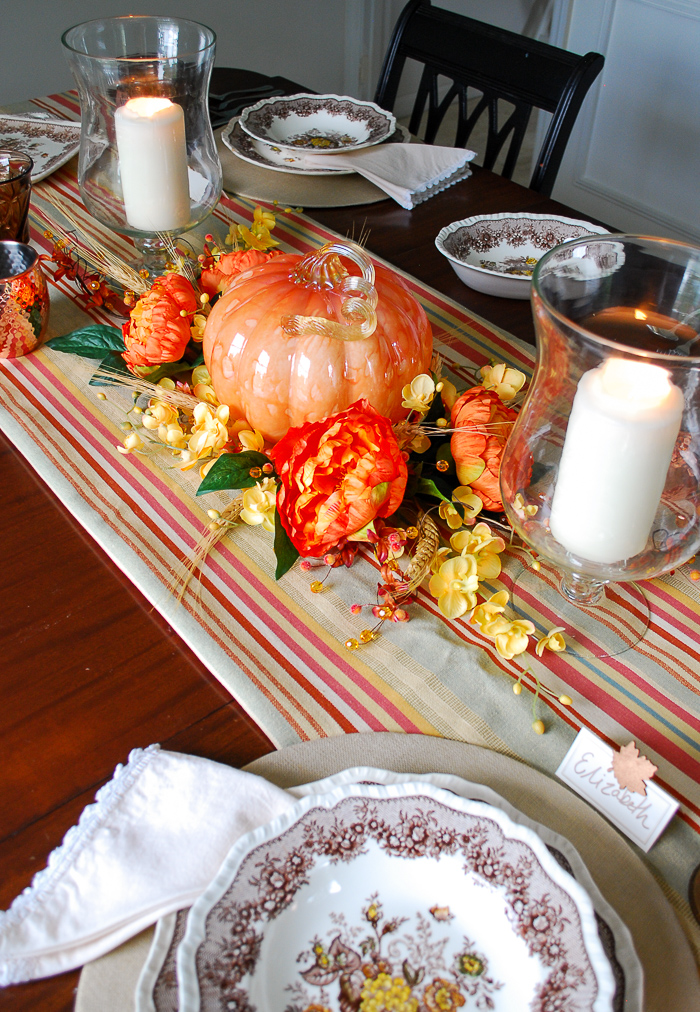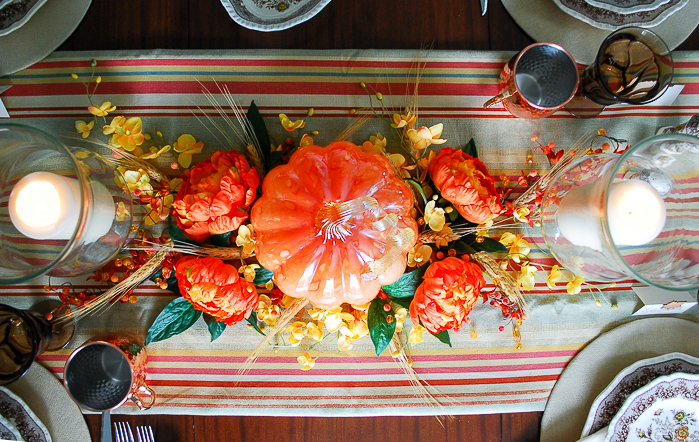 Happy Fall Gatherings!!
Partying with Pumps & Pushups...Between Naps on the Porch…
SaveSave