DIY Outdoor Christmas Decoration: Joy PVC Sign
Learn how to make this festive "Joy" PVC sign! The perfect DIY outdoor Christmas Decoration for those who like simple decor with warmth and cheer under $80!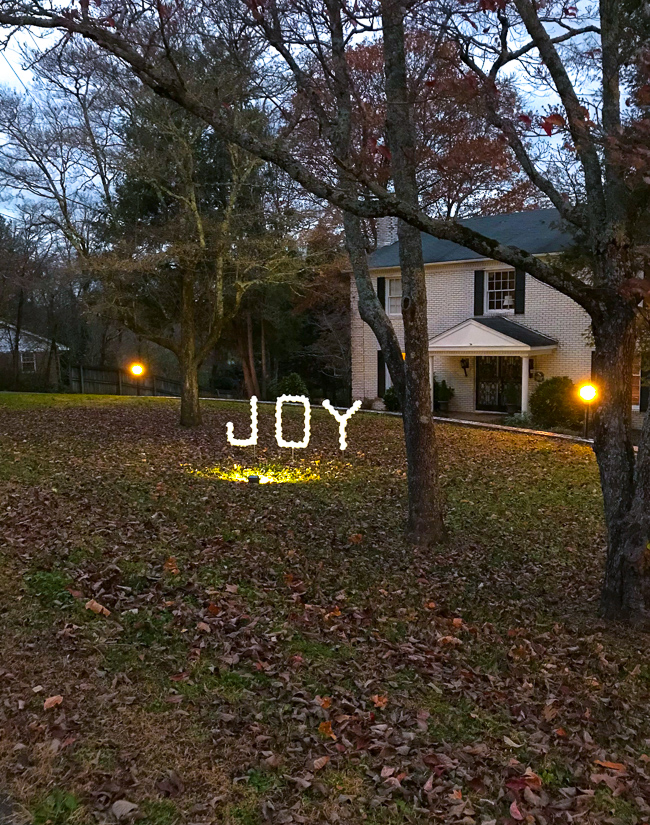 I love coming home to a festive exterior during the holiday season. As the cheery song says, "But the prettiest sight to see is the holly that will be on your own front door…"?
An outdoor Christmas decoration greets you and visitors with warmth and merriment, and I think exterior decorations also express glad tidings to your neighbors and community!
At the same time, I want my outdoor Christmas decorations to be simple and clean, and of course whenever possible I like to make them myself. S. and I had this idea for an outdoor Christmas sign last year, but with our busy schedules we didn't get it created, so this Christmas I made it DIY priority number one!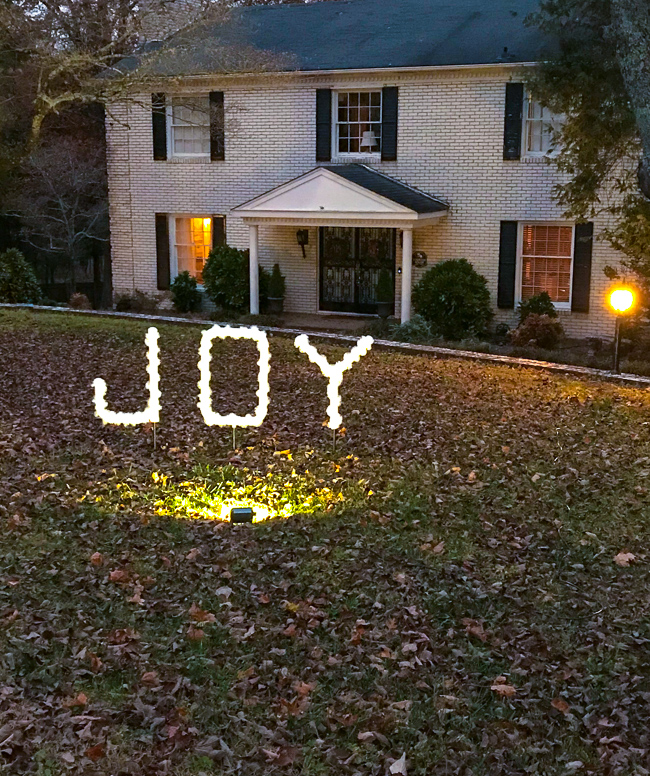 My vision was for a clean white sign that simply said JOY illuminated by a spotlight. There is not any other word as understated as JOY that also expresses such warmth and cheer for the holiday season. We weren't quite sure what to make the sign out of at first but then it came to S. in a flash…PVC pipe. We could easily piece together pipe and actually form rounded edges whereas wood would be much more difficult.
I know you are probably thinking…PVC pipe…ick that doesn't sound cheerful at all, but I think it worked out well, and by the time you get the tinsel garland on, the pipe is not noticeable. Yes, there is tinsel involved!
It was a bit tricky figuring out all the measurements to get the letters to match in height and width as well as choosing the right joints, but S. and I have taken care of the hard part for you. Below are detailed instructions with the exact measurements you need to cut the PVC pipe as well as which joints to buy.
Y'all this sign is so easy to put together. Really the most challenging part will be going to the hardware store! Promise!
How to Make this DIY Outdoor Christmas Decoration
Materials: Under $80
*This post contains affiliate links.*
11 Feet 3 Inches of 2 inch PVC pipe
PVC Cement – we used Oatey
3, 1/2 inch Black iron pipes 18 inches long- for stakes
40 – 80 Feet of tinsel (depends on how much coverage you want)
Portable skill saw or hand saw
4, 2 inch PVC caps
Joints

Long "T" sweep
"T" with threaded reducer 2 inch to 1/2 inch for "O"
2 inch coupling
Double "Y"
2 Threaded Reducers 2 inch glue on to 1/2 inch NPT
Steps to Make the Joy PVC Sign:
No. 1 Measure and mark the PVC pipe in the following lengths:
For the "J" 8 inch length for tip, 9 inch length for swoop, 22 inch length for stem
For the "O" 2, 20 inch lengths for the sides, 2, 5 inch lengths for the bottom, and 11 inch length for the top
For the "Y" 13 inch length for the stem and 2, 11 inch lengths for the arms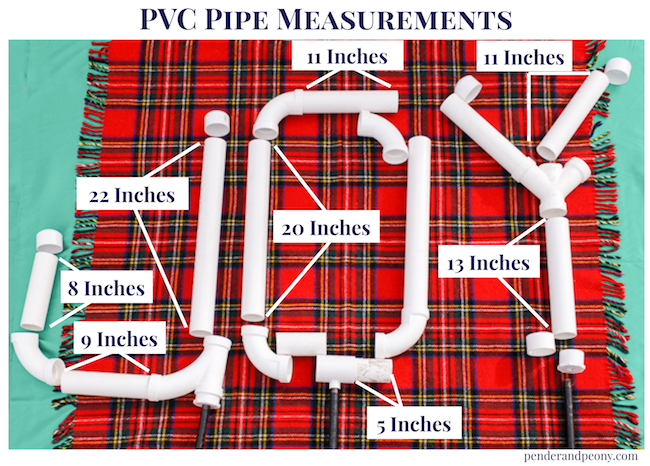 No. 2 Cut pipe on your marks using a saw. Remember it never hurts to double check your measurements!
Also cut the middle prong out of the double "Y" joint for the letter "Y".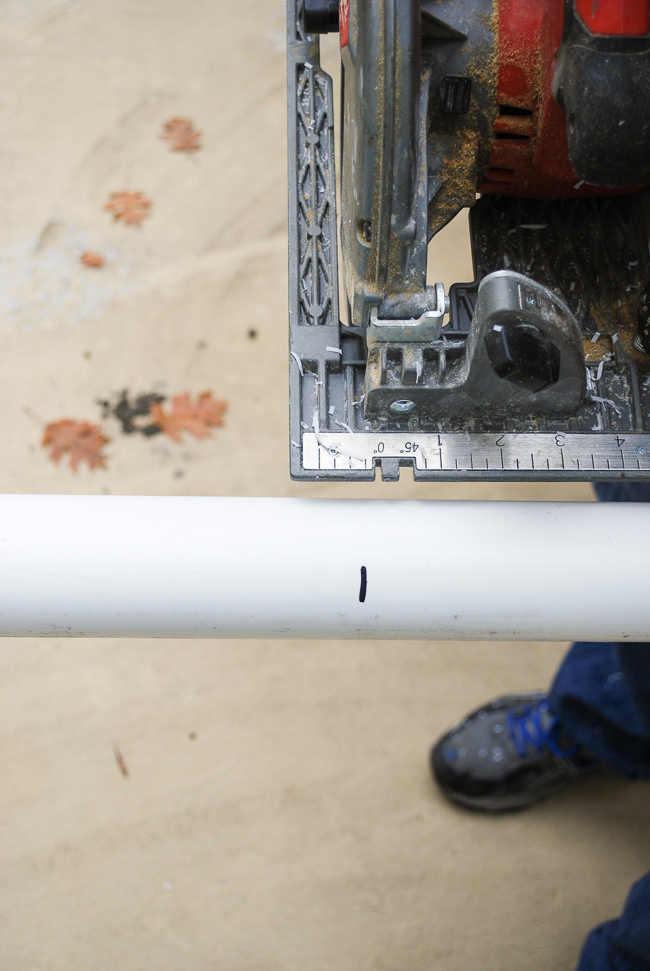 No. 3 Lay out the pieces of PVC pipe and joints to form the letters. Fit them together and check that your height and width are even and proportional.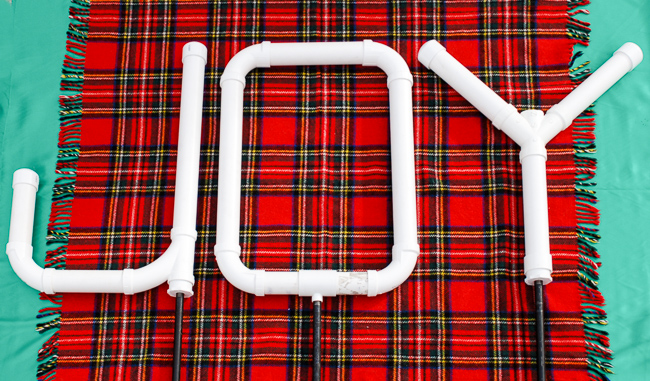 No. 4 If everything looks good, glue your joints together with the PVC cement.
No. 5 Screw in the black iron 1/2 inch pipe to the bottom of your letters. You will need to put the reducer in the coupling for the bottom of the "Y".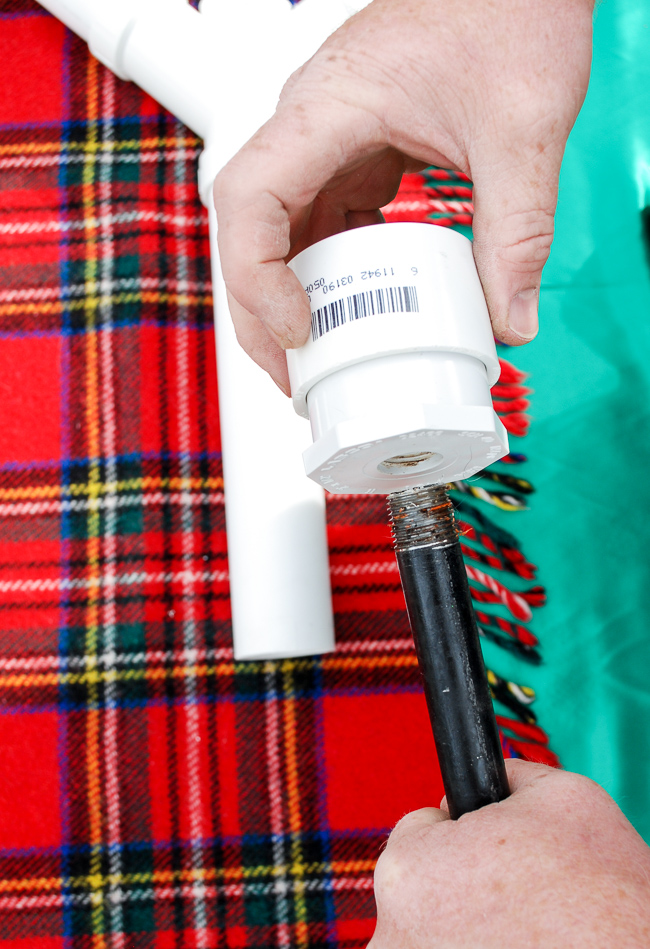 No. 6 Find the perfect spot in your front yard to display your Christmas joy sign! We angled ours in the front yard so drivers by would be sure to see it.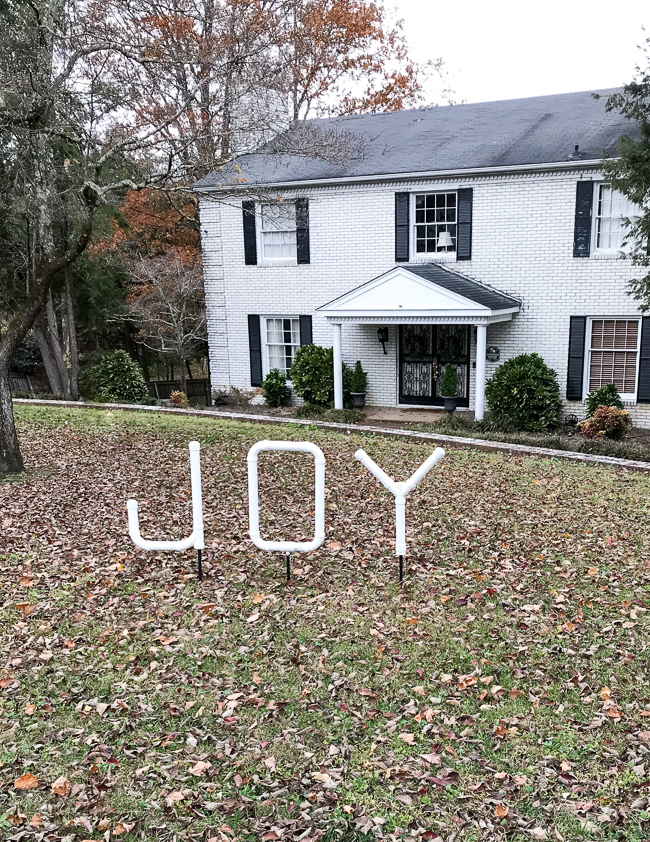 No. 7 Next wrap the letters in tinsel garland. I chose white so that the joy sign would stay simple and clean, but you could easily go for more pizzazz with bright red or gold.
Check out my silly video wrapping the tinsel garland around the letters. I move at super human speed! Ok, it is just a time lapse.
No. 8 Plug in an outdoor spotlight like this one or these solar powered ones. You could also wrap regular Christmas lights around the PVC joy sign, if you want each letter illuminated.
No. 9 Have fun taking pictures with your new DIY outdoor Christmas decoration! Seriously, this Christmas sign is a great photo op. Just look at sweet Henry!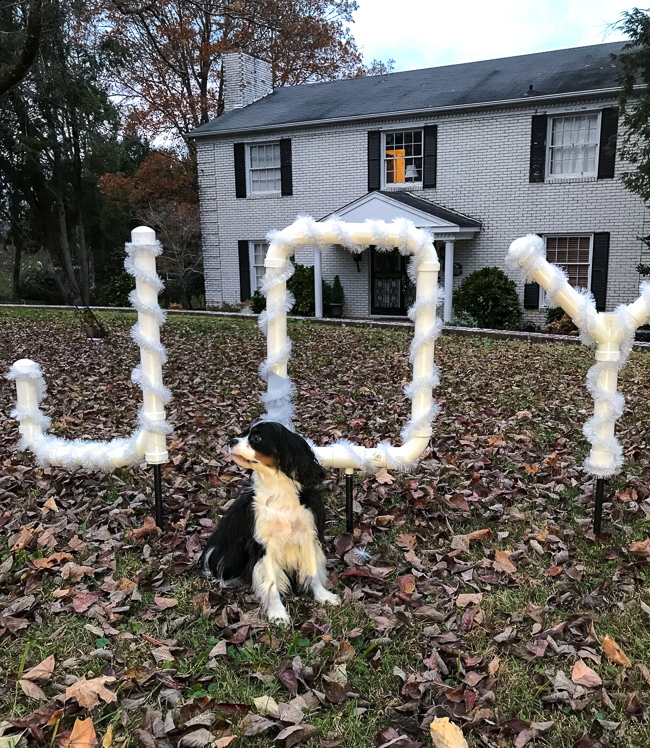 No. 10 After dark falls, head outside with some hot cocoa to feel the joy!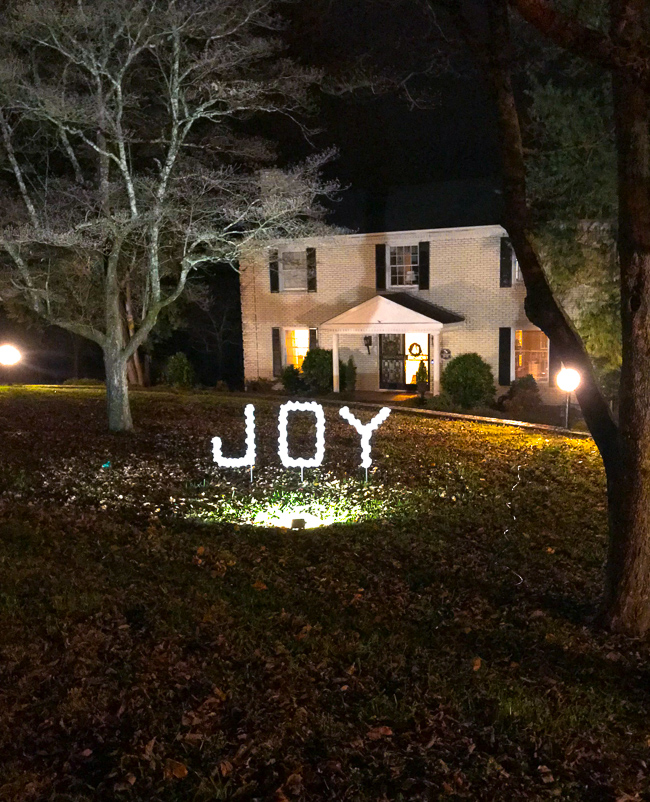 This PVC joy sign will last you for years and years to come as an outdoor Christmas decoration. Sure the tinsel garland will get worn from being outside, but that is easily replaced. The sign is also easy to store away after January.
You could even add another PVC sign next Christmas…I'm thinking NOEL!
Merry Christmas!
Partying with Designthusiasm…