Check out our simple powder room makeover! With a coat of paint and some serious scrubbing we made quite the transformation!
*This post contains affiliate links*
I've got the home renovation blues. The kind that come from slow…slow…slow progress. I miss having little jobs that need completing and always having something to do. I still find myself scrolling through Anzzi.com, seeing what new bathroom features they have. So in attempts to be more of an optimist and focus on the positive, I am celebrating the small steps that have been accomplished like our powder room update. It truly is amazing how a simple coat of paint and a good scrubbing can completely improve a space and that is basically all we did to our downstairs powder room: scrub it clean and paint it! However, in the future, we are thinking about going full bathroom remodel, we just need to make sure that we have enough money and save some along the way so we aren't paying over the odds!
We really wanted to keep the character of this powder room, so there was not a lot of remodeling needed. We thought we'd keep the remodeling services from the likes of Advantage Contracting in our back pocket until we're ready to tackle the other rooms in the house that could really use a substantial overhaul – which could be any time really. I love the hexagon tile and marble vanity, so all these elements needed was some cleaning. The brass sconces are simply lovely, but they were dull and dirty. Add them to the cleaning list. Lastly, the toilet was in desperate need of updating.
The first task to accomplish in the powder room makeover was to remove the wallpaper. It actually came down easily with my steamer. If you need pointers on removing wallpaper, check out this post. Then the walls were sanded and painted (Interesting Aqua). Then we replaced the toilet. Next I tackled the cleaning, scrubbing down the tile walls until they sparkled. I also cleaned and sealed the marble vanity and polished the brass fixtures and sconces. Weiman Brass Polish works really well and my secret for cleaning chandelier crystals is Scrubbing Bubbles!
Simply remove the crystals from the light fixture and place them in a colander. Spray the bubbles on the crystals and let sit for a few minutes. Rinse, dry, and see how they sparkle!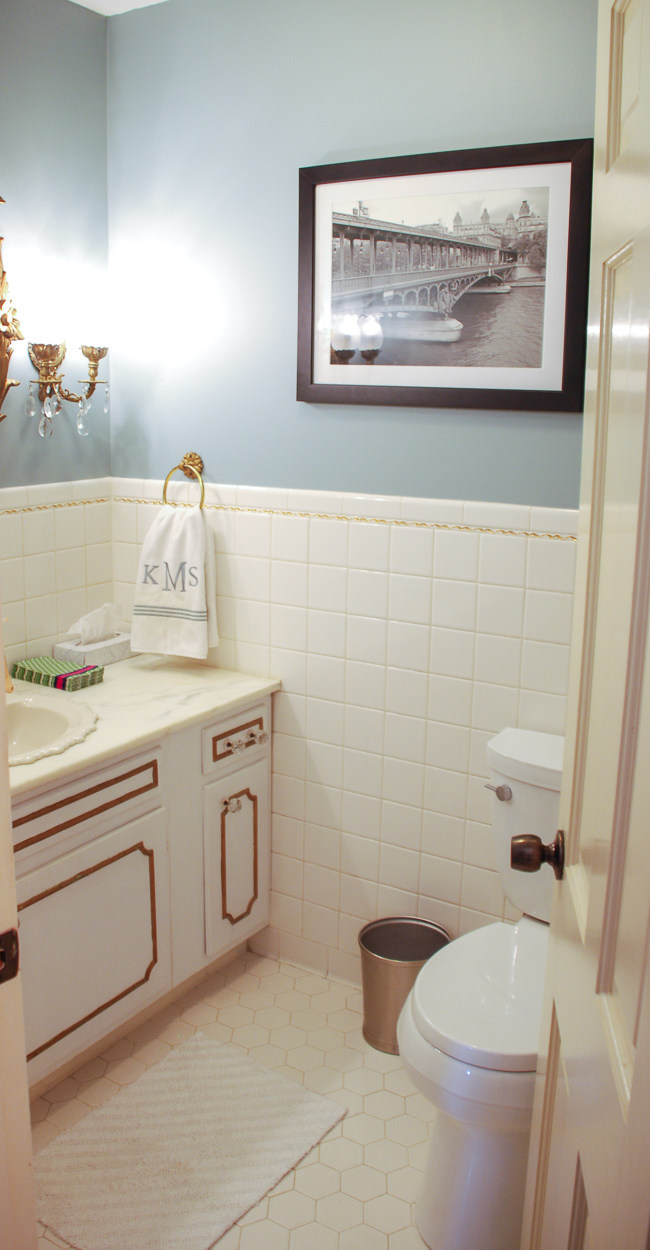 Finally, comes the fun part of the powder room makeover: decorating! I added our monogrammed hand towels (Pottery Barn) and a black and white photograph Seth took in Paris. But after that I've stalled just a bit. I know I want to add in a few more black accents, and make the bathroom necessaries more attractive. I'm even toying with the idea of painting the vanity black. Thoughts? I think adding personal touches to the room could bring it all together and make it a space just for me! So I am also thinking about getting some canvas and making my own art for the room, I'm not especially talented in terms of art… but I think I'll give it a go! You can get the equipment from many places such as companies like ICL who are a cut length wholesale canvas supplier, helping you to create the space which is unique to you.
Below I've added the powder room accessories I would like to add to finish the look. I plan to keep the two gold and glass canisters on the left and fill them with soap and potpourri. It may be a bit too much to have bar soap and liquid, but I'm not sure what else to put in the canisters. Any ideas?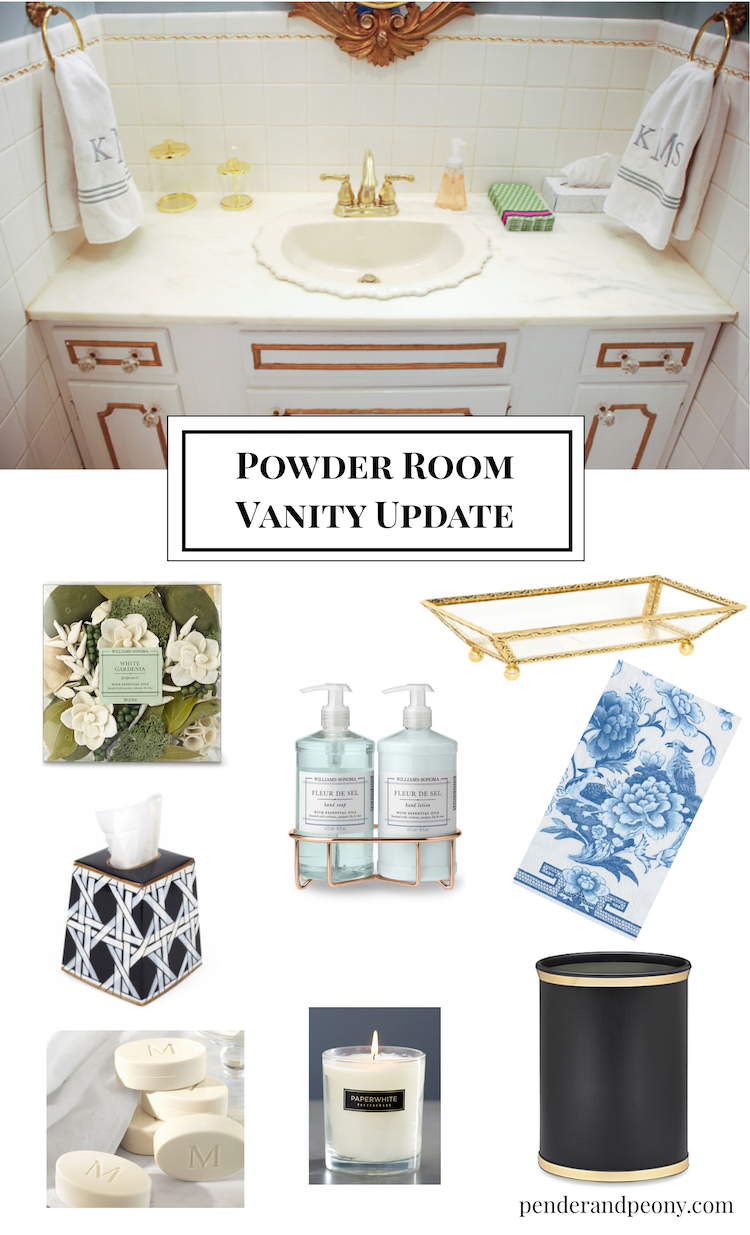 Potpourri // Tissue Cover // Monogrammed Soap // Glass Tray // Soap // Candle // Paper Hand Towels // Waste Basket
I hope you enjoyed our Powder Room Makeover! What home renovation projects are you struggling with?
Partying at Between Naps on the Porch…A Stroll Thru Life…Honest Mum…
SaveSave
SaveSave
SaveSave
SaveSave
SaveSave
SaveSaveSaveSave