Check off every name on your Christmas list with Pender & Peony's 2017 Holiday Gift Guide!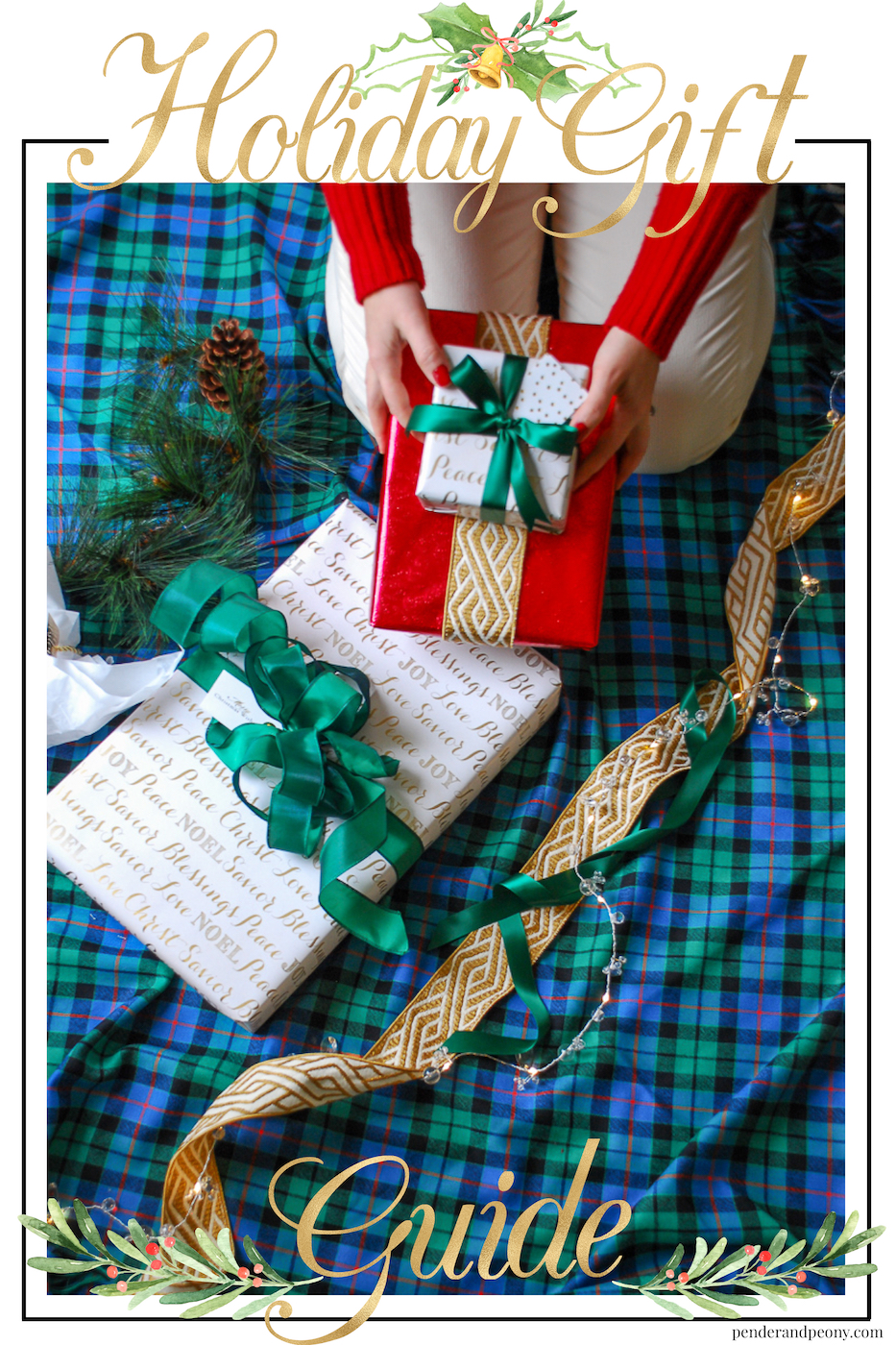 Hands down one of the best ways to avoid holiday stress is to accomplish your Christmas gift shopping early! No one wants to wade through hectic stores and wait in check out lines Christmas Eve. This applies to online shopping too, so if you're wanting to purchase a personalized gift like one of these custom bobbleheads, then get it done early so you don't miss out! Anyway, let's get on to it. Write out your Christmas list early and let my 2017 Holiday Gift Guide be your inspiration to jump start your Christmas shopping!
Finding the right gift that wows for each special person on your list can be trying to say the least. I've compiled 7 curated gift guides for every personality from the globe trotting adventurer to the Southern lady, which are sure to help you find the perfect gift for each family member and friend. The holiday gift guide features a range of prices from splurges to stocking stuffers, so you can stay on budget. It also features lots of made-in-America products and Southern brands!
My 2017 Holiday Gift Guide has you covered for…
The Bibliophile
The Gourmet
The Southern Gent
The Southern Lady
The Decorista
The Globe Trotter
The Munchkin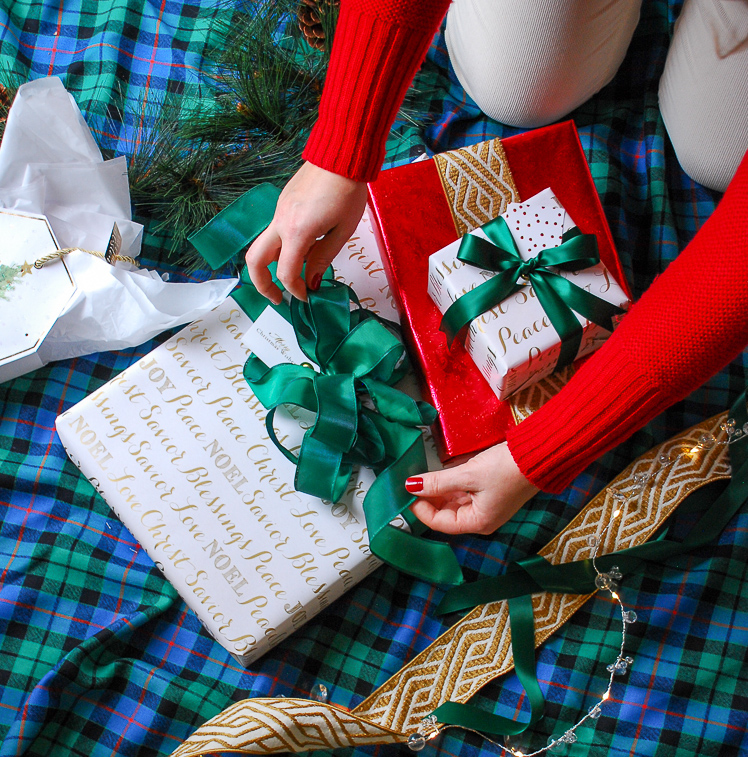 *This post contains affiliate links.*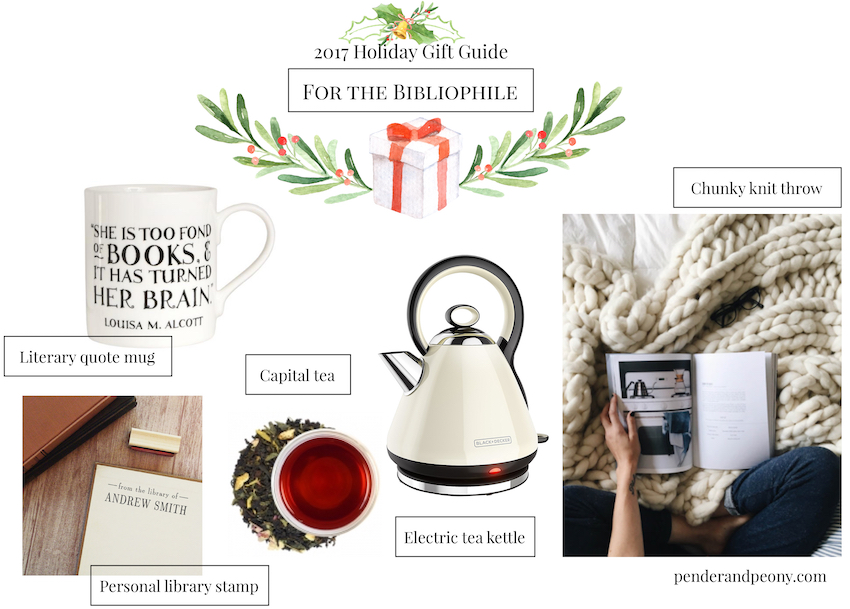 Mug $13 // Stamp $26 // Tea $10 // Kettle $50 ($42.50 with Try Amazon Prime 30-Day Free Trial
" target="_blank" rel="nofollow noopener">Amazon Prime) // Throw $75+
You know these beautiful people – the ones with their face happily stuck in a book! Their reading lists are a mile long, and they look forward to a rainy afternoon spent cuddled up with a good page turner. I'm not speaking from experience or anything ! ?
Sure you can buy them a book or two, but chances are they've already read it. Instead, opt for witty literary nods like this mug or library accouterments like a cuddly throw blanket/custom photo blankets or book light.
I love this personal library stamp from Packagery on Etsy. I write my name on the inside cover of my books, but this stamp would be more practical and charming! There are several phrases to choose from: "from the library of…" or "this book belongs to…" or "ex libris…"! ?
A great little stocking stuffer for your favorite bibliophile is this sleek reading light that clips onto your book. It features LED lights for optimal reading and is re-chargeable + it comes in a range of fun colors!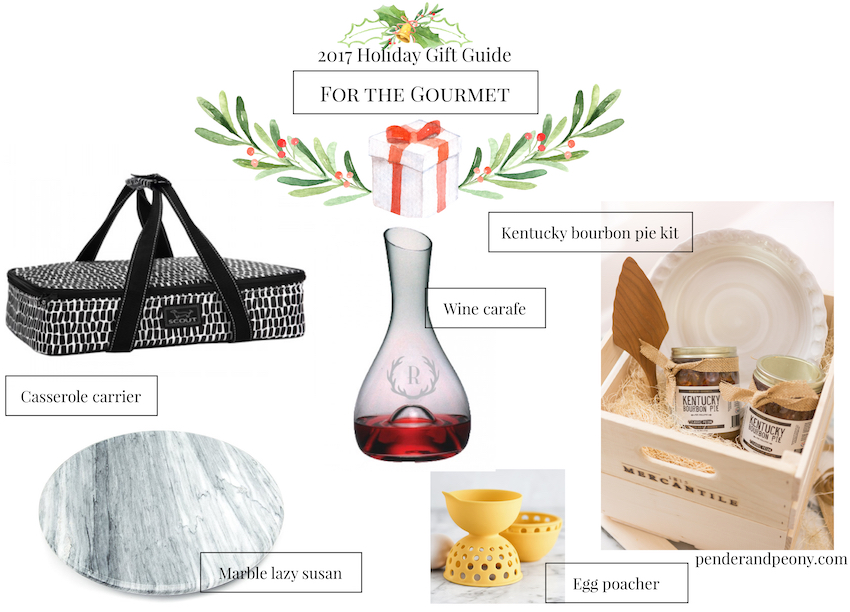 Carrier $33 (25% off 11/24-11/25 code BLACK) // Marble $21 // Carafe $60 // Poacher $10 // Pie Kit $99
I bet y'all have more than one "foodie" friend who is always testing out the latest kitchen gadget and headed to the newest restaurant. These folks love being in the kitchen and are partial to gourmet ingredients that most of us can't even pronounce! I'll admit to being a bit of a "foodie" myself, so the gifts on the holiday gift guide for the gourmet are totally on my wish list.
Everyone needs a practical but cute food carrier to keep dishes warm when headed to potlucks and holiday diners. This one from Scout is easily cleaned up and comes in several great patterns. Include a copy of a family recipe inside, and you've got one really sweet gift!
The Kentucky bourbon pie kit is from Stoneware & Co, a Louisville, KY pottery company that opened its doors back in 1815. They make simple, beautiful hand-made stoneware pottery. This kit is the perfect hostess gift or gourmet treat for the Bourbon and dessert lover in your life. It comes with 2 jars of Kentucky bourbon pie, a beautiful stoneware pie plate, and a cherry wood server. You can also feel good about buying made-in-American and made-in-the-South!
The egg poachers from Williams-Sonoma are great little stocking stuffers. I haven't tested them yet, but they seem more practical than some of the others I've tried.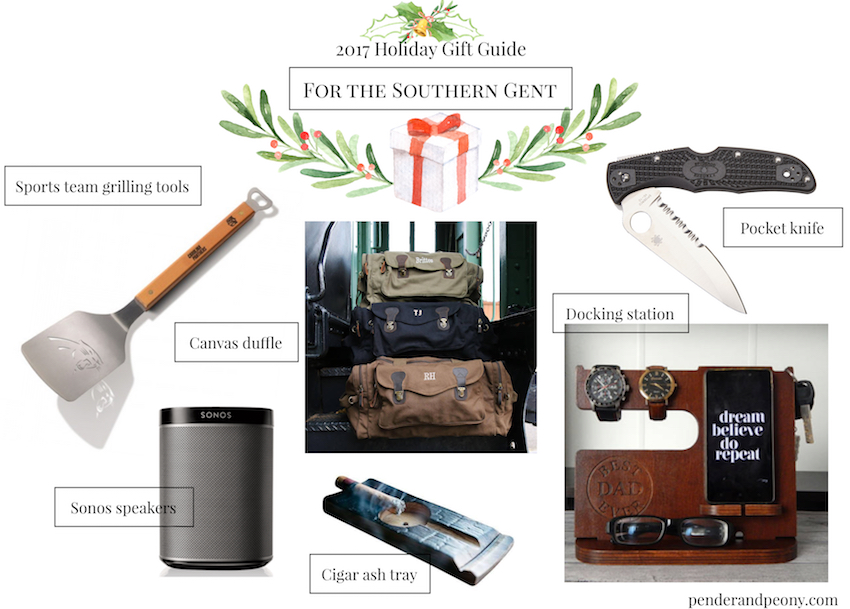 Grill tools $30 (25% off 11/24-11/25 code BLACK) // Speaker $200 // Duffle $69 // Ash tray $49 // Knife $68 // Station $32
I sincerely hope you have a Southern gentleman in your life! The kind that is courteous and thoughtful, never too busy to lend a helping hand, and respects women as the powerful lady bosses we are! I know you want to get him something to show just how special he is to you, and I think these presents in the holiday gift guide for Southern gents will do just that.
My Christmas gifts for the Southern gent are all S. approved, and in fact he owns so many Spyderco knives I'm thinking about getting him this storage case! ?Hey, honey you didn't read that!
These Sonos speakers are a bit on the pricey side, but they are a truly amazing technology. We have them through-out our house, and they all connect wirelessly through the wifi. You control them through the Sonos app, and you can connect your favorite music and radio apps to it as well as play songs from your music library. Each one can work independently, so you can listen to one thing in one room and something else in a different part of the house!
I love the organizational potential of this men's docking station! It literally has a place for everything he carries around with him: keys, phone, wallet, etc. You can also customize it with a monogram or little saying.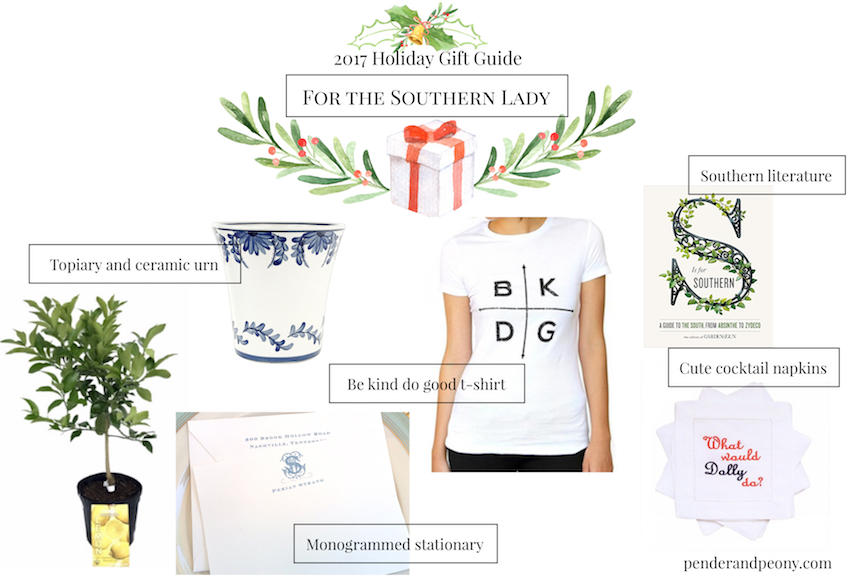 Topiary $39 // Urn $45 // Stationary $55+ // T-shirt on sale $25 // Book $45 ($28 with Try Amazon Prime 30-Day Free Trial
" target="_blank" rel="nofollow noopener">Amazon Prime) // Napkins $58 (25% off 11/24-11/25 code BLACK)
Us Southern belles are looking for classic gifts that have some special meaning or connection. We love tradition and Southern rituals, but aren't afraid of letting loose every now and again. I know a Southern belle would be thrilled with any of the above presents in my holiday gift guide.
E-mails and snapchat may be de rigueur these days, but they don't hold a candle to the power of a thoughtful hand-written note on beautiful stationary! Every Southern gal needs her own personalized note cards, and these beauties from Trabeautiful Designs out of Nashville, TN are simply lovely. Shown above is the Messud cipher monogram, but there are tons of options.
This t-shirt from StyleBlueprint not only encourages us to "Be kind Do good," but it actually follows through with 100% of the proceeds going to hurricane relief efforts! If you are not familiar with StyleBlueprint, you need to go check out their blog. They are an online lifestyle brand that helps connect women to their local communities.
What Southern gal wouldn't love these "What would Dolly do?" cocktail napkins? They are just too perfect, and from Draper James, Reese Witherspoon's new company. These will make great stocking stuffers! ??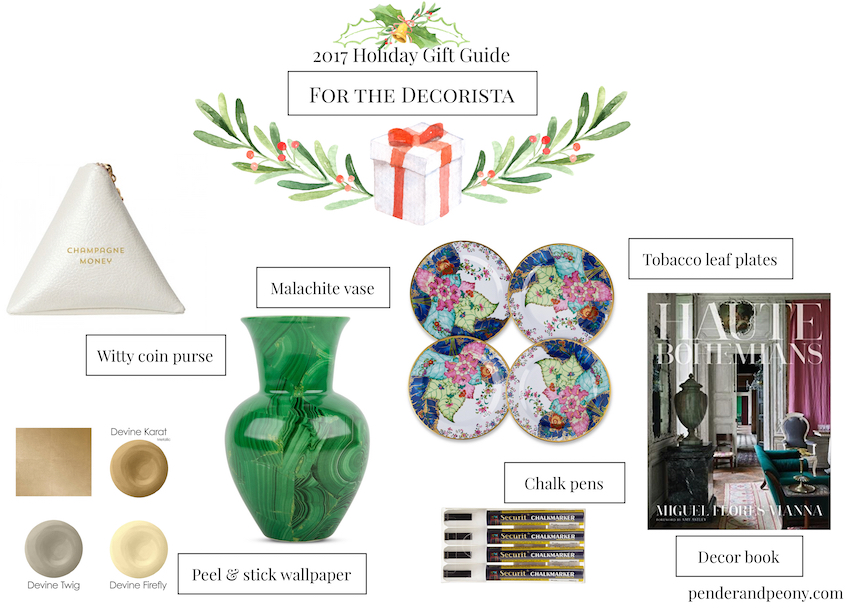 *This post contains affiliate links.*
Coin purse $15 (25% off 11/24-11/25 code BLACK) // Wallpaper $30 // Vase $52 // Plates $18 each // Pens $20 // Book $50
The decorista is easily identified. She or he loves shopping flea markets and estate sales, can spend hours perusing Pinterest, and has a stack of home decorating magazines a mile high. These chic decor enthusiasts want a carefully curated home, but aren't afraid to try new trends. Pick decor in bold colors but with timeless shapes or patterns and whimsical touches.
I've gathered a variety of gift ideas here from the timeless tobacco leaf pattern plates to the trendy peel and stick wallpaper. You cannot go wrong with emerald green for the holidays, and this malachite vase is stunning! Decor enthusiasts are always happy to add a new decorating coffee table book to their collection. Haute Bohemians is one of the new must-have books of the year.
If your decorista leans more to the Fixer Upper farmhouse style, I bet she or he would love getting a new set of chalk board pens for their black board. These make a great stocking stuffer as well as this Lily notebook and this pretty candle.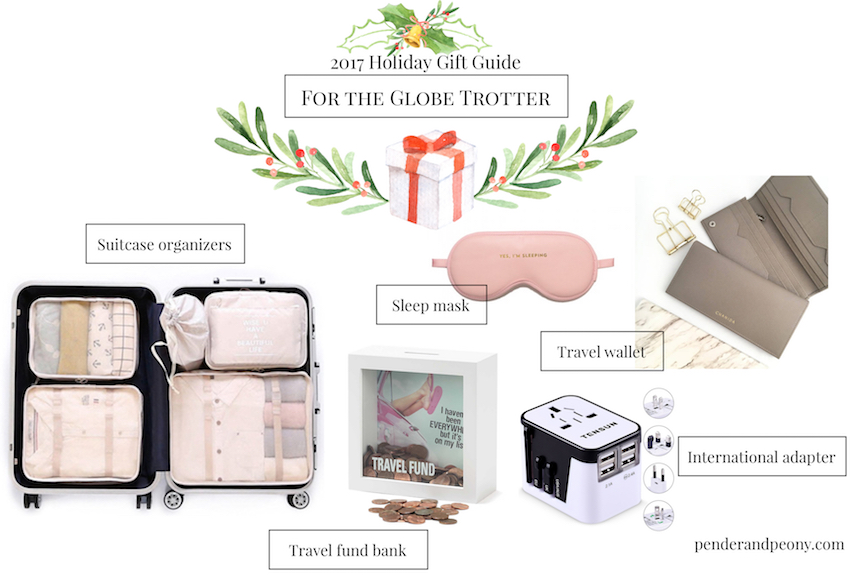 Organizers $30 ($20 with Try Amazon Prime 30-Day Free Trial
" target="_blank" rel="nofollow noopener">Amazon Prime) // Bank $20 // Sleep mask $15 (25% off 11/24-11/25 code BLACK) // Wallet $70 // Adapter $40
Everyone has that one adventurer in their family or inner circle who is constantly traveling to far off places or dreaming about them. For this jet setter pick gifts that will make their journey easier. Think about Christmas presents to help them organize their packing like the suitcase cubes, the travel wallet, or this travel bottle set for cosmetics.
The globe trotter will probably get loads of use out of a sleeping mask on those long air plane flights, and for those who travel internationally often, they will love the compact efficiency of this adapter!
If your globe trotter is still in the dreaming stage, help them take flight with this fun travel bank. Add a little money to send them on their merry way!
For travel stocking stuffer ideas check out this and this.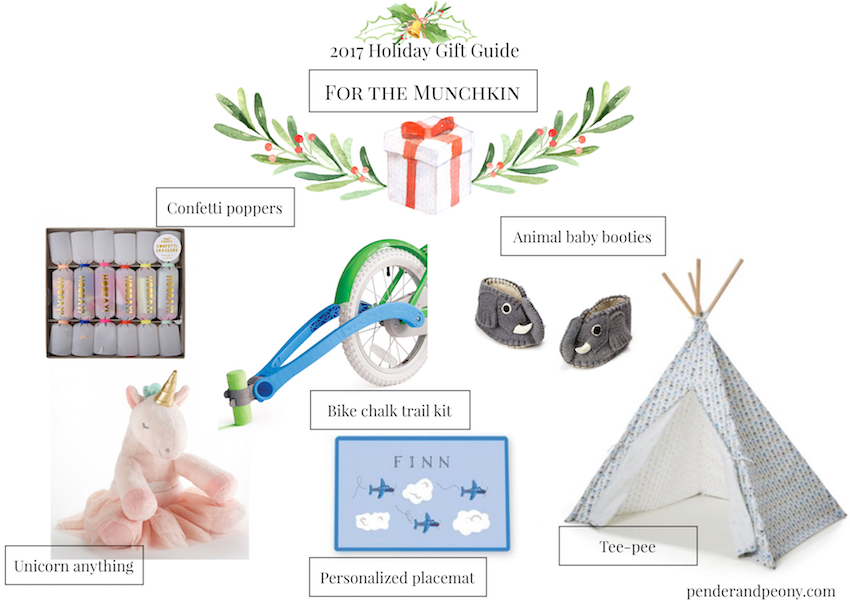 Poppers $25 // Unicorn $35 (25% off 11/24-11/25 code BLACK) // Chalk $20 // Placemat $20 // Booties $25 // Tee-pee $165
Don't y'all just love Christmas shopping for kids? It really lets you be part of that special Christmas magic that only kids experience! My top picks for the holiday gift guide this year are pretty simple. Sure you can opt for the latest dazzling tech device (like the ones found on the Coolest Gadget – pretty awesome I know, you can even check this out here if you wanted to see more about what they actually sell, you never know you might find something you love for your kid). If you want to get a tech device for your kid, then go for it! However, I've often found that it is the most basic toy that really captivates a child like these confetti poppers. Sure, there will be some clean up involved, but the joy when they shower that colored paper everywhere cannot be beat!
How cool is the bike chalk trail kit? I can see the munchkins I know spending hours riding around making crazy patterns on the pavement with this.
The tee-pee is a classic choice. Just about every kid loves building forts and having some neat place to hang out. The same can be said with doll houses, hours of fun and endless imaginative moments, check out the best ones at best for mums, and see the spark in your little ones imaginations.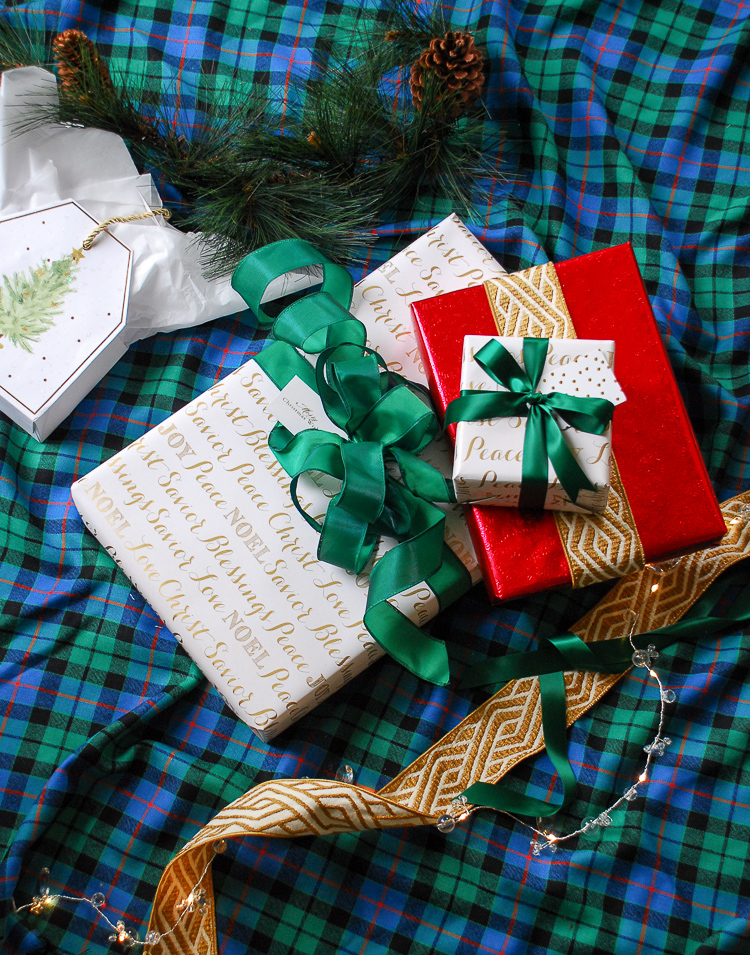 Y'all I really had the best time researching and curating my 2017 Holiday Gift Guide!
I hope this gives you some amazing gift ideas and inspires you to get your Christmas shopping done early, so you can sit back and enjoy this merry little season.
Partying at Between Naps on the Porch…A Stroll Thru Life…Chic on a Shoestring…East Coast Chic…Honest Mum…
SaveSave
SaveSave
SaveSave
SaveSave
SaveSave
SaveSave
SaveSave
SaveSave
SaveSaveSaveSave
SaveSave
SaveSave
SaveSave
SaveSave
SaveSave
SaveSave
SaveSaveSaveSave
SaveSave
SaveSave
SaveSave
SaveSave
SaveSave
SaveSave
SaveSave
SaveSave
SaveSave
SaveSave
SaveSave
SaveSave