Beyond Pumpkins – An Elegant Thanksgiving Table + 2 Side Dish Recipes
Set an elegant Thanksgiving table with traditional flair this year adorned with romantic roses, pineapples, cotton, sterling silver, and brocade table linens!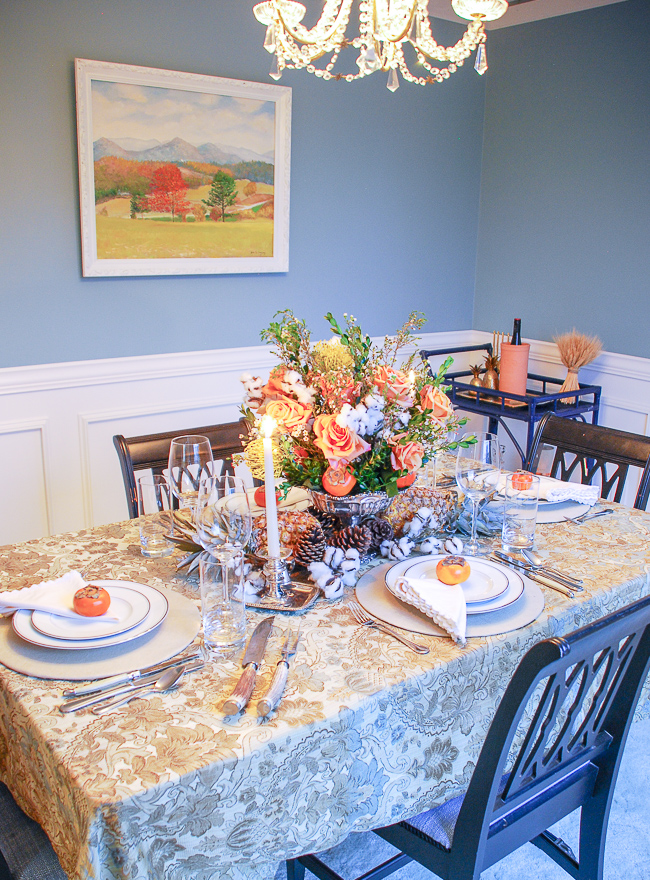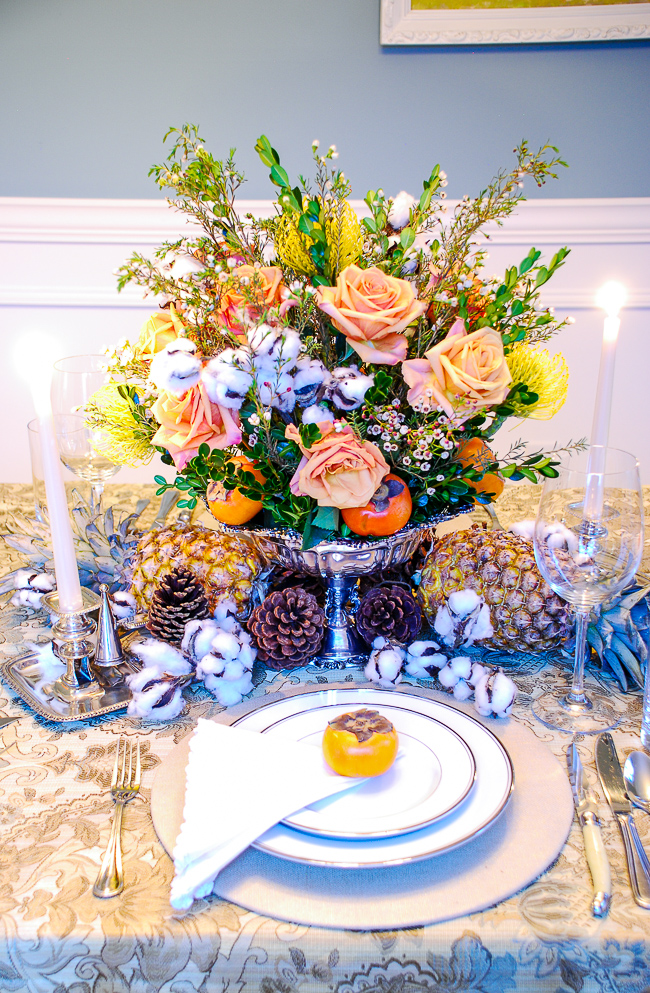 Don't get me wrong! I love pumpkins…love them! But sometimes you want to break out of the tried and true to experiment with something new. For my Thanksgiving tablescape this year, I played around with a little more unusual harvest elements: persimmons, pineapples, cotton, and pinecones.
I simply love the effect! This Thanksgiving table feels warm, festive, and very autumnal, while also being unexpected. It has an elegant, traditional flair that is not too fussy.
The Elegant Thanksgiving Table Decor
To create the floral centerpiece ( which I freely admit I made a little too tall for my table size), I started with an antique silver compote and a block of wet floral foam. Then I placed my three accent flowers and layered in the gorgeous blush orange roses. I filled in with the filler flower, a few sprigs of cotton, and boxwood foliage and finally added the sweet persimmons around the edge of the compote.
To complete the centerpiece, I laid the two pineapples down on either side of the floral arrangement. Then I layered in the cotton and pinecones. As a last touch, I placed two low silver candlesticks to either side. Candle light is so important to dinner ambience, don't you think?
---
Don't miss my two recipes for Thanksgiving side dishes at the end of this post! I'll give you a hint these recipes are classic Thanksgiving sides but with a twist, and they include cranberries and sweet potatoes…yum!
If you are hosting Thanksgiving for the first time, be sure and read my Checklist for Hosting Thanksgiving. It breaks down all the steps to host Thanksgiving successfully from grocery shopping to decorating.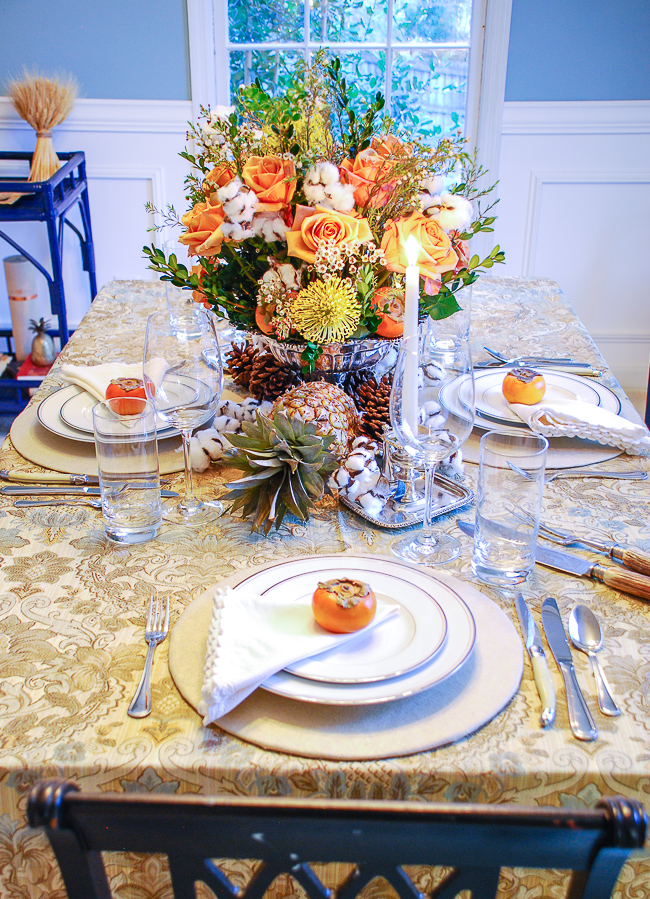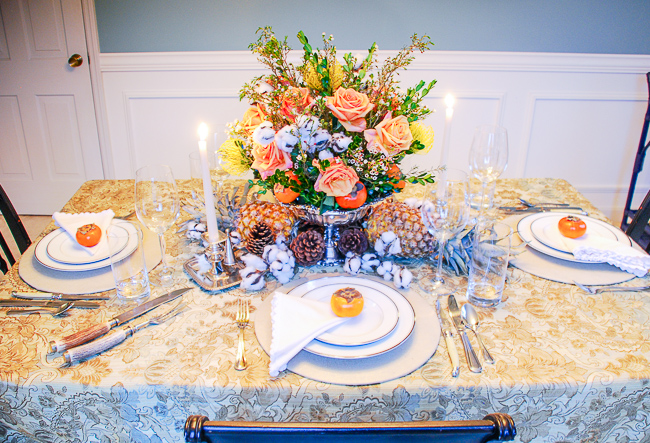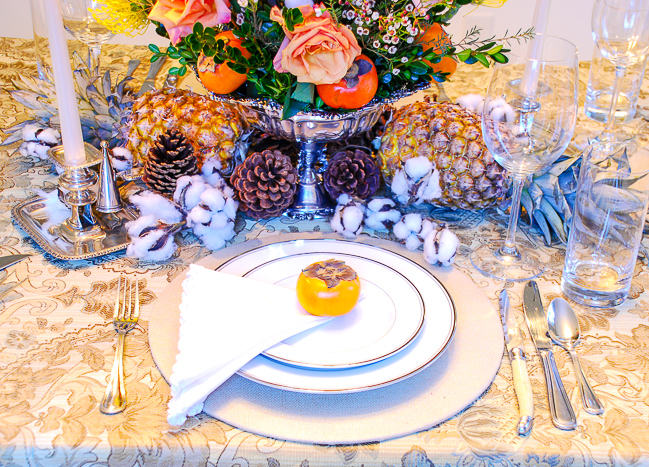 Want more Thanksgiving table ideas? Check out last year's tablescape and this autumn harvest table!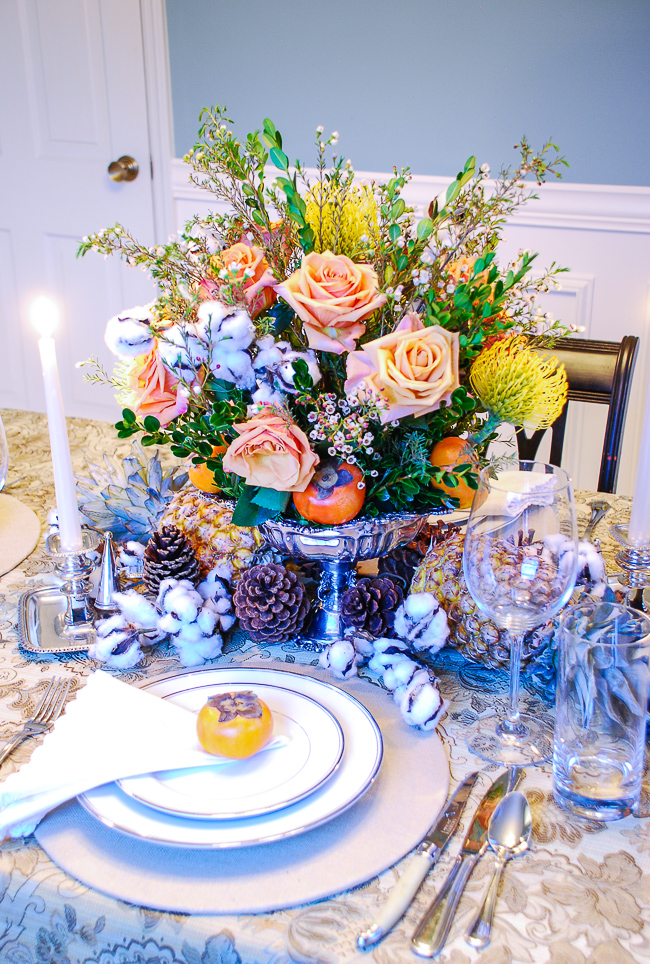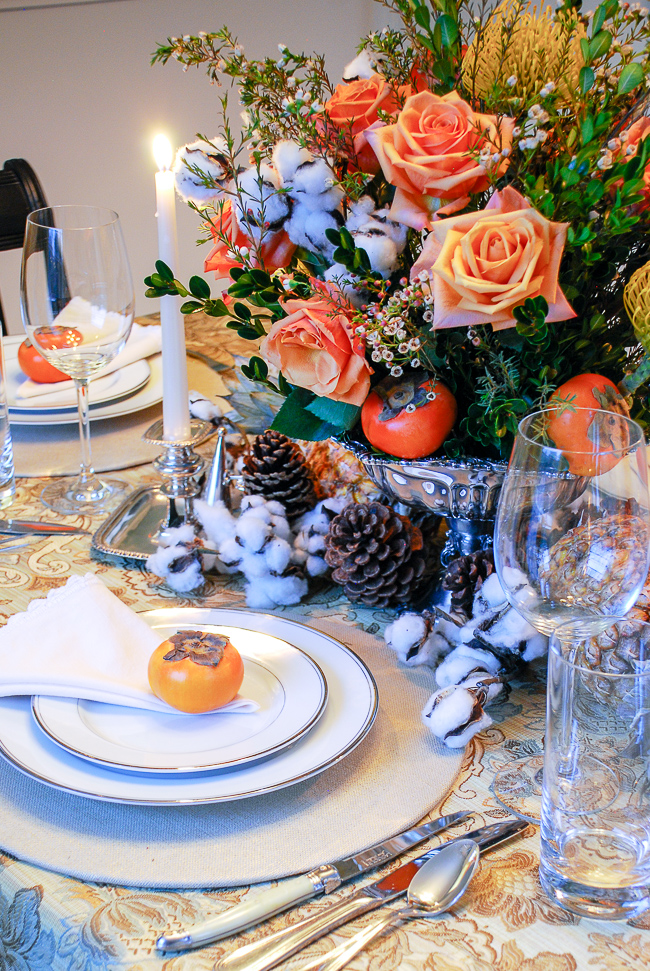 Thanksgiving Side Dishes
Everyone loves sweet potatoes for Thanksgiving, right? You've probably enjoyed some variation of sweet potato casserole or candied yams every year. Well this year mix it up with a gingered sweet potato mash! These are the best sweet potatoes I think I've ever put in my mouth. No, seriously! These taste so amazing!
Gingered Sweet Potato Mash Recipe
Ingredients:
Serves 4
2 pounds sweet potatoes
1/2 cup heavy cream
2 tbsp butter
1 tbsp grated ginger
1/4 cup of honey
salt and pepper to taste
maple candied pecans for garnish
To Make:
Puncture holes all around your sweet potatoes with the tongs of a fork and then wrap you sweet potatoes in saran wrap. Cook in microwave for 8 to 10 minutes, turning every 3 minutes until soft. Peel the potatoes and cube, and place them in a large bowl. Combine the cream and butter in saucepan and bring to a simmer. Grate the ginger over the sweet potatoes. Mix in the cream and butter, mashing the potatoes as you combine. Add to serving bowl and garnish with candied pecans.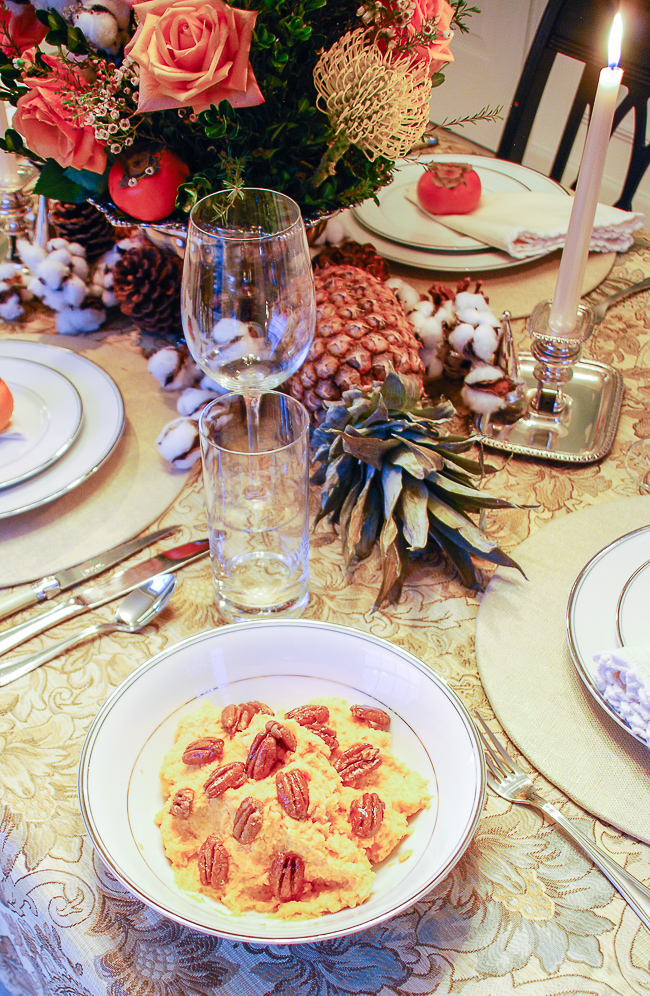 I love to make this cranberry dish for Thanksgiving because it is so simple. All you need is a food processor. Toss your ingredients in, blend, and done!
Citrus Cranberry Relish Recipe
Ingredients:
Serves 10
12 oz fresh cranberries
1 cup chopped fresh pineapple
1 1/2 cups mandarin oranges
3 tbsp Triple Sec
1/2 cup sugar
To Make:
Combine all of the ingredients in a food processor. Pulse until coarsely chopped. Chill in refrigerator for 8 hours to develop flavor.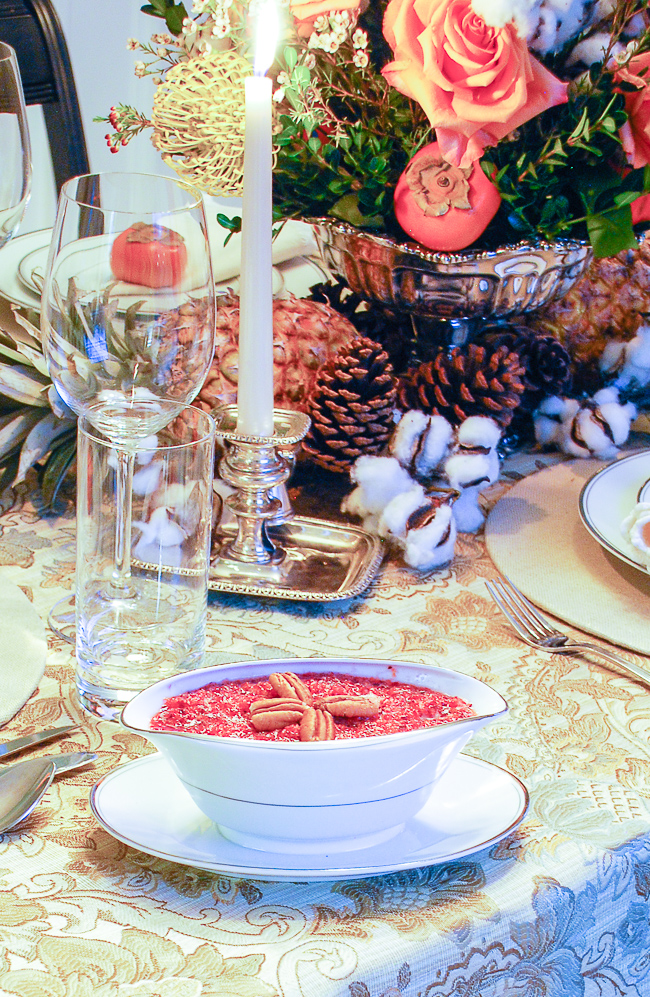 Wishing you a gracious and memorable Thanksgiving!!
Partying at Between Naps on the Porch…Chic on a Shoestring…East Coast Chic…Cupcakes and Crinoline…A Stroll Thru Life…
SaveSave
SaveSave
SaveSave
SaveSave
SaveSave
SaveSave
SaveSave
SaveSave
SaveSave
SaveSave
SaveSave
SaveSave
SaveSave
SaveSaveSaveSave