A Colorful Traditional Christmas Home Tour
Join 20+ bloggers as we share our colorful Christmas homes decked for the holidays! My colorful traditional Christmas home tour takes you through 3 festive rooms filled with merry decor!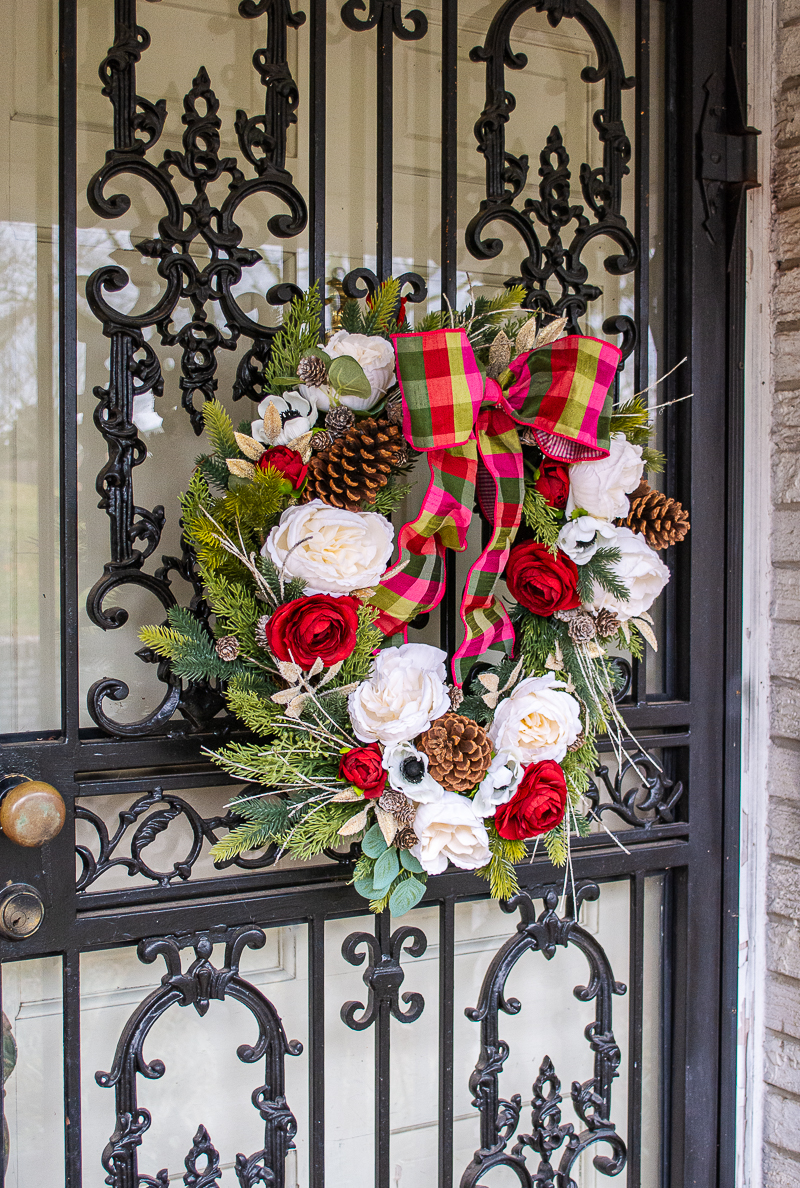 Welcome old friends and new guests!
I hope you are ready for some colorful Christmas magic! The It's a Colorful Life Home Tour – Holiday Edition is always filled with so much inspiration and colorful festive feeling. If you are stopping over from Maggie's, wasn't her classic porch gorgeous? I could sit and rock a while there for sure!
A special thank you to Jennifer of Dimples & Tangles for hosting this blog hop. This is my third year participating and every time I see so many inspiring interiors filled with unique and merry holiday decor.
If you stopped in last year, you know I choose different themes or looks for my Christmas decor depending on the room. Last year was an interpretation of Chinoiserie through out the house. This year I wanted colorful and traditional, so I played around with Southern classics in my formal living room and delved into childhood nostalgia for skiing adventures in my family room with an après ski theme.
Head over to this tutorial to see how I made my front door wreath.
Let's get this merry little tour started!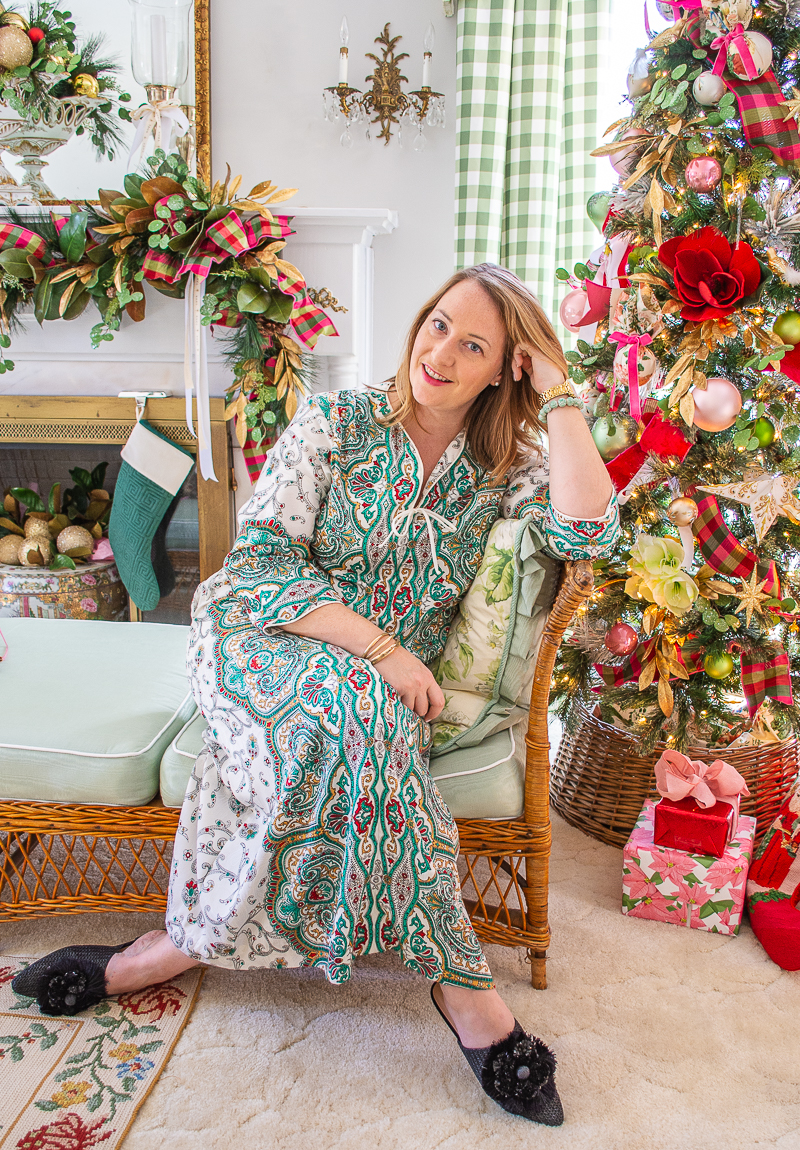 Grandmillennial Southern Christmas in the Formal Living Room
Just off the entry is my formal living room, and it is an inviting space decorated in greens with lots of floral accents. For my colorful traditional Christmas look, I played with a pink, green, and red color palette and Southern classics like magnolia, long leaf pine, amaryllis, and gingham.
I love how elegant this space feels and yet the Christmas decor is bold and playful.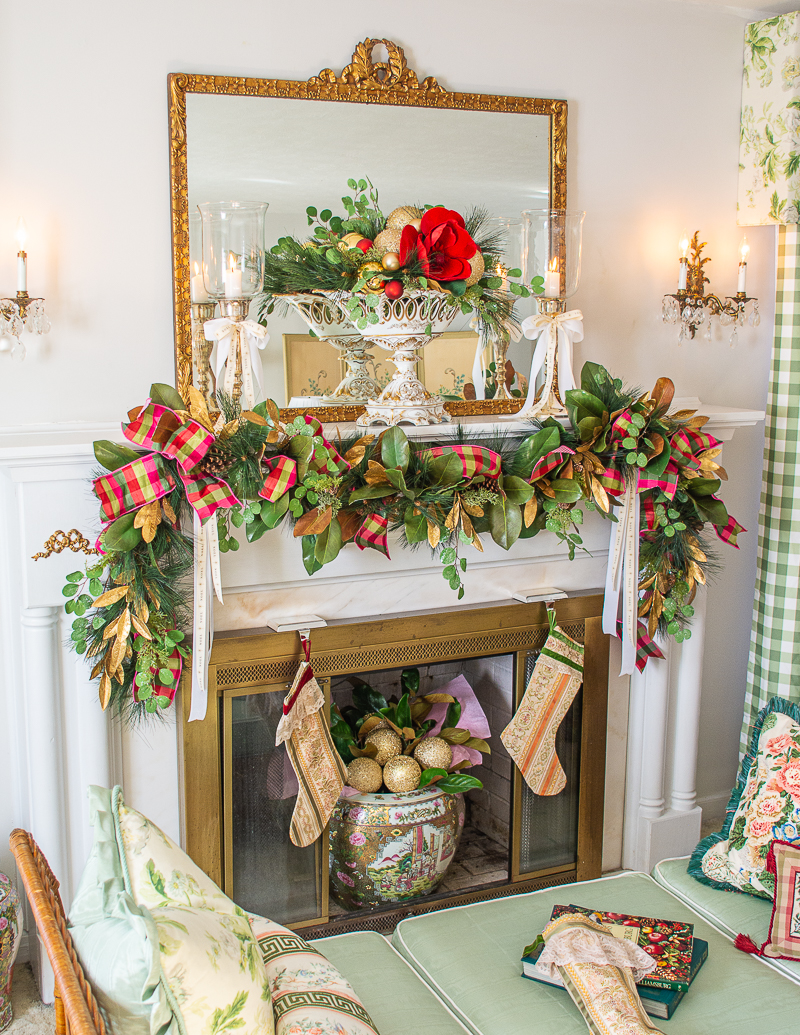 Explore the full look and all the details with sources in this blog post. There is also a video tutorial for the garland on Instagram.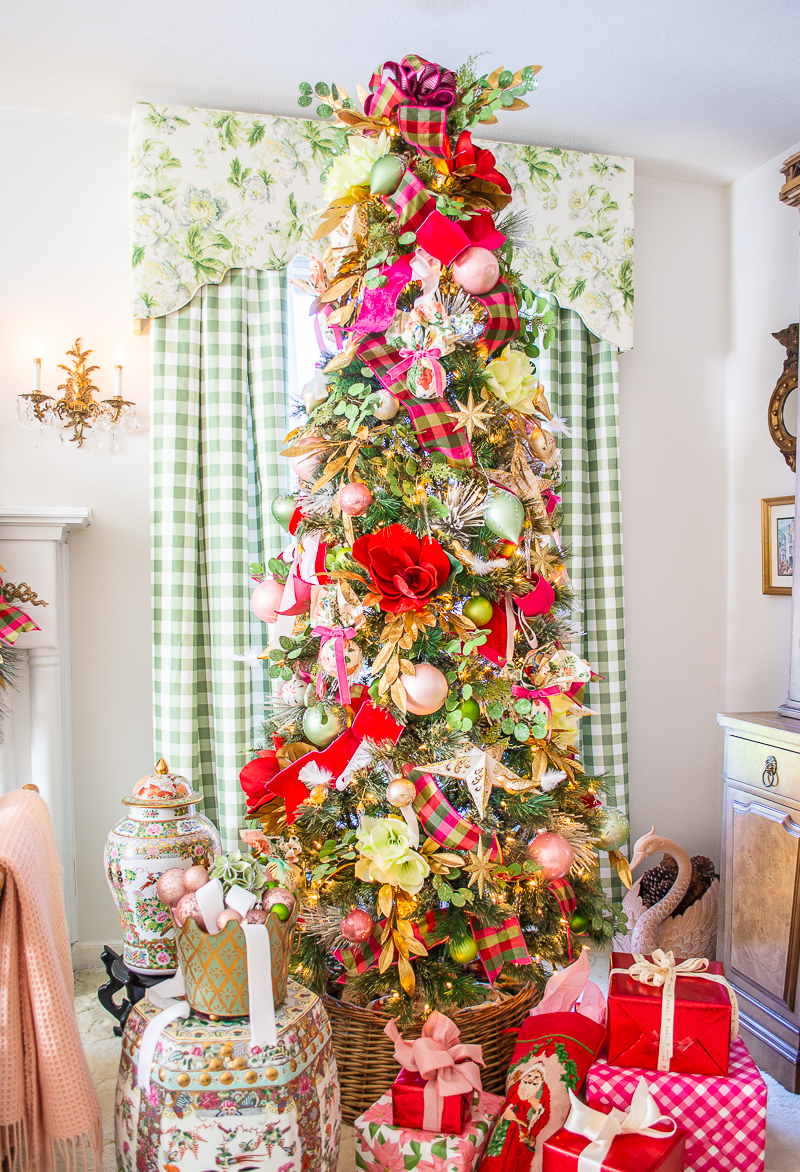 Colorful Traditional Christmas Dining Room
In our dining room, I kept the decor pretty simple, using an Indian block print tablecloth in green and white that I can dress up or down. Running down the center is a faux mixed pine garland with more of this fabulous pink, green, and red plaid ribbon. In the very center, nestle velvet magnolias, gold ornaments, and red ranunculus blooms.
I'm a firm believer that every room needs a Christmas tree, so the dining room received this little tabletop tree that I perched in a wicker fern stand. Its platinum branches are bedecked with white paper leaves, magnolia blooms, gold ball garland, plaid ribbon, and my budding collection of Danbury Mint gold ornaments.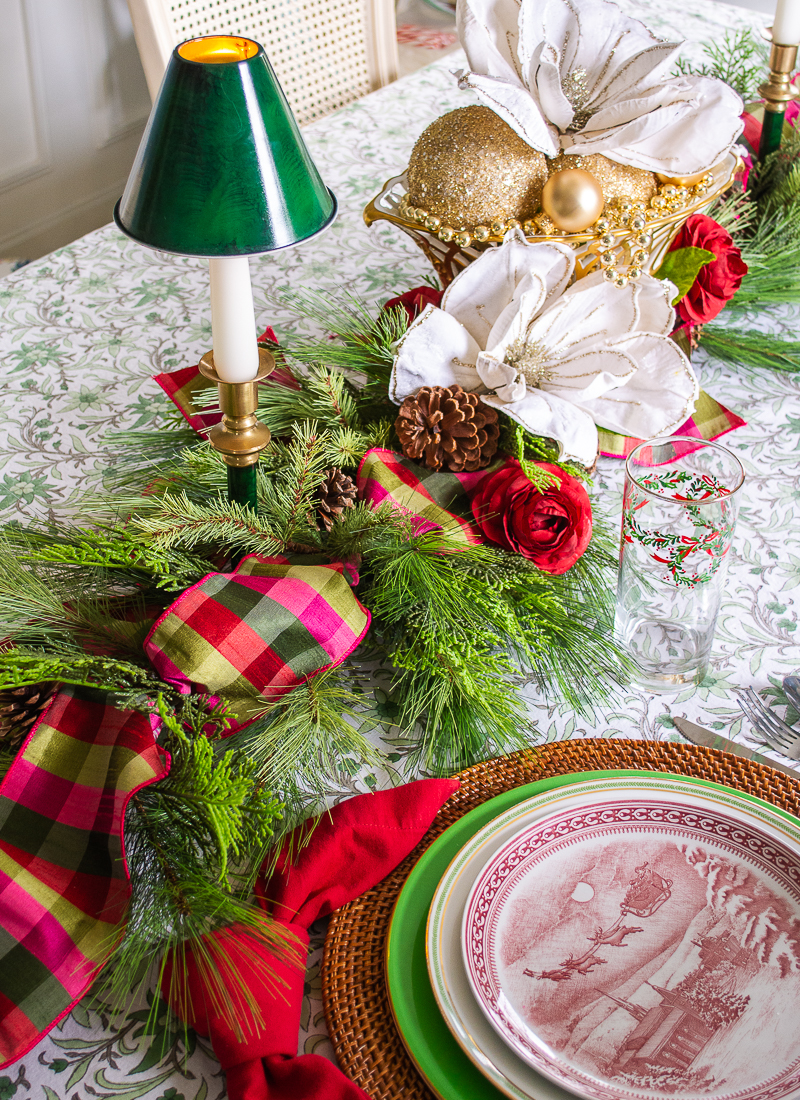 For those new to P&P, every week I host an Instagram flash sale of curated antiques and vintage decor. This Thursday's event (Dec. 9th) will feature classic entertaining pieces perfect for the Christmas table. Sales start at 8 PM EST. Be sure to follow me on IG to learn more.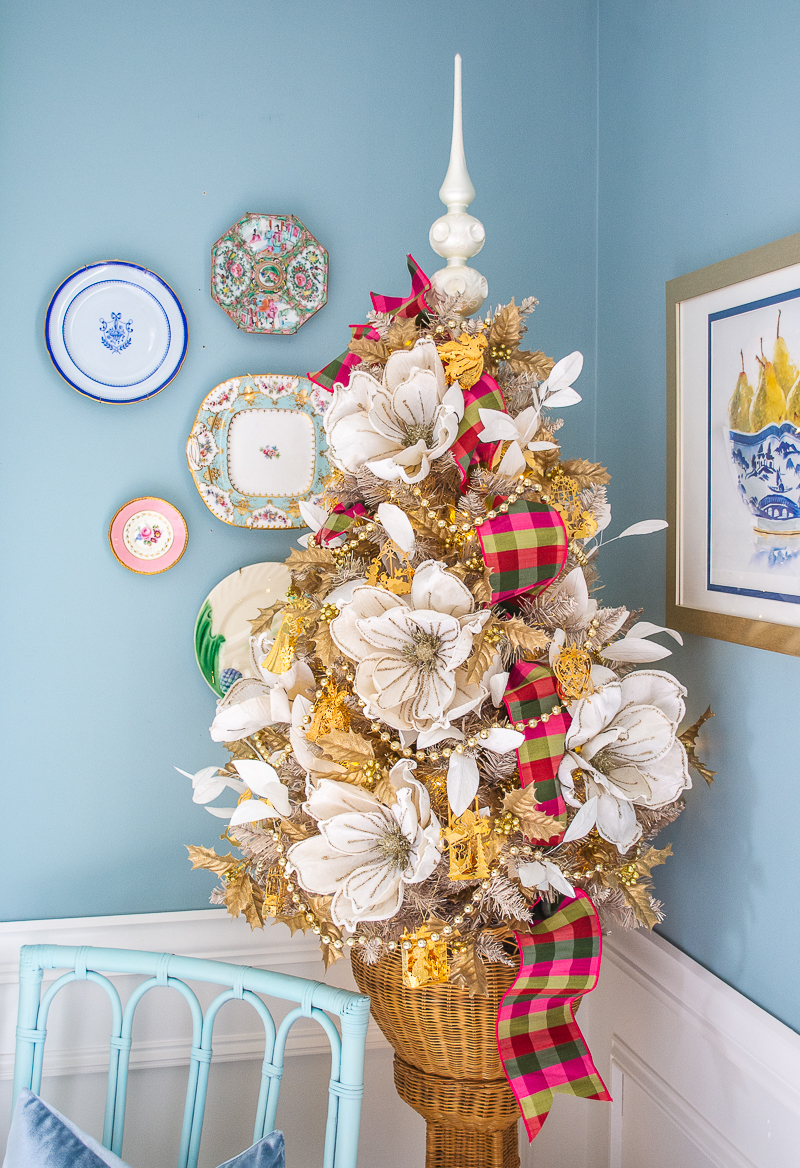 Family Room Après Ski at the Christmas Lodge
Across the house is our family room, and it is a casual hang-out space where we watch TV and just chill. For this colorful but traditional look, I played with an après ski theme, mixing in winter wonderland vibes with the glam ski look of the 50's and 60's.
The mantel is decorated with a faux pine garland, red berries, snowflakes, and a trio of tin bells. You can learn how I created it in this post.
In the corner, I placed a pair of white Christmas trees bedecked with plaid and snowflake ribbons and family ornaments surrounded by winter sporting accessories.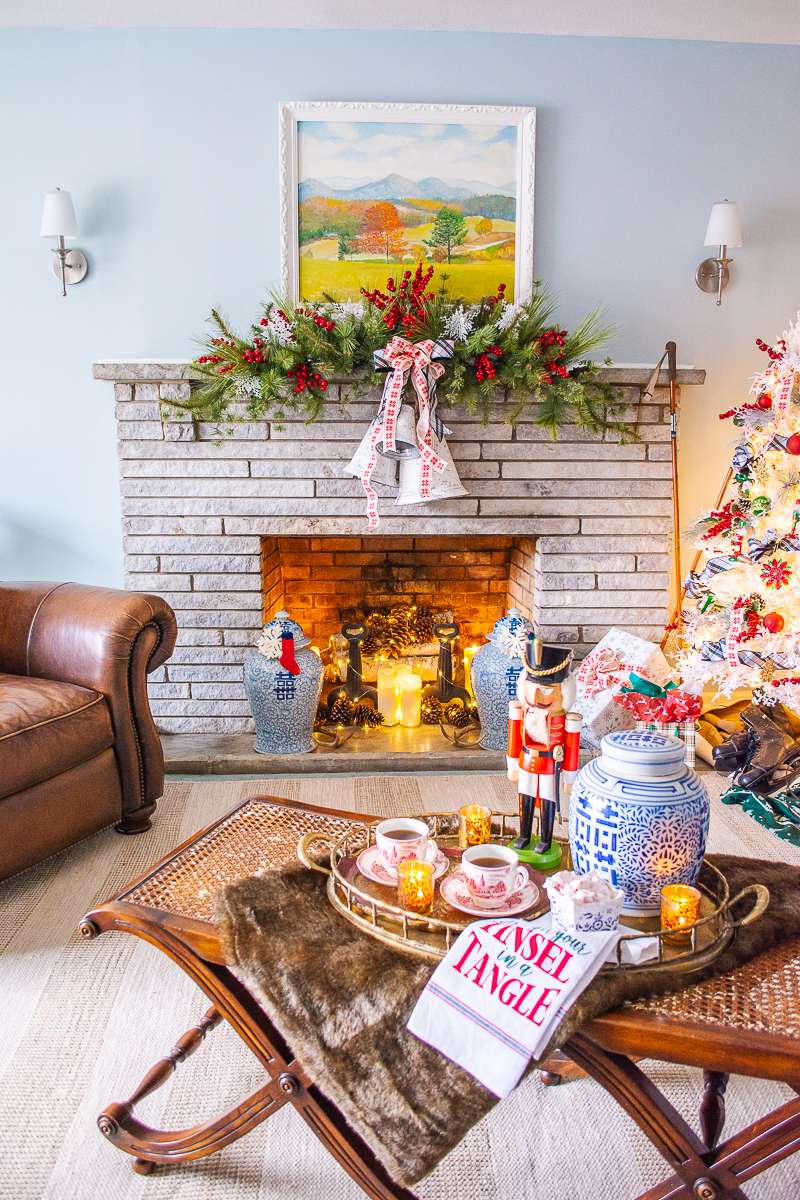 Head to this blog post to read all about my inspirations for this look with sourcing details.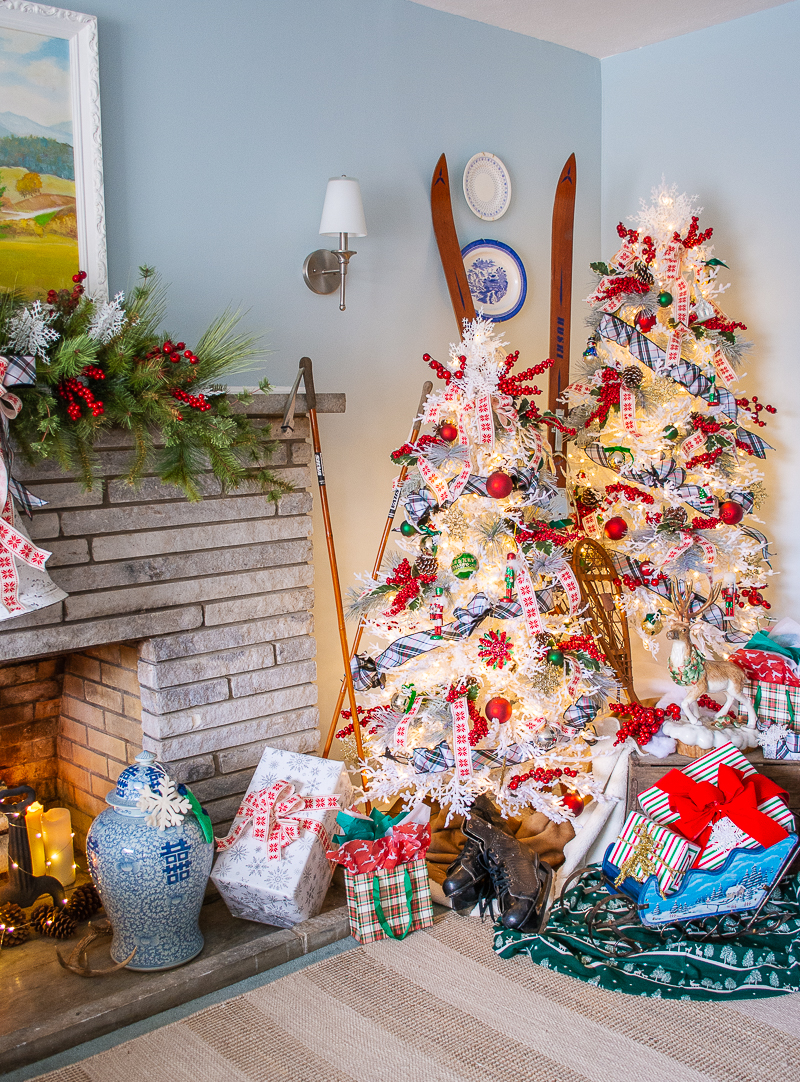 Thanks so much for stopping in to my colorful traditional Christmas home tour! I hope you enjoyed my holiday decorations and are ready for more inspiration. Head next to Rachel's joyful abode where the Christmas decor has a decidedly tropical bent that makes me want to move to the beach!
Merry Christmas All!
IT'S A COLORFUL LIFE 2021 CHRISTMAS TOUR SCHEDULE
MONDAY:
TUESDAY:
WEDNESDAY:
THURSDAY:
FRIDAY:
Join in the party on Instagram by posting your colorful Christmas decor and using #ItsAColorfulLifeTour!
See you there!