Après Ski at the Christmas Lodge
?
Where it's snowing
All winter through
That's where I want to be
Snowball throwing
That's what I'll do
How I'm longing to ski
Through the Snow,
Those glist'ning houses that seem to be built of snow
Snooooooooow
Oh, to see a mountain covered with a quilt of snow
What is Christmas with no snow
No white Christmas with no snow
Snoooooooooow
~White Christmas~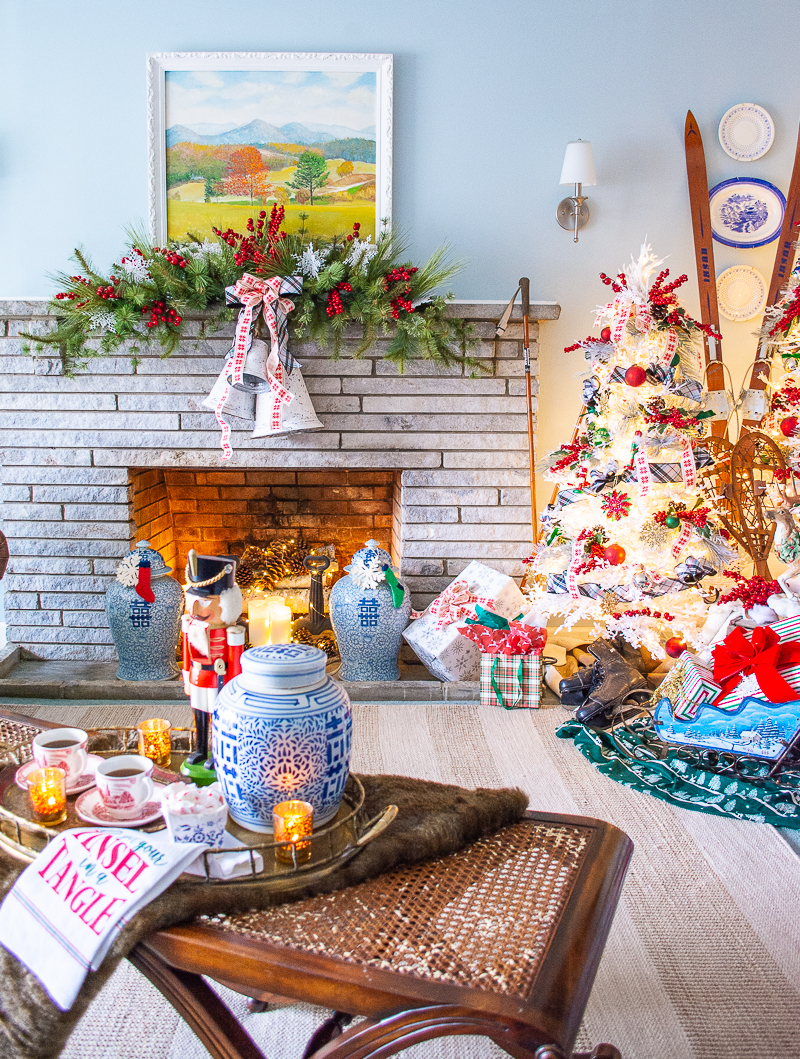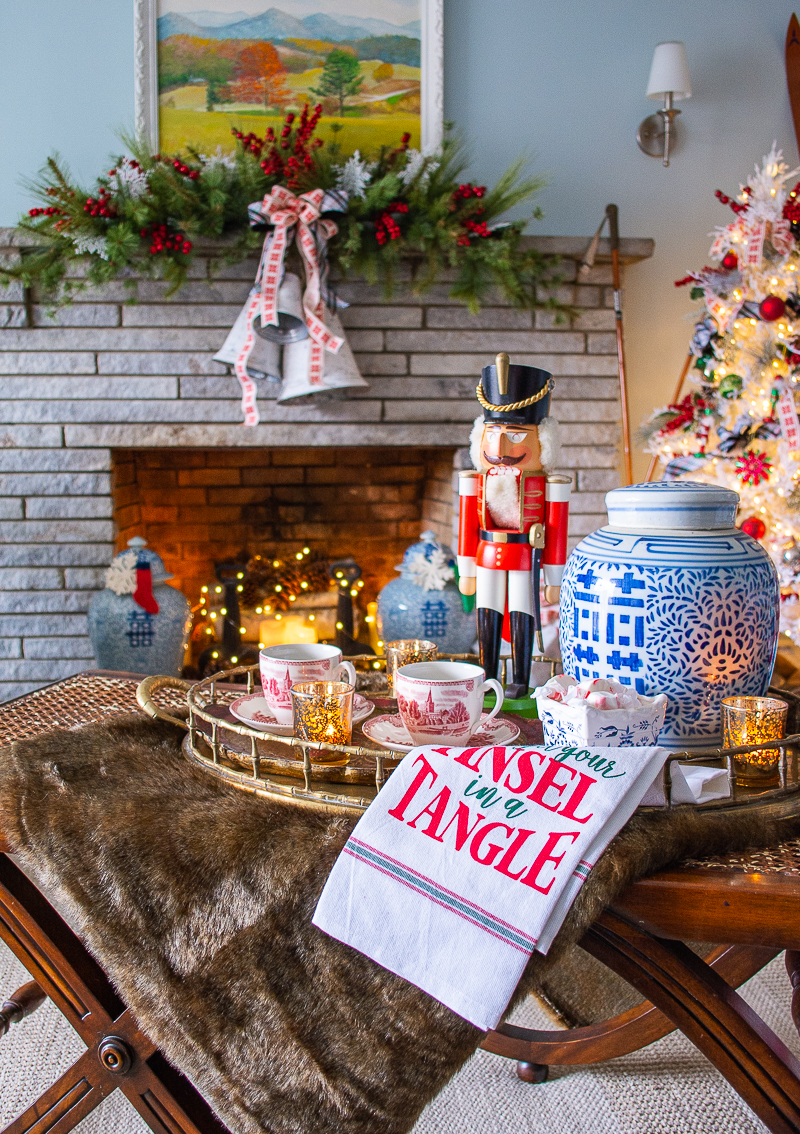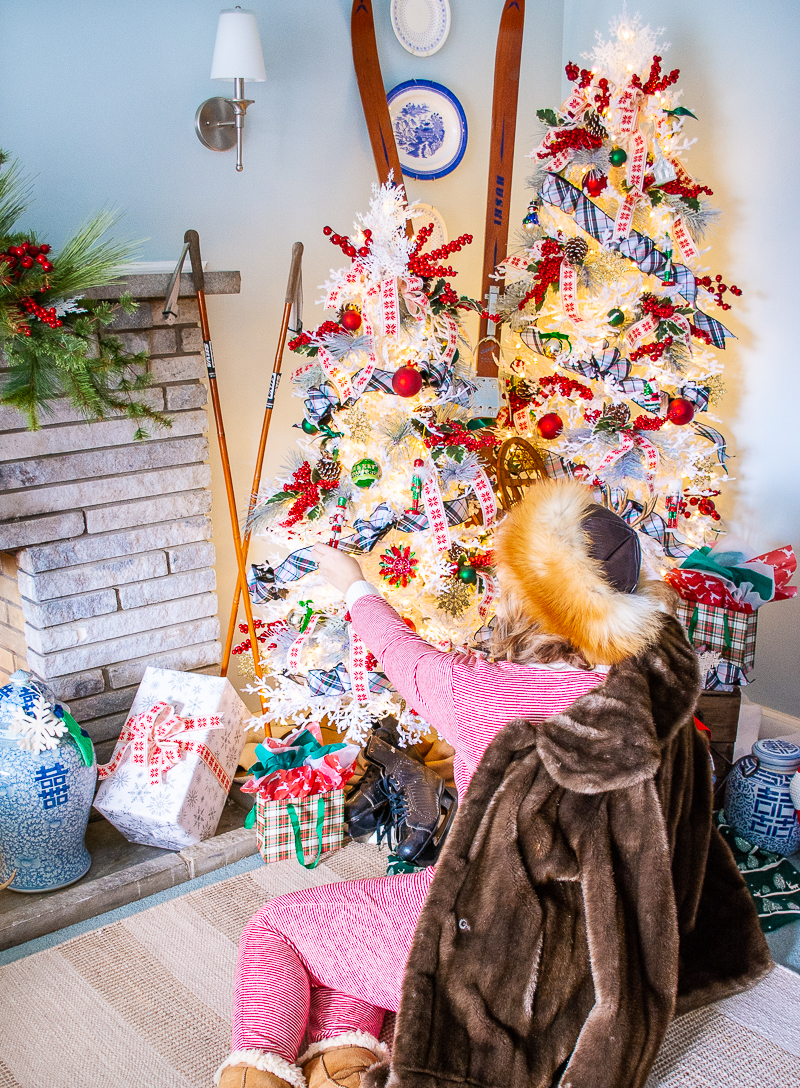 I could absolutely put this song on repeat (ok the whole movie) and twinkle gaze at my après ski at the Christmas lodge decor all day long.
Sometimes you just need a heavy dose of nostalgia and childhood joy at Christmas and that's what I feel every time I step in my family room and see my après ski at the Christmas lodge decor!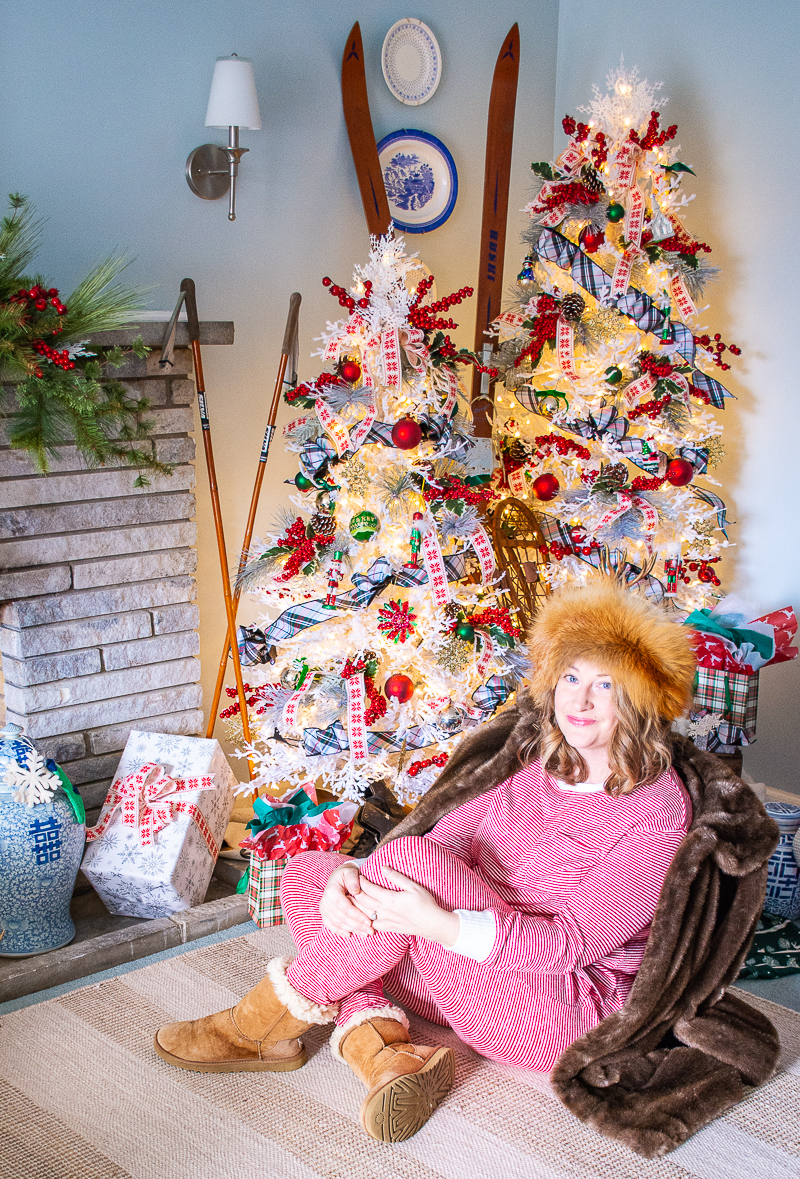 With this theme I wanted to rekindle memories of skiing with my father growing up and all the fun we had playing in the snow as a family: sledding, throwing snow balls, and making snow ice cream.
There's nothing like a steaming hot cup of cocoa after a day skiing in the cold while you warm up by the fire although admittedly now I love a cup of spiked cider even better.
Playing on the rustic cozy vibes of the ski lodges I've seen and throwing in a liberal dose of vintage glam à la Slim Aarons', I think my après ski lodge Christmas decor turned out enchanting.
For my Après ski Christmas look, I choose vibrant plaids, Fair Isle motifs, flocked pine, reindeer, and vintage ski accessories. Those skis are even my dad's old cross country skis (similar pair available here)!
Après Ski Christmas Trees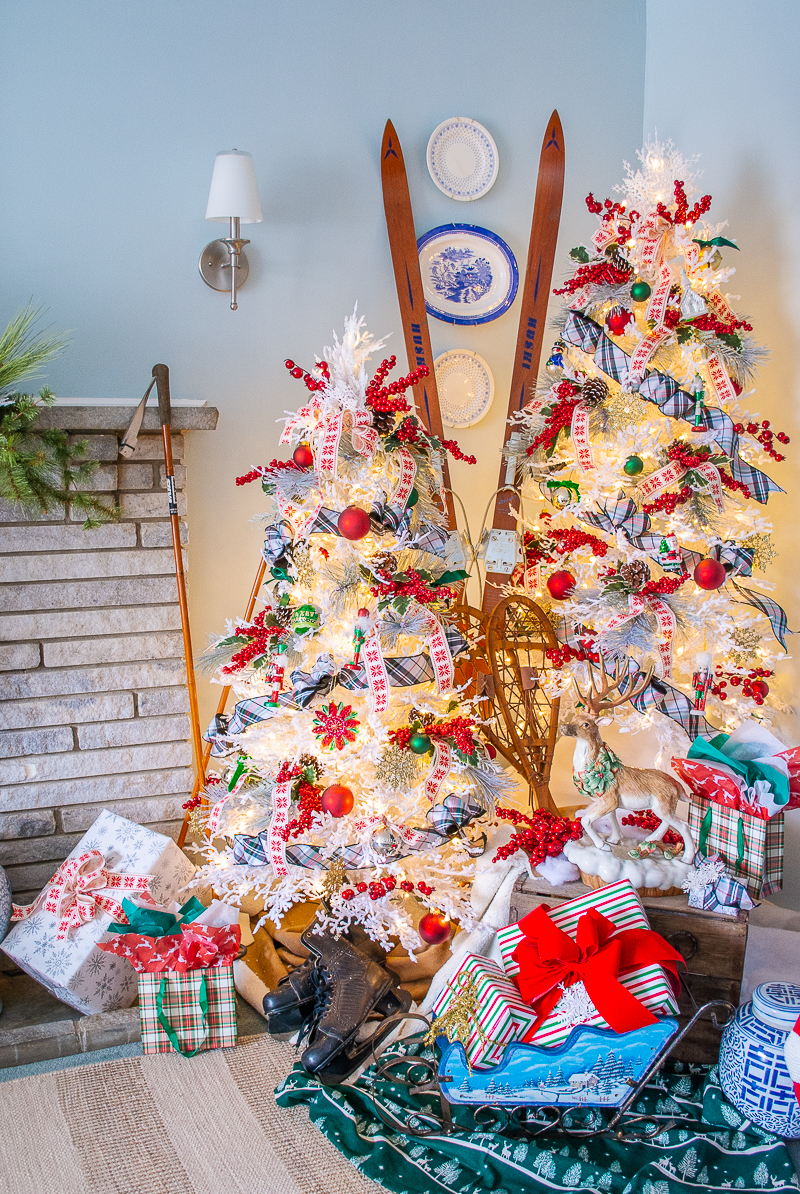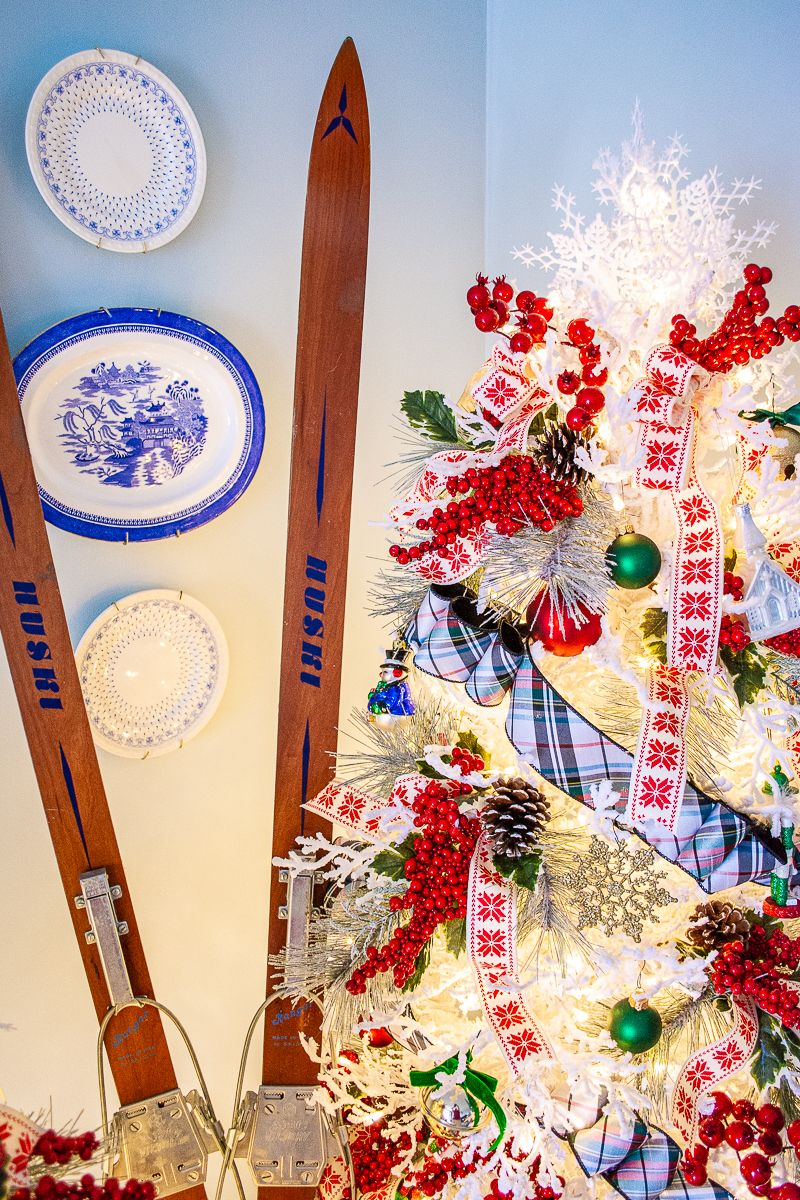 The pair of white flocked Christmas trees are bedecked with picks of flocked pine, red berries, pine cones, and red snowflake ribbon. I used lots of our traditional ornaments we've collected over the years as well as a smattering of red and green balls with some gold glittered snowflakes. For an extra festive touch I swathed each tree in plaid ribbon garland and finished the top with white snowflakes and red berries.
To really play up the après ski theme, I used vintage ski equipment and toy size snowshoes and a sleigh around the trees. A wooden apple crate holds up my favorite Fitz & Floyd reindeer and presents tied up with bows, while faux suede and white quilt batting add to the cozy cabin vibes and snowy display.
A Christmas Lodge Mantel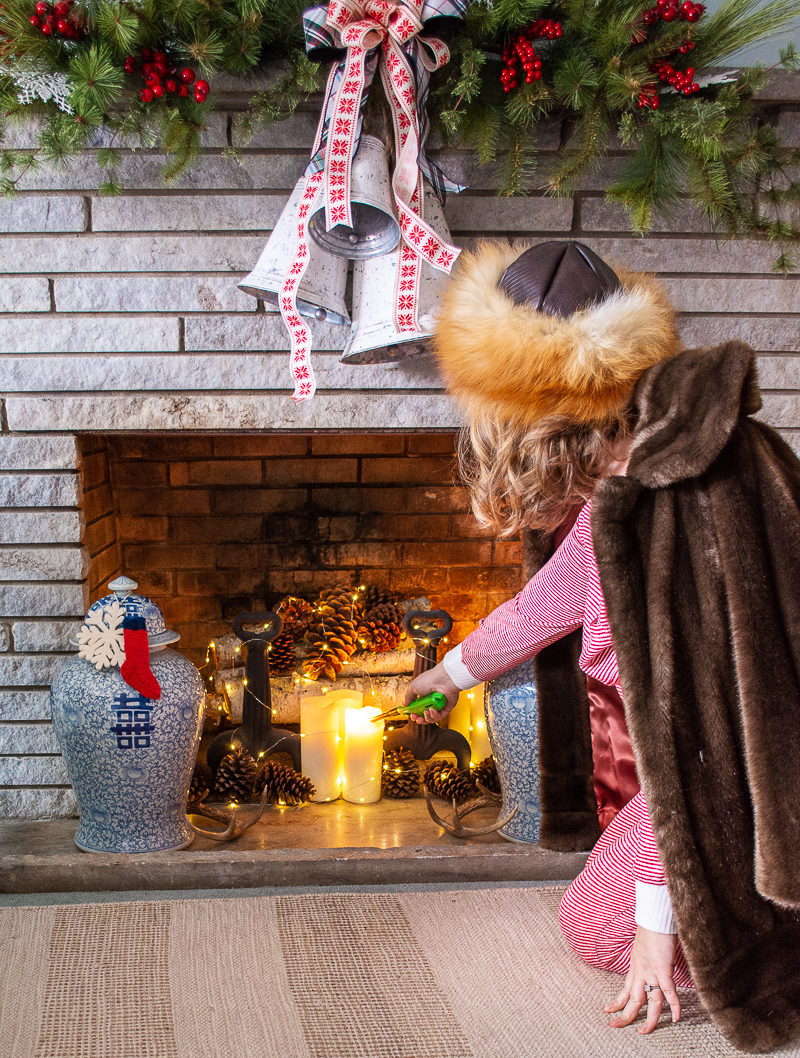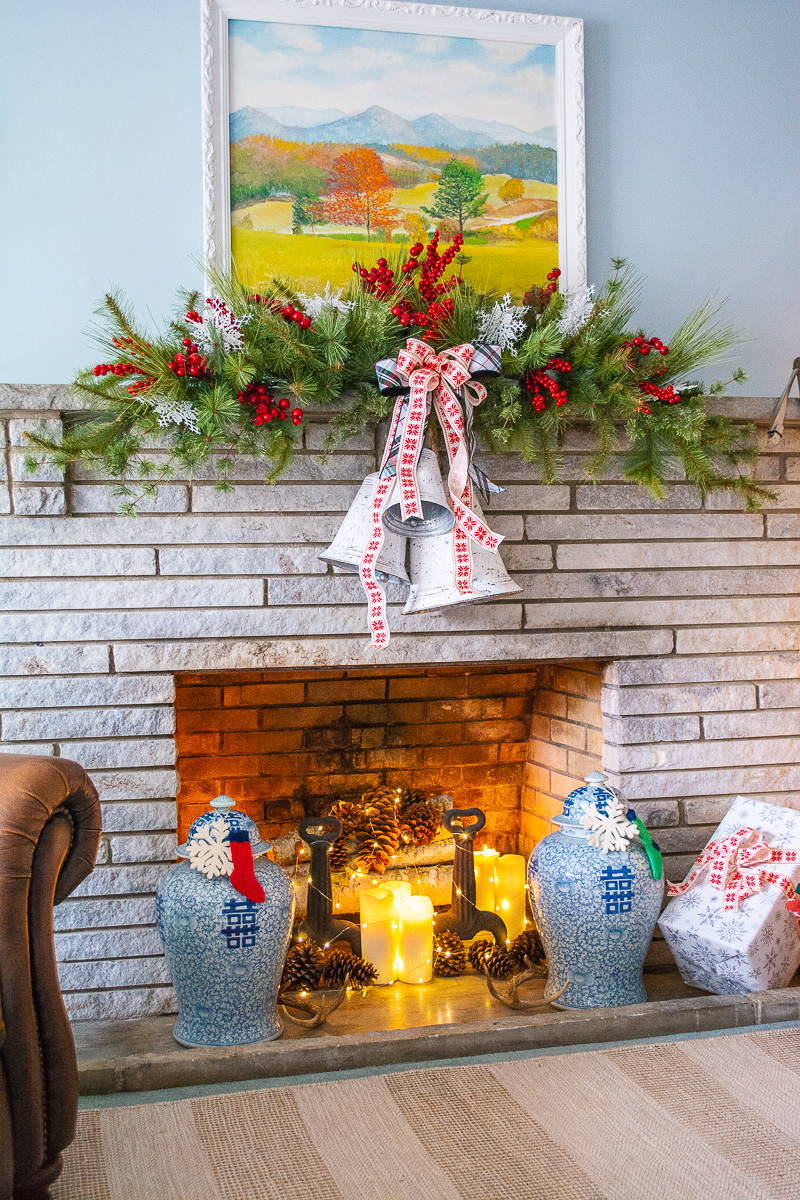 On the mantel in our family room, I created a simple mixed pine garland (similar here) with red berries, white glittered snowflakes, and three white bells hanging from the center with a big bow. I love how classic the mantel feels for Christmas and the play of the bristly pine textures. Read this post to learn how I put it together!
Of course a roaring fire would really add to the ambience of my après ski at the Christmas lodge look, but unfortunately our chimneys are in deplorable condition and unusable, so to mimic the warmth and glow of a fire I used candles and twinkle lights with pinecones and birch logs.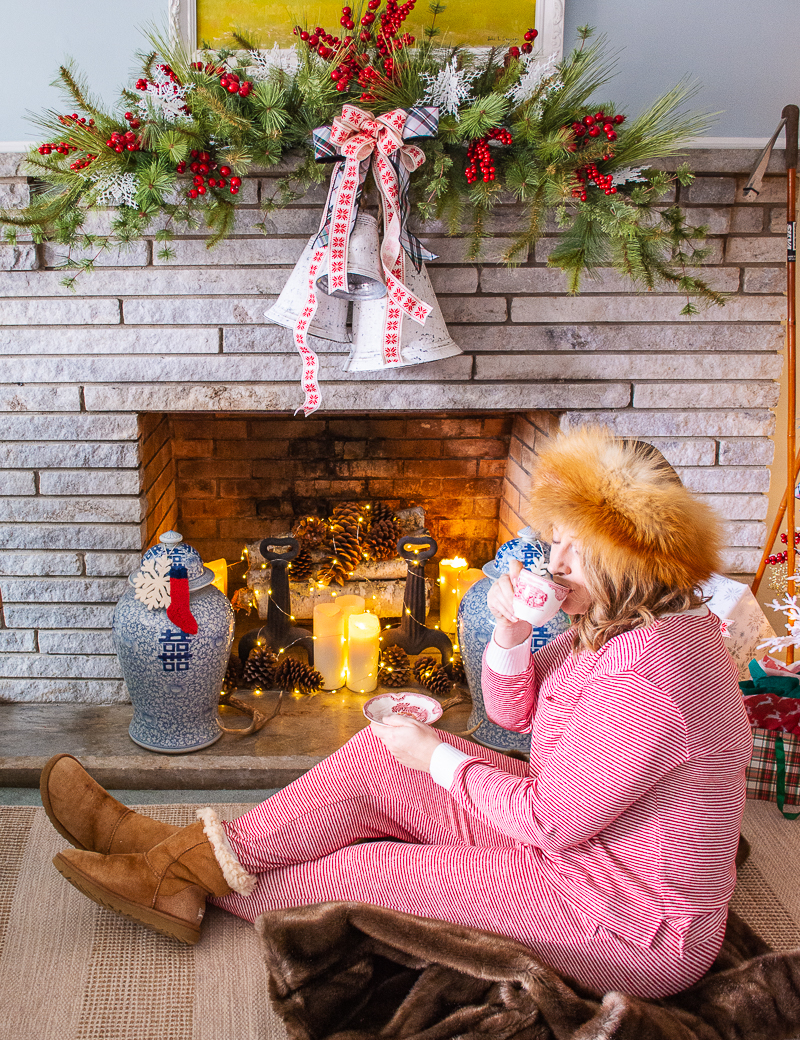 It still feels so festive when S. and I cozy up here in the evenings!
Après Ski Refreshments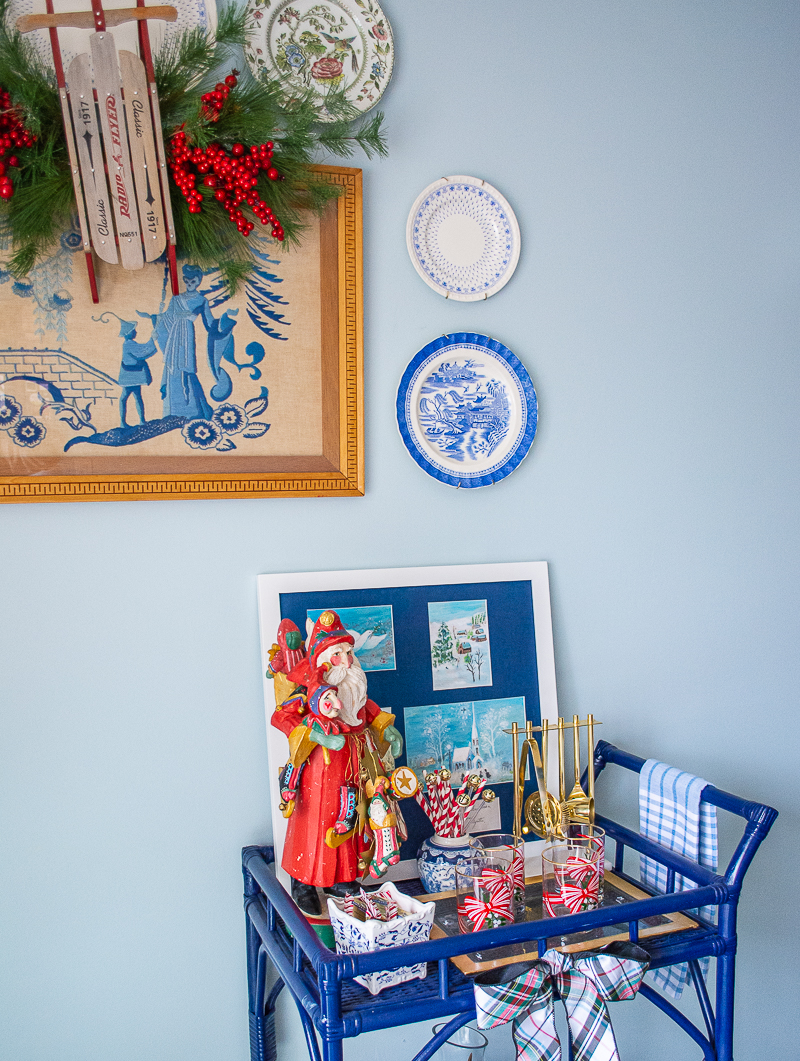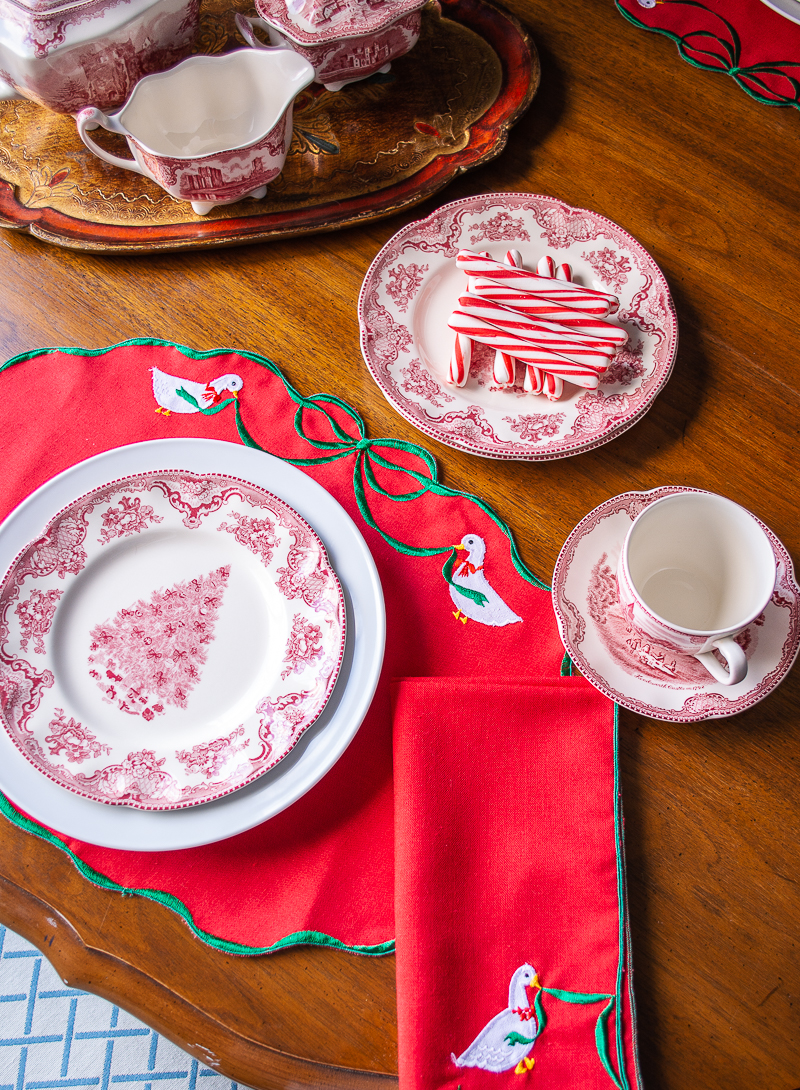 What's après ski with out some delicious cocktails and refreshments? Nothing, so of course the bar cart and breakfast table needed a bit of decorating too! Aren't those geese just adorable?
Get my bourbon cider recipe here for a delicious hot toddy to warm you right up.
My favorite part though of this area is the hand painted Christmas cards from my great grandmother that I had framed a few years ago! They are so charming and just fill me with joy every time I see them! I didn't get to know her, but these make me feel her love!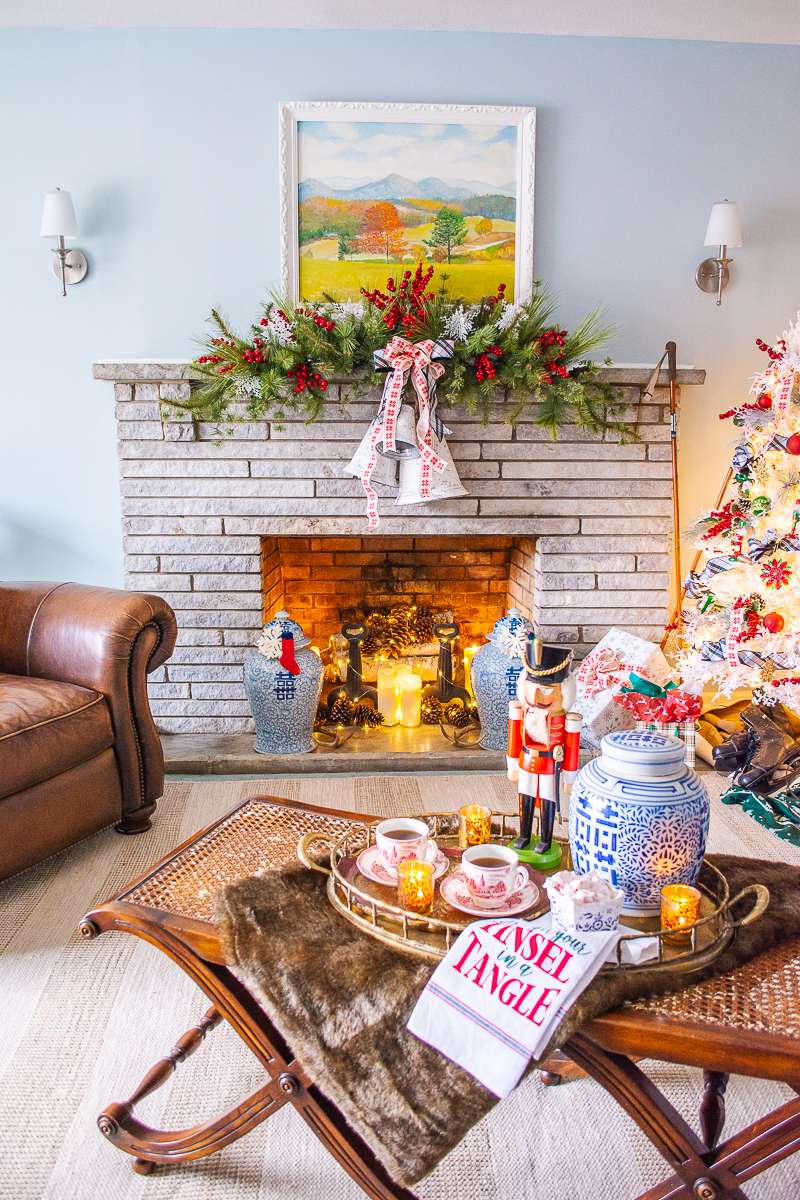 Get the Après Ski Look:
Don't miss the Thursday December 2, 2021 flash sale on Instagram if you are loving this traditional Christmas look! Several of the items I used in this photo shoot will be available:
House of Hatten Santa
Johnson Bros. Transferware: Christmas tree plates and old castles tea set
A Set of 3 White Bells (like on the mantel)
Geese & Bow Placemats and Napkins
Both Pillows: love ski and jingle all the way
Mistletoe Bow Rocks Glasses
& Much More
If you are hunting for vintage ski or snow sporting equipment, I recommend checking your local thrift stores as I usually see vintage sleds and skis there.
Currently, from around the web here are my picks to re-create the look: