Reveal: Blue and White Family Room with Birch Lane
Our blue and white family room reveal using Chinoiserie accents, preppy classics, and traditional decor! See how I refreshed our space for a brighter, happier look that mixes thrifted finds with blue and white classics from Birch Lane.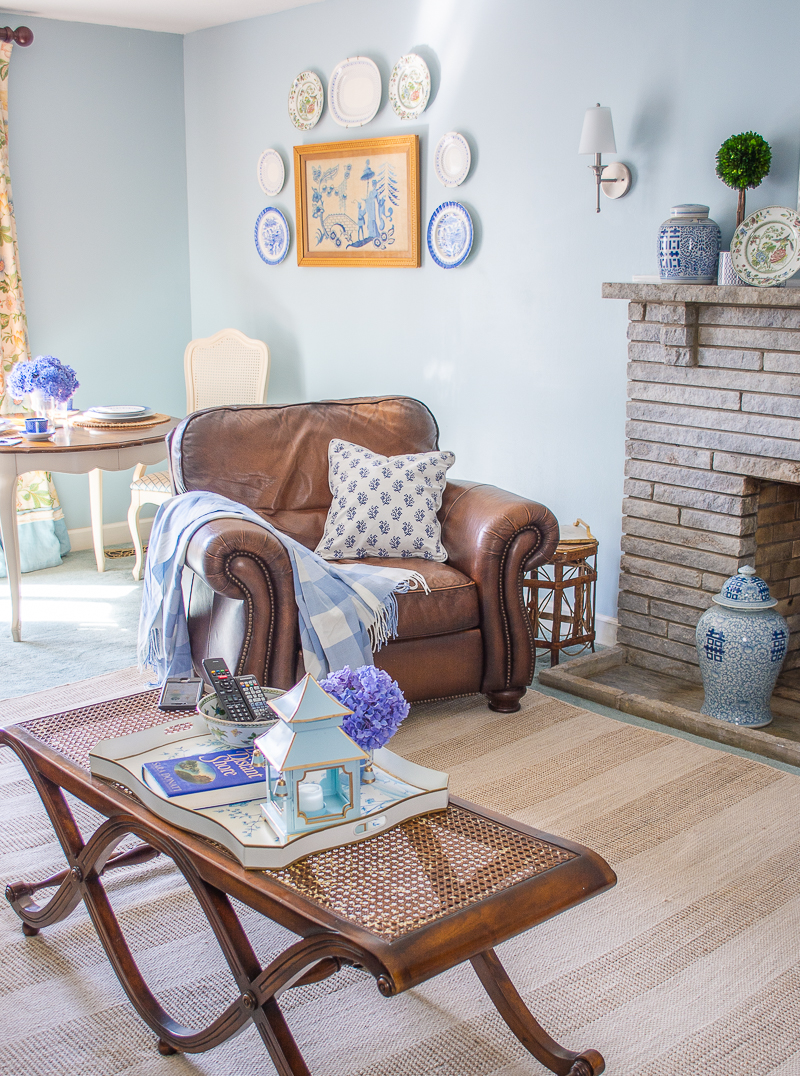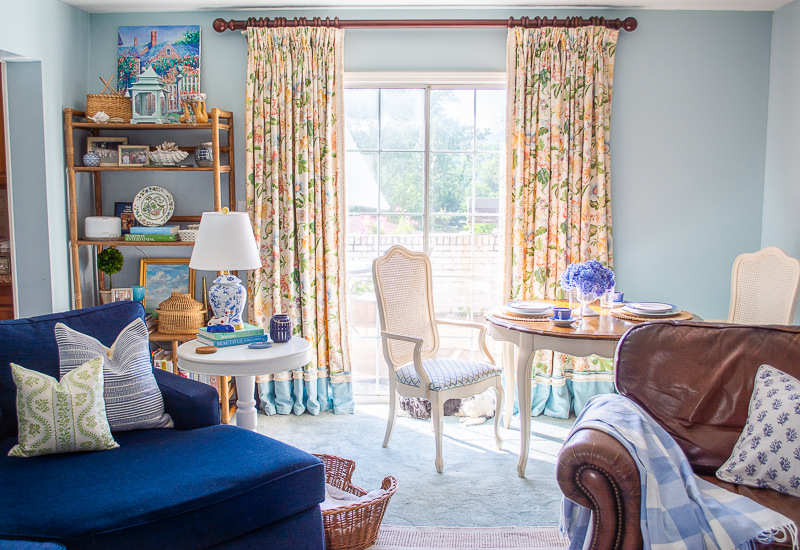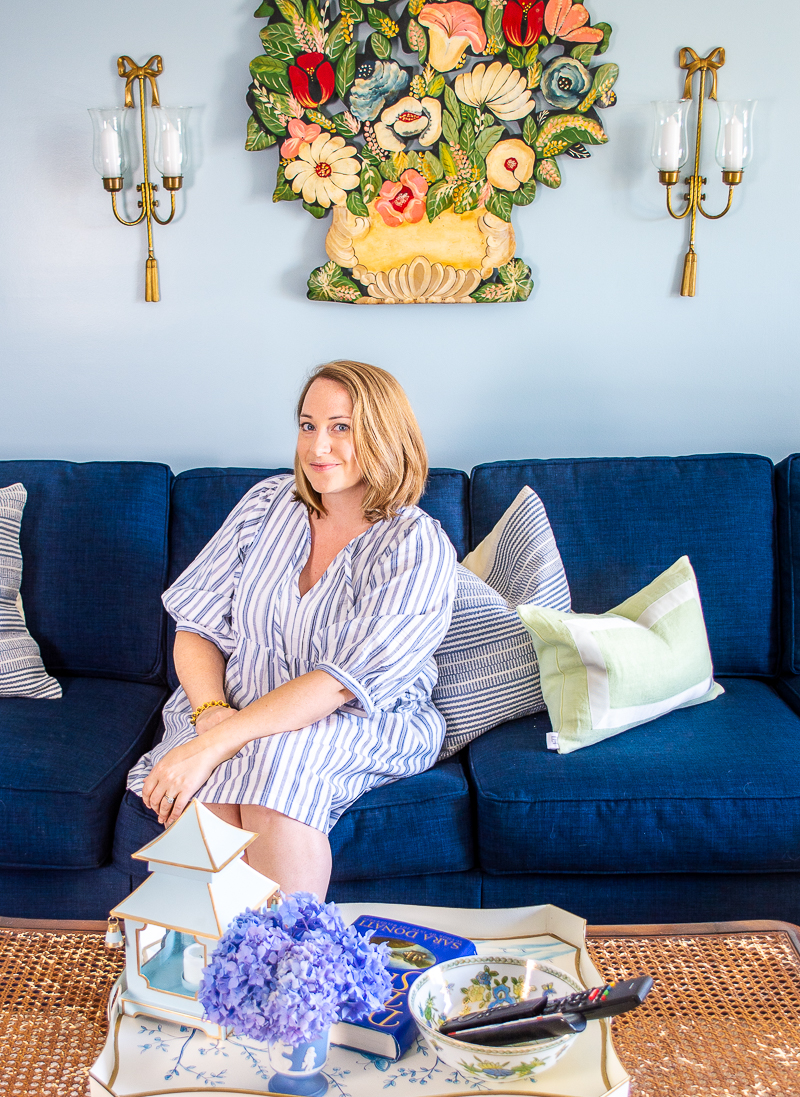 Penderandpeony.com uses affiliate links. Products gifted by Birch Lane in exchange for my honest review.
In just barely over a month, I've refreshed our family room with a few DIYs and some simple updates to the textiles, lighting, and art. I'm so pleased with the new brighter, happier look!
Let's get right to the before and after photos:
Wow oh wow! Talk about a cheerful transformation to a more coordinated space that feels traditional but fun, preppy but casual, and very Chinoiserie chic.
Vibrant florals…
Chinoiserie porcelains…
Cane textures…
Preppy stripes…
& A classic blue and white palette create the perfect mix for a cozy and traditional space!
A huge thanks to Birch Lane for helping me refresh our blue and white family room. I was very excited to partner with them on this transformation, and I am thrilled with the classic blue and white decor I selected from their shop. More on that below!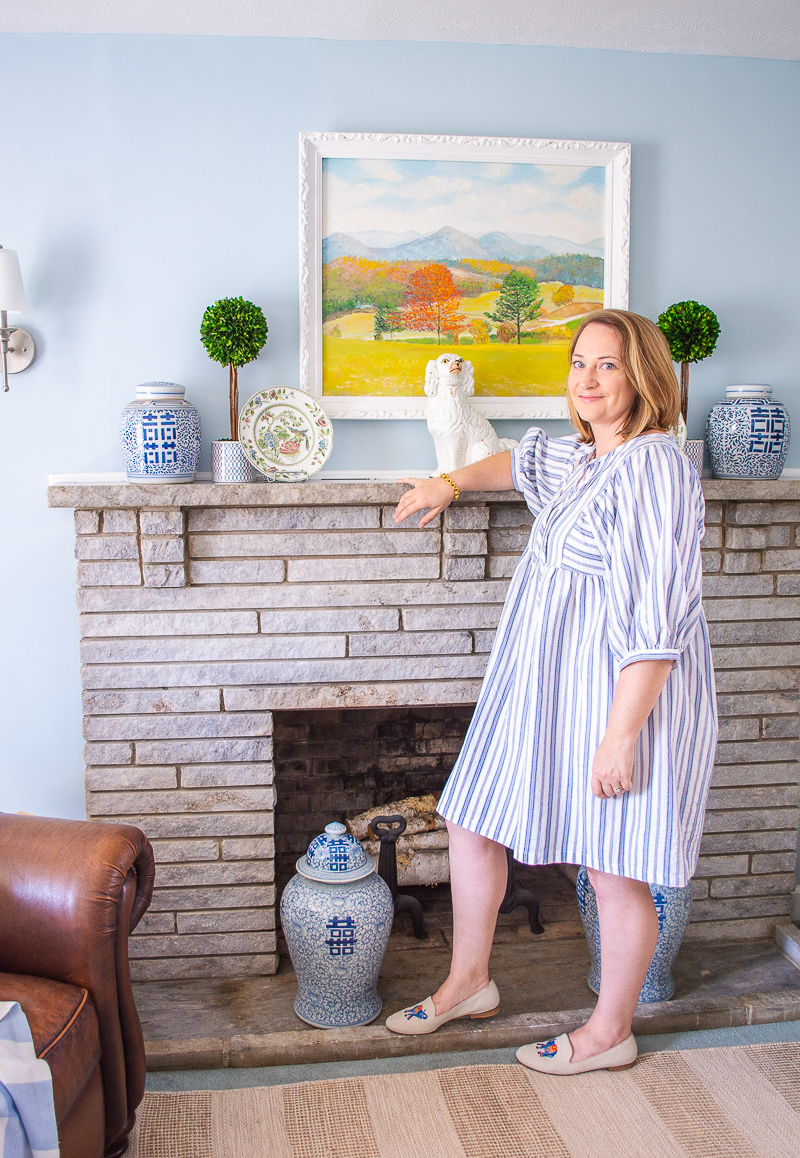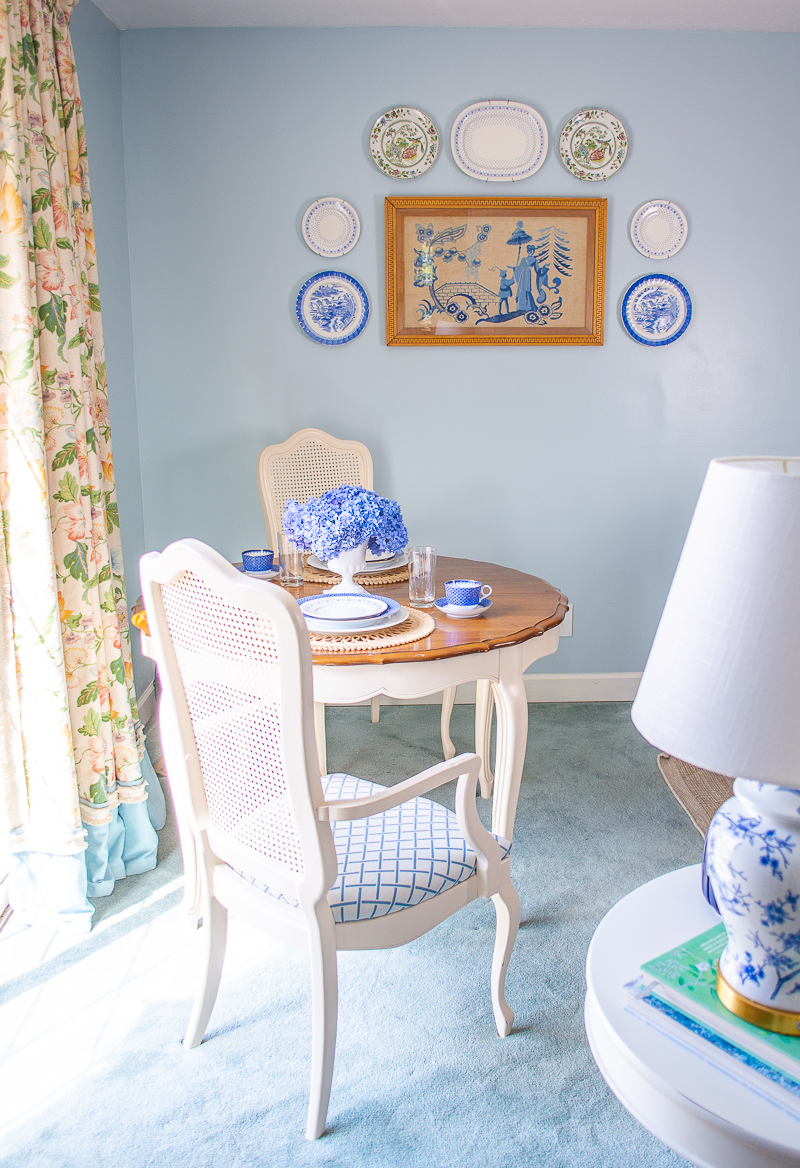 I shared our plans for this space in this post, and you may remember my goals for the family room were:
 No. 1 Bye Bye Brown
 No. 2 More Color & Pattern
 No. 3 Keep the Casual Preppy Vibes
 No. 4 Amp up the Chinoiserie Accents
 No. 5 Remix the Art
I think I accomplished all of those goals and so much more! Shall we look at the changes in more detail?
Blue and White Family Room Refresh Details
New Lighting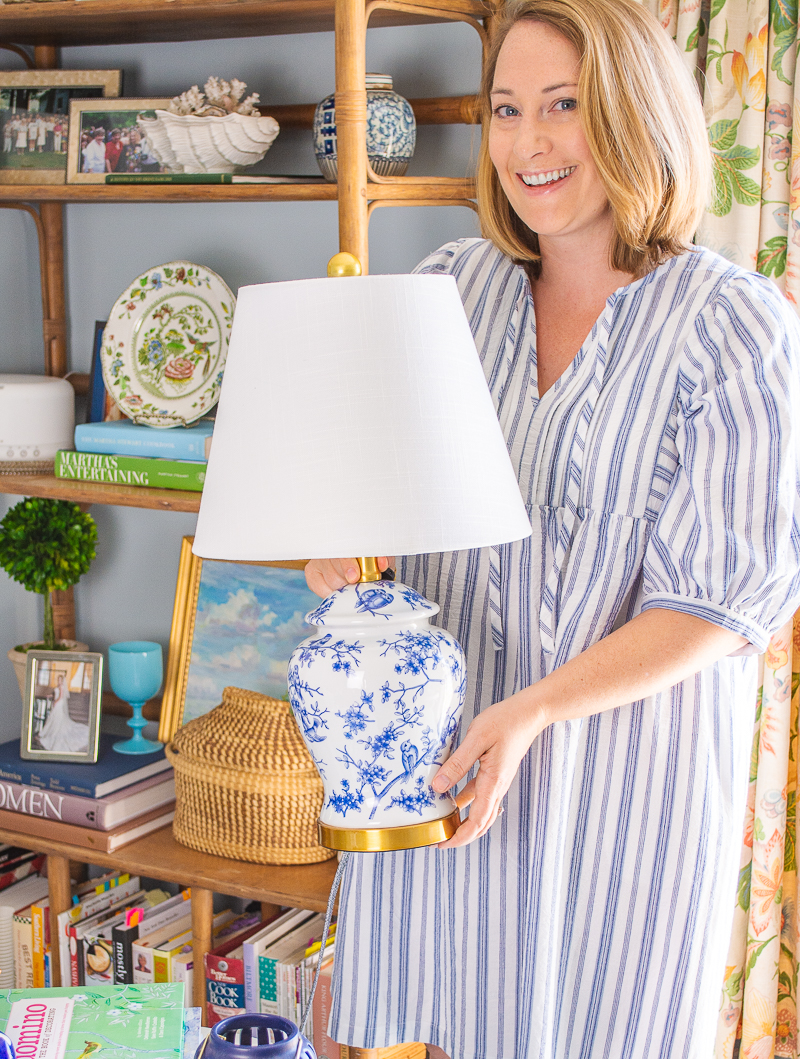 As I mentioned in my previous post about planning this room refresh, much of the furnishings came from our previous house in Concord. The silver lamps were actually from my very first apartment in Raleigh when I went to grad school. While there was nothing wrong with the silver hue or shape of the lamps, they didn't do anything to further the style or theme of the space. Really they were a missed opportunity.
When I started looking for alternatives these charming ginger jar shaped lamps with blue and white branch and bird motif caught my eye at Birch Lane (lamps c/o). The colors coordinate perfectly with our navy sectional and further the overall room color scheme. I also love the updated Chinoiserie design that plays up this style. Every time I see those sweet birds I smile.
I was pleasantly surprised at the quality of the lampshade that came with the base. The fabric is a textured linen that looks very luxe.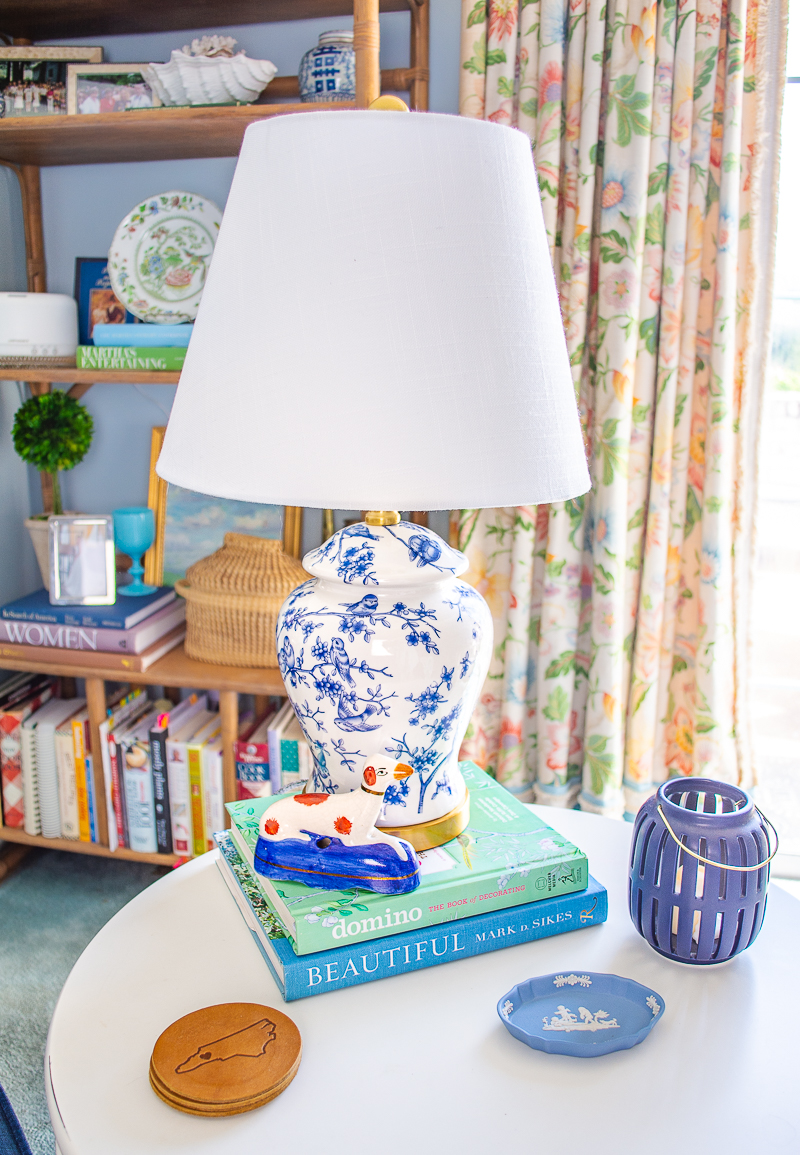 New Floral Curtains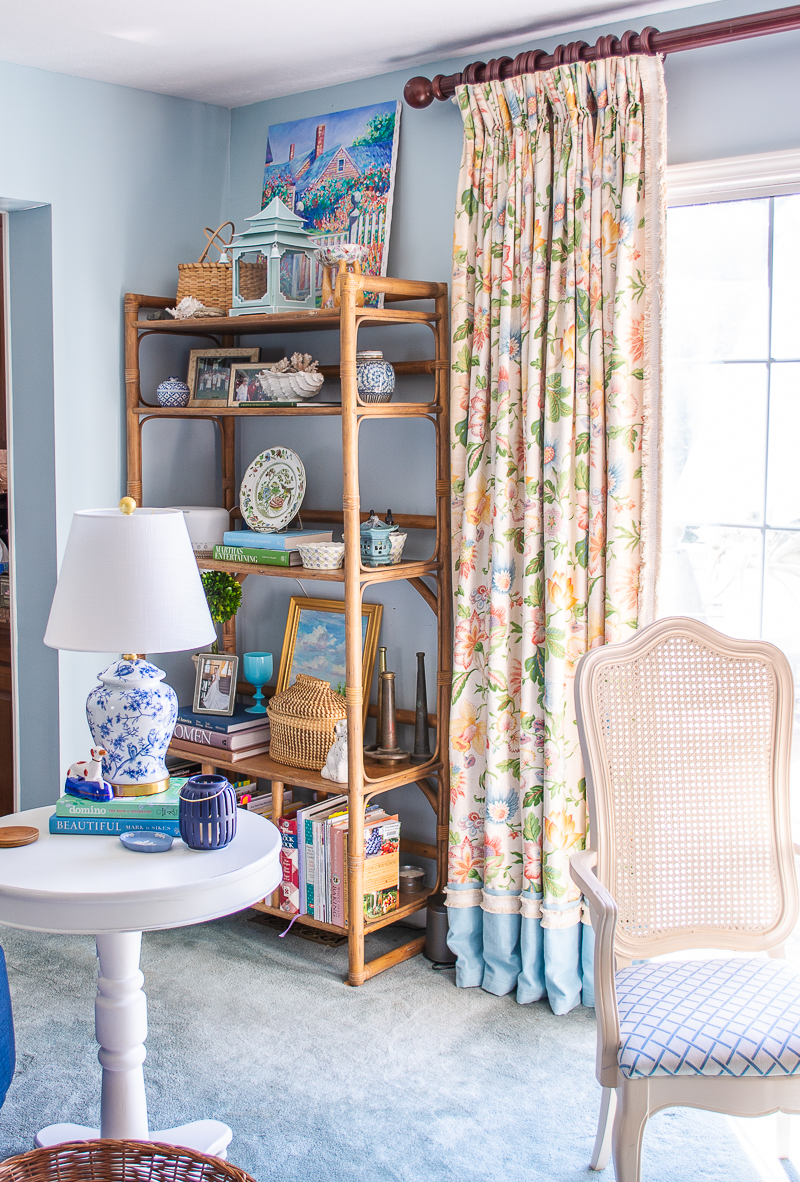 One of the most dramatic changes to the family room are the "new to me" floral curtains, which were a thrift find I snagged for $10! The fabric from Raymond Waites is a vibrant floral that had just the right mix of bright colors in blue, pink, green, and yellow to liven up the space. The brown curtain that was here was just too dark and high contrast.
I did have to do a bit of revamping to make these thrifted curtains work because they were too short for our sliding glass door with the curtain rod placed up high. When you have lower ceilings, I always recommend placing the curtain rod as high as possible to elongate the feeling of height.
To make these work, I let out the hem and added a 10 inch section of blue linen fabric at the bottom then used a natural colored fringed trim to finish the addition. Attaching the trim an inch below the blue fabric is an elegant finishing detail that makes the blue look intentional and less pieced.
So for these custom designer curtains with insulation and black-out layers, I paid a total of:
$10 (Waites panels) + $95 (dry cleaning) + $80 (blue linen fabric and trim) = $185! Custom curtains at this size with lining, black out layers, and trim would have cost me well over $1000!
Rearranged & Updated Art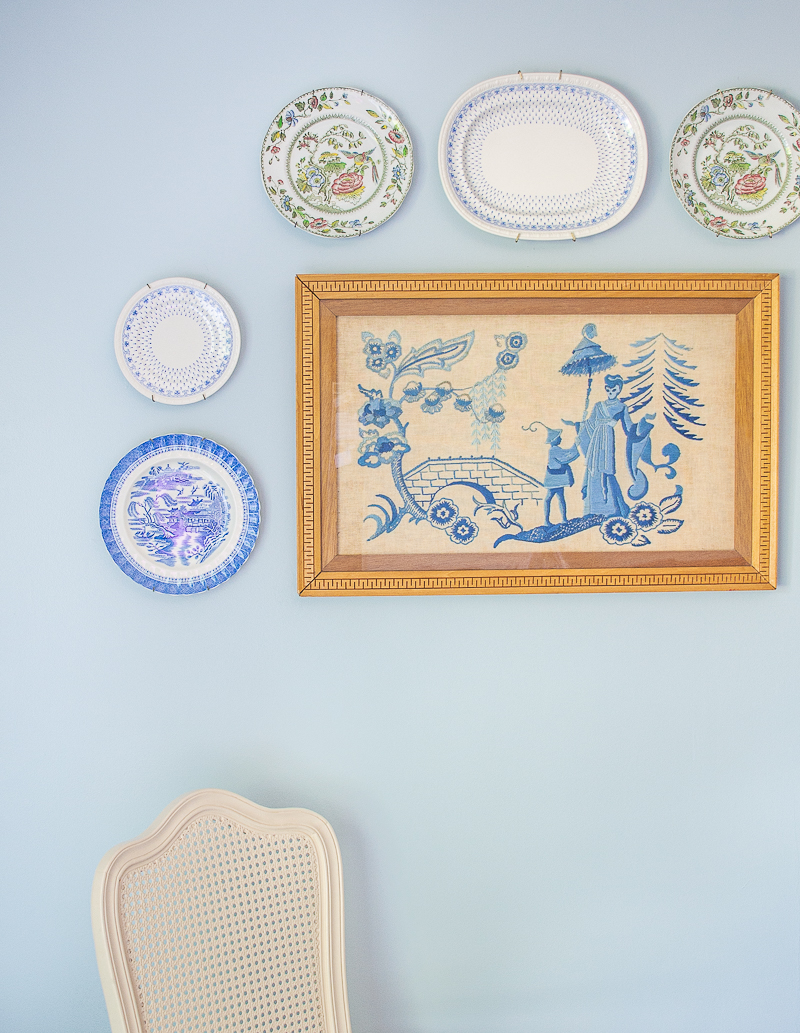 The art or lack thereof previously in this space was really dragging it down and contributing to the mismatched feel. Getting rid of the black frames made a huge difference!
I removed the photo gallery wall that was above the breakfast table and replaced it with a Chinoiserie grouping that combines my great aunt's embroidery with a selection of antique blue and white plates in some of my favorite patterns: Spode's Ermine & Mandarin as well as Royal Staffordshire Bird of Paradise!
These choices look great on the light blue wall color, which is Tradewind Blue from SW.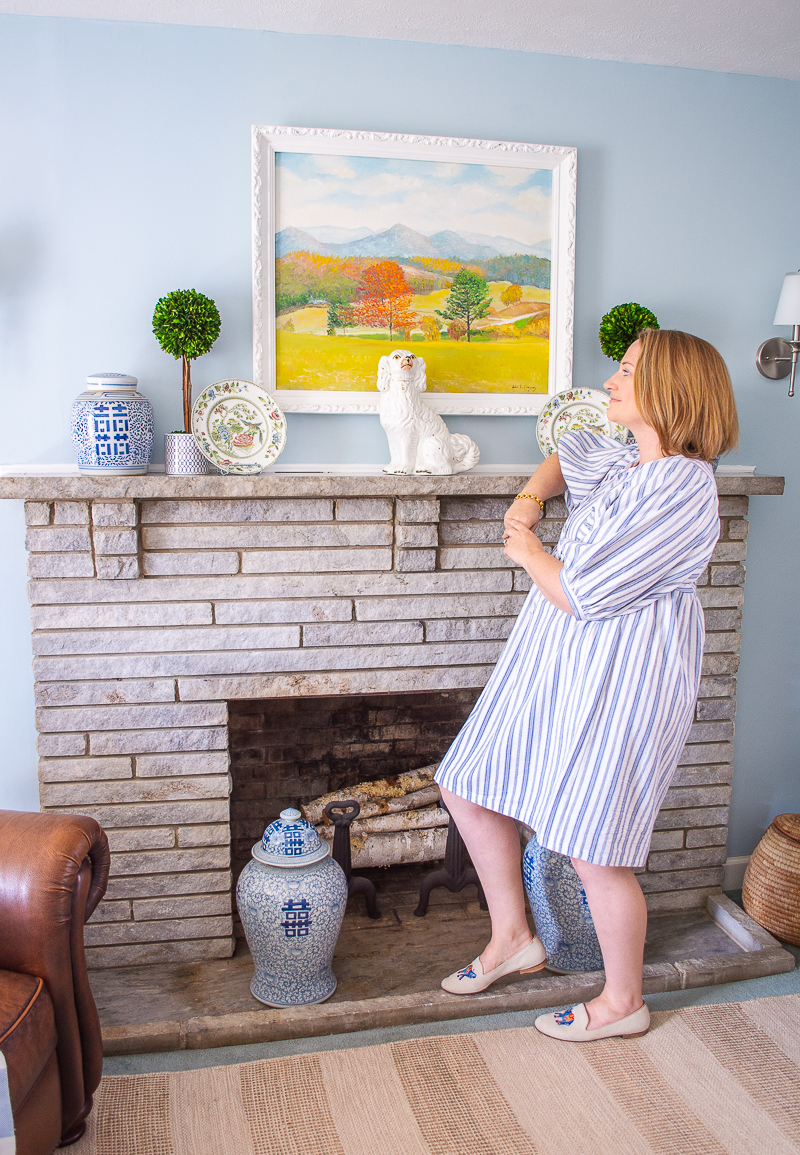 Above the fireplace mantel, I hung our favorite Southern landscape painting of a mountain view near where we grew up. The piece is highly sentimental to us as a family, and it's colors are lush! The painting was hanging in our formal living room, but I have plans to fill that void already.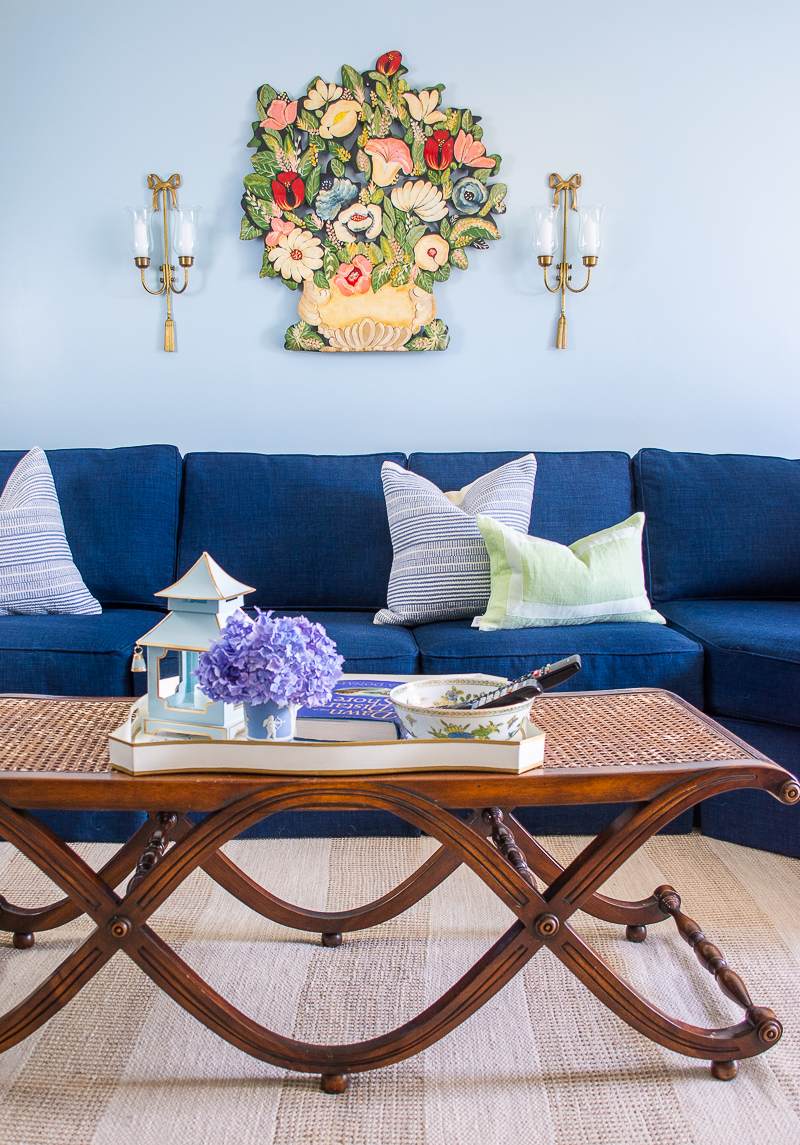 Moving the Chinoiserie embroidery opened up space over the sofa, which I filled with a whimsical antique piece — a toleware floral screen meant to go before a fireplace. I adore the folk-y feel of the florals and the bold mix of colors. To either side I hung a pair of brass bow sconces to add a touch of traditional prep.
New Throw Pillows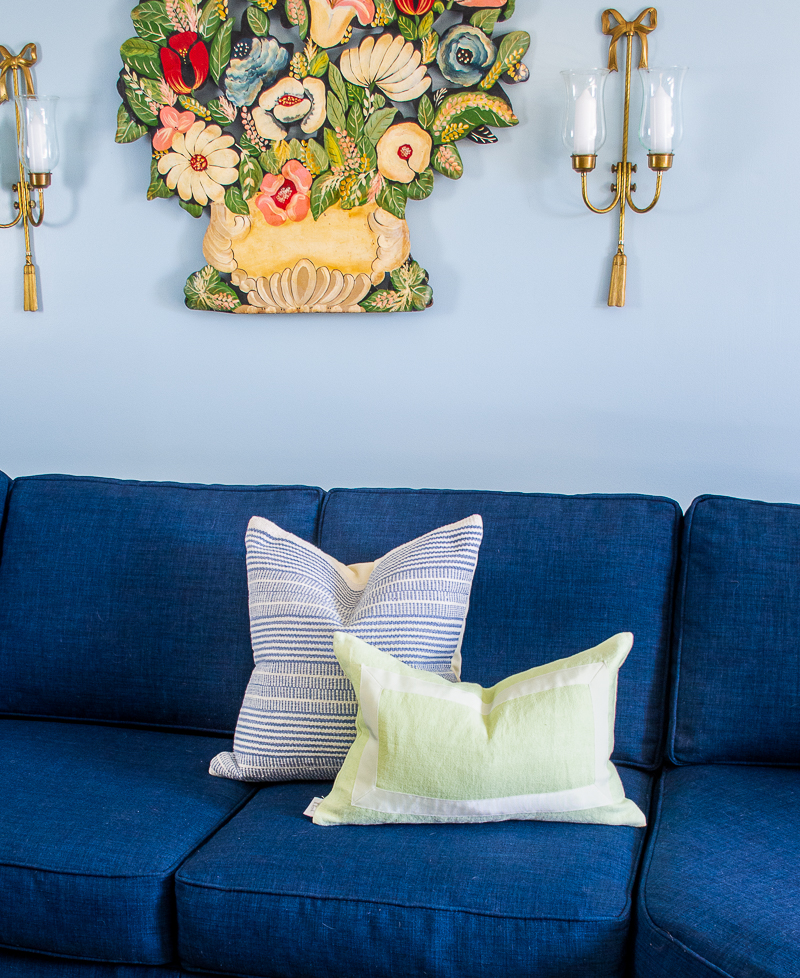 My other favorite blue and white find for the refresh are these striped throw pillows from Birch Lane (pillows c/o). I love the preppy-ness of the stripe with the slub texture of the fabric; they feel classic and yet casual. I chose the down fill insert when ordering to get that fluffy shape and feel.
I also brought in some vibrant greens to the sectional with this lime sham from Lo Home and the traditional Dolly print from Sister Parish to tie in the greens from the curtains and art works.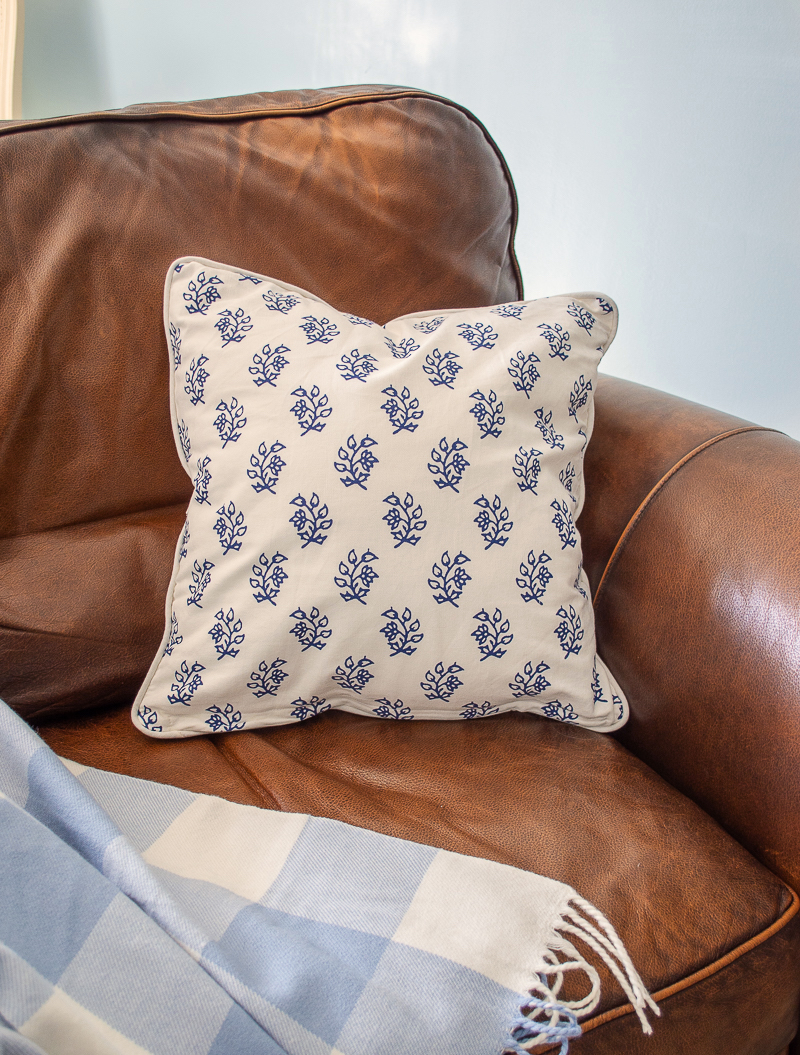 Over on the leather club chair, I wanted to add a pop of blue and white, and this Indian block print style pillow worked perfectly!
Re-styled Mantel, Coffee Table, & Book Shelf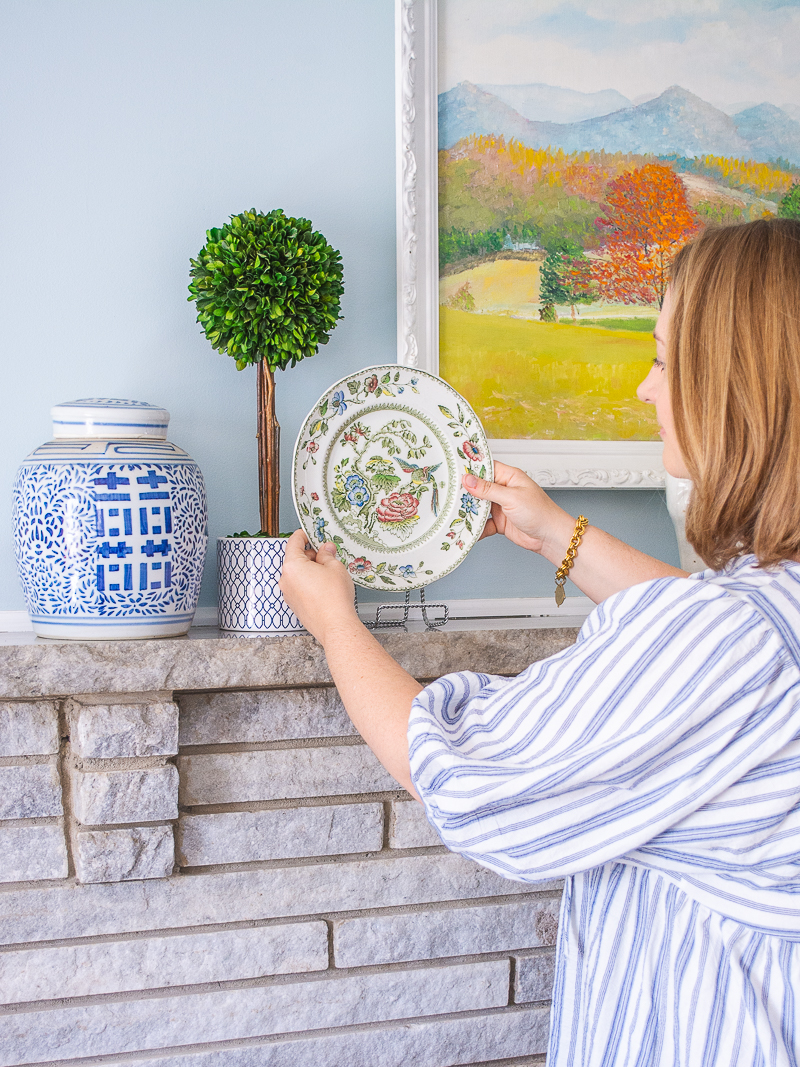 While big changes to the family room like swapping chairs and adding new lighting and fabrics have the most dramatic impact, little updates to styling details are important too! I didn't purchase any new Chinoiserie accents or accessories to re-style, instead I edited down, re-arranged, and pulled out of hiding these traditional decorative touches.
For instance, my Royal Staffordshire bird plates had been hiding in my china cabinet, so I pulled them all into the family room to show them off. The colors in the plates help tie in the pink and green hues from the curtains throughout the room.
I swapped the vintage brass tray on the coffee table for this Chinoiserie blue and white one, which brightens everything up tremendously and makes for a very attractive display while still corralling remotes and books.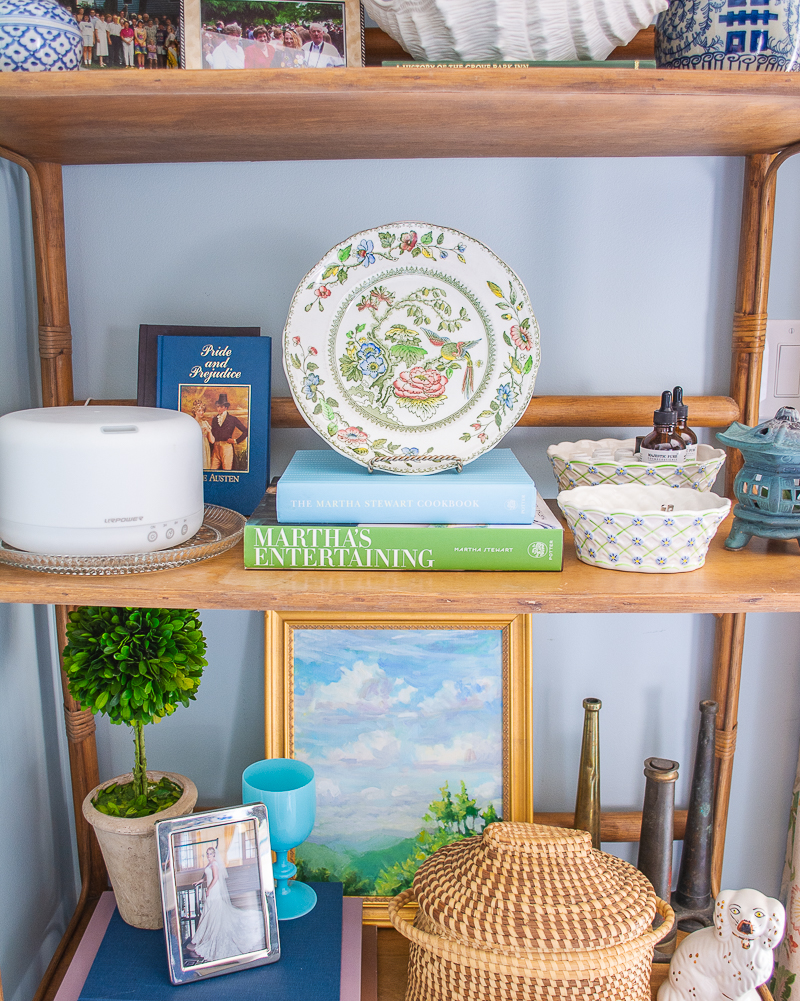 The rattan bookshelf got a much needed re-style. It is a functional shelf for us, storing my cookbooks, the oil diffuser, and other accessories for the patio while also showcasing personal mementos. I used a mix of colorful paintings, baskets, books, and vases to style the shelf and hide away random necessities.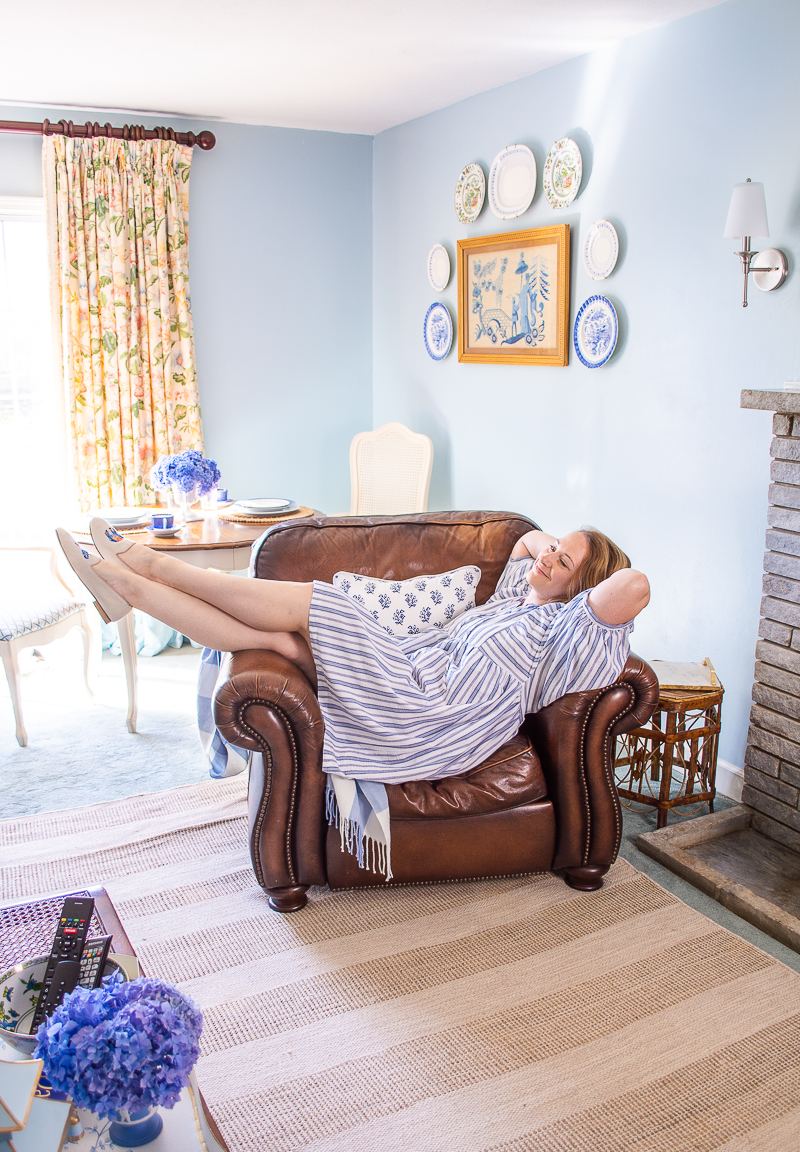 With this family room refresh done I think it's time to kick back and enjoy this lovely room!
Room sources and additional ideas for blue and white decor, Chinoiserie accents, and more in this post.