Planning for a Family Room Refresh
Our plans for a family room refresh adding color and pattern for a brighter space, and tips to help you plan your next re-decorating project!
My family room needs some lovin'! It has been rather neglected in the decorating department and is in need of a refresh.
I made some solid efforts when we first moved in: getting rid of wallpaper, painting the walls, and making a plan. You may remember this blog post about choosing my sectional sofa, but I just stalled out after that decision. The room is tricky to begin with since it has a long narrow layout with a sliding glass door on one end and a fireplace on the long outer wall that is off-center.
The only natural light in the space is from that sliding glass door, and it gets partial evening sun. I used most of our furnishings from our previous living room in this space, which are in some lovely taupes and browns. While these darker neutrals worked great in the old house, which had 2-story windows in the living room, they make this cozy space very drab and dark.
Our family room is an important space for us. We hang out here most evenings watching TV. We often eat at the little breakfast table I have placed on one side of the room, and we enjoy doing puzzles and games here too. It is definitely a gathering space as it is right off the kitchen.
Above all I want this space to feel cozy and casual but of course stylish with some grandmillennial nods that look more preppy than granny chic. To do this I will use more Chinoiserie accents in classic blue and white. Think more Mark D. Sikes less Buatta with little touches of country florals à la Sister Parish.
When designing a family room in a traditional style the trick is to tone down the formality and play up the easy going vibes while still keeping a tailored classic look. Although a room refresh is not as much work as a complete re-decoration, it still takes planning and forethought. I'm walking through this process with y'all here on the blog and in IG stories (check out my decorating highlight), so you get some ideas and encouragement on how to do your own room refreshing.
Here is what the family room looks like now: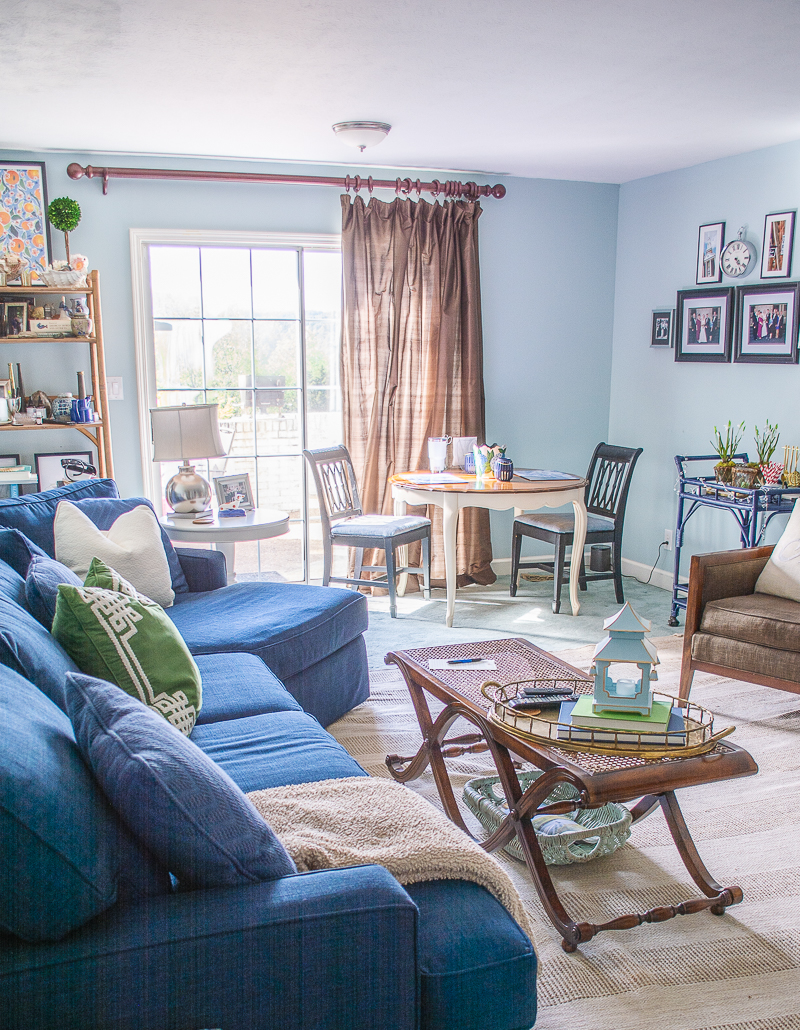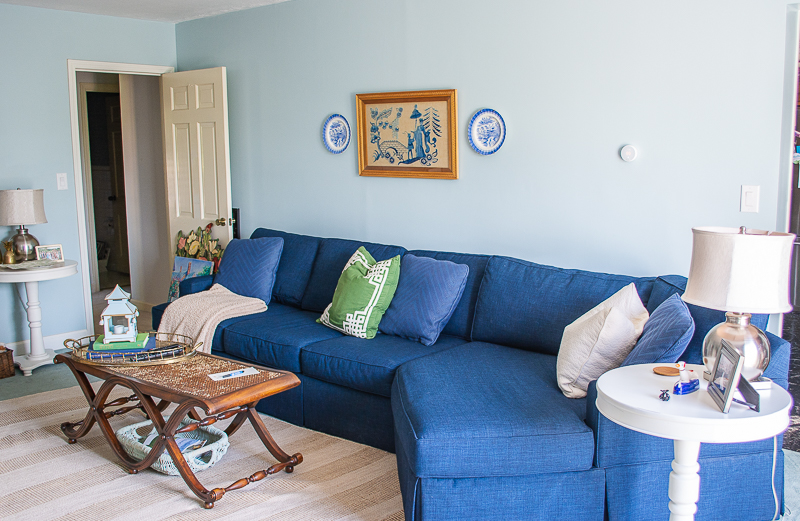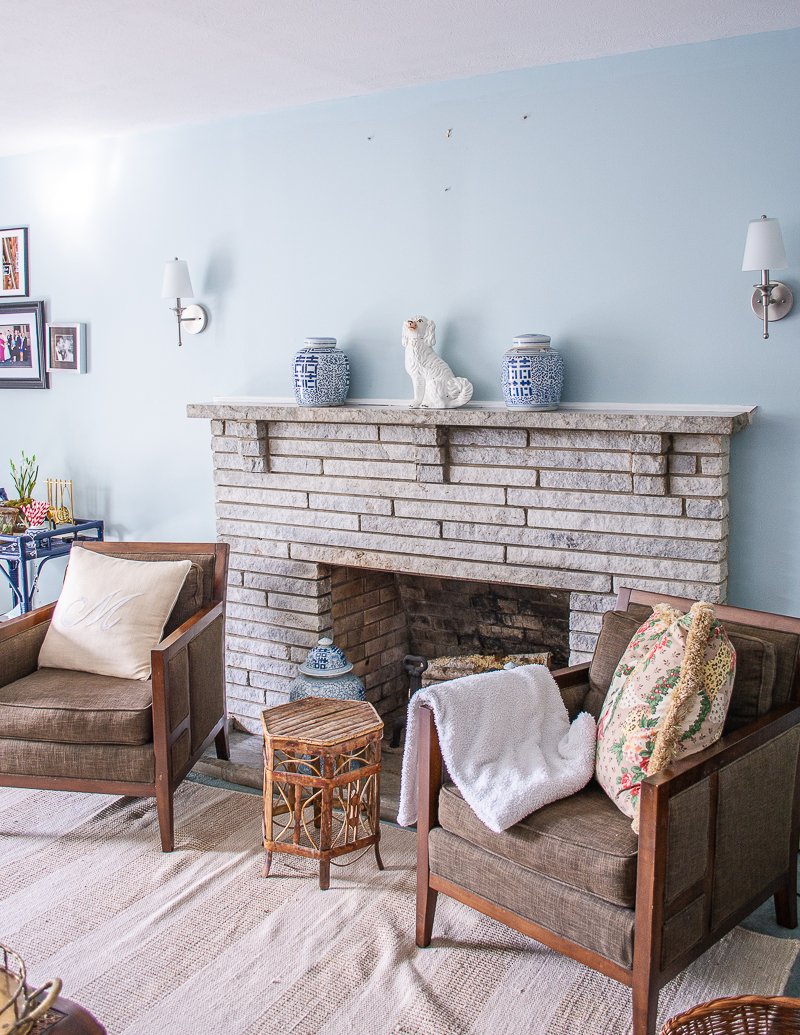 As you can see, it's a bit too mis-matched currently with too many dark solid colors. I want the room to feel brighter with more pattern and color.
In terms of planning a room refresh, I find it most helpful to first establish what's not working in the space or what you don't like. Then identify clear goals to improve the space that can direct what you need to get rid of, change, and buy. Based on those goals start hunting inspirations for the room and shopping for furnishings and decor. A to do list breaking down the steps to achieve those goals will keep you organized and working through projects.
My Goals for the Family Room Refresh
No. 1 Bye Bye Brown
No. 2 More Color & Pattern
No. 3 Keep the Casual Preppy Vibes
No. 4 Amp up the Chinoiserie Accents
No. 5 Remix the Art
Family Room Refresh To Do
Invest in new fabrics that add color and pattern: throw pillows and curtains
Re-arrange the art and touch up paint where necessary
Swap pair of arm chairs for one club chair and bar cart
Invest in new lighting that plays up Chinoiserie themes and navy color
Paint dining chairs to match table and re-cover seats
De-clutter
Bring in more blue and white ceramics and showcase the ones I have here better
Family Room Mood Board
The other helpful planning tool I love to use for both refreshes and complete re-decorating projects are mood boards. These collages give you a chance to layout the different elements in your room together and play with colors, patterns, and styles to make everything work together. You can easily swap out the decor you are considering to see how elements coordinate without purchasing or unnecessary leg work.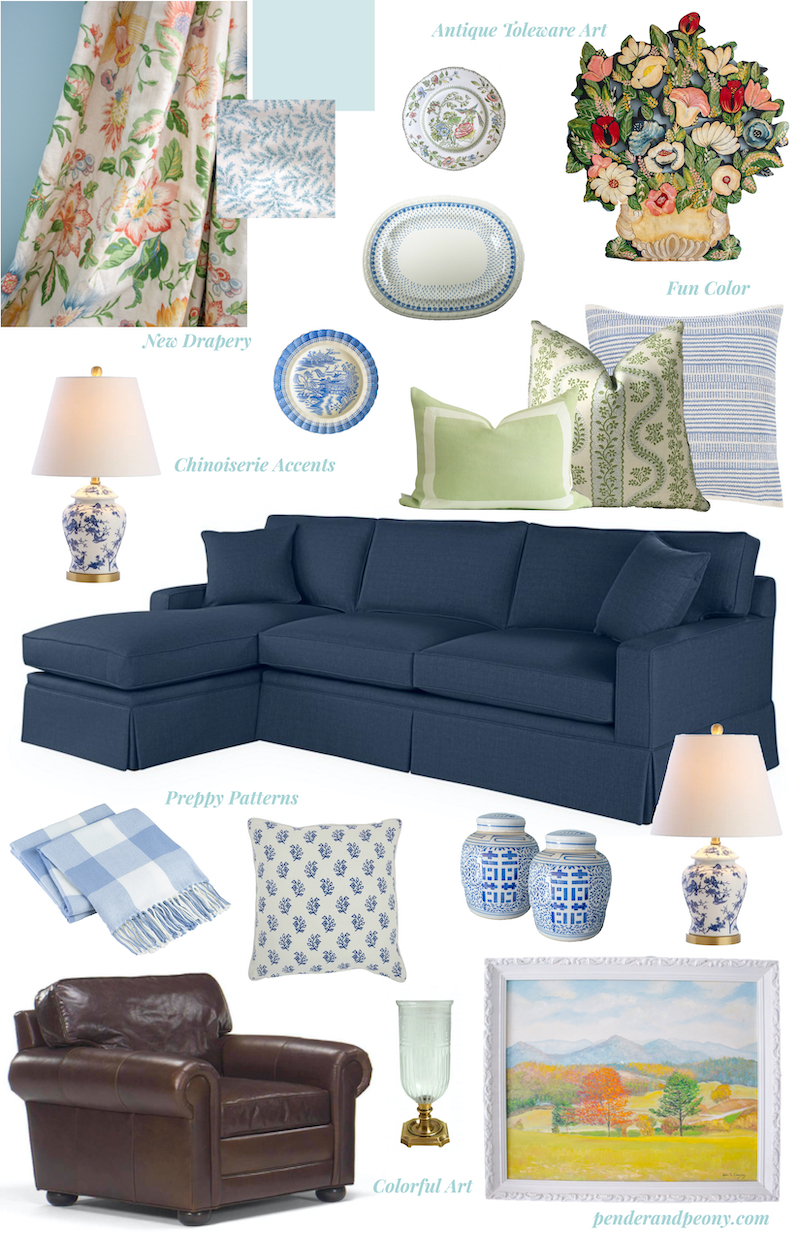 Mood Board Decor Sources:
*Affiliate links included*
Drapery Floral Fabric Raymond Waites for Mill Creek, Mikka Pattern (Similar and Similar) // Wall Color Tradewind Blue from SW // Waverly Fernwood Fabric // Royal Staffordshire Bird of Paradise Plate // Blue & White Platter Copeland Spode // Antique Toleware Fire Screen // Spode Mandarin Plate // Blue & White Chinoiserie Lamp // Celadon Green Pillow // Sister Parish Dolly Pillow // Blue & White Stripe Pillow // Navy Sectional // Blue & White Plaid Blanket // Block Print Pillow // Double Happiness Ginger Jars // Leather Recliner // Etched Hurricane on Brass Stand // Landscape Painting by John L. Gregory
Creating Your Own Mood Board
To create the mood board I use Publisher Plus. As I'm shopping for products online I simply save the images to my downloads or take a screen shot, so I can pull those elements into the collage. If a product has a background, I use a clipping program called Photo Image Cut Pro to eliminate it.
For decor and furnishings I already have, I take a picture of the piece then clip out the background, so I can add it to the mood board too.
One cautionary note about mood boards: colors can be misleading online as your monitor's color calibration could be off, so when possible try to get a sample of the fabric or wallpaper if you need exact matches.
Birch Lane
As I was hunting for new lighting and throw pillows for our family room refresh, I was pleasantly surprised by the number of items I fell in love with at Birch Lane. I'm very excited to partner with them on this room refresh. They have a number of classic preppy and Chinoiserie chic furnishings and decor that caught my eye:
Check back in a few weeks to see what decor I choose, and how I pull it all together. Also don't forget to check in with me on Instagram stories where I'll be sharing more in the moment decorating decisions and thoughts.
If you need help with your own decorating refresh, I would love to assist you! Learn about my styling services here.