Looking for a sophisticated cocktail idea that is sure to please all your dapper Southern gents and sassy belles? Try a bourbon and bitters bar station at your next cocktail party or dinner.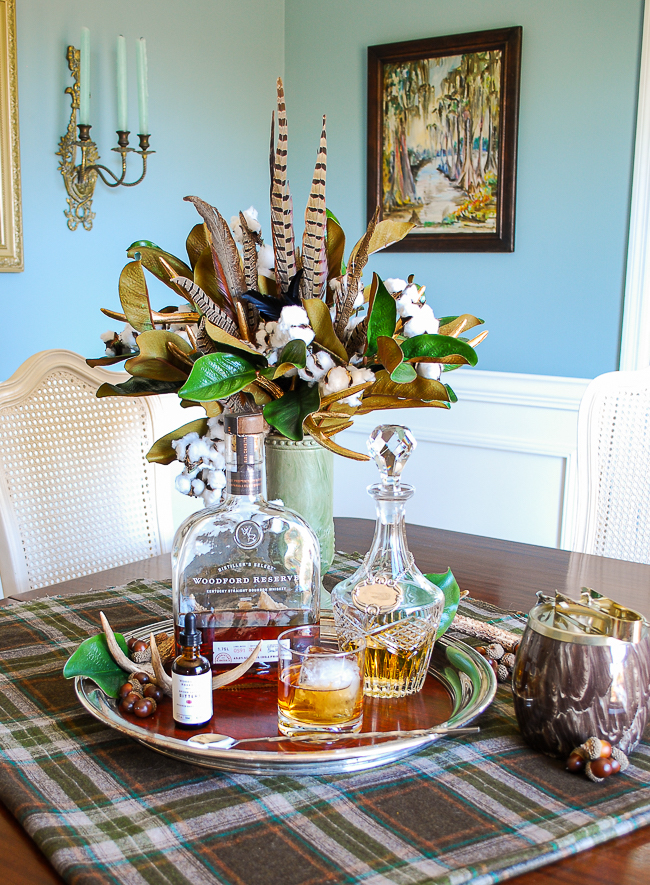 Bourbon and bitters go together like fried chicken and Sundays, Dolly Parton and big hair, sweet tea and porches, like the South and well bourbon!
We love our "national" drink down here and often treat it with a reverence reserved for church services. Ask any Southern gent what his favorite bourbon is and you'll get a diatribe on distilleries and taste profiles not to mention a specific cocktail recipe or admonishment to drink it straight up.
Ah bourbon that sweet elixir…that taste of the South! Yes, I am one of those who thinks bourbon is the only whiskey! My husband and I share this love of bourbon although he would say his first whiskey is Scotch. Don't worry I knew this going into the marriage.
Over the past year or two, I've converted to the bourbon can stand on its own and don't pollute that sweet warmth with your sugary concoctions club. Make mine a double over ice with a quick pour of cool filtered water please!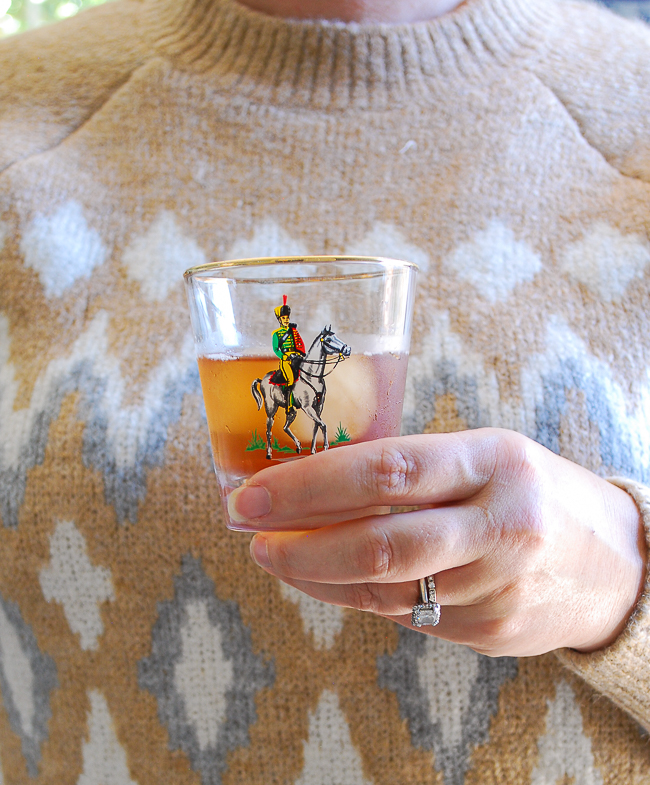 On more adventurous occasions, I enjoy experimenting with bitters in my regular order. Undoubtably, you've heard of bitters. You are probably familiar with Peychaud's or Angostura, which to be fair are so common for a reason. But they are not the only bitters on the bar back by a long shot.
For clarity's sake, bitters are potent extracts made from a variety of ingredients like flowers, fruits, roots, herbs, and nuts. These ingredients are submerged in alcohol to steep until the flavor becomes super concentrated. It just takes a few drops of bitters to enhance the flavor and add aroma and depth to a cocktail.
I love bourbon and bitters because the addition of a few drops of these extracts can transform a glass of bourbon and magnify flavor profiles that were subtle or they can heighten the aromatics in new and interesting ways. My first experience with this blissful couple was at a swanky art show opening in downtown Charlotte.
The bartender tucked back in this special little room had laid out some 10 different bourbons and various precious bottles of bitters. He would ask you what flavors you enjoyed most and then offer you a small sip of straight bourbon after which he served you that same bourbon in a glass over ice with a specific bitters. The metamorphosis was like magic!
Not all bitters work with all bourbons though. You have to pair similar taste profiles, so with this post I am offering you the benefits of my experimentation: three superb bourbon and bitters pairings!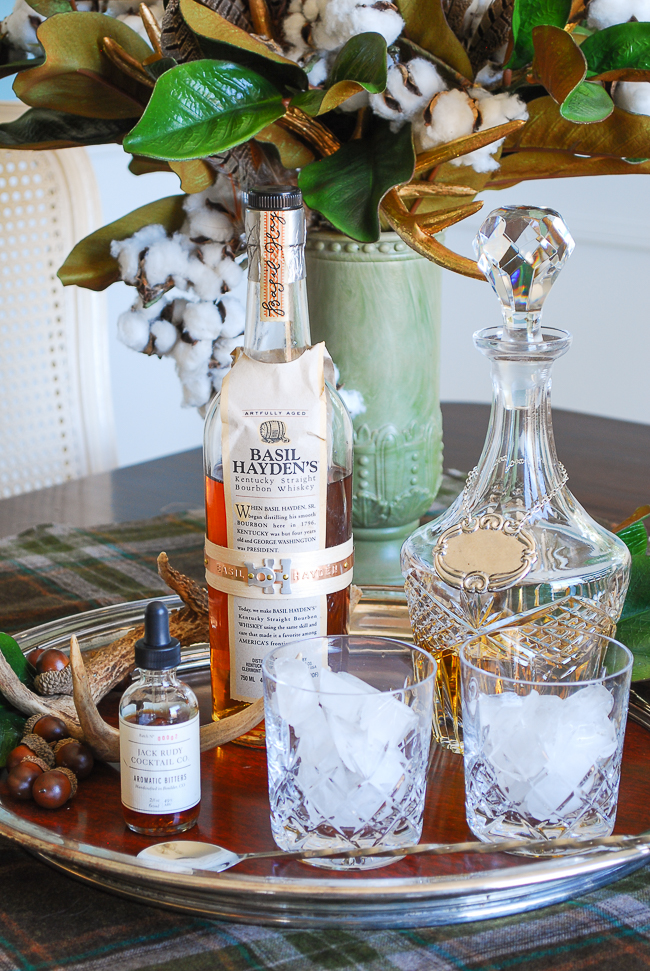 *This post contains affiliate links to the products I recommend.*
Bourbon and Bitters Pairings:
Basil Hayden & Jack Rudy
First up, is my personal favorite bourbon– Basil Hayden coupled with Jack Rudy aromatic bitters. These work together because they both have spicy-sweet notes. Jack Rudy has a base of burnt cane syrup with flavors of citrus and winter spices, while Basil Hayden is known for it's aromas of tea and peppermint with a light-bodied taste.
To create this lovely drink is ridiculously easy: simply fill your lowball with ice, pour your bourbon, add 3-8 drops of bitters. Gently stir the drink then allow it to mellow for a few minutes. Start drinking by first inhaling the aromas then take a sip and swash around your mouth.
That first sip may be a bit jarring, especially if you are not used to drinking alcohol straight up. Thankfully, by the second sip you should be noticing the flavors and enjoying the notes of citrus and sweet spice!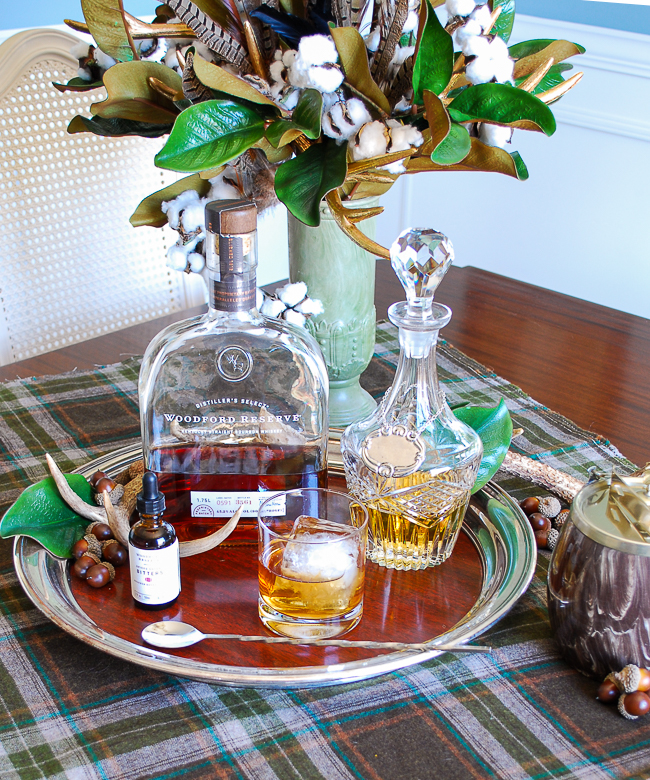 Woodford Reserve & Spiced Cherry
Our next pairing is Woodford Reserve and their bitters of spiced cherry. We actually visited Woodford's distillery outside Lexington, KY last Christmas, and it was my favorite tour! Woodford Reserve has sweet notes of vanilla and caramel which pair perfectly with the fruity flavor of the cherry bitters.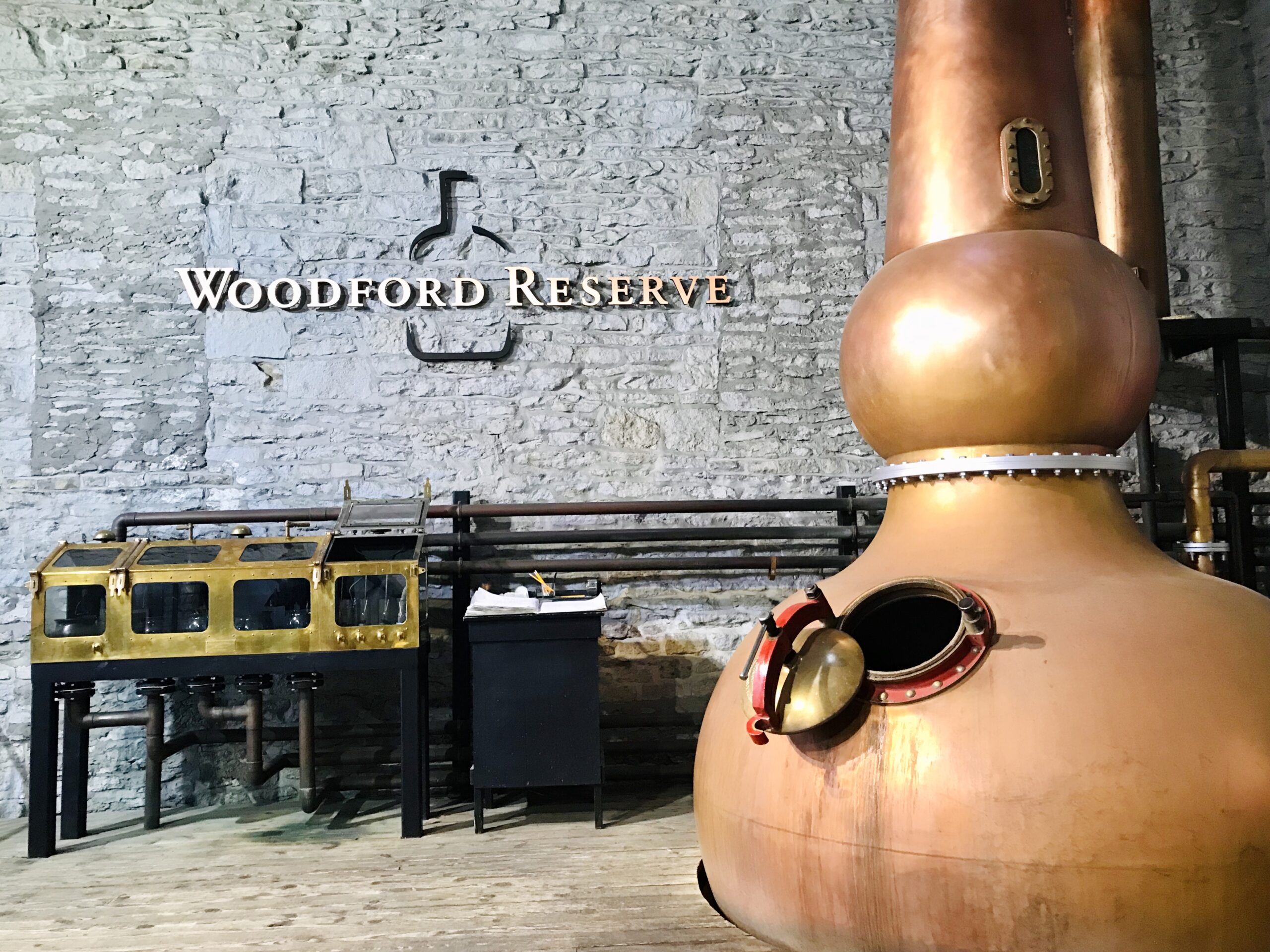 To be honest, these spiced cherry bitters have complimented every bourbon I have ever tried them with, so if you are new to using bitters I would recommend buying these above the others.
Shop the Look of My Bourbon Bar
Jim Beam Black & Sassafras & Sorghum Bitters
The last pairing is Jim Beam Black and a unique bitters from Woodford with sassafras and sorghum. This bourbon is a smooth drinking whiskey with smooth caramel and warm oak flavors. I would recommend starting with this bourbon if you are just starting to dip your toes into the bourbon club and want a reasonably priced good drinking bourbon.
The sassafras and sorghum bitters compliment Jim Beam Black because of the sweetness from the sorghum and brightness of the sassafras. Remember it only takes a few drops of bitters to enhance the flavors of the bourbon, so start by just adding 3 drops or so and then you can build up the flavors by adding more drops if you want.
Tips for Your Bourbon & Bitters Bar
Three Bourbons and three bitters pairings is a good number to give guests options without overwhelming them.
Create a sign with the recommended pairings, but let guests experiment for themselves.
Use glass decanters, silver trays, and rustic decor to decorate your bar.
Serve the drinks in lowball/rocks glasses or Glencairn glasses (tulip shaped) for the ultimate tasting.
Serve heavy hors d'oeuvres if not dinner, so guests have plenty to eat with their bourbon!
Get fancy with your ice cubes. I used three types here: the regular ones from my freezer, mini-cubes, and large cubes (one per glass).
These drinks are meant to be sipped and savored — please drink responsibly!
Find similar mini-square cube tray here and the large square mold here.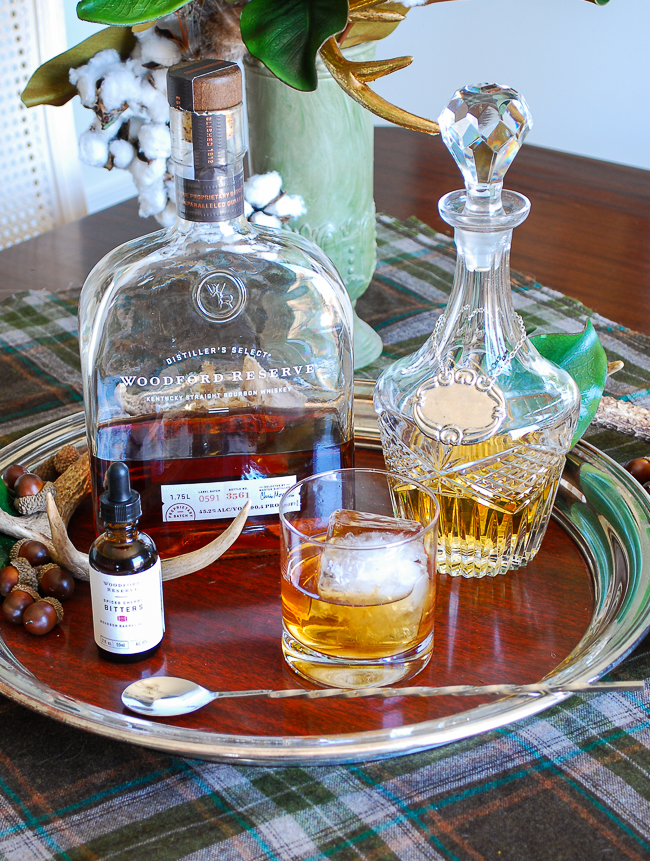 I hope you learned something about bourbon and bitters today and that I inspired you to try this wonderful pairing!
Fear not, no Bourbon was wasted in the making of this post…