Thanksgiving Side Dish: Brussel Sprouts, Sweet Potatoes, & Beets
Roasted Brussel sprouts are a classic for Thanksgiving side dishes, but liven up this traditional recipe with a healthy twist by adding pickled beets and sweet potatoes!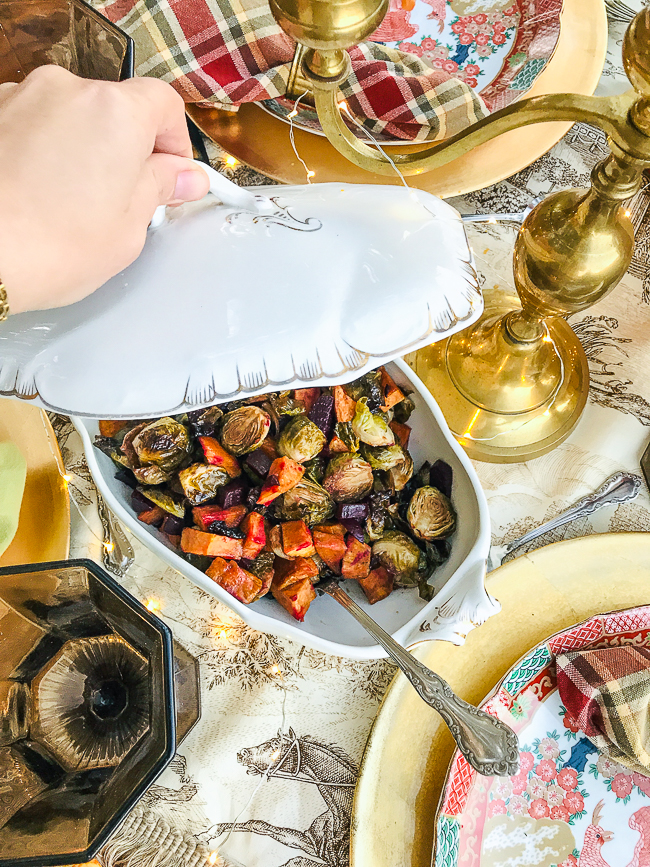 Brussel sprouts, beets, and sweet potatoes are three of my favorite autumn foods! So I figured why not put them all together and see what kind of magic ensues.
I usually make my roasted Brussel sprouts with bacon, but this version offers you a healthier alternative that is still packed with tastiness.
It is a Thanksgiving side dish sure to please your guests. The sprouts are tangy and sweet with fabulous fall flavor.
See more of this Thanksgiving tablescape here!
Recipe for Roasted Brussel Sprouts with Pickled Beets & Sweet Potatoes
Serves 6
Ingredients:
One bag of Brussel sprouts trimmed and cut in half – about 3 cups
One large sweet potato peeled and cut in cubes
Jar of pickled beets chopped – if you can, look for a pickling spice that has cinnamon and clove or you can add these to your seasonings.
One Tbsp of EVOO
1/4 Cup of brown sugar
2 Tbsps red wine vinegar
Salt and pepper to taste
*2 Dashes of cinnamon and clove if none in your pickled beets
To Make:
Pre-heat the oven to 325 degrees. Prepare, peel, and chop your veggies. Line your pan with parchment paper to save on clean up. On a large sheet pan toss your sprouts and sweet potatoes in the EVOO. Sprinkle the vinegar over top and the salt and pepper. Roast in your oven, stirring and flipping the sprouts and potatoes every 15 minutes or so for about 30 minutes or until they start to get tender. Then mix in the pickled beets and brown sugar. Return pan to oven to roast for another 15 to 20 minutes. Stirring occasionally.
Serve in a pretty dish!
To quicken this cooking process, you can blanch the Brussel sprouts and sweet potatoes before roasting. This should cut your oven time in half.
I hope you enjoy this healthy twist on a classic Thanksgiving side dish – roasted Brussel sprouts. If you are looking for more Thanksgiving side dishes check out these recipes! I also share my mother's famous brining recipe and secrets here.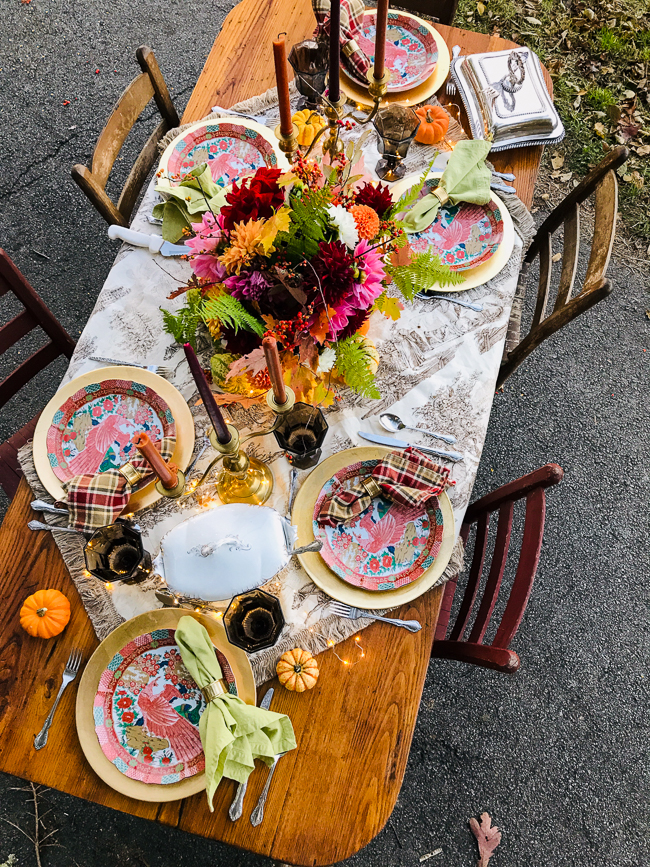 Happy Thanksgiving!