5 Tips to Create a Christmas Aesthetic True to Your Style
With the plethora of Christmas decor styles out there from pastel glam to rustic farmhouse how do you achieve a Christmas aesthetic true to your style?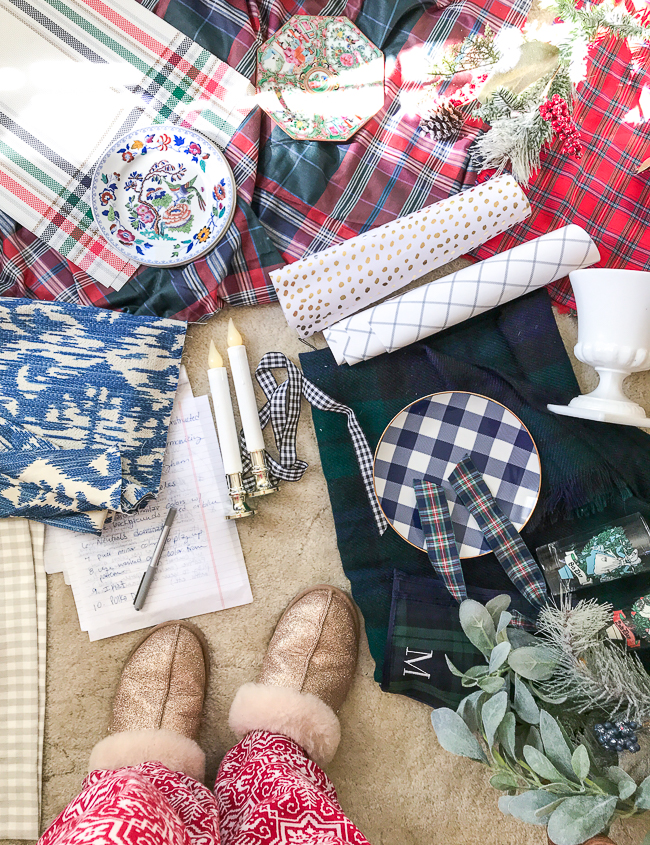 Some of you lovely peonies may have a very distinct decor style to your homes. You have chosen traditional or coastal or farmhouse. While others of you may be more eclectic, following where your tastes lead when buying new decor. Your style should carry over into your Christmas decorations. There is simply no rule that says red and green are the only festive holiday colors!
But the aisles are overflowing with Christmas decor in every color imaginable. There are shelves for rustic, woodsy decor and vintage glam. This can be a bit daunting when shopping to update your holiday decorations or change themes entirely.
I have found that the Christmas aesthetics that look best play up the home's existing style and feel. This doesn't mean you have to match your drapes with every ornament or red and green are banned if they don't appear in your home color palette. But you do want to coordinate the looks, and if you choose to adopt a theme for you Christmas decorations adapt it to harmonize with your home.
Here are 5 Tips to Create a Christmas Aesthetic True to Your Style:
No. 1 Use the Colors Present in Your Home
This one is kind of a no brainer, but it bears repeating! If you have a distinct color scheme in your home, coordinate with those colors for your holiday decorations. To make it feel more "Christmas-y" go for a bolder tone in those colors or try the contrasting color. You love these colors, so why not play them up!
If you want to stick with classic red and green Christmas aesthetic opt for shades in those colors that work with your color scheme. For instance, choose a red based on its warm or cool profile or select a color in the red family like burgundy.
Example: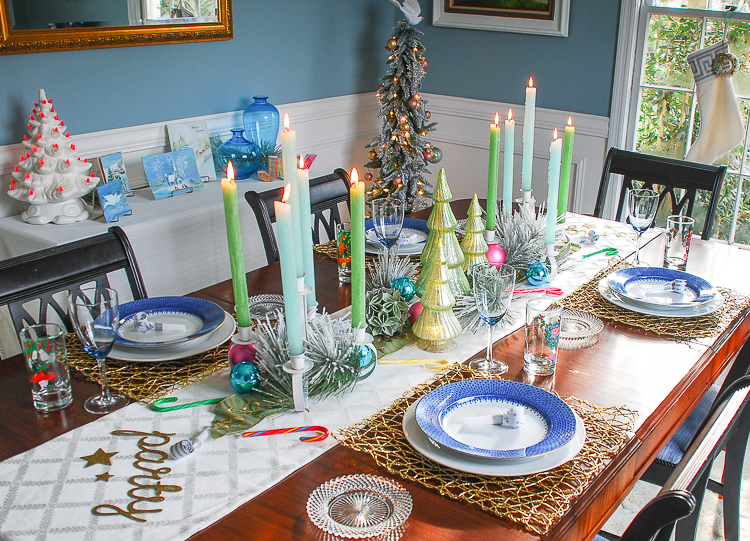 In my dining room the other year, I opted to play up the aqua walls and compliment that color with other bright pastels. See more here.
No. 2 Showcase Collections & Add Festive Touches
For the holidays, don't store your special collections in favor of Christmas statuettes and mini-villages. Instead let those special antiques or heirlooms be part of the festivity by adding seasonal touches. Tuck evergreen branches in and around pottery; tie a plaid ribbon on handles; fill them with ornaments; mix in bottle brush trees; etc.
Example: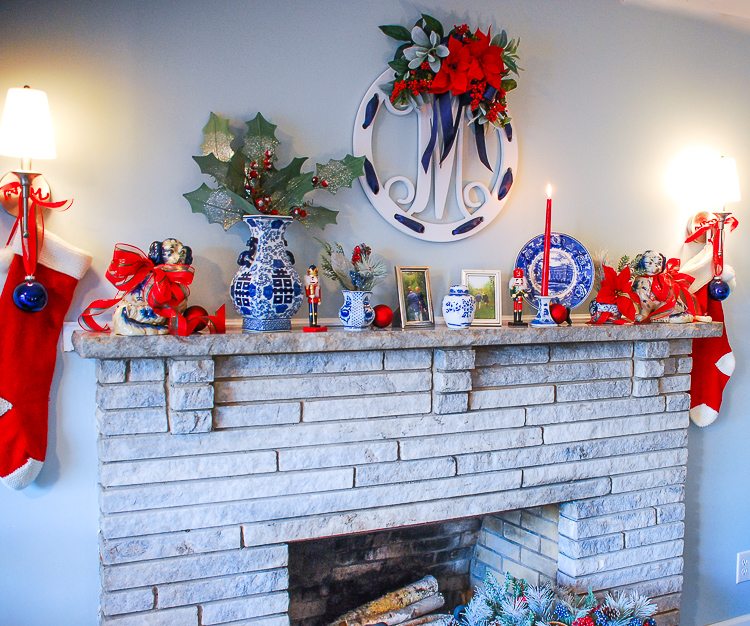 For this holiday mantel, I left my collection of blue and white on display and added holiday greenery, hints of red, bows, and other Christmas decor like the ornaments and nutcrackers. See the full mantel here.
No. 3 Focus on Metallics
Invest in shiny bright metallics because they automatically feel festive and merry. Think silver, brass, mercury glass, crystal, and glittered surfaces. Snowy white also works similarly.
The great thing about metallics is they go with everything, so regardless of how you change your Christmas decorations from year to year the gold and silver will always work.
Example: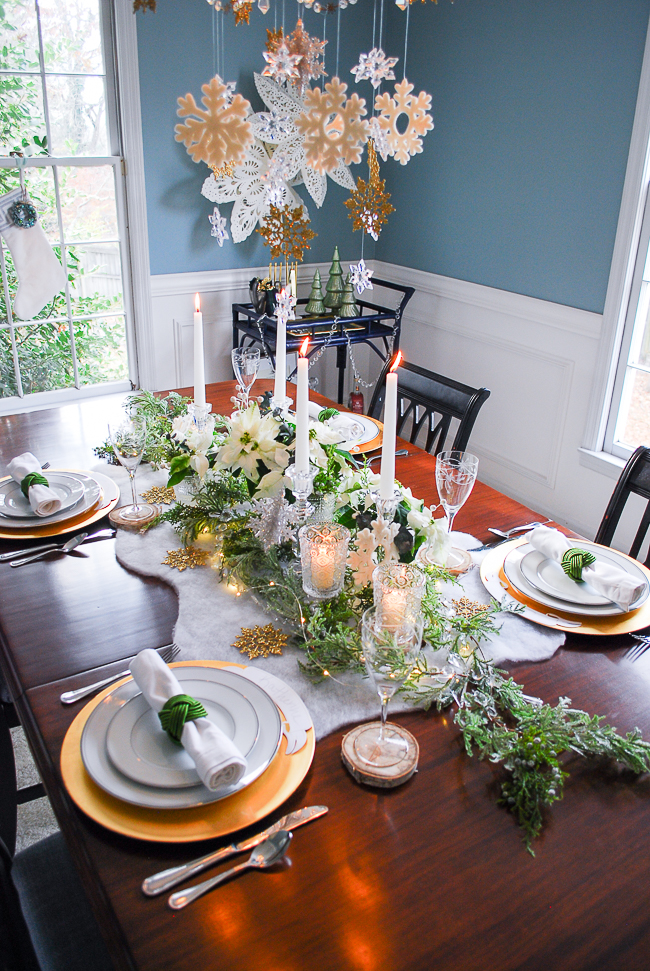 You can even embrace metallics and white completely for a winter wonderland feel! See this tablescape here.
No. 4 Play to Your Environment
If you live in a house in a unique locale say the beach or mountains celebrate that special environment and embrace those vibes in your Christmas aesthetic.
Example: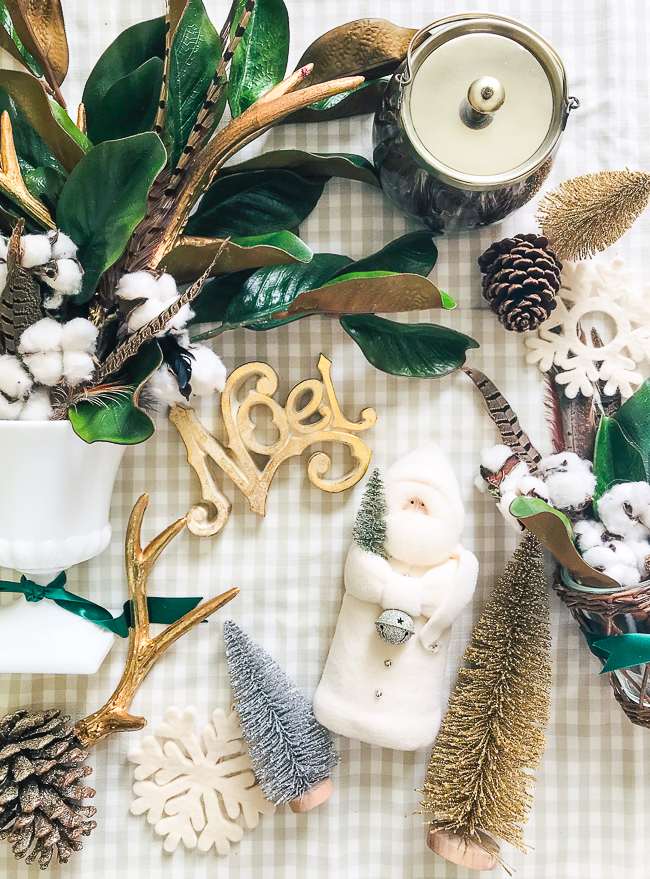 This flatlay was inspired by Christmas in a mountain cabin, so it plays up a rustic, woodsy feel with the pinecones, antlers, feathers, and magnolia.
No. 5 Take Inspiration from One Key Piece
For your Christmas aesthetic take inspiration from a beautiful piece of fabric, a work of art, a vintage ornament, or time period. Use this inspiration to guide your selections in ornaments, garlands, ribbon, and florals. Store pictures of it on your phone as a reference when out shopping.
Example: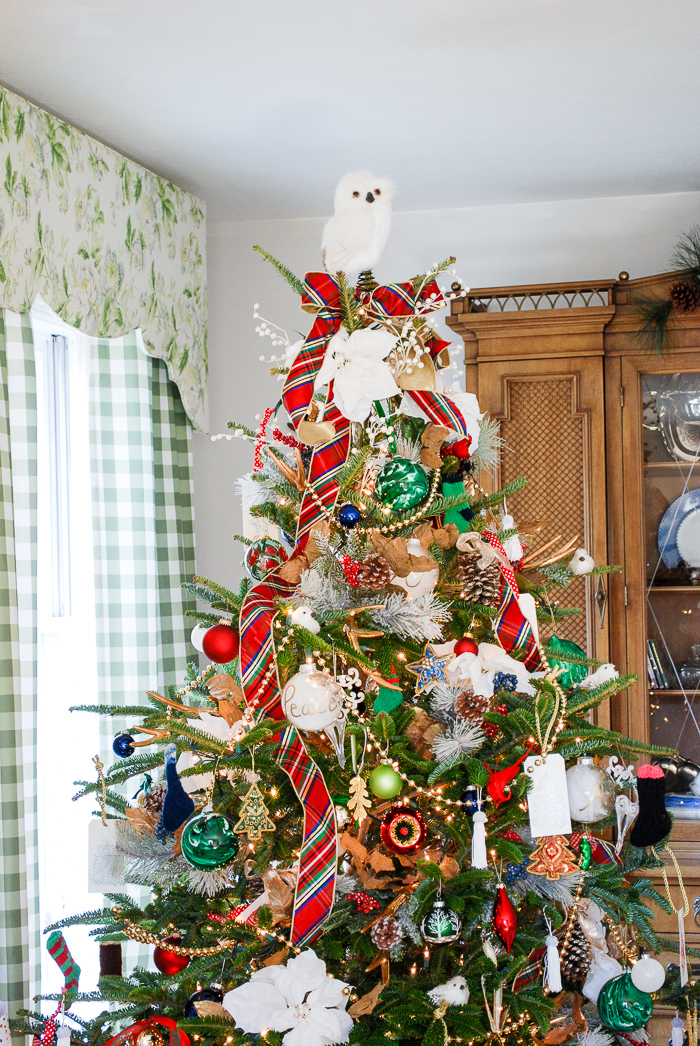 Last year, I was greatly inspired by this multi-color plaid. I used it everywhere from my tree to wreaths. Check out the full tree and details here.
Happy shopping and decorating lovelies!
This post is part of The Southerner's Guide to Charming Christmas Decor here! Learn more about the Guide here.