3 Rules to Hosting a Summer Dinner Party
Follow these 3 rules to host a noteworthy summer dinner party filled with good conversation, delicious food, and plentiful libations + 2 recipes perfect for your menu!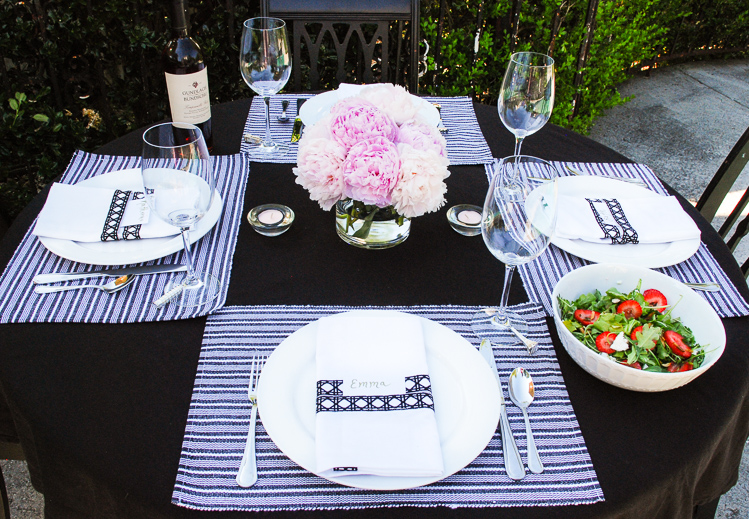 Summer and al fresco dining are just two little delicious peas in a pod. They go together hand in hand like PB&J, salt & pepper, and I don't know… champagne & a good time! Yes, I love al fresco dining! S. and I never need a reason to eat outdoors. We take casual weeknight dinners out on our balcony almost every evening in the summer, but we especially love to have friends over for a lovely summer dinner party.
Hosting friends for a dinner party can be as complicated or as simple as you want, but I urge simplicity. To keep it easy and stress free, I follow 3 simple rules when hosting a summer dinner party:
Rule No. 1 Plan an elegant and delicious menu that's effortless.
Don't overdo the menu or pick a particularly complicated dish for a summer dinner party. Plan an appetizer, entrée and side, and dessert. Remember it's summer and hot, and no one wants to overeat. Think salads and light meats. I suggest picking an entrée that feels special to you and can be cooked easily. I love a fillet of fish for this. Just pop it in the oven for a few minutes and you are done! Jazz it up a bit with an almond crust that looks and tastes beautiful. Then pair it with a salad and summer fruit for an elegant and delicious meal that's effortless. See my recipes for almond crusted flounder and strawberry arugula salad below!
Rule No. 2 Stock the bar and keep it flowing.
When I entertain I love to serve a signature cocktail. I love to mix drinks, try new ingredients, play with different combinations, and share these libations with friends and family. Even with a signature cocktail, it is important to stock the bar and offers a variety of options for guests. People can be very picky when it comes to alcohol, so I always like to have a few different liquors on hand as well as a white and red wine and a beer option. You can buy red wine online as well as white and have it delivered to your doorstep which makes stocking your bar much easier. Just cover all your bases, and you won't disappoint a dinner guest.
To be honest, I have always thought about opening a cocktail bar one day so serving alcohol at a dinner party almost makes me feel like my dreams have come true! A good friend of mine actually owns a bar in Melbourne in Australia, and she is always telling me to come over and pay her a visit! She has even suggested that we complete a melbourne rsa course together. Watch this space! For now though, I will do my best to work on my service skills from the comfort of my own home.
It is also up to the hostess and host to keep the libations flowing. I love the idea of a drink station where guests can serve themselves, but it is still a hosting requirement to offer to re-fill a glass and make suggestions about food and beverage pairings!
For signature cocktail ideas check out this one and this one!
Rule No. 3 Make your guests feel special
Sounds like a no-brainer, right? But it is easy when hosting to get so caught up in the planning and execution of the food and tablescape that you forget the real reason you've gathered all of these lovely people together for a summer dinner party. Remember it is about connecting with friends, making memories, and showing your appreciation for their friendship!
As the hostess the responsibility is yours to make guests feel welcome and at ease. Be attentive! Engage them in meaningful conversations. Inquire about their comfort. Offer to re-fill their glass ?? and serve them another helping of dessert. Never let them leave empty handed!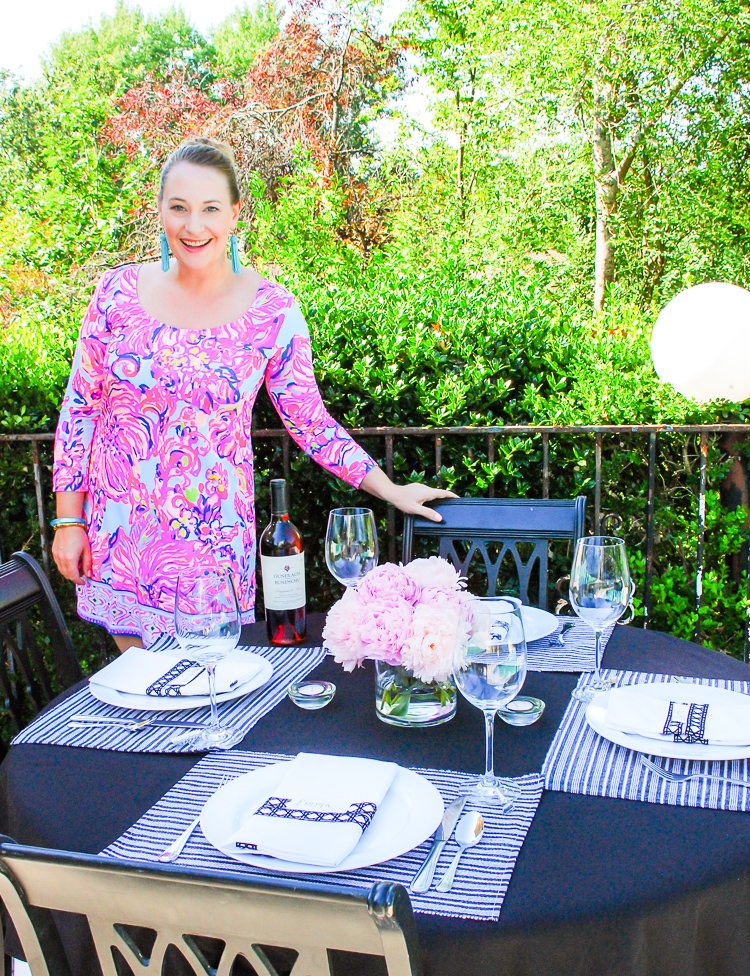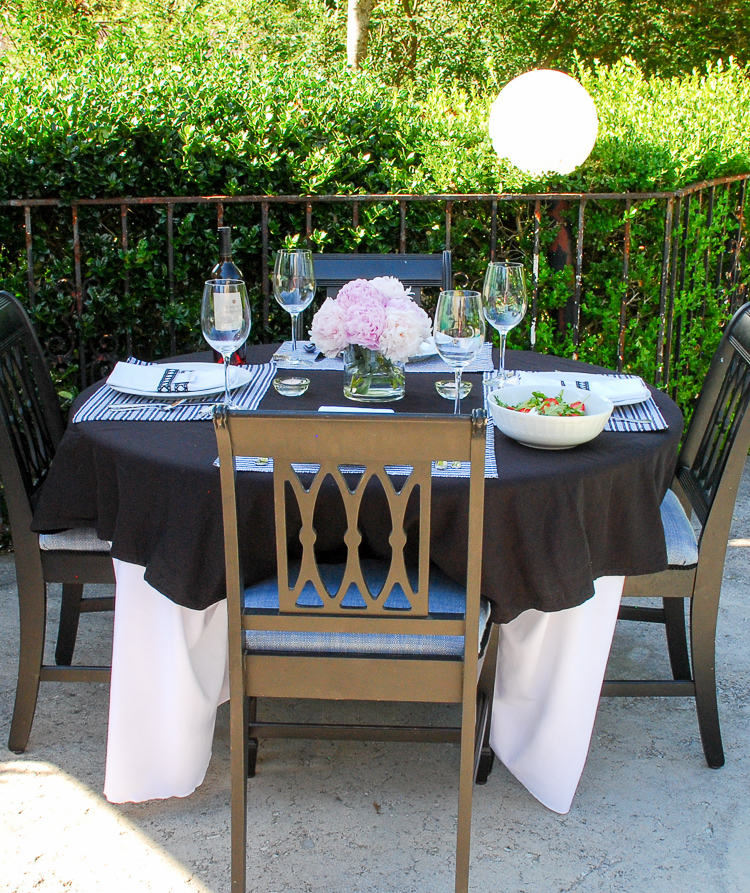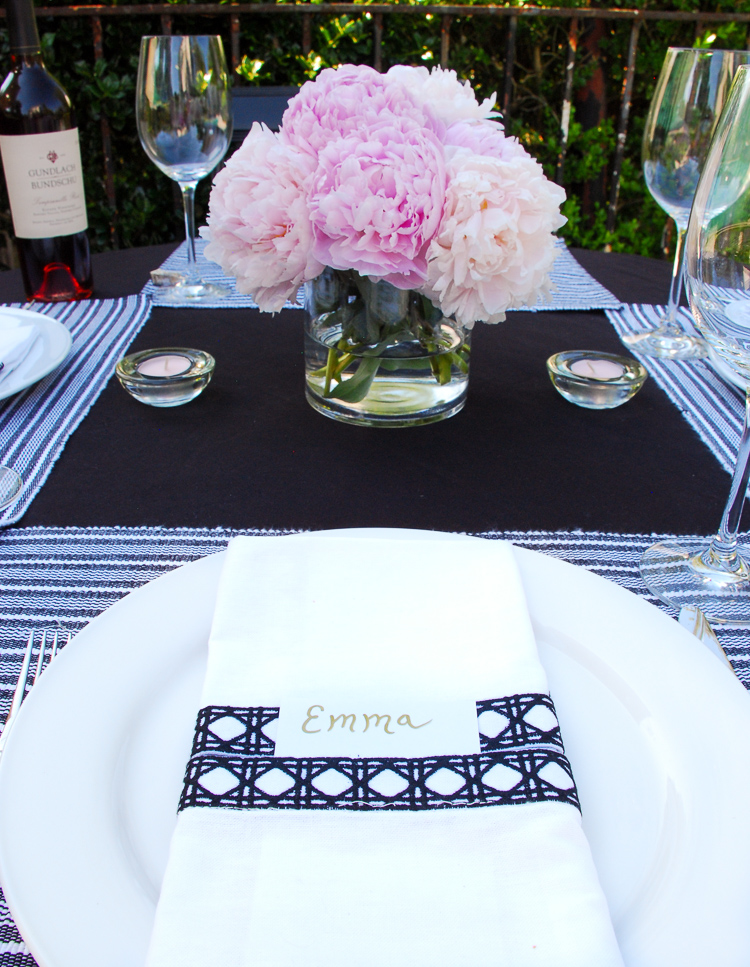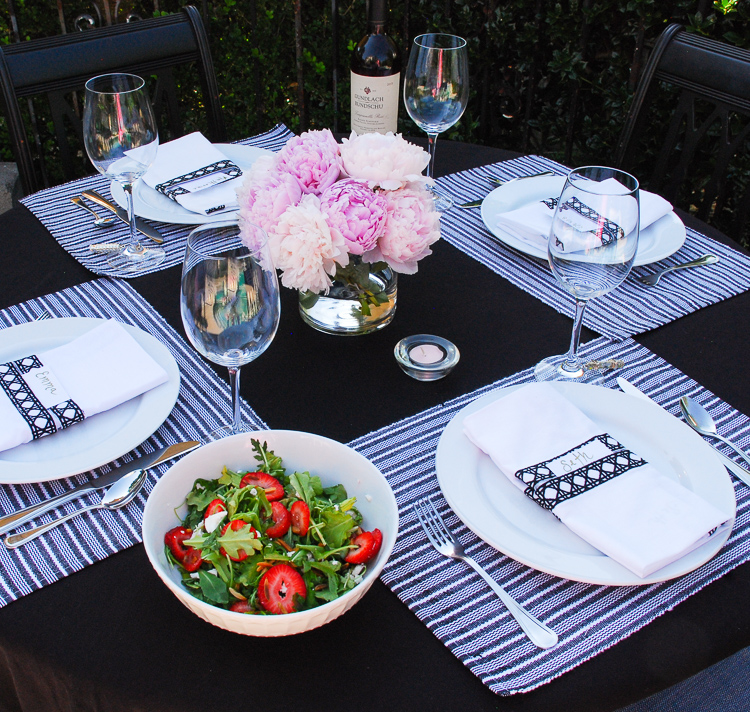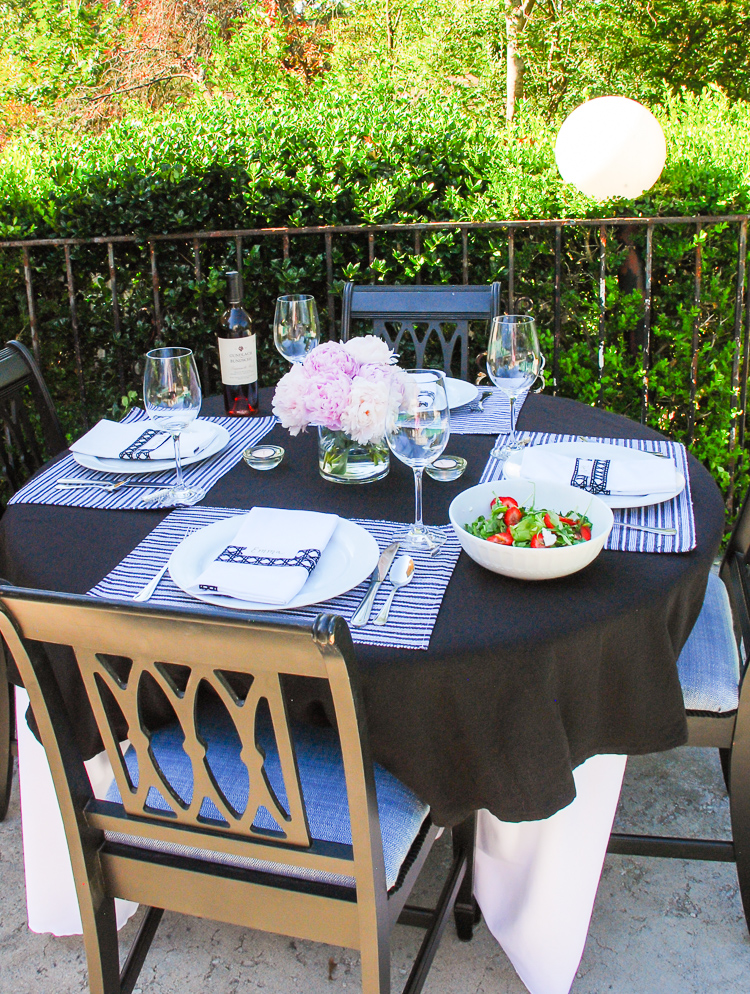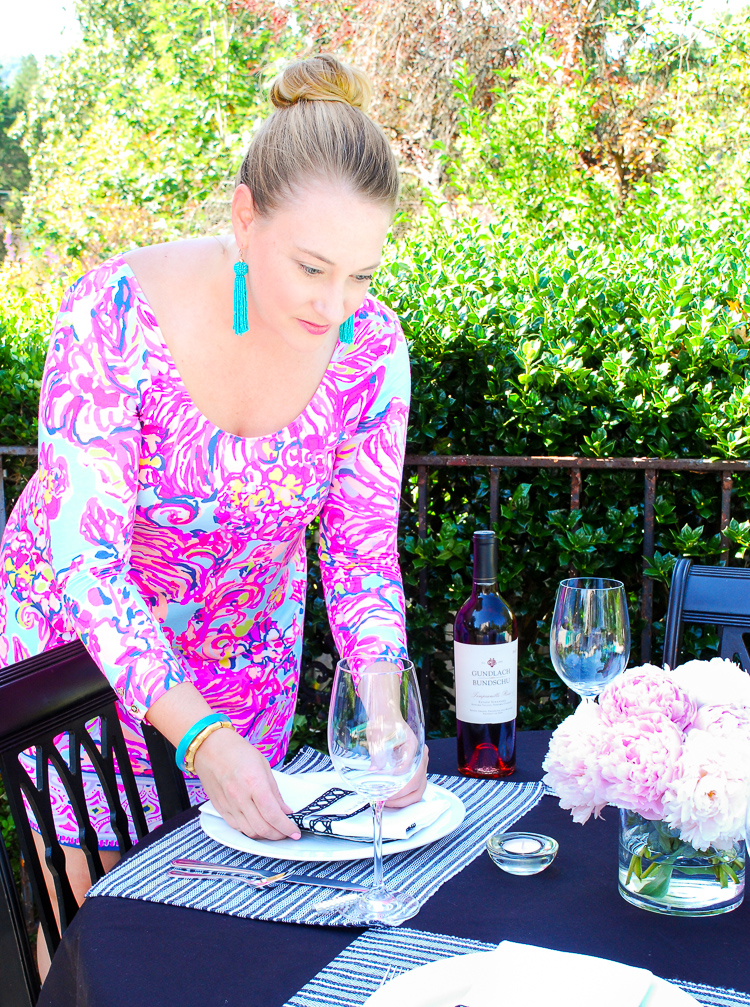 Shop My Look
*This post contains affiliate links*
Dress Lilly Pulitzer // Earrings Target (Sold Out, Similar Here) // Aqua Bracelet Alexis Bittar // Gold Bracelet Kenneth Jay Lane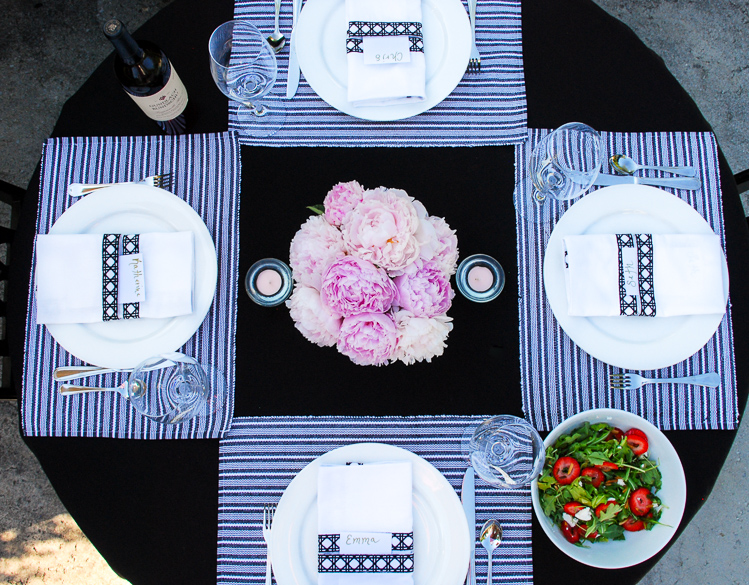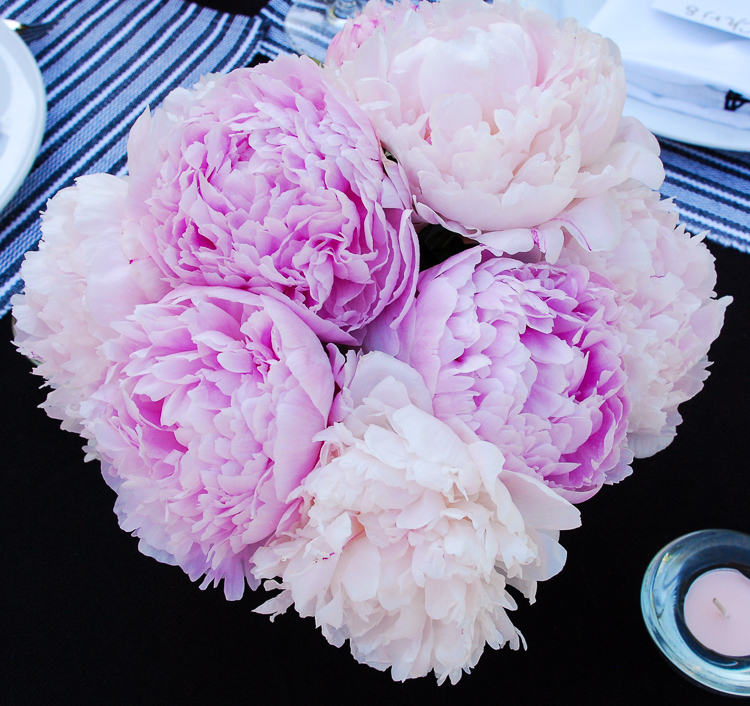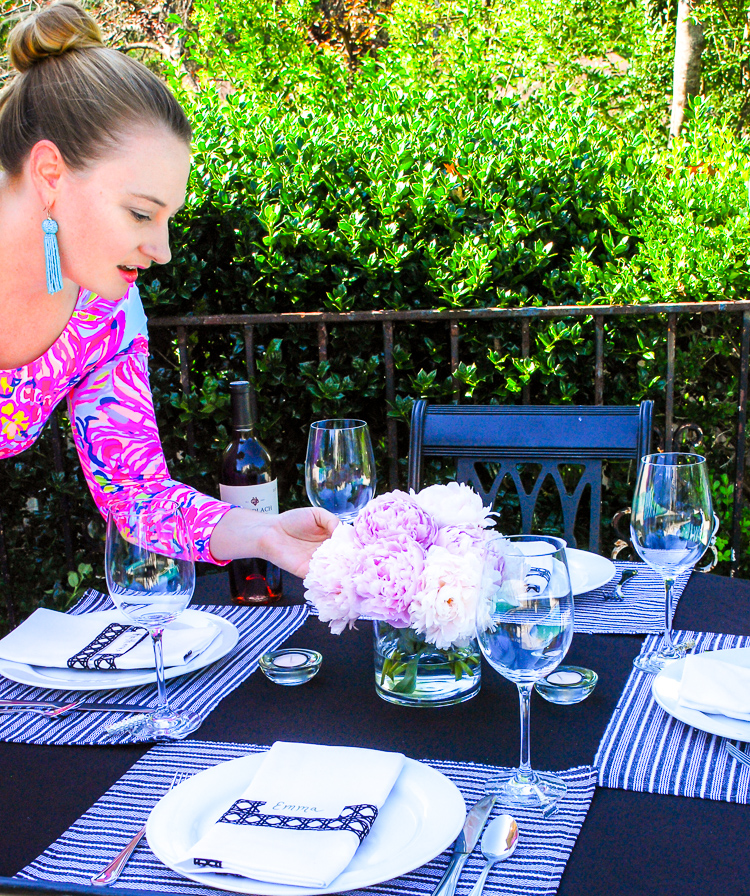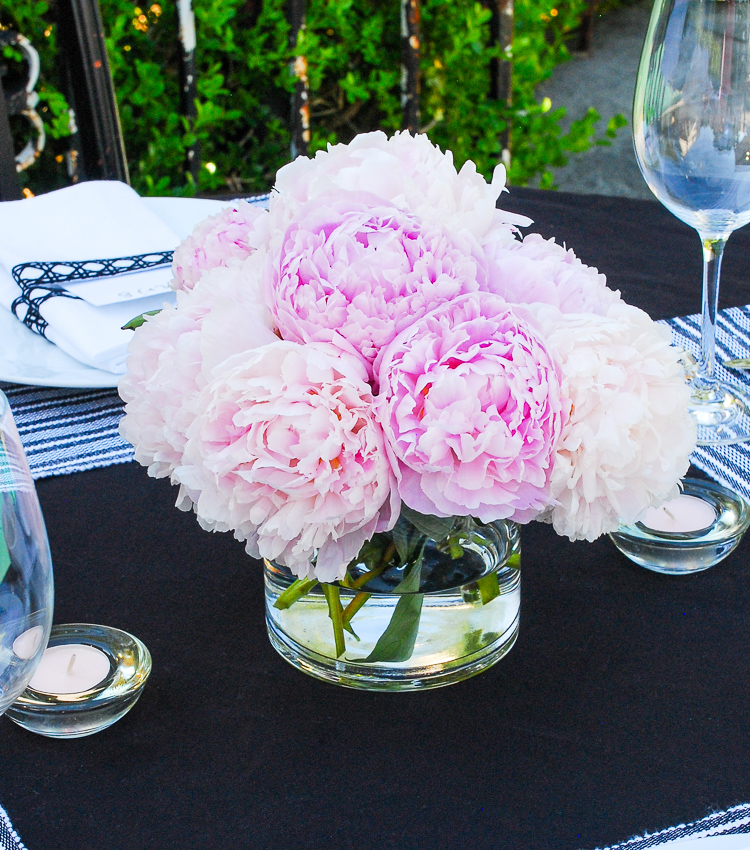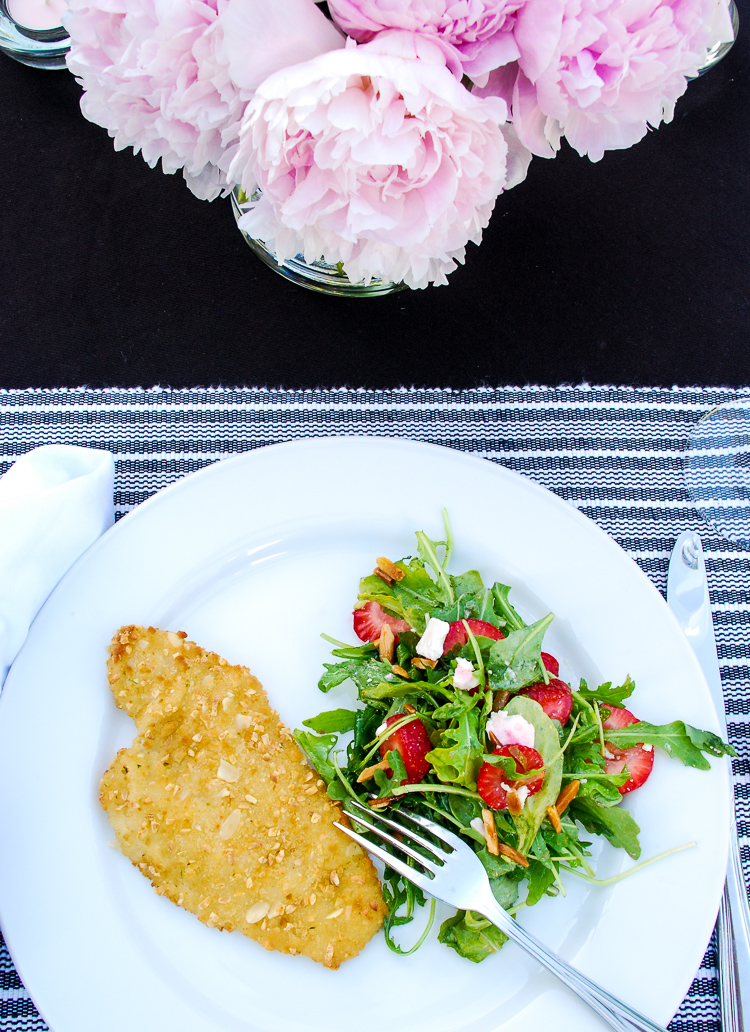 Summer Dinner Party Recipe Ideas
To Make the Almond Crusted Flounder | Serves 4
Ingredients:
1/3

cup

ground almonds and 1/3 cup sliced almonds

1

tablespoon

all-purpose flour

Grated zest of 1/2 lemon

Salt and freshly ground black pepper

4

flounder fillets

(about 3-4 ounces each)

1

large

egg yolk

, lightly beaten in a small bowl

Chopped flat-leaf parsley leaves

1 tablespoon EVOO
Pre-heat oven to 375 degrees. Line a baking pan with parchment paper and lightly spread oil on top. Mix the sliced almonds, ground almonds, flour, zest, salt and pepper, and parsley together in a shallow bowl for the breading. Pat dry the flounder fillets. Line up your breading mixture, egg yolk, and flounder and begin dredging flounder through yolk and then almond breading. Lay evenly spaced on baking sheet and bake for 12 – 15 minutes. Turn oven to broil once flounder is done and broil for 1-2 minutes until top crust is crispy and brown.
To Make the Strawberry Arugula Salad | Serves 4
Ingredients:
1 cup of thinly sliced fresh strawberries
Package of arugula
1/3 cup of toasted sliced almonds
1/3 cup of fresh feta
2 tablespoons pomegranate juice
1 teaspoon champagne vinegar
1 teaspoon honey
Dash of salt and pepper
1 1/2 tablespoons EVOO or until dressing emulsifies
Mix salad ingredients in large bowl. In separate small bowl mix dressing ingredients: pomegranate juice, vinegar, honey, salt and pepper. Then whisk in EVOO until dressing emulsifies. Pour dressing over salad and toss.
Bon Appétit My Friends!
Partying at A Stroll Thru Life…Between Naps on the Porch…
SaveSave
SaveSave
SaveSave
SaveSave
SaveSave
SaveSave
SaveSave
SaveSave