Fall Home Tour with Simply Seasonal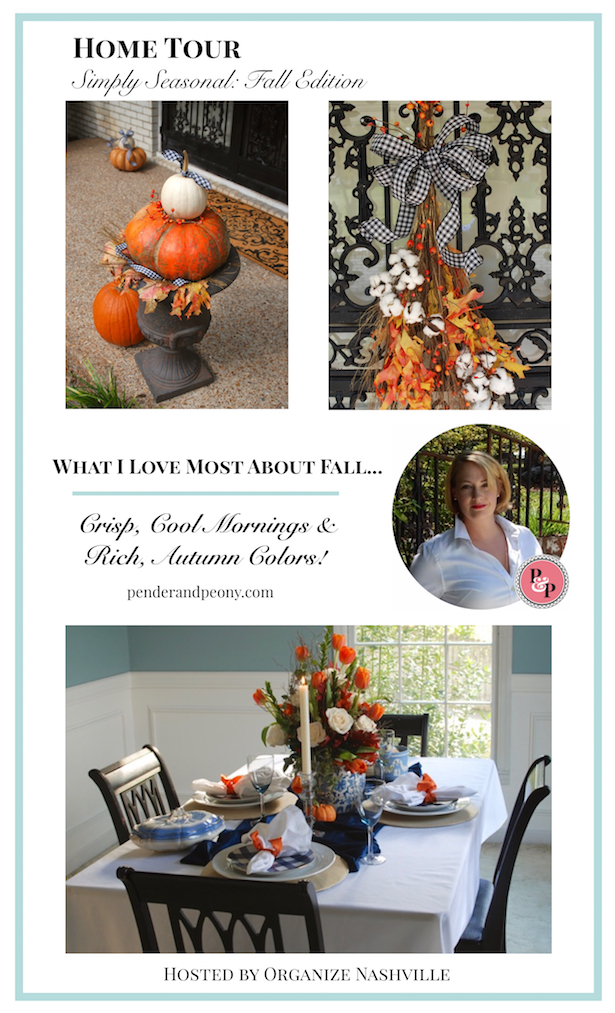 Come on in y'all and welcome to my fall home tour!
I'm glad you hopped on over from All Things with Purpose. Don't you just love Sarah's bright and cheerful home? I'm excited to share my fall home style this week along with 8 other fabulous ladies in the Simply Seasonal blog hop hosted by Caroline at Organize Nashville. Be sure to check out the rest of the bloggers in the tour listed at the bottom of this post!
Y'all know how much I love seasonal decorating. For me it is an important part of making my house a home and embracing gracious living. Plus, there is no better way to subtlety change up your home decor than by adding seasonal touches.
With Simply Seasonal this week, we'll be talking about getting your house ready for autumn and spilling our secrets to make your house a home this season.
Fall at the Front Door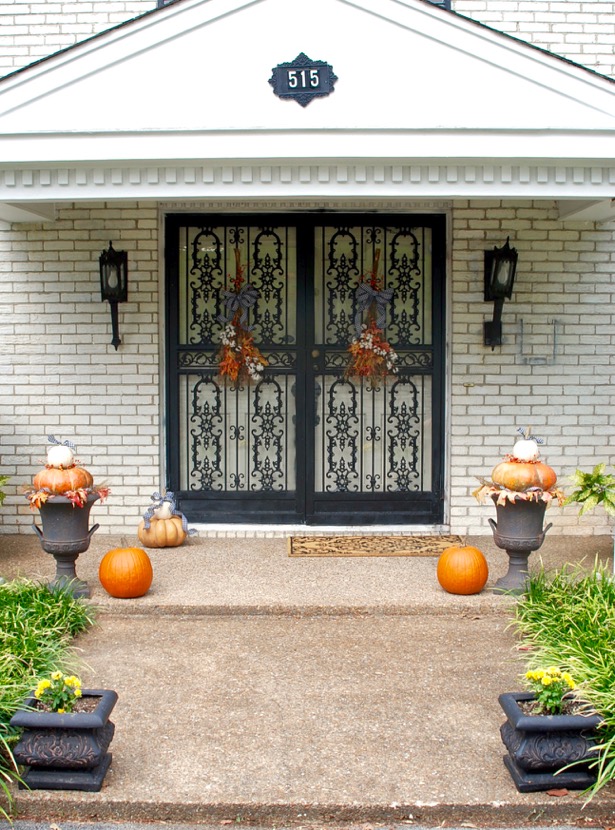 Fall Decorating Tip No. 1 – Decorate the Front Door
Adding seasonal decor at the front door is an absolute must. Not only does it offer the first impression to guests, but it also makes the neighborhood more festive. Plus, coming home to colorful pumpkins and mums is way more charming.
You can go all out with a bountiful display of pumpkins and gourds or keep it more simple with an elegant autumn wreath just be true to your decorating style.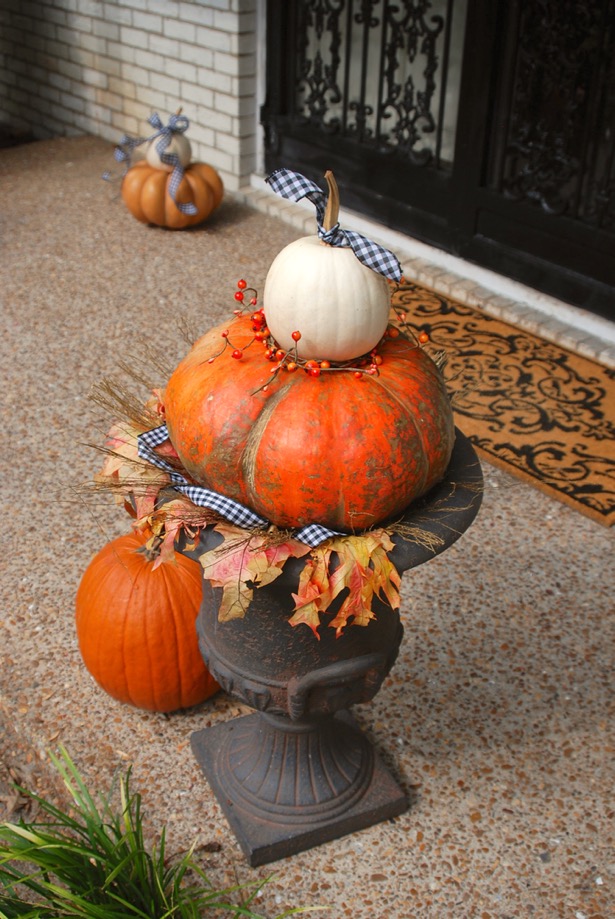 Fall Decorating Tip No. 2 – Layer Texture
Using varied textures in your seasonal decorating adds visual interest and dimensionality. Just take a look at the pumpkin urns above. Adding different textures with the fall berries, leaves, and the golden tinged branches made this grouping more interesting and appealing.
Texture is also important to making your home feel more cozy for fall. So get out those fuzzy throw blankets!
Want more advice on decorating with texture? Check this post out!
Fall in the Family Room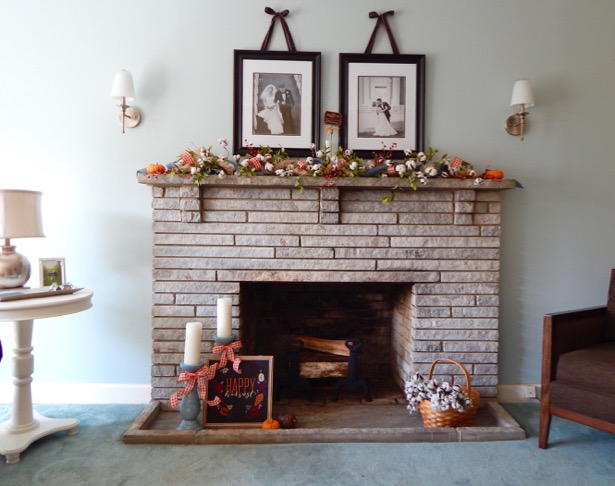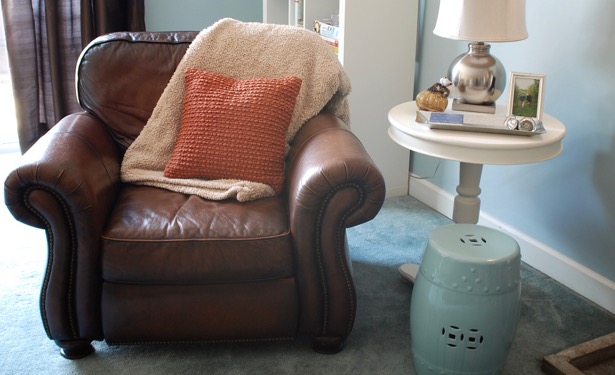 Side note: please excuse our hideous carpeting situation. S. and I are renovating this 1960's brick colonial. Wood flooring is high on our to do list!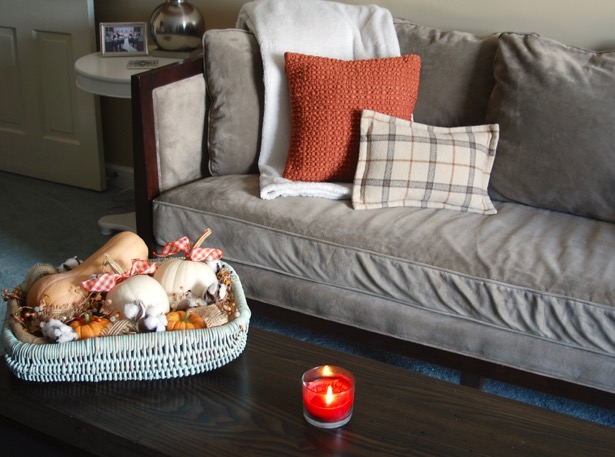 Fall Decorating Tip No. 3 – Choose a Theme
Have you noticed the decorating theme in my fall home tour yet? It's gingham!
I recommend picking a specific pattern or color palette as a theme to use throughout your fall decor. A theme will help tie your spaces together, creating cohesion from one room to the next.
Instead of using the exact same gingham everywhere, I adapted this theme to each room. So the gingham at the front door is black and white to go with the house colors, while in the dining room I used blue gingham plates.
Fall in the Dining Room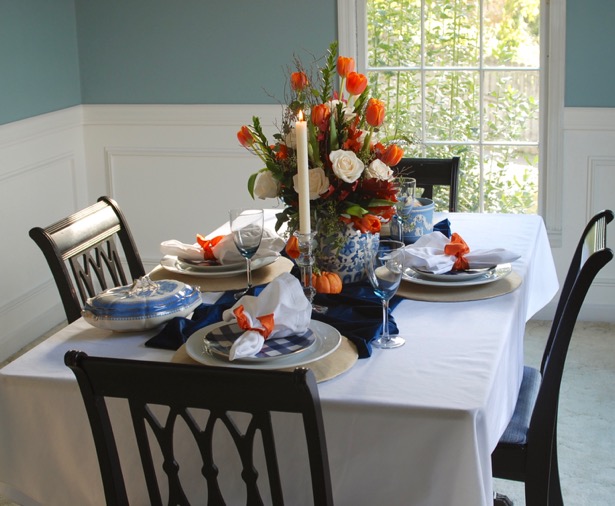 See more of this tablescape here!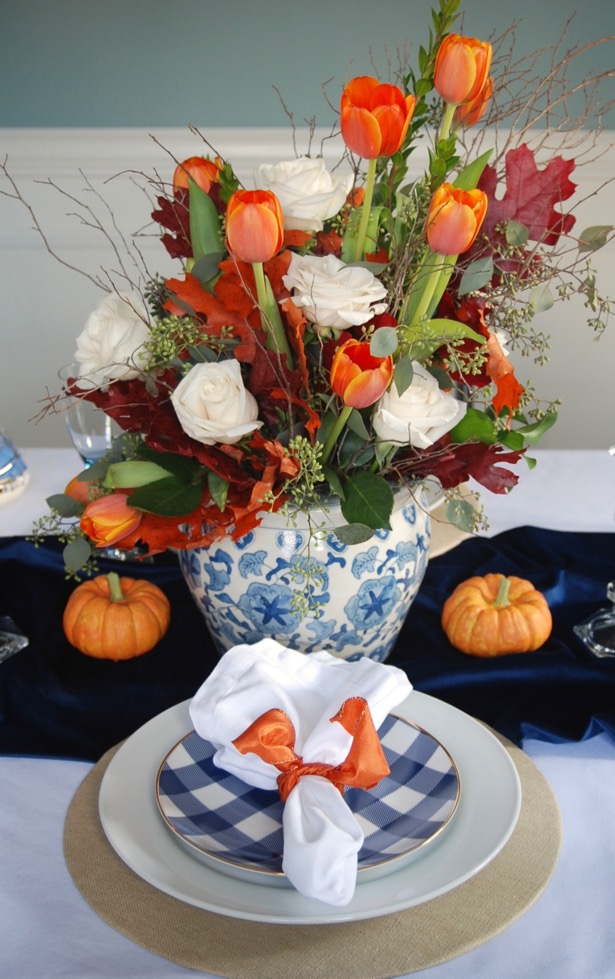 Fall Decorating Tip No. 4 – Get Creative and Have Fun with DIY
Seasonal decorating can get expensive, especially if you buy all of your fall florals (wreaths, garland, centerpieces) pre-made. Instead, try creating your own.
For this fall home tour, I did two main DIYs: the cinnamon broomsticks on the front door and the linen plate chargers on the dining room table. I dressed up the cinnamon broomsticks by spraying them gold and adding cotton boll stems, berry sprigs, ribbon, and fall leaves. Learn how I made the chargers here.
Fall on the Balcony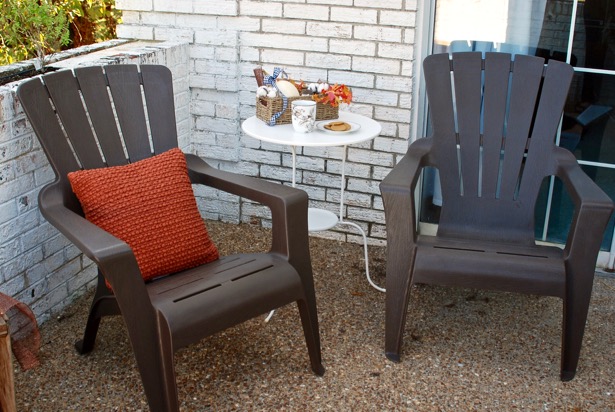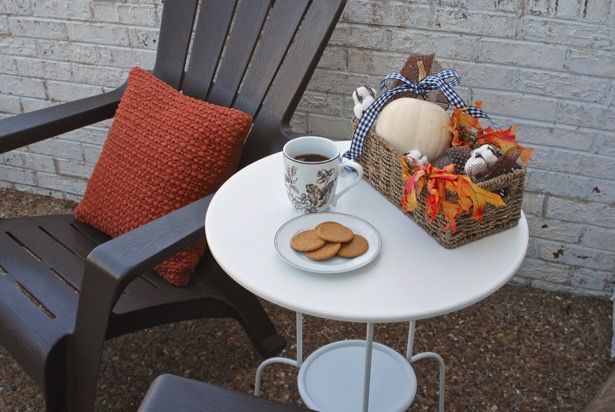 Fall Decorating Tip No. 5 – Make an Outdoor Space Cozy
Crisp, cool fall mornings are one of my favorite parts about autumn. I love to bundle up and take my coffee outside to soak up the fresh air, so I wanted to make our balcony cozier for the season and with the barn light fixtures outdoor, the nights are now filled with cozy lighting and blankets too.
To do this I made a seating nook in one corner, adding a pillow and end table. Then I laid a casual table on the patio set, and tossed a plaid blanket over one of the chairs. Mix in a few pumpkins and mums for a casual but cozy outdoor space.
---
Thanks for visiting my fall home tour!
I've loved sharing #myfallhomestyle with you. We will be using this hashtag on social media this week. Tag your fall decor to join in the fun!
Get more seasonal decorating tips when you join the P&P Social Circle. I'll send you my decorating mini-guide: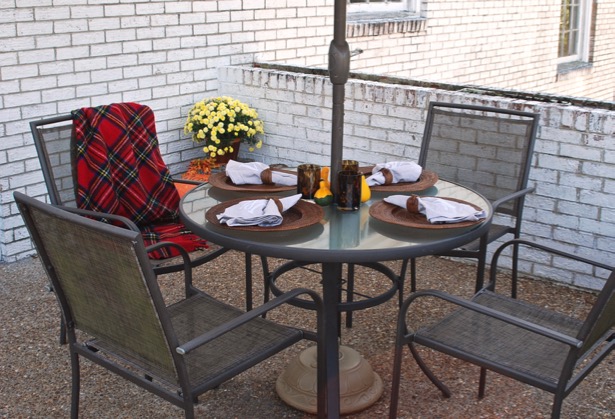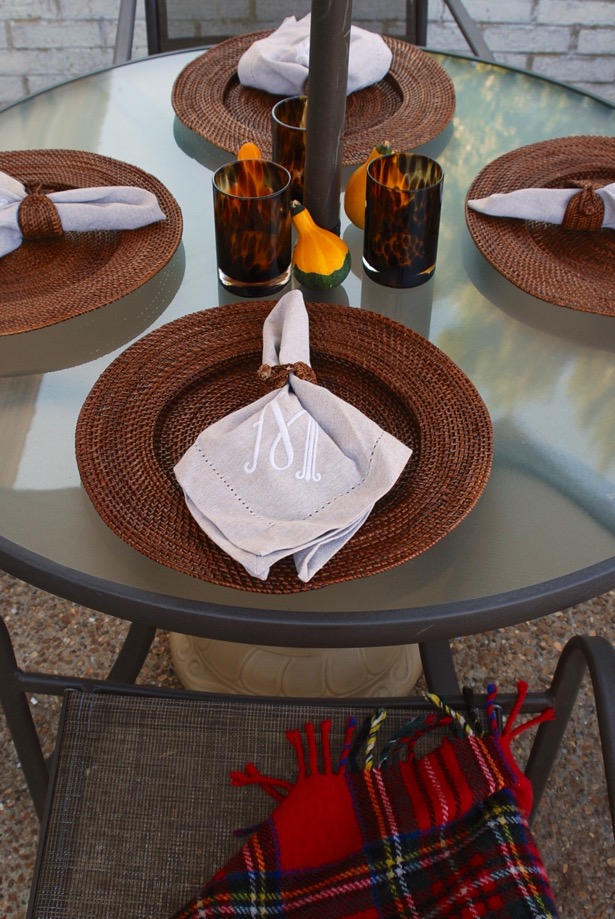 Tomorrow October 4th, 3 more bloggers will be sharing their fall home style with y'all. Next on the tour is A Purdy Little House. Her black and white striped pumpkins are AWESOME!
Partying at Between Naps on the Porch…A Stroll Thru Life…
Monday
Tuesday
Wednesday