Set an Elegant Autumn Table
A blue, white, and orange color palette makes for a rich fall tablescape.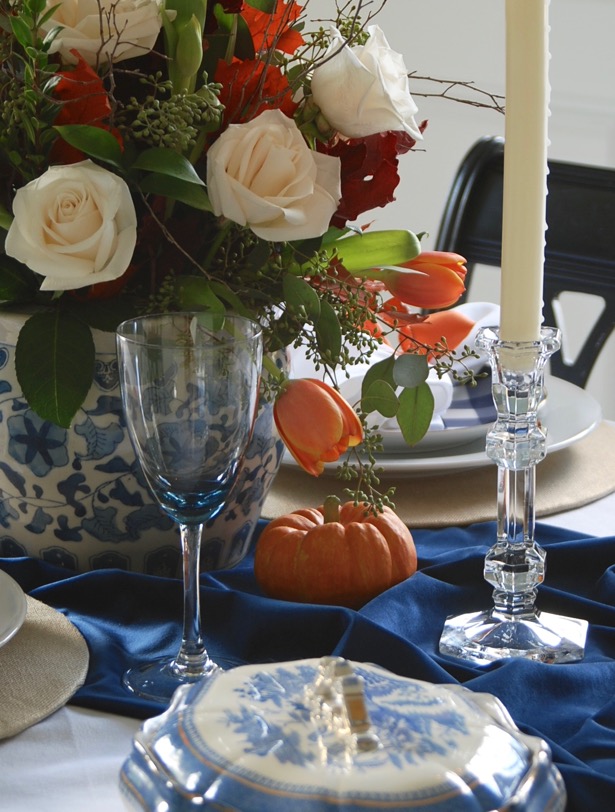 Hosting a dinner party this fall? Want an elegant autumn table with seasonal touches that doesn't go overboard to gimmicky?
Let me suggest a timeless color palette of blue and white with pops of orange! Blue and orange are complimentary colors so they pair extremely well and create a vibrant tablescape. I even bet you already have blue and white dishes or vases that you could use. Blue willow fans this is the perfect autumn table for you!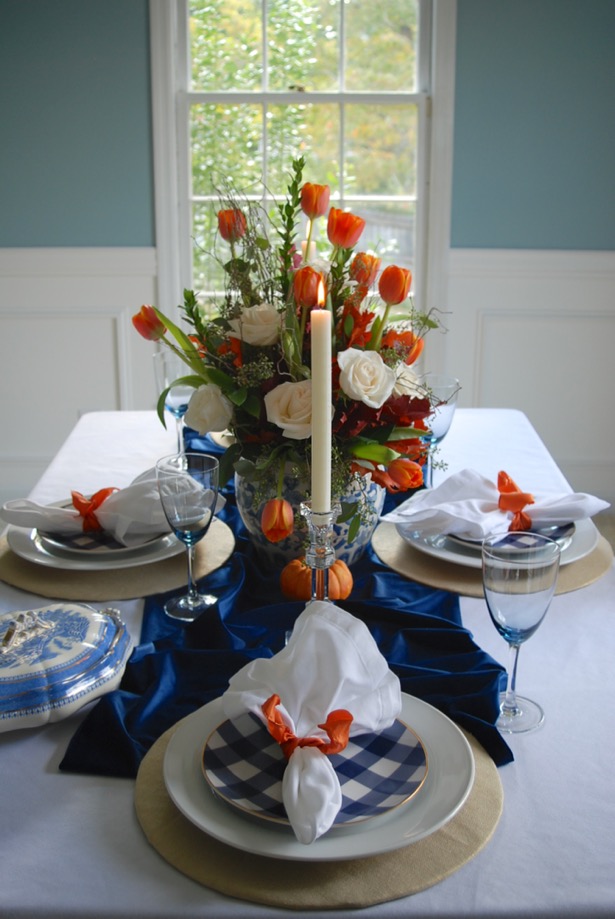 Elements of an Elegant Table
For me an elegant table has a few key elements: layered texture and pattern, beautiful florals, and a well-laid place setting. These elements combine to create an inviting feel that makes friends and family want to gather at the table. It is not about expensive china or silver flatware, and it is not about formality.
I like to start a tablescape with one inspiration piece whether it is a lovely fabric or antique dish. Sometimes it is as simple as finding gorgeous blooms that week at the grocery store or farmer's market. I then let this inspiration piece set the theme and mood for the table.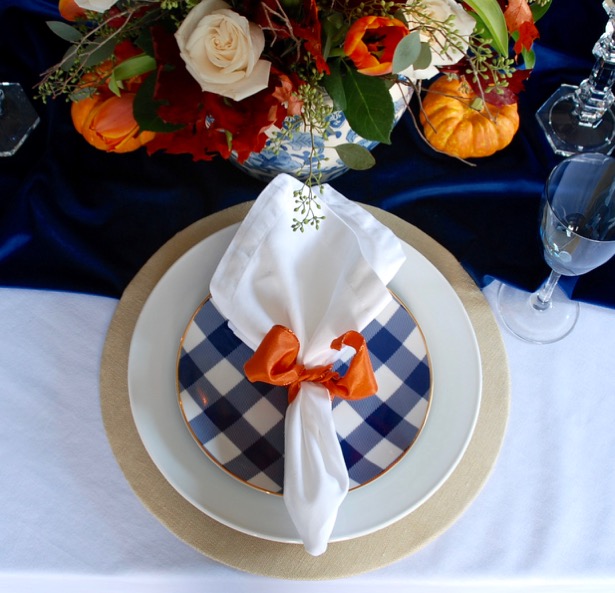 This autumn table was inspired by these gingham salad plates from Mark and Graham. I love this pattern; it has a traditional feel but is unexpected on ceramic dishes. The classic blue and white scheme and the gold rim make these versatile for a dinner party or casual get together.
The wine glasses are a thrift store find that I got for $1 a glass. They have a subtle blue tint at the base of the bowl that helps continue the color palette, drawing the eye up. The serving dishes are pieces I've picked up antiquing. Isn't that wedgwood bowl stunning?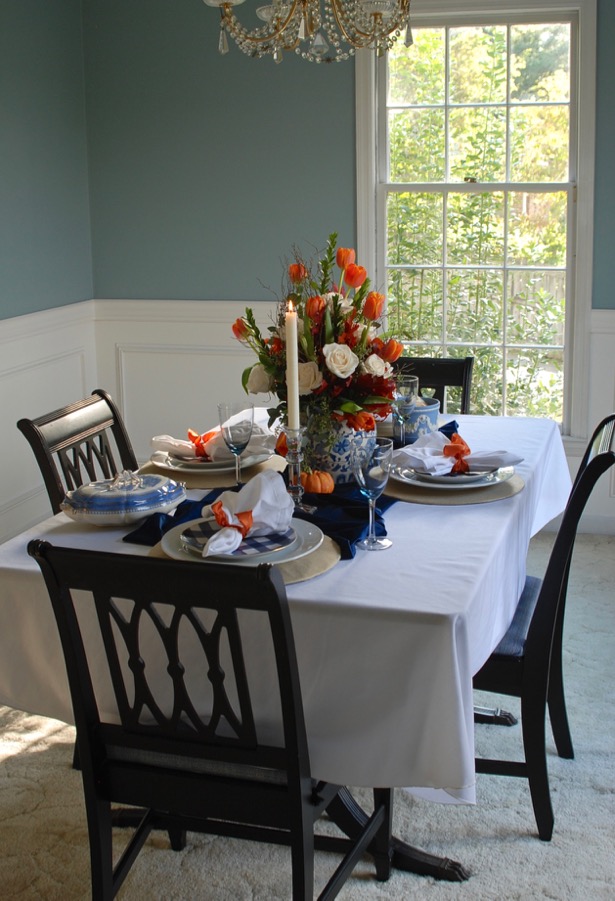 Use Linens to Layer Texture
I let the blue and white gingham plates dictate the linen colors. I chose a classic white linen tablecloth for the table foundation, and then layered a rich blue velvet on top as the table runner. This velvet is actually a piece of scrap fabric I picked up in the clearance bin at my local craft store. I simply turned the edges under to hide the unfinished edge and strategically plucked the fabric here and there to let it pool softly across the middle of the table. It adds a wonderfully rich texture to the table that is dramatic.
I already had white napkins, so they seemed a natural choice to lay atop the gingham plates. I needed another pop of orange, so I tied some beautiful ribbon around the napkins for rings. A bow felt too fussy, so I cut the ends at an angle and simply curled them around.
For another layer of texture, I made these fabric chargers, using a gold tinged linen. You will never believe what is under that linen and how easy a DIY this was, but I've got my steps to make them in a post here! No worries non-crafters this is the DIY for you – there is no sewing! Two words for you: cake boards.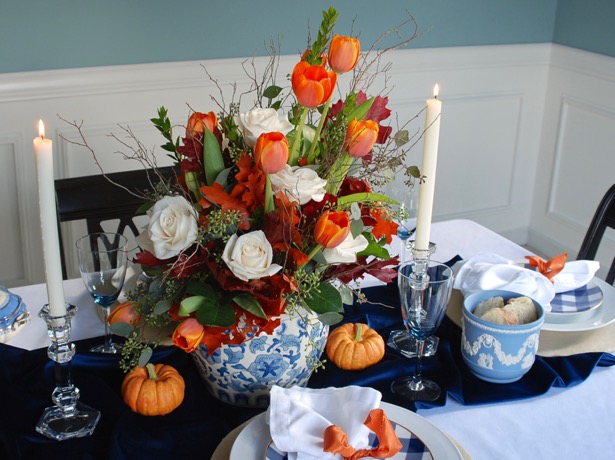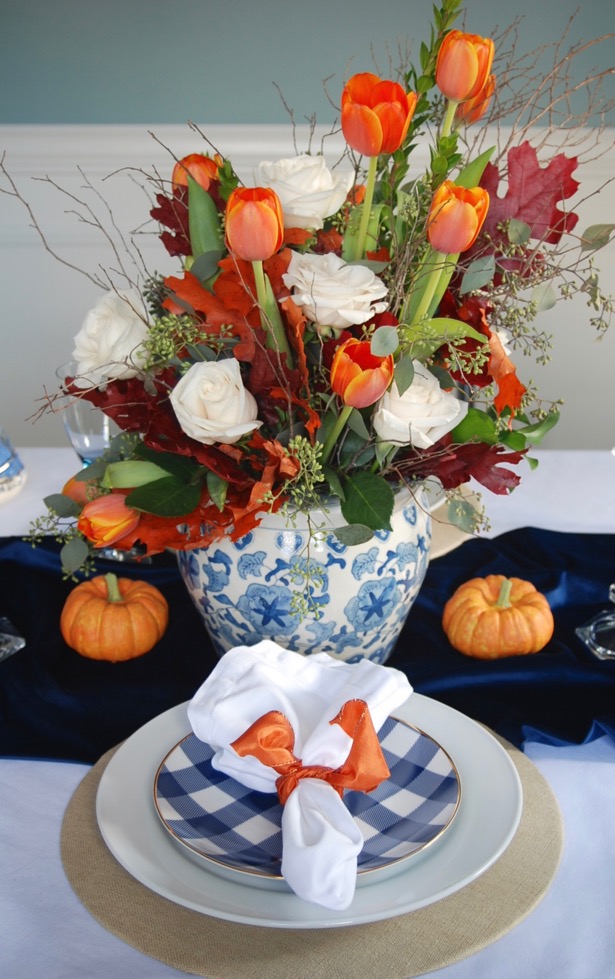 The Autumn Table Centerpiece
I think my centerpiece really ended up stealing the show. It added a nice touch of drama with its height and asymmetry. Plus those orange tulips are simply delightful!
I chose a blue and white ceramic pot as my container and put oasis floral foam in the bottom to hold the stems in place. For filler I chose seeded eucalyptus, boxwood, and branches then I interwove fall leaves. The branches and leaves help give the centerpiece that autumn feel.
Confession time: I'm not great at arranging flowers! My mother (hi Mom) has been giving me little tutorials here and there over the last few weeks, and I really think her lessons are starting to sink in. I'm so proud of this arrangement and a little stunned I created it. So thanks Mom for your help and patience!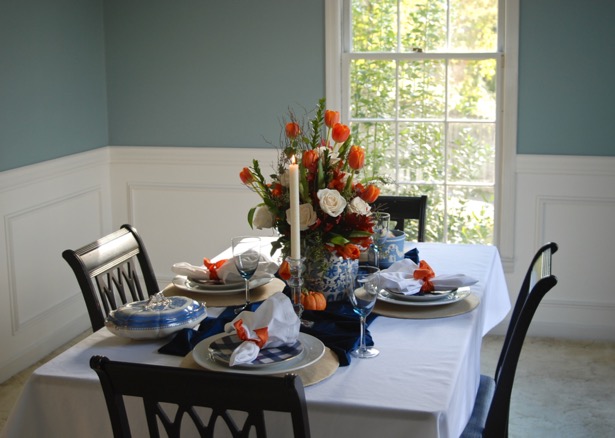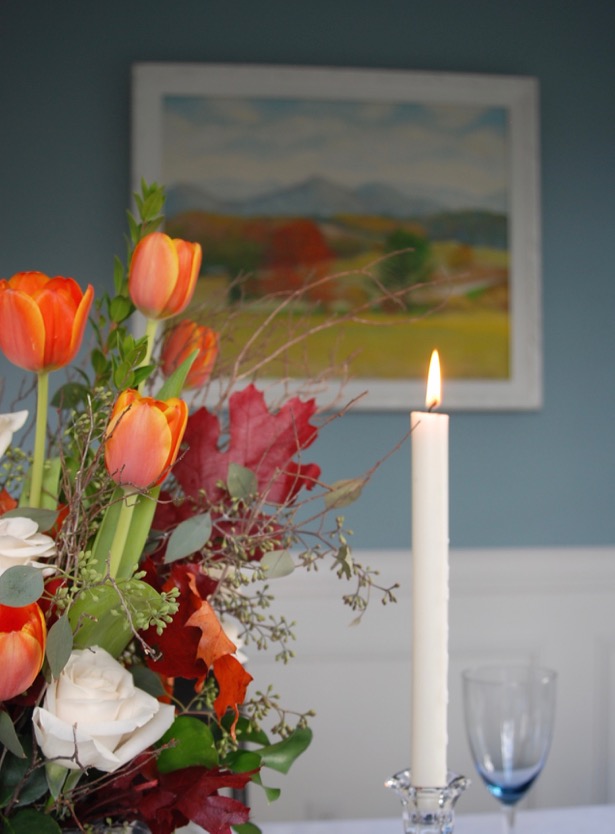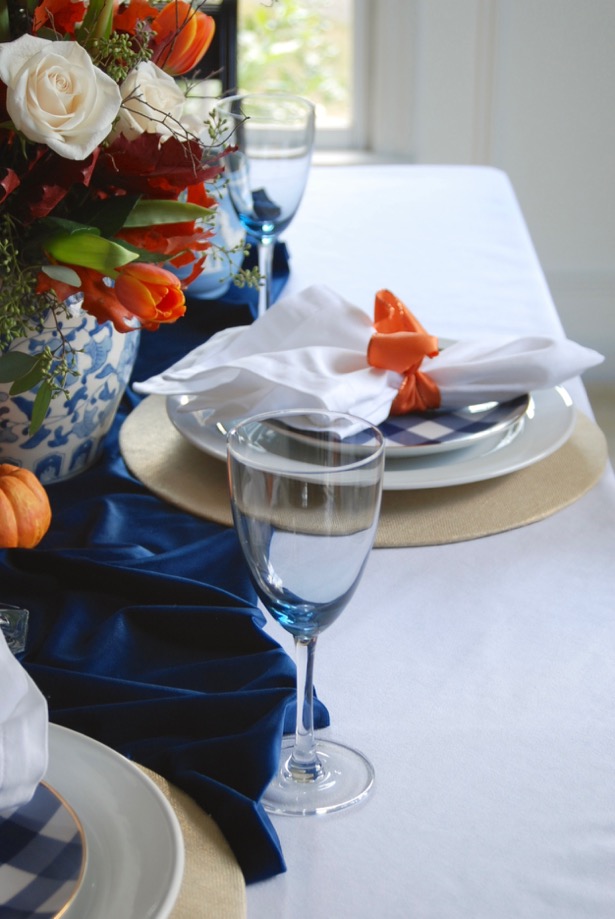 A Well-Laid Place Setting
For the purposes of the photos, I didn't set out my flatware. There were odd lighting things happening, but you could use gold or silver flatware with this color palette. The plates are laid for a salad course and a main entree, so you would need two forks, a knife (2 is optional), a spoon, and a dessert fork or spoon, depending on what you served. The trick to well-laid place setting is to be practical and only put out what will actually be used. In other words, set the table according to the dishes served and how they will be served.
Remember, to always turn your knife with the edge in towards the plate, forks go to the left, and your desert flatware goes at the top of the plate. Don't for get the "b" and "d" trick. Touch the tips of your forefingers and thumbs together to make a lowercase "b" on your left hand and a lowercase "d" on your right. This is an easy reminder that bread and butter go to the left of your plate and drinks to the right.
*This post contains affiliate links*
Pin this for later:

Partying at Tablescape Thursday…