Tips for a Delightful Winter Tea

The clink and shine of silver and china loaded on a pretty tray.
The piercing song of the kettle when the water is a bubble.
The unfurling of dried leaves when the hot water hits the tea.
The heavenly aroma as the steam wafts up out of the spout and splashes in the cup.
The warmth of the teacup wrapped in chilly hands.
& The taste of a delicious hot brew as it slides down your tongue!
What's not to love about a winter tea?
January is National Hot Tea Month, and I think the comfort and pleasure a cuppa brings is well worth a little celebration! So dust off your teapot, grab some pretty cups, and dig out your favorite loose leaf tea, let's set a delightful winter tea at home this year!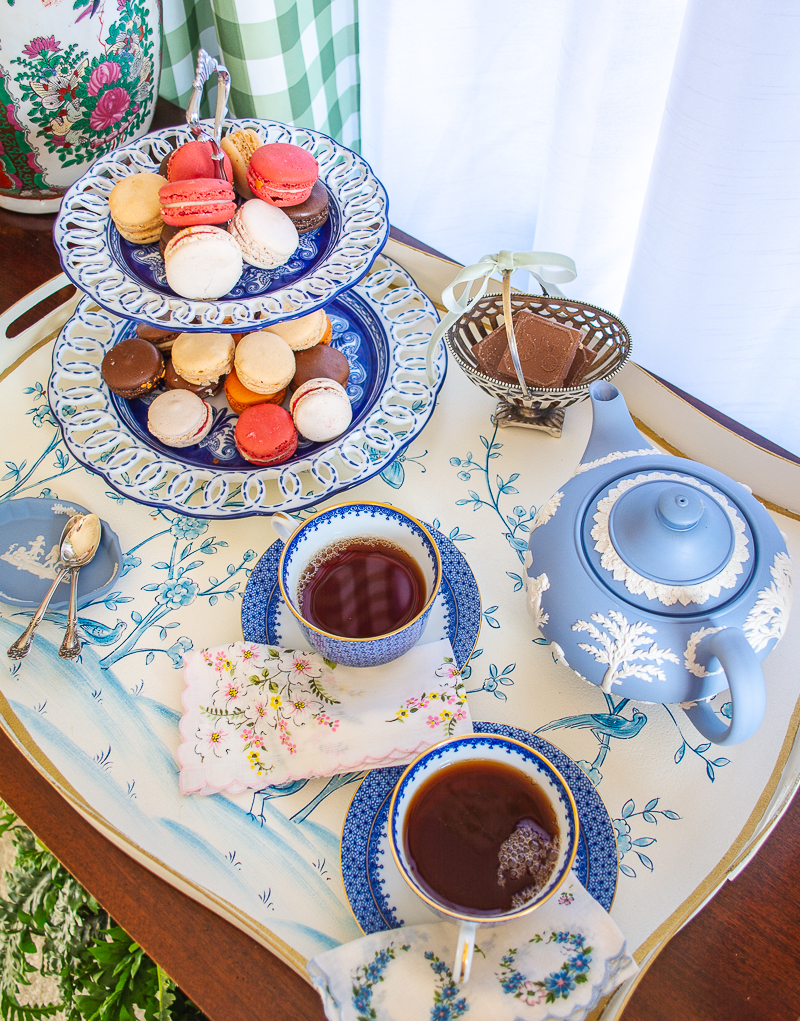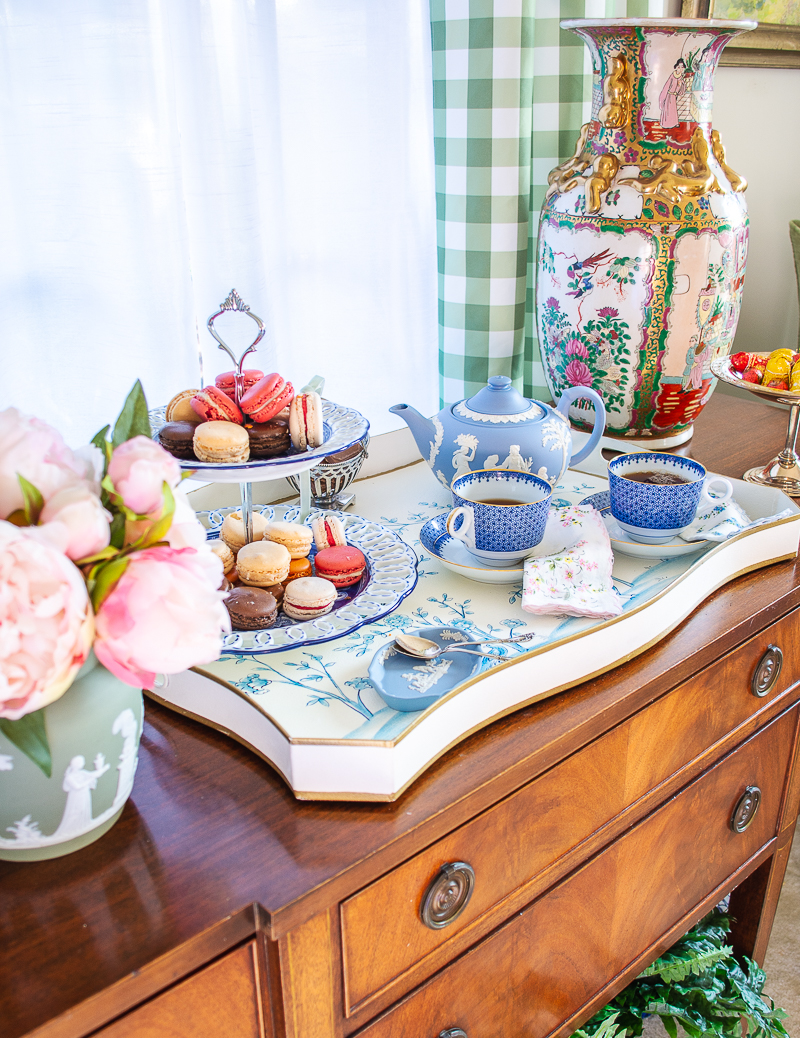 While we are quarantining and social distancing at home this winter, why not set a lovely tea for your family? It is an enduring afternoon ritual that is comforting, delightful, and yummy! Make it special and just a little bit fancy by using your tea set and setting out delectable treats. Tea is also widely proved to have many health benefits:
L-theanine and caffeine in tea can produce cognitive benefits, such as mental clarity and attention control.
Research also suggests drinking tea supports cardiovascular health.
Black tea can reduce blood pressure in hypertensive individuals.
Tea flavonoids may help increase metabolism.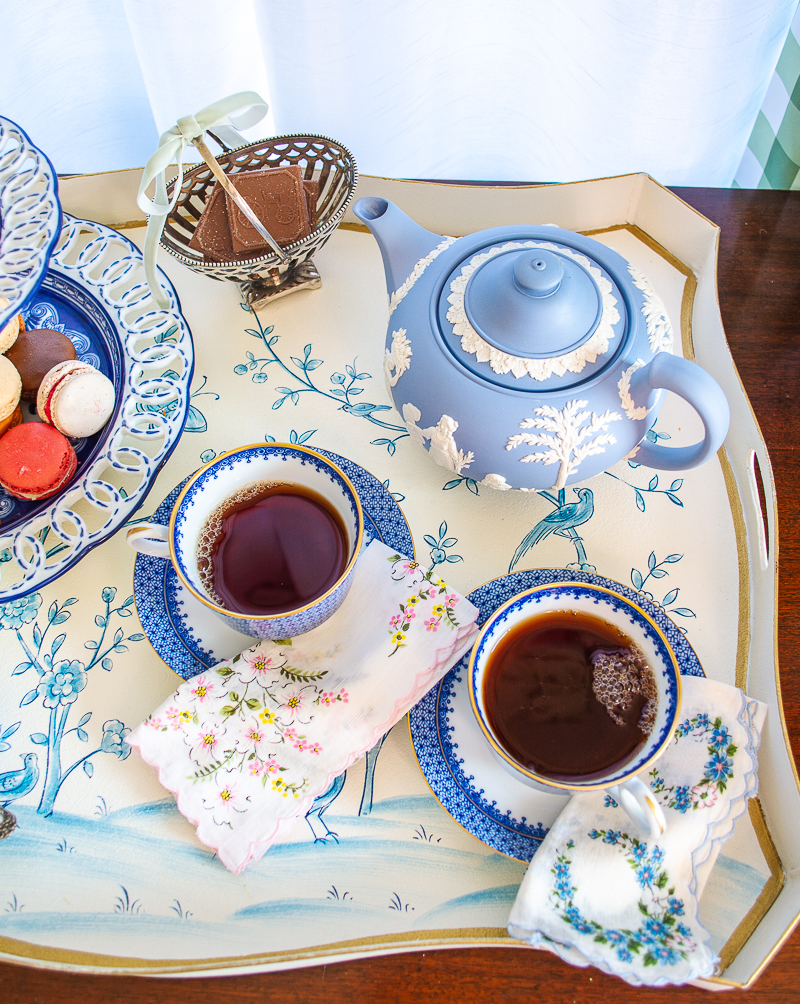 Here are my top 5 tips to set a delightful winter tea:
No. 1 Use a Beautiful and Functional Tea Tray
Coral your cups, tea set, and sweets on a pretty tray that will allow you to serve easily. The tray will also protect furniture from any spills while pouring. My Chinoiserie tole tray is from the Enchanted Home, but unfortunately they are sold out.
I'm loving this vintage floral tole in pale blue and this pink peony lucite tray.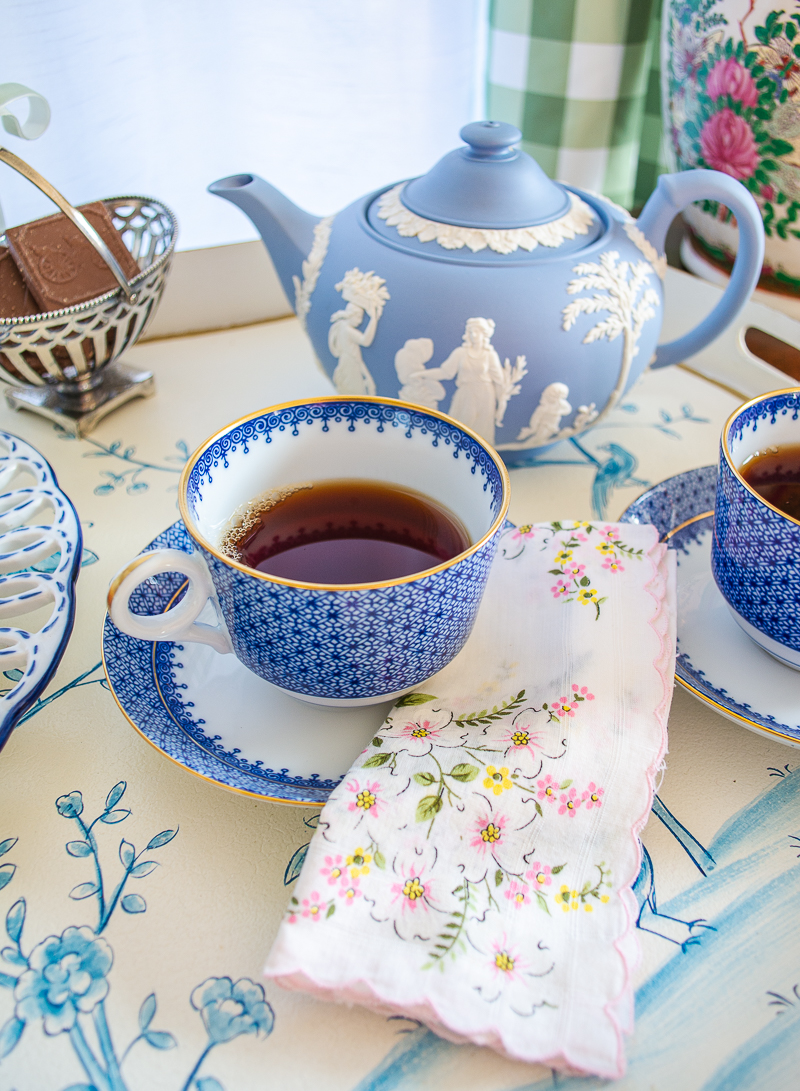 No. 2 Make it Special by Using Your China Teapot & Cups
Afternoon teatime is an honored past-time dating back to the early 1800's. It is a lovely gesture and special treat to make it just a bit fancy for your family during the bleak cold days of January by using your special tea set and pretty tea cups. Some fresh or faux flowers are also a nice touch!
I love my Wedgwood Jasperware teapot. Here is a similar one.
More Antique & Vintage Teatime Options: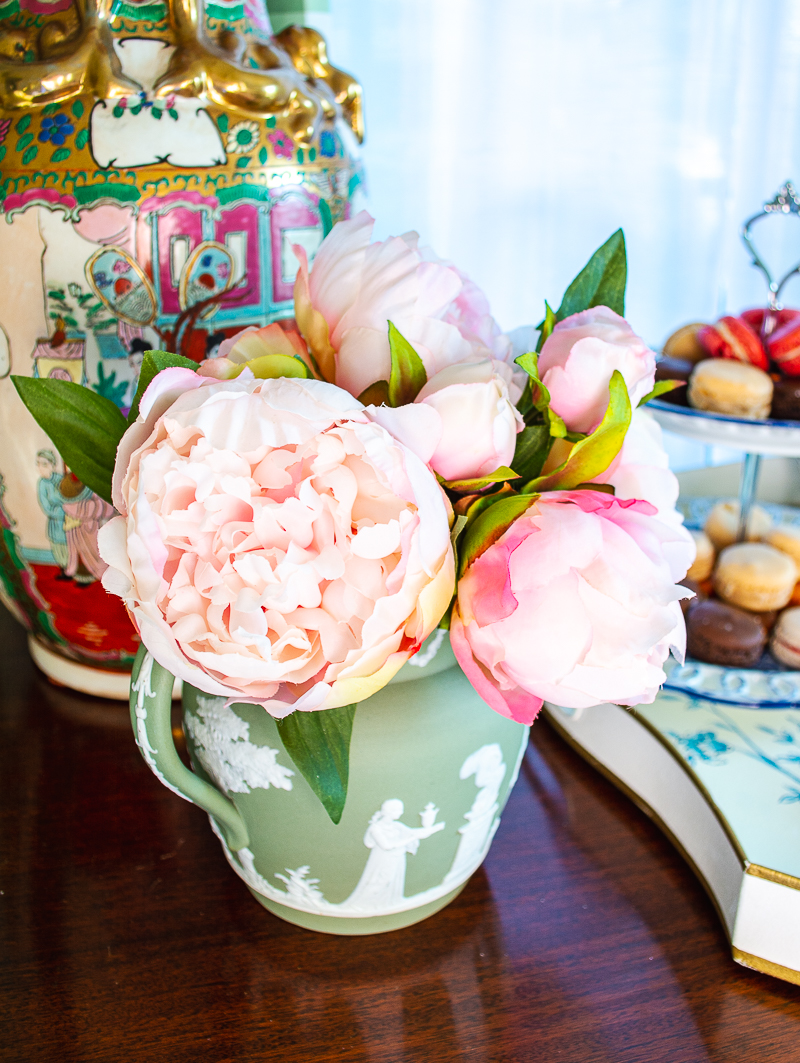 No. 3 Take the Time to Steep Loose Leaf Tea
True tea connoisseurs will tell you that loose leaf tea is simply the best in terms of flavor and aroma, and I agree. My favorite brands that I buy again and again are Capital Teas and Piper & Leaf Tea Co.
From Capital I love Chesapeake Sunrise, while Piper & Leaf's Mistletoe Grove is my favorite winter tea.
No. 4 Set Out Delectable Sweets
Special sweet treats whether homemade or store bought, are a charming way to liven up a gray winter afternoon. I love to serve macarons and chocolate biscuits for a winter tea!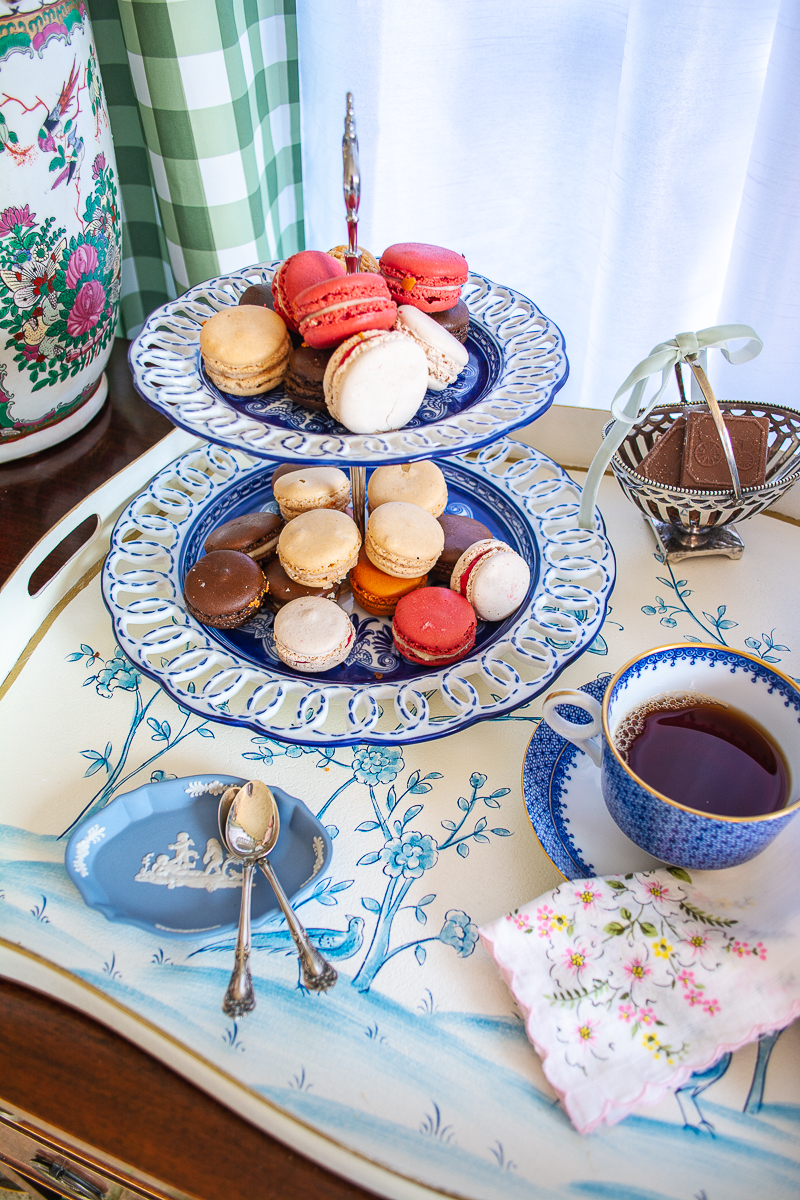 No. 5 Use Vintage Hankies for Charming Napkins
For a fun vintage touch at teatime, use vintage floral hankies for napkins. There are so many beautiful printed and embroidered designs out there, and they just look charming with a pretty teacup.
Teatime Essentials & Accessories: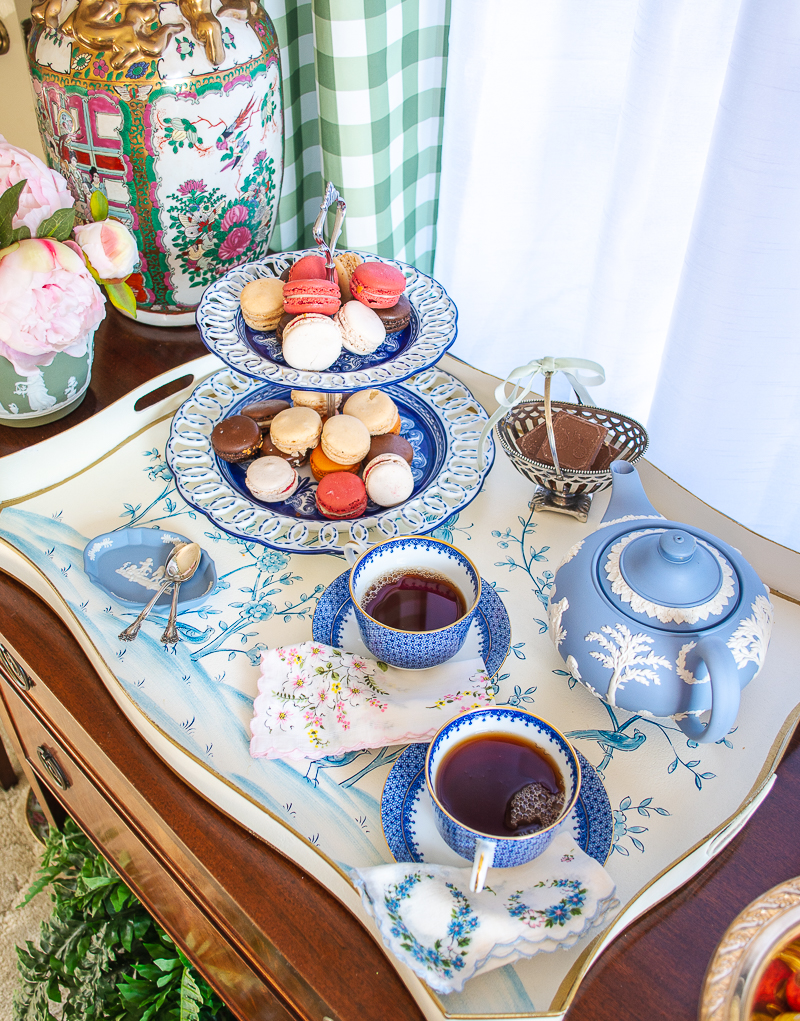 Happy Teatime!
Want some more tea party inspiration? Check out this tea I hosted last year for Valentine's Day.