5 Decorating Solutions For Design Challenges When You Cannot Renovate
Renovating not an option? Here are 5 decorating solutions to tackle those pesky design challenges that will help you live with the eyesore.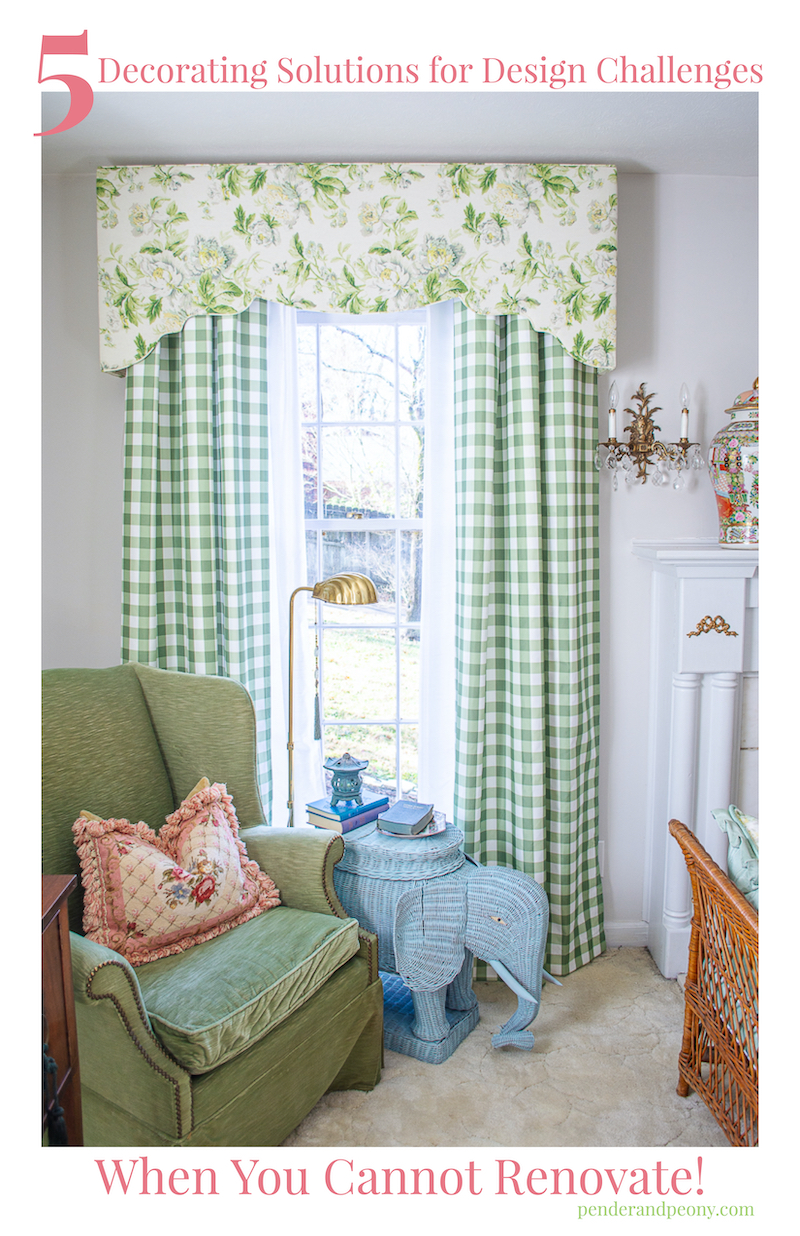 When you find yourself staring down a particularly ugly design challenge in a house you are redecorating, what do you do? Sometimes money is short and design decisions seem endless and major renovation just isn't possible.
S. and I have been renovating and redecorating our 1960s brick colonial for almost 5 years now. We have replaced everything from the electrical to the roof in terms of structural changes, but for more cosmetic improvements painting has been about it. You can see the before pictures and our progress here.
I know what it's like to live with a variety of design challenges that are rather grating on the eye like mismatched carpet, dark wallpaper, faux paneling, gaudy lighting, and outdated cabinetry…just to name a few!
Over the past 5 years, I've developed 5 decorating solutions to help diminish or eliminate these eyesores. In other words, 5 strategies that help me live with these challenges until we can make more permanent changes. After our discussion last week on Instagram about the decorating problems you are facing, I thought it might be helpful if I laid out my strategies in a post.
5 Decorating Solutions When You Cannot Renovate
I am not recommending these strategies as magic cure-alls rather they are creative options that will help lessen the unattractive quality of whatever your particular design challenge may be. One or a combination of several of these solutions should help you work around a variety of dilemmas from space constraints, disagreeable colors, outdated materials, and/or architectural limitations.
No. 1 Embrace It
I know…I know…you are looking for a solution to the design problem, but sometimes the answer is in changing our perception of the challenge. Sometimes we have to stop fighting what we cannot change and work with it!
Try giving whatever it is a good cleaning and then see if you can find it's good side. Ask yourself: what you like about it or if that's too much of a stretch…what you find tolerable. There really may be something there you can embrace.
Embracing a long narrow room: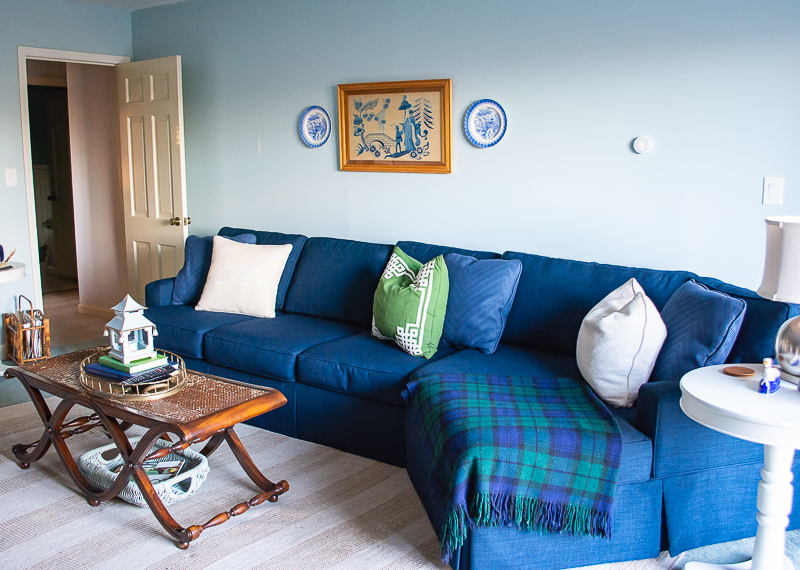 Our family den is a long narrow room with a sliding glass door on one end, providing the only natural light. One of the long walls has a large rock fireplace. This layout leaves few options for furniture arrangements and T.V. positioning, and it is a challenge to make both the fireplace and T.V. focal points without mounting the T.V. over the mantel, which is something I hate, and not possible because of the large screen we enjoy using.
We cannot alter the walls for structural reasons, and we cannot take out the fireplace at this time, so I have to embrace the narrow space and work with the layout. At first I tried positioning our three-seater sofa and pair of arm chairs in a variety of ways to optimize viewing and conversation, but it just didn't work. There was never enough seating to be comfortable and watch T.V.
So the solution was to embrace the length of the room, and buy an elongated sofa. I found a fabulous sectional that combined a three-seater with a curved lounger, so now up to four people can sit on the sofa relatively comfortably. The solution was accepting my spatial constraint and choosing furniture that worked best within that configuration.
No. 2 Alter It
Usually, we all turn to this decorating solution first when trying to deal with a design challenge that we cannot renovate, and it is a good one! Half the time we can re-paint something, remove some of it, or reconfigure the eyesore slightly to improve its overall appearance. Never underestimate the power of a fresh coat of paint in a bright white to transform a room or piece of furniture.
Don't be afraid to physically alter your design dilemma in small ways to improve its appearance!
Altering cornice boards: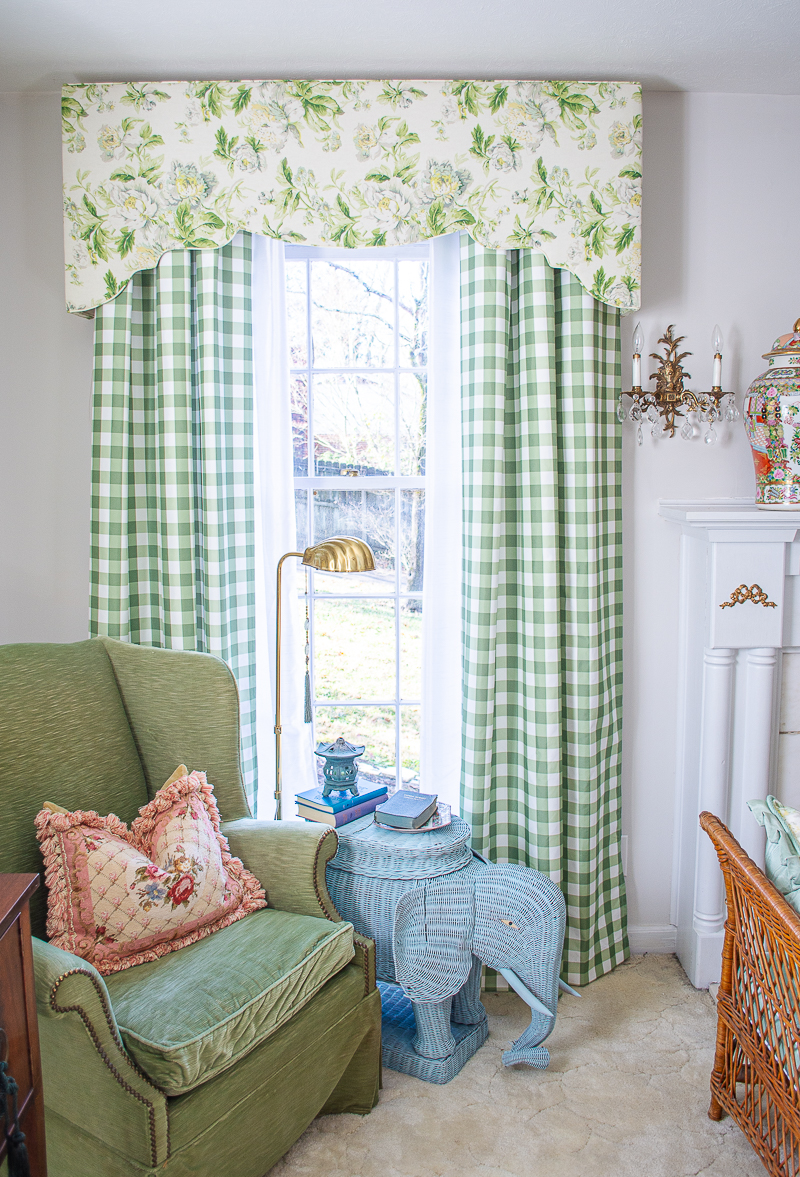 One of the key features of our house are the oversized windows, which extend almost floor to ceiling on the front of the house and are much wider than standard windows. But the drawback for my budget is bigger windows mean more money spent on window treatments.
Our formal living room is positioned at the front corner of the house and has three of these large windows. Budgeting and sourcing six panels of floor to ceiling drapes was frustrating for this room, because it was difficult to find a fabric I liked in the length I needed that wasn't ridiculously expensive. Enter the traditional design solution of the upholstered cornice board! This style of top treatment creates drama and formality as well as the look of floor to ceiling treatments, but I didn't need to actually spend the money for longer drapes.
Luckily, the room had 3 cornice boards already made from the previous owner, but the boards were a bit too heavy feeling for the windows because the sides extended down too far and made it feel out of proportion. Solution: cut down the side lengths of the boards to improve the proportion and open up more of the window. My upholsterer agreed to do this when he re-covered the boards in my pretty chintz fabric.
No. 3
Use Its Opposite
This decorating strategy may sound a bit complicated, but I promise it is useful, especially in regards to color. When faced with an unattractive semi-permanent or permanent fixture that cannot be renovated, pair the fixture with its opposite in terms of color, style, or texture.
If a light fixture is ornate and slightly gaudy use streamlined furnishings to make it feel more modern and detract from the over ornamentation. If a color is too dark, pair it with light ones to balance it out. You get the idea!
Using a contrasting color to tone down faux wood paneling: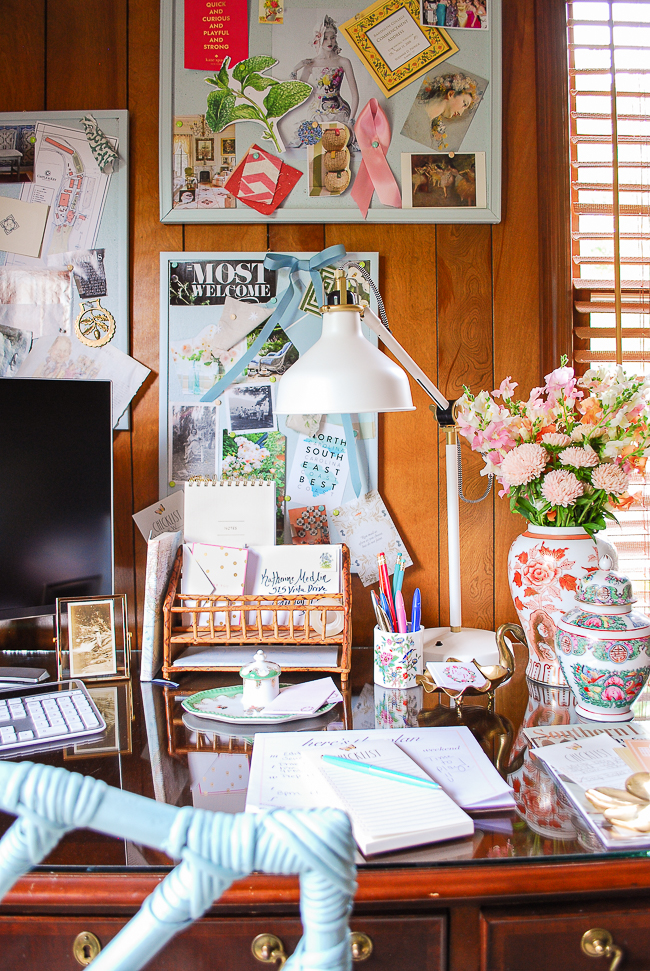 In our office on the main floor, the walls are covered in a faux wood paneling that has a decidedly orange honey tone. I am not a fan either of the faux nature of the paneling or its gaudy stain! Our long term plans are to tear the paneling down then replace it with sheetrock and install built-in bookshelves. In the meantime, I stare at this paneling day in day out because I work from home in this office and cannot just ignore it.
To detract from the orange hue and hide some of the paneling, I hung design boards on the wall behind my computer, so when I look up I see inspiring imagery first and not the paneling. The boards are simple cork boards that I painted a pale blue then tacked inspirational images, fabric swatches, quotes, and photos on to.
The key here is not just covering up the paneling with the boards, but in the use of the opposite cool tone to balance out the warmth of the faux wood stain. The pale blue of the boards counteracts the orangey tone of the paneling and creates an attractive contrast.
No. 4 Hide It
Sometimes, covering up the eyesore is the best option!
There are just some design challenges that cannot be altered, or embraced, and diminishing their ugliness doesn't work. When you hit that roadblock, it's probably best to ask: how can I hide this? Decorative furnishings and accessories come in handy at this point. Think furniture slipcovers, area rugs, screen dividers, shelving, and large pieces of art.
Hiding ugly stained carpets: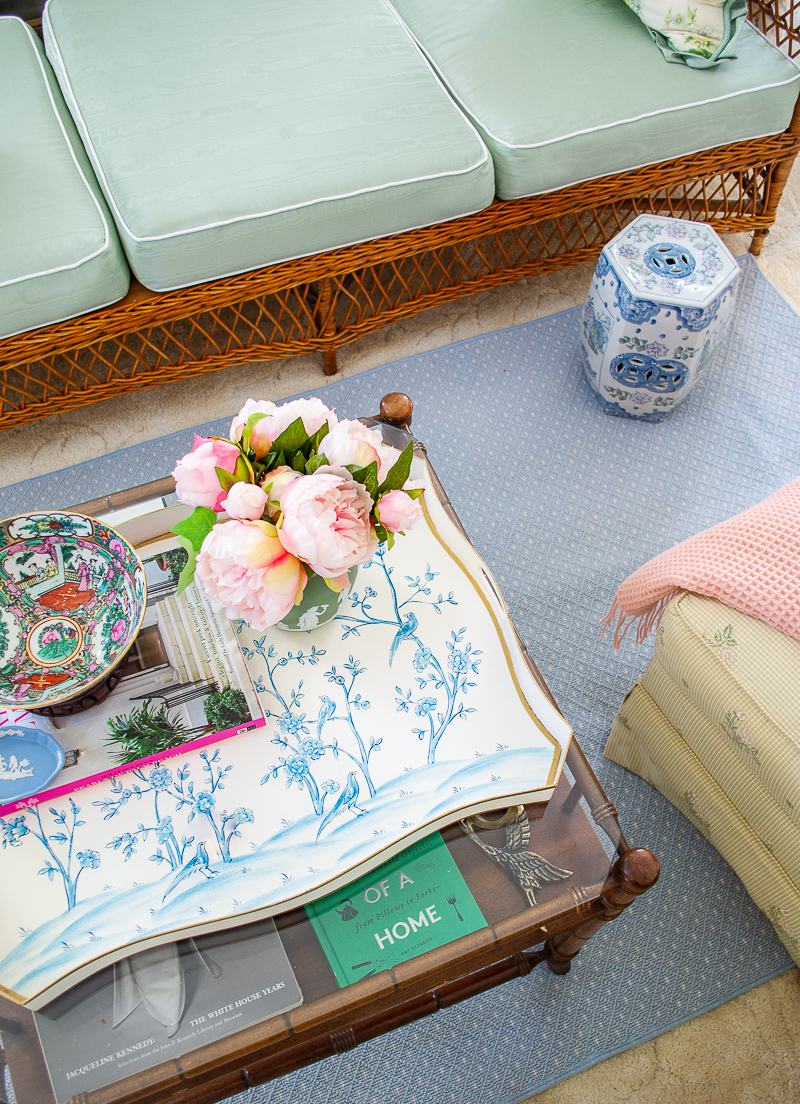 Currently, my house's biggest eyesore that drives me crazy are the 80's carpets. Each room has it's own unique wall-to-wall carpet and none of the colors match. Seriously, there are nine different colored carpets in my house! We have had the carpets professionally cleaned, but there are still stains and worn spots. I cannot wait to tear it all up and put in hardwood flooring!
Alas, until budget allows, we have to live with the ugly carpets, so to lessen their presence, I have laid down area rugs in our two main hang out zones: the formal living room and the family room. I put the rugs down under the main seating groups in each of the rooms, and they do help detract from the carpet. The additional benefit to this solution is that I can re-use these rugs once we have hardwood flooring, so I didn't waste money on a temporary solution.
No. 5 Add To It
Design challenges are not always about appearance. Some dilemmas may be about a lack of functionality or efficiency. This is particularly true of homes that lack built-in storage or certain modern conveniences.
When you are faced with this type of design challenge, it's time to figure out what you can add to improve function for you and your family!
Adding shelving to closets: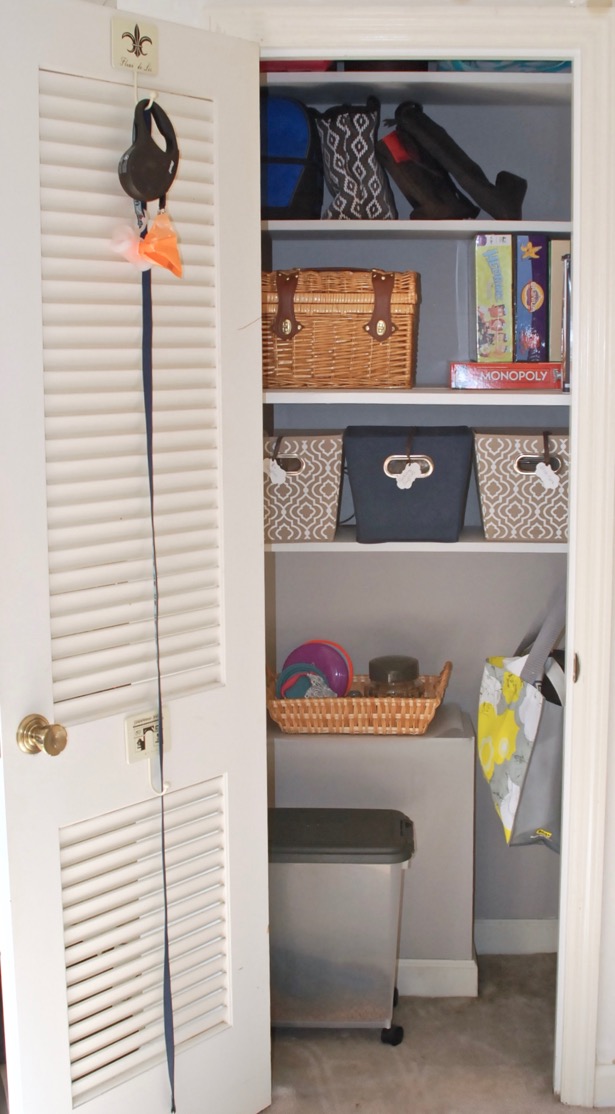 Thankfully, our house has lots of built-in closets both on the main floor and in the upstairs bedrooms. While the space was there when we moved in, the closets in the entry and off the kitchen lacked functionality because there was no organizational system inside.
One of the first improvements S. and I made was to simply add shelving and organizers to the three main closets in the entry, so that we can store coats, pet paraphernalia, cleaning supplies, and pantry items more efficiently. I shared that transformation in this post. Some slight renovation was involved to install the wooden shelves but nothing complicated beyond a Saturday DIY project.
---
I hope these decorating solutions give you some ideas to tackle the design challenges in your home and ease your frustrations! You deserve a beautiful and charming home, and there are ways to get it with a little creativity and elbow grease.
If you are feeling particularly stuck on a design challenge, don't hesitate to reach out! I love helping clients re-think their spaces and improve their homes in big ways and small. Read more about my design services here.