Your Guide to Hosting an Intimate & Chic Thanksgiving
For me it is a feeling of comfort…
The rumble of teasing laughter…
Hands clasped as a family in prayer…
Mouthwatering aromas of cornbread sage dressing and roast turkey…
And a table filled with care and love!
I bet your memory has a similar feeling to mine! It's the atmosphere of warmth and charm that all holiday hostesses hope to create that really sticks with us the most.
This year as we gather in new and different ways during a festive season shadowed by COVID and political turmoil, keep this memory close and strive to re-create that special atmosphere. Host an intimate Thanksgiving with this in mind and don't stress about the trivialities!
COVID imposes its own unique set of restrictions and cautions on top of this holiday, which is so near and dear to many of us. With this Guide to Hosting an Intimate and Chic Thanksgiving, I am offering tips and tricks to help you plan a successful gathering and meal given these new limitations. Hopefully, the ideas here will help you think through some of the hosting requirements you might have overlooked and then create a plan. After all, careful planning eliminates so much of the stress of entertaining.
I also encourage us (yes I need this reminder too) to see this change-up to our usual holiday routine as an opportunity to start new traditions and introduce different ways of doing things that are perhaps simpler yet no less meaningful!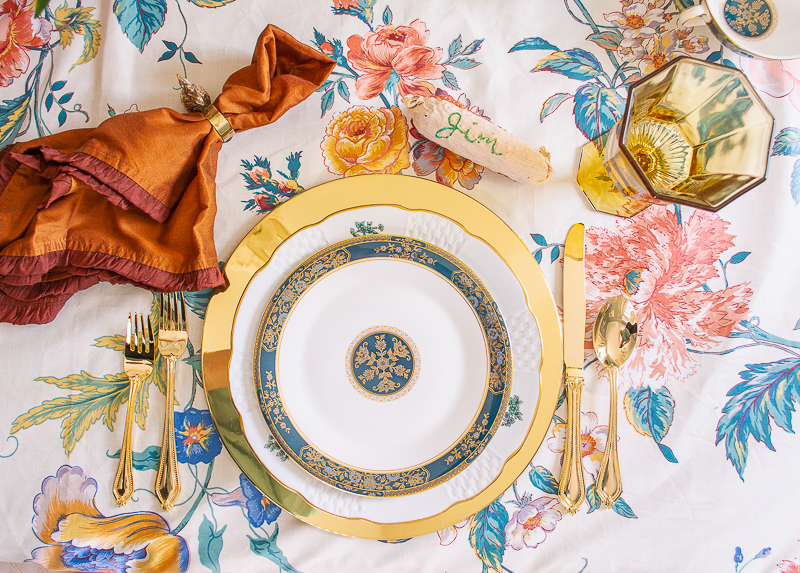 For starters, this year's Thanksgiving gathering will and should be more intimate, especially if you are unable to dine outdoors. Dining indoors with a large number of guests who've traveled from all over puts everyone at greater risk for contracting this illness. The CDC recommends restricting your diners to your immediate family or choosing guests who are part of your community.
In other words, people you are already in contact with regularly and that you feel comfortable sharing a meal with given the circumstances. If a large number of your family all lives nearby consider breaking up guests into two groups for two different dinners.
Make sure your family and friends feel comfortable opting out of the dinner and staying home if they feel uncomfortable or sick. It is a good idea to discuss with them the precautions you are going to take to reduce the risk of exposure. The CDC has provided this helpful self-checker questionnaire to assess your symptoms if you feel sick: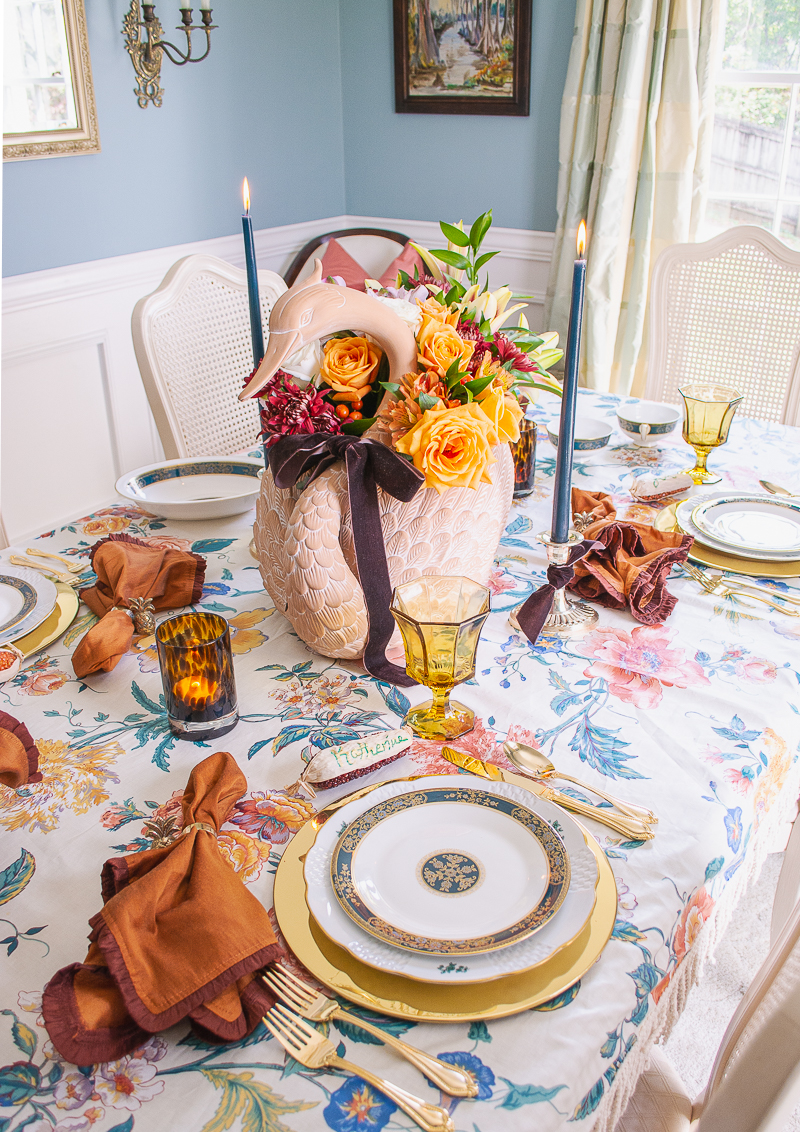 Shop the Look of My Thanksgiving Table
Most of the tableware and china will be available at my Thursday November 12th flash sale on Instagram. Tune in at 8PM EST to shop. The swan is not included in the sale, but this version on Etsy is gorgeous and reasonably priced.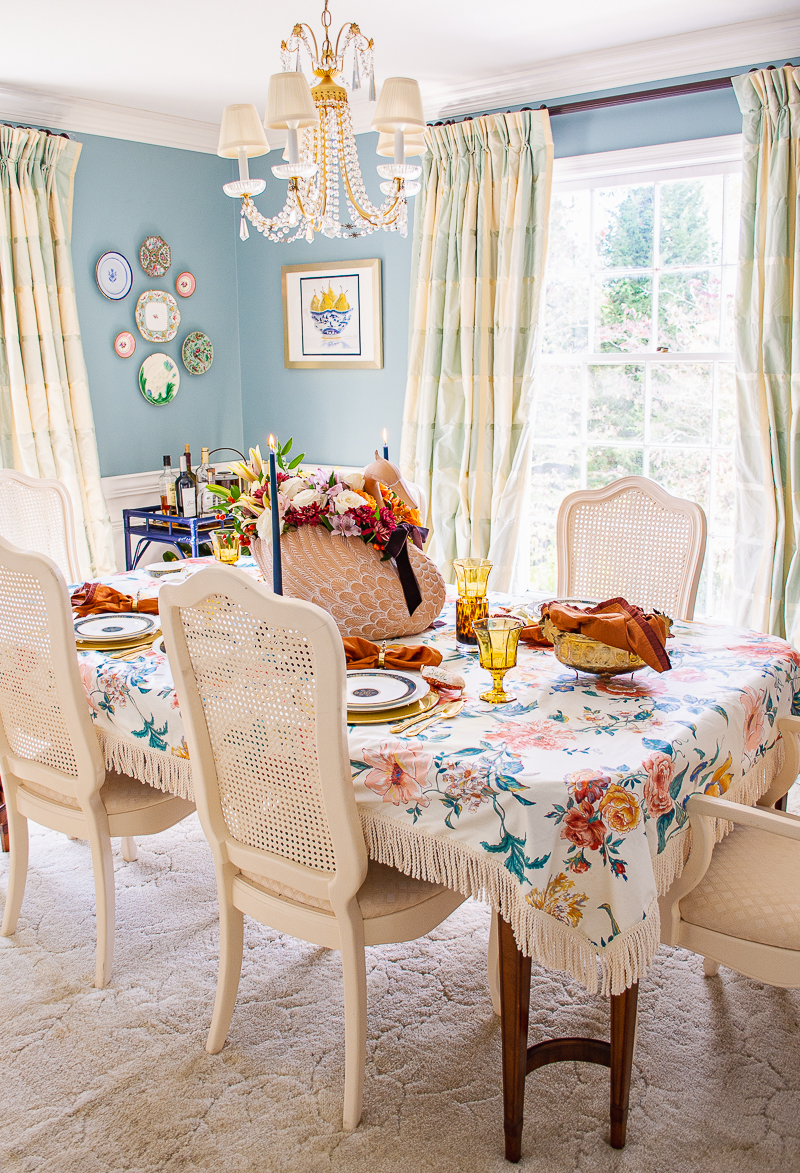 Hosting an Intimate and Chic Thanksgiving
Tip No. 1 Clean and Sanitize
Most of us tend to think that once we've cleaned something it is also sanitized, but in fact according to experts these are two separate steps and procedures.
First clean with soap and water to reduce the number of germs, dirt and impurities on the surface then disinfect to kill germs on surfaces.
Be sure to follow the instructions on the bottle. Most sanitizers recommend spraying the solution on a surface and letting it sit for several minutes. See this info-graphic from the CDC.
Sanitize high touch zones: door knobs, remotes, buttons, handles, kitchen counters, etc.
You should do this routine before guests arrive and after.
Consider in advance your face mask requirement, inform guests, and have extras on hand to provide those who forget. You could order some autumn themed ones like these and make them party favors!
Create a sanitizing station at the front door for guests to sanitize their hands when they come in and provide plenty of soap and disposable hand towels in the bathroom for guests to frequently wash their hands.
Tip No. 2 Plan a Smaller Menu
Common sense says if there is a smaller guest list, you don't need as much food, but make sure you apply this logic to your recipes which may be geared towards 10-12 people. Don't spend the extra time, energy, and money making too much food, especially if your family doesn't love leftovers!
An easy way to cut back is to roast only a turkey breast instead of a whole bird. Get my brining recipe for turkey here.
Focus on two or three special side dishes that your family loves and keep appetizer and cocktail choices limited. This bourbon with candied bacon cocktail is my favorite for Thanksgiving.
Splurge on a specialty gourmet food like fresh seafood, decadent desserts, or top-shelf liquor to make the meal extra special!
Outsource where possible to your favorite local caterer or restaurant, so you don't need to prepare every dish yourself.
Create a Thanksgiving binder. Gather up all your recipes for the Thanksgiving meal, make copies, and then place those in plastic sleeves. From your recipes create 2 shopping lists: perishable and non-perishable items. Create a timeline and cooking plan for the meal. Store your recipes, grocery lists, timeline, and cooking plan in your binder then use this binder every year, and simply add new recipes to it and update lists as needed.
Menu Suggestions:
Click on an image in the gird to head over to the recipe!
Tip No. 3 Make Adjustments to Your Serving Style
Think about the risk factors involved in serving your Thanksgiving meal family style or plated versus buffet. CDC guidelines suggest limiting the number of people who come into contact with the food by designating a server to fill plates so that only one person touches the utensils and dishes.
You might do this by setting up a buffet but instead of serve yourself, you actually place the food on their plates. Ask guests to walk through the buffet line spread out and wearing a mask.
If the meal lends itself to being plated, that might be a sensible option too.
Of course, make sure that the server washes his or her hands and wears PPE as recommended.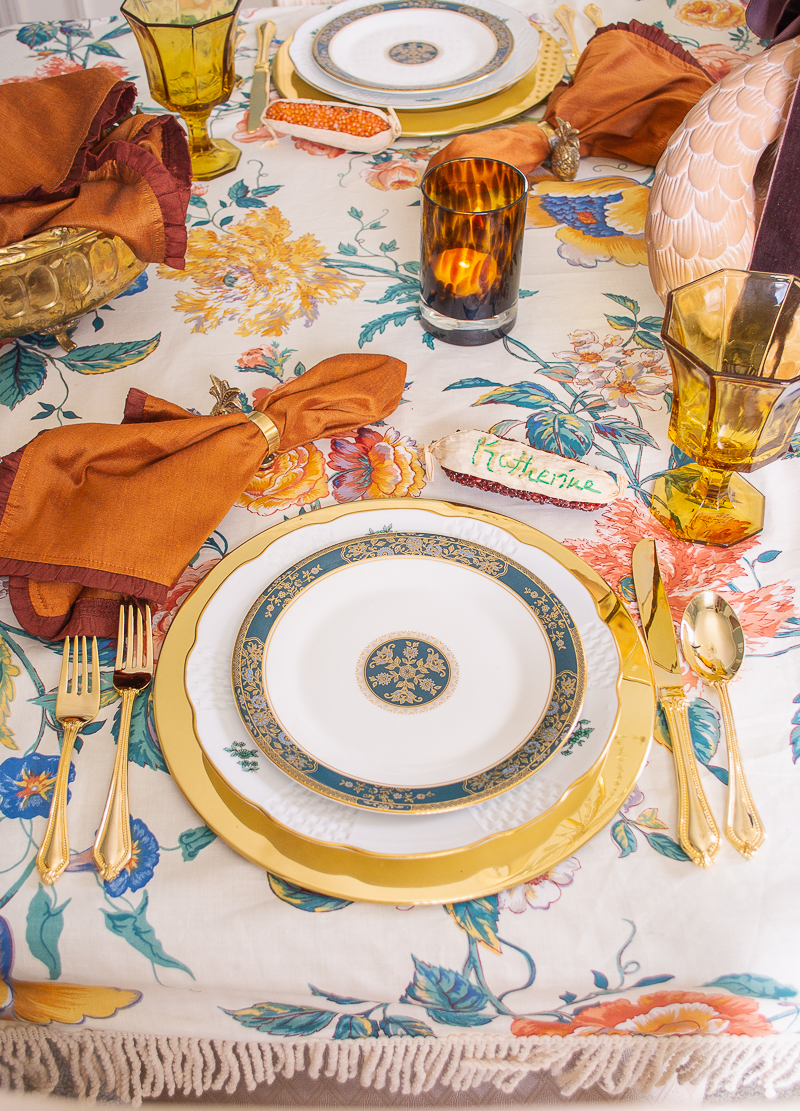 Tip No. 4 Set a Charming Thanksgiving Table with a Unique Centerpiece
An intimate and chic Thanksgiving needs charming table decor to help create that warm and festive atmosphere. On your table, use warm colors, pretty florals, and heirlooms to make the table special. You might be tempted to skip the table decor this year but don't!
Host your Thanksgiving meal outdoors if possible. Set up a festive table with blankets at the chairs and start a fire to keep guests toasty warm.
Think about the centerpiece as a separator between guests make it a little wider and taller this year. Use a unique piece like my graceful swan to fill with flowers or seasonal gourds- learn more here.
Get out the crystal and silver. With a smaller crowd it is less of a hassle to clean this tableware and now is definitely the time to use it!
Add a memorable touch to the Thanksgiving table with unique place cards or a party favor like an ornament.
Tip No. 5 Plan for Meaningful Interaction
The isolation and stress of this year has been difficult for everyone! We need to gather with loved ones, find common ground and feel that special connection to our family and friends. As the hostess, you can help foster this by planning meaningful entertainments during your Thanksgiving party.
Create a gratitude craft or activity tradition. I love Hester & Cook's gratitude cards for the table, which you could place at each place setting and ask guests to fill out and share during the meal.
Another lovely gratitude tradition, especially with kids, is to craft a gratitude tree like this one. Each leaf you hang on the tree represents something or someone you and your family are grateful for. You could make your own leaves or these paper leaves on Amazon would look so pretty.
Be sure to include relatives who cannot attend by video calling them for a chat during the festivities. If they are able to cook, you could share recipes with them, box up the ingredients, and send this package to make.
Since being outside in a crowd reduces everyone's risk for COVID, plan some outdoor lawn games or a walking scavenger hunt through the neighborhood.
As the official start to the holiday season, many of us love to break out the holiday movies over Thanksgiving.
Ask a musical family member to play a song on their instrument (but note singing is discouraged by CDC guidelines).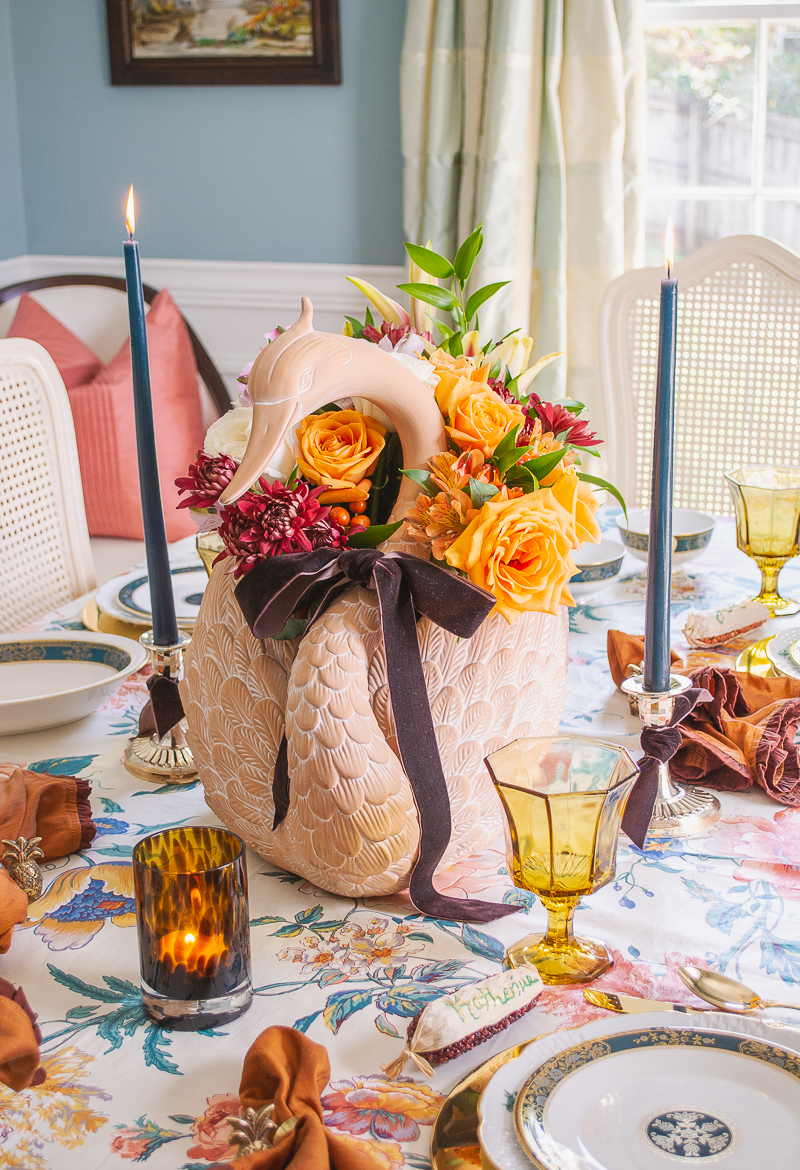 I truly hope my Guide to an Intimate and Chic Thanksgiving has inspired you to host a graceful, festive dinner in spite of and really in answer to the Pandemic and political climate. We need this opportunity to connect with loved ones and cherish each other!
Use the guide for inspiration and to think through some unusual hosting circumstances particular to this year.
You can learn more about how I created the swan centerpiece in this post.
Happy Thanksgiving!
Shop the Look of My Thanksgiving Table