Maple Bourbon Cocktail with Candied Bacon
The perfect Thanksgiving cocktail to serve your guests – a Maple Bourbon Cocktail with Candied Bacon!
You read that right – candied bacon! Oh my! This is a decadent cocktail full of fall flavor yet easy to make.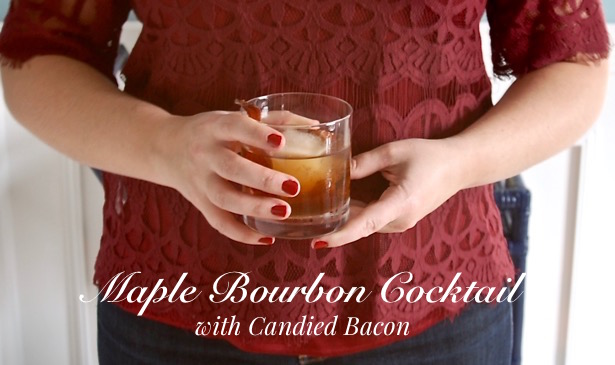 I recommend serving one signature cocktail that emphasizes the holiday. This year I'll be serving maple bourbon cocktails with candied bacon. Maple, bourbon, and bacon make for one amazing combination. These flavors pair so well together with the sweet, nutty maple and hints of smoke from the bourbon and bacon. You will wow guests with this one!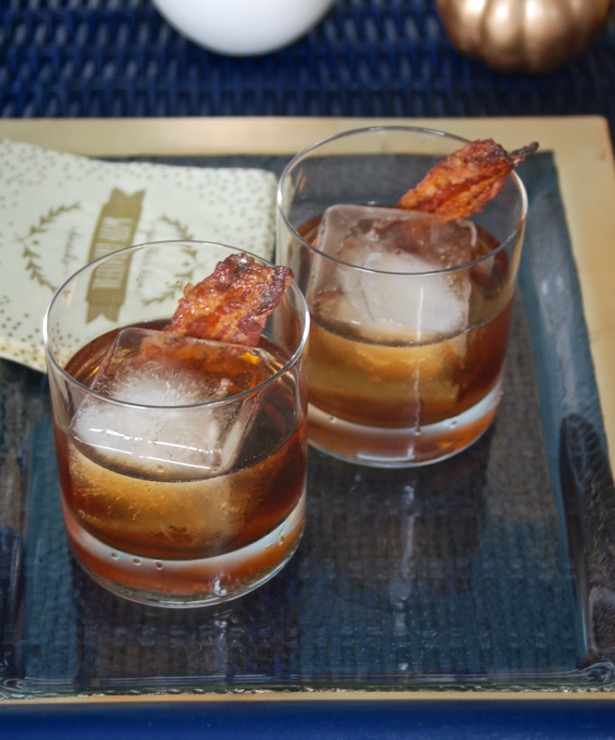 My Thanksgiving Bar Cart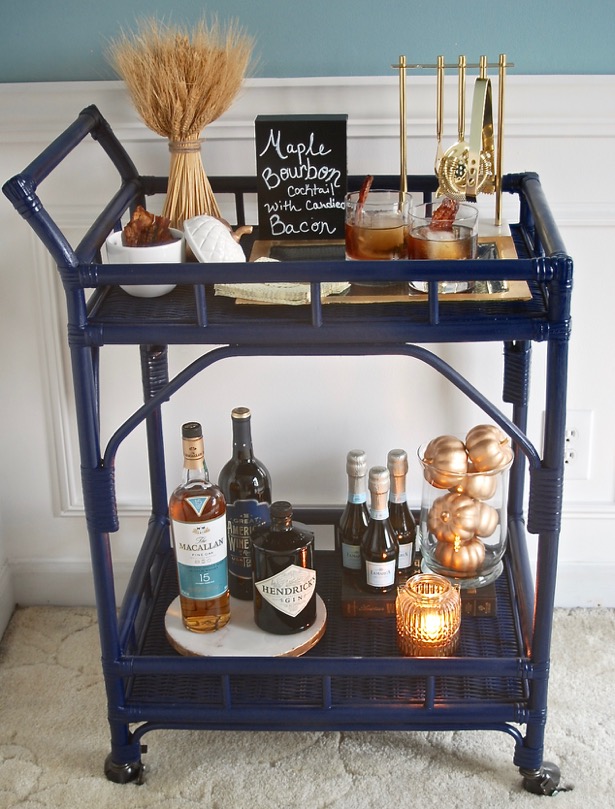 To reduce your hosting stress this Thanksgiving, decorate your bar cart for fall festivities, and allow guests to serve their own drinks. You can easily make a pitcher of this maple bourbon cocktail ahead of time and let guests pour their own. Just add a little sign on the cart to let them know what it is. If you have a mixologist in the family assign cocktail mixing to him or her. Provide the recipe and voila one less task you are concerned about!
As a hostess, don't fall into the trap of trying to do it all. Let your friends and family help. Most will be happy to oblige and have something to do.
Most of your guests will want to try your signature cocktail, but it is still a good idea to give them a few other select choices. I recommend having gin or vodka, scotch, and a white and red wine on hand. Plus a few different mixers like seltzer, ginger ale, and a fruit juice. This about covers everyones tastes, but you can always amend this list per your family's specific tastes.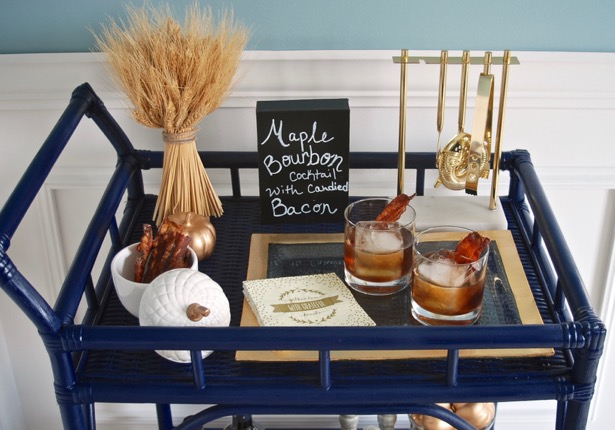 Keep your bar cart decor simple and classic to avoid over crowding. I added an elegant sheaf of wheat and some pretty copper pumpkins in a vase to jazz up my bar cart for Thanksgiving. A glass lantern adds to the festive feeling. I also like to place a glass tray on top for mixing drinks to make spills less messy and easy to clean. Don't you love my navy bar cart? See the DIY here!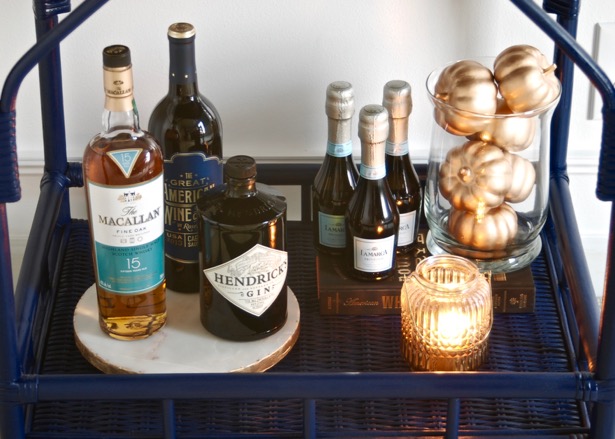 To Make the Maple Bourbon Cocktail with Candied Bacon:

Candied Bacon Ingredients:
1 Ib. Bacon
1/3 cup Maple Syrup
1/2 cup Brown Sugar
Preheat oven to 325 degrees. Line a baking sheet with aluminum foil and place a metal rack on top. Then spray with non stick spray. Mix together the maple syrup and brown sugar in large bowl. Dredge bacon through mixture one slice at a time and place on rack. Bake in oven for 40 – 45 minutes, paying close attention to last 5 minutes to avoid burning. Remove from oven and let cool. You can make the candied bacon the day or night before.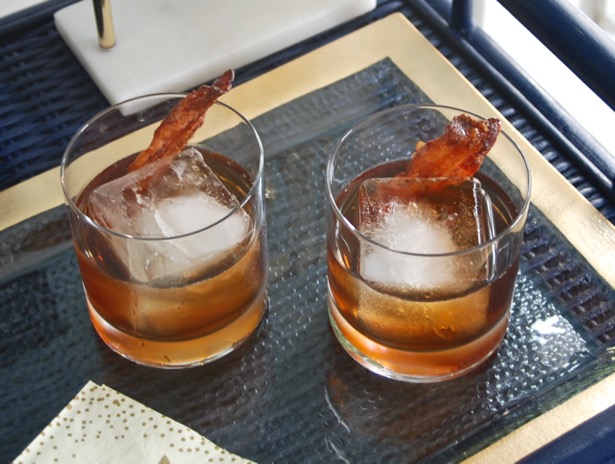 Cocktail Ingredients (makes 2):
1 oz. Maple Syrup
1/4 tsp. Maple Extract
6 oz. Bourbon
1 oz. Vermouth
Couple Dashes Bitters
In a cocktail shaker filled with ice mix together the maple syrup, maple extract, bourbon, vermouth, and bitters. Shake vigorously to combine. Pour over ice in glass and garnish with candied bacon slice.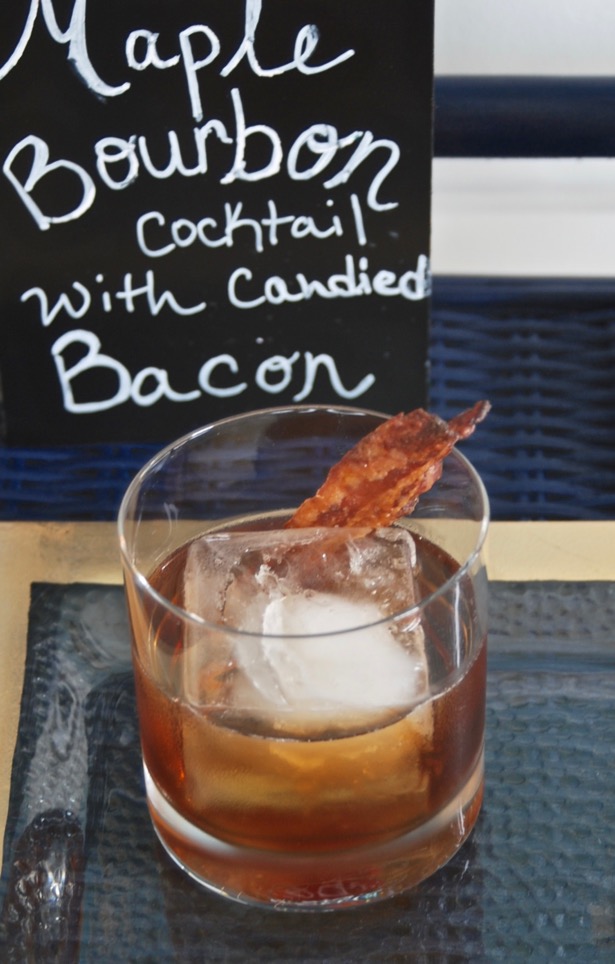 Cheers to a Happy Thanksgiving!
Partying at The Dedicated House…A Stroll Thru Life…