A Swan Centerpiece for Thanksgiving
Let a graceful, grateful swan centerpiece decorate your Thanksgiving table this year for a unique centerpiece idea! Plus take a tour of 7 additional Thanksgiving tables!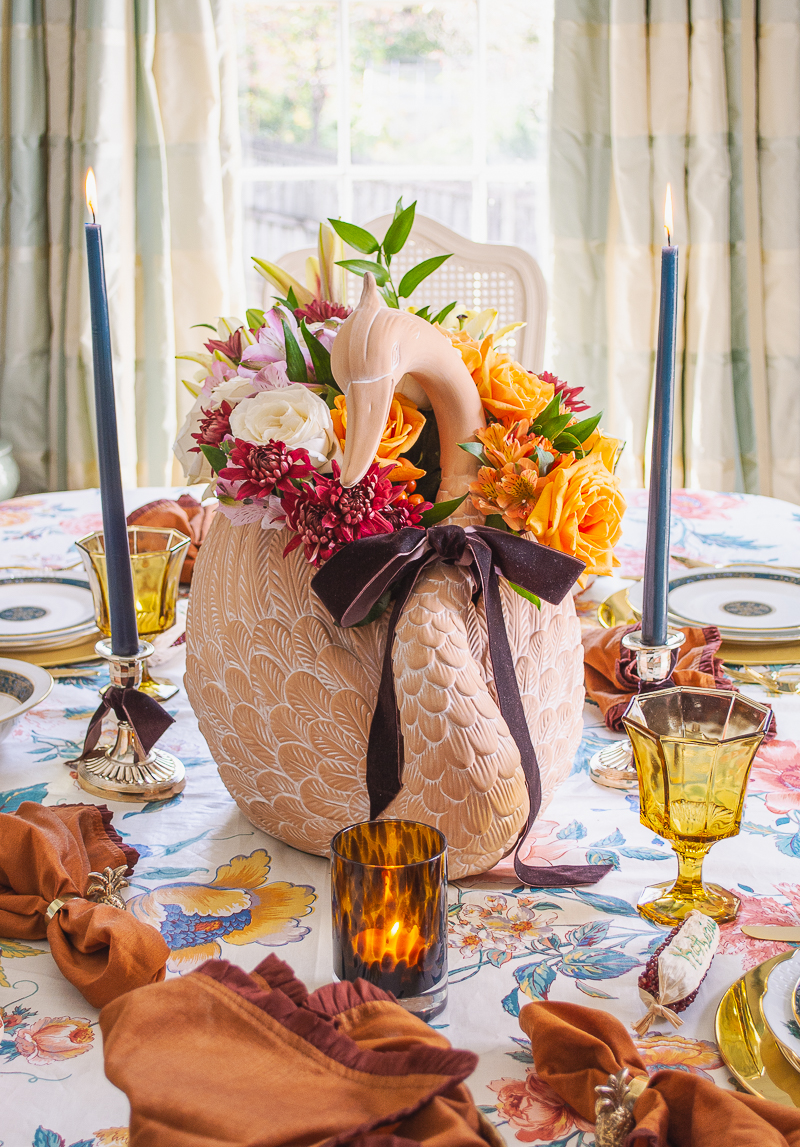 Sabrina the swan floats gracefully as the star of my Thanksgiving table this year. Yes, I named my ceramic swan planter! ??
After seeing The Pink Clutch's talented Paige Minear's table last autumn featuring a swan centerpiece, I was so inspired to find a vintage swan planter to use in my holiday decorating. I stumbled upon this terra-cotta swan at an estate sale, hiding out in a bathroom, and scooped her up immediately.
I adore the elegance and grace of the swan gently tilting her head on her elongated neck that I tied with a decadent brown velvet bow. I adore the way the swan's body opens in the top for flowers with her wings sweeping back to highlight the foliage. The swan planter is just such a perfect complement to the warm colors and decadent feast of Thanksgiving.
In fact, swans (cooked and stuffed) have long graced feasting tables in the Western World all the way back to Tudor England. Sabrina is thankful that practice has long since fallen out of favor!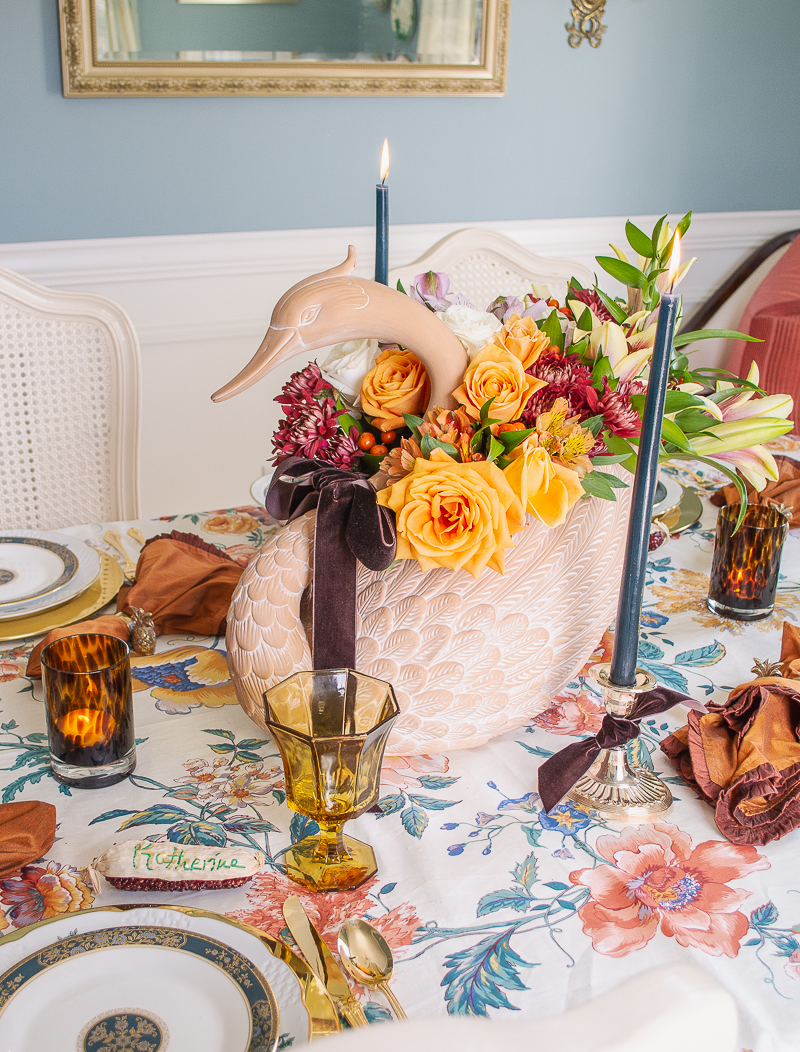 Thanksgiving Table Tour
Today, I'm excited to share my Thanksgiving tablescape with swan as part of a merry Thanksgiving Table Tour with some fellow bloggers and decorators. If you are stopping in from Laura's blue and white tablescape – Welcome! The tour represents a wide array of tablescape ideas for this holiday, but all of the ladies have created elegant and charming tables that I know you will find so inspirational. You will find the links to the rest of the tables at the end of my post.
My Thanksgiving Table
For my Thanksgiving tablescape this year, I decided to re-use this chintz tablecloth that I crafted earlier in the fall for my autumn table. It just has such a lovely floral mix-up and the colors are vibrant and inviting. To transform it for Thanksgiving, I used darker more classically autumnal colors like the brown velvet, amber colored goblets, rust orange napkins, and deep teal on the china plates.
Yes, much of the tableware will be available for sale at the Thursday November 12th Instagram flash sale. If you want to acquire a swan planter similar to mine, check out this one on Etsy!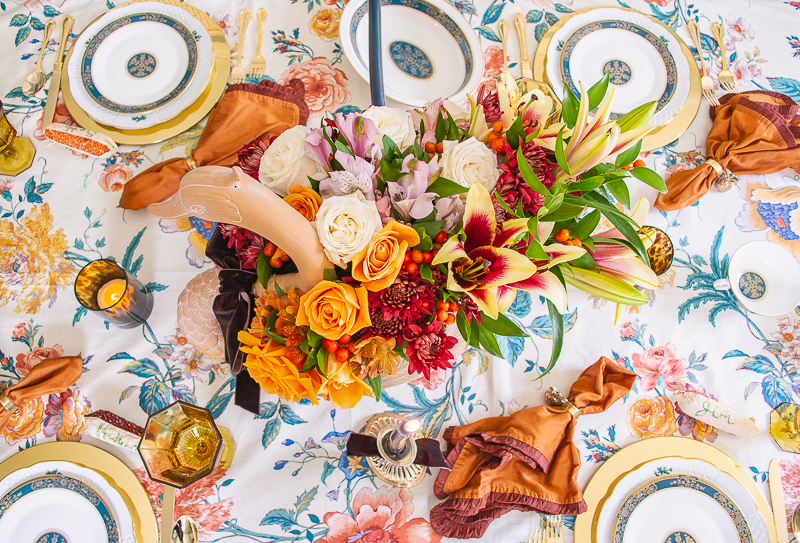 Sabrina is decorated with a brown velvet bow and autumnal colored florals, including roses, mums, and lilies. I was inspired to cluster the floral types and colors together in bunches to create a gradient, textural look that is unique from each side.
This was a very simple arrangement to create, and the biggest tip to keep in mind is to leave your stems long, but trim away the bottom foliage that would be mired down in the water.
How to Create a Swan Centerpiece with Florals:
Step 1. Place a serving bowl or small bucket inside planter area of swan.
Step 2. Fill the bowl with water using a pitcher or cup.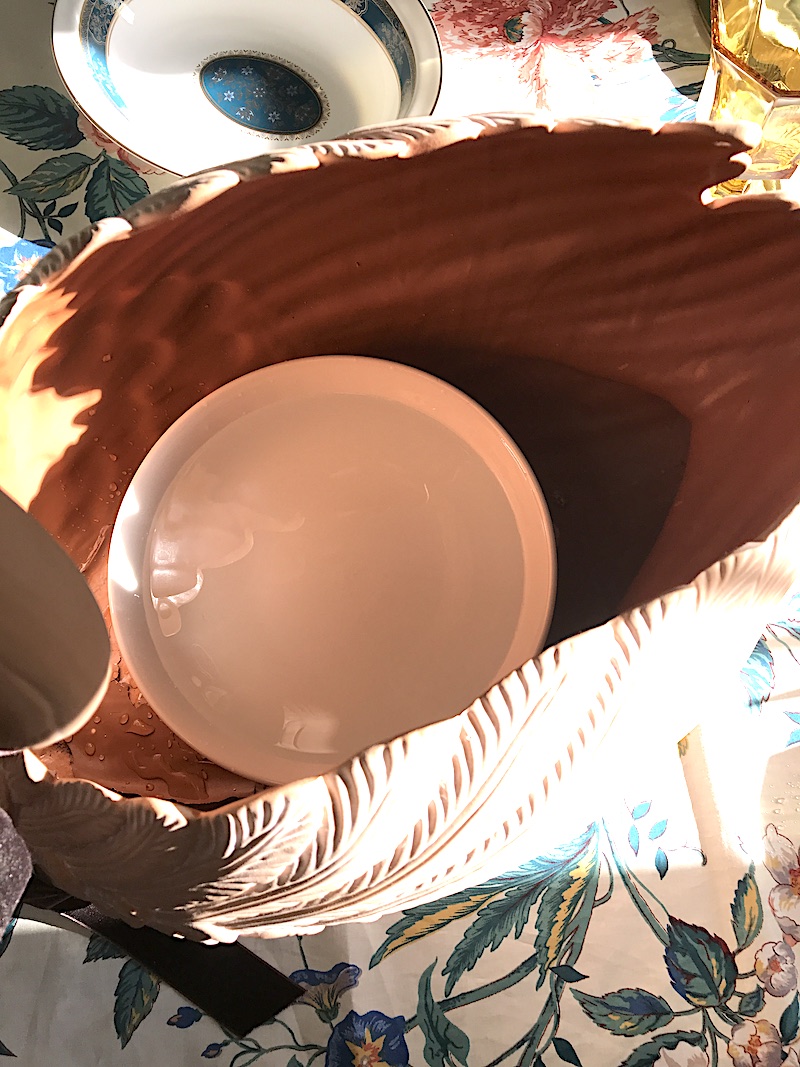 Step 3. Gather one bunch of flowers and trim ends at angle leaving enough length for flowers to stick up above top of planter.
Step 4. Snip off excess foliage at bottoms of stems then use a rubber band to tie the ends together.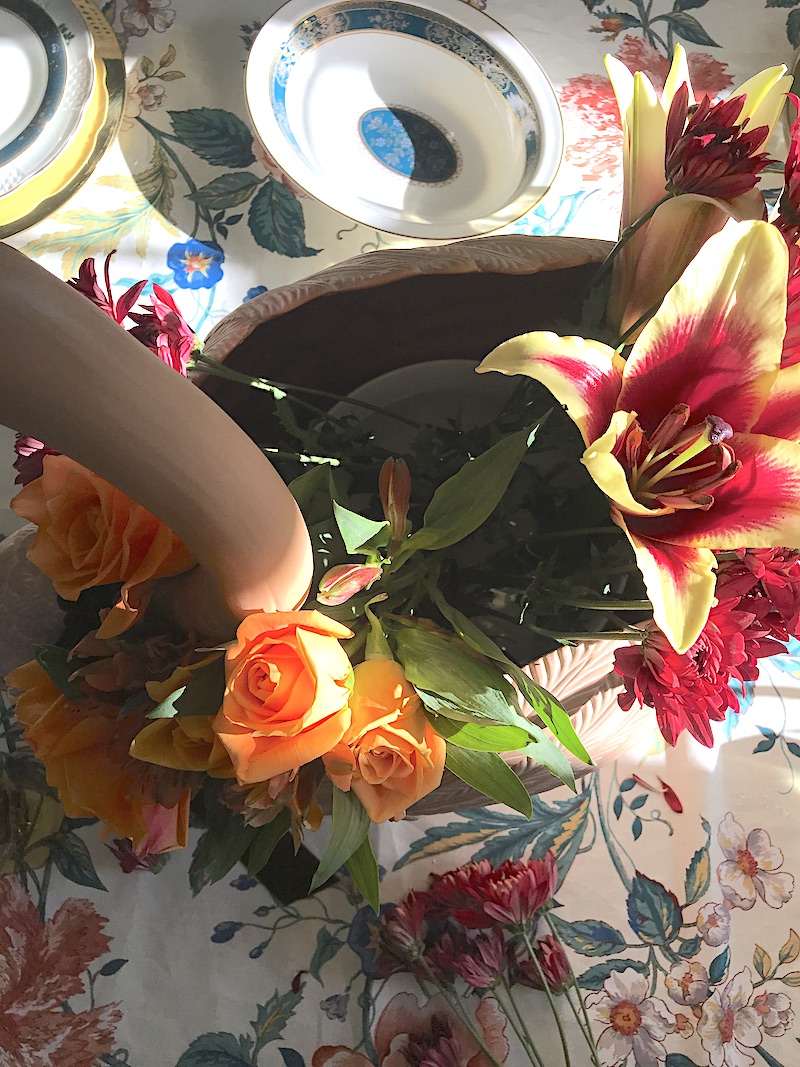 Step 5. Place floral bunch to one area of planter.
Step 6. Continue steps 3 through 5 with each type of flower, pulling flowers toward center to fill in top.
Step 7. Using filler flower, berry bunches, or greenery fill in gaps around each grouping of flowers.
How easy is that? You can create this swan centerpiece floral arrangement in minutes!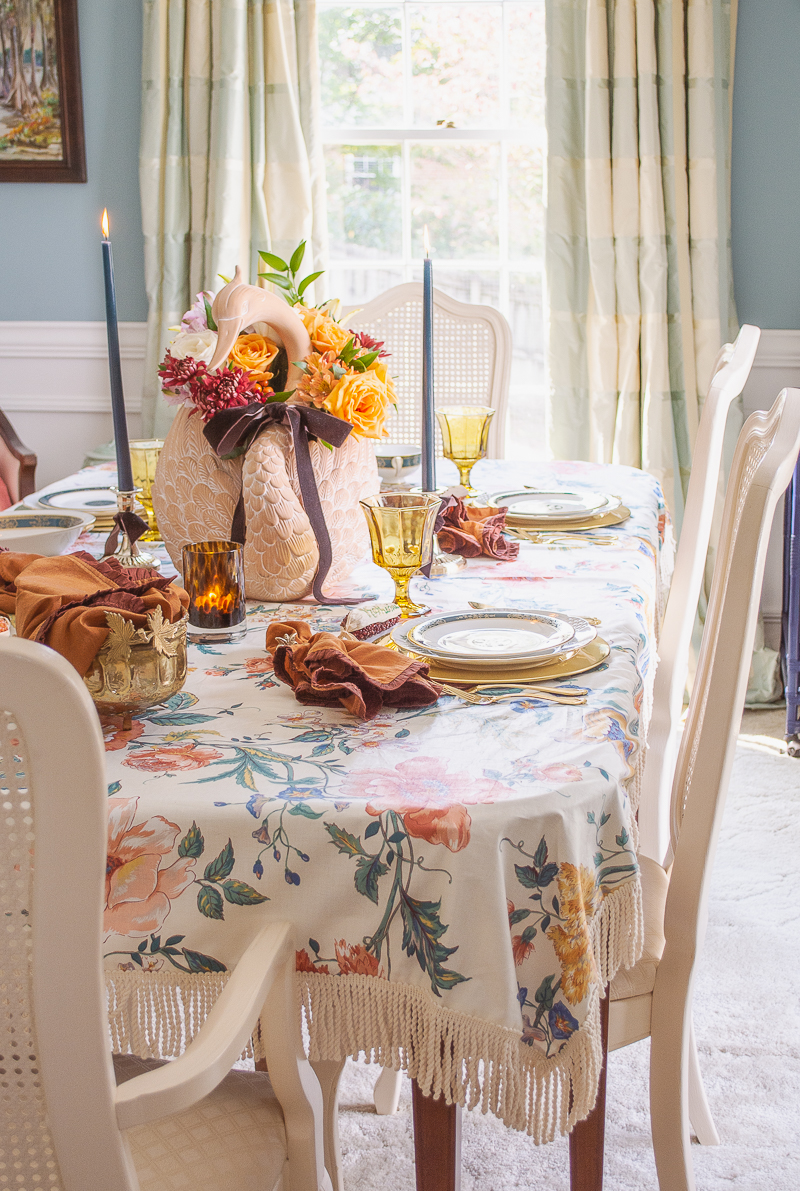 For more details on my table and Thanksgiving hosting tips during COVID check out this post.
I hope you will continue our Thanksgiving Table Tour by heading to the fabulous table of Michelle at Masion de Strasner.
Thanksgiving Table Tour Stops
Katherine, Pender & Peony | Michelle, @MaisondeStrasner | Emilie, @Shellandchinoiserie
Mary Ellen, @Murpheybeckerart | Patricia, @Preppypublicist | Nicole, @regency_revival
Mary Catherine, @marycatherinestudio_ | Laura, @Lauraerinhome
Shop the Look of My Thanksgiving Table