2 Ideas for Chinoiserie Christmas Decorations
Are you a themed Christmas decorations person?
Me? Totally! I love the creative challenge and the focus it gives to my decorating exuberance. ?
If you are searching for a theme or thinking about adopting one for this year's decorating, let me suggest Chinoiserie! It is a decorating style filled with color, timeless allure, and delightful whimsy — perfect for the holidays!
As a self-professed grandmillennial, I love all things traditional, especially holiday decor, but I also love to get creative and try new things, so Chinoiserie Christmas decorations are my creative solution this year. I've been a busy little Christmas elf in my house the past few weeks, dreaming, scheming, and creating, and I'm excited to share the first look at my holiday inspirations.
Chinoiserie style offers much to draw from, but I was particularly inspired by my two favorite ceramics: classic blue and white and Rose Medallion. Instead of picking one or the other, I went for both, and why not?
Christmas decor should be festive and a bit over the top, so I utilized these different ceramic inspirations in the parts of my house most suited to that particular color palette. For my formal living room, which is primarily green, pink, and blue I am creating a whimsical Christmas fantasyland combining the Rose Medallion pattern with a Chinoiserie garden.
Then in our more casual family room, which features navy, brown, and pale blue, I am going with a more traditional Christmas look, featuring tartan plaid, red, and holiday motifs combined with blue and white Chinoiserie. More on creating a Christmas aesthetic true to your style here!
Ready for a peek?
Chinoiserie Christmas Decorations Idea No. 1
Tartan Meet Chinoiserie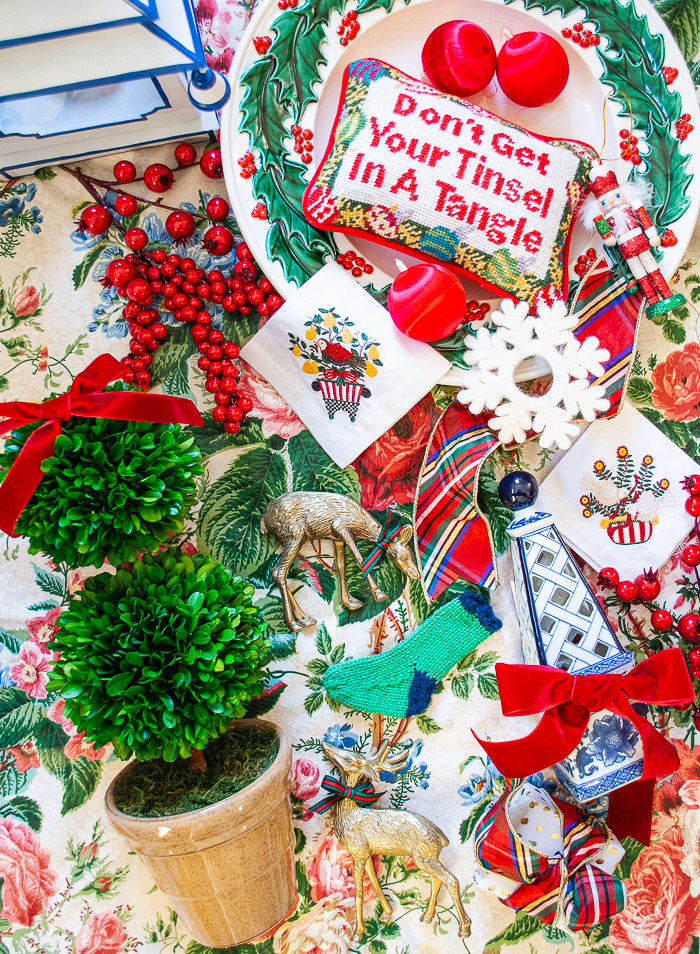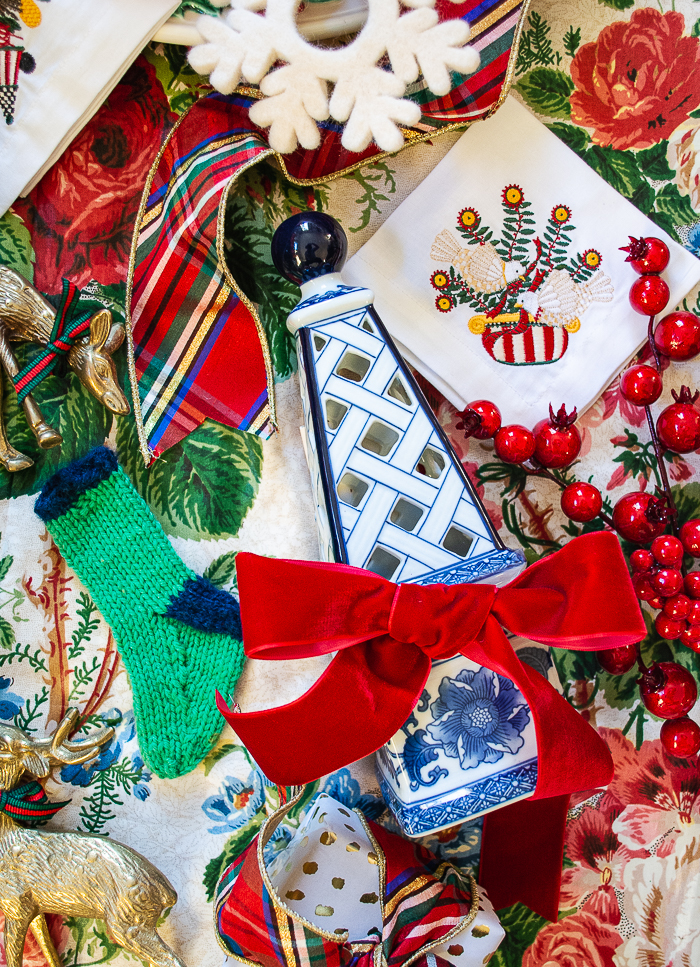 Luxurious red velvet, a Stewart style plaid, and bold chintz mingle merrily with Chinoiserie blue and white, grandmillennial needlepoint, and classic Christmas motifs. This is very much a traditional Christmas look inspired by the likes of Ralph Lauren, Town & Country, and Scot Meacham Wood. Red, blue, and green form the primary color palette and overall the design feels cozy, old world, and preppy.
Here is a little inspiration image:
For some playful whimsy and grandmillennial freshness, I'm mixing in sassy needlepoint, a bold Waverly chintz, and polka dots.
I cannot wait to show you how this all plays out in our family room where I am decorating a 7 foot tree and our fireplace mantel. I will also be sharing a tablescape later in December in this Tartan Meet Chinoiserie style.
Tune in to the Thursday November 19th flash sale on Instagram for traditional Christmas decor inspired by this look! The sale will include several of the pretties here: needlepoint pillows, 12 days of Christmas cocktail napkin set, holly platter, and blue and white pagoda!
Chinoiserie Christmas Decorations Idea No. 2
Georgian Chinoiserie Garden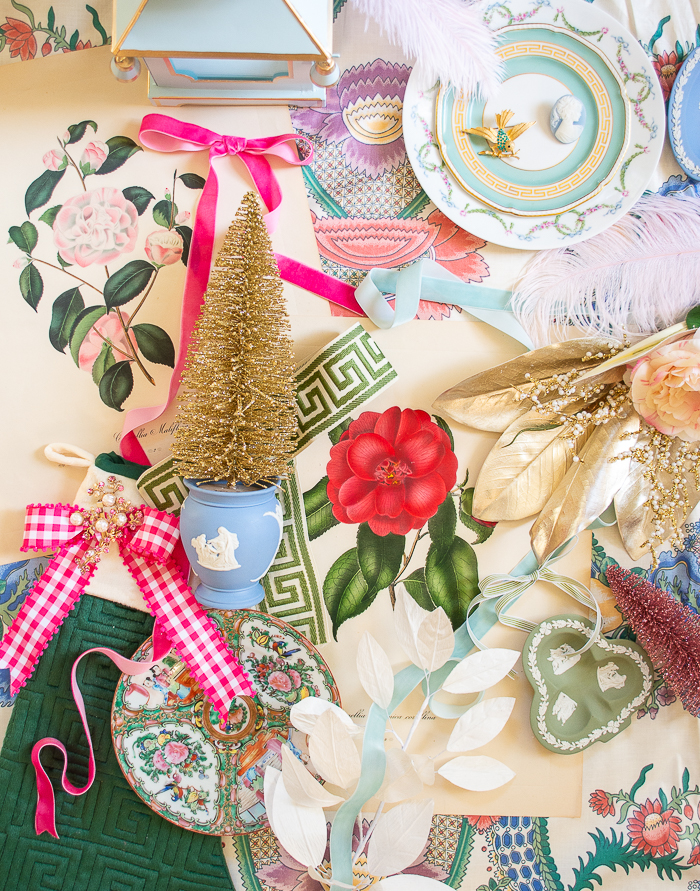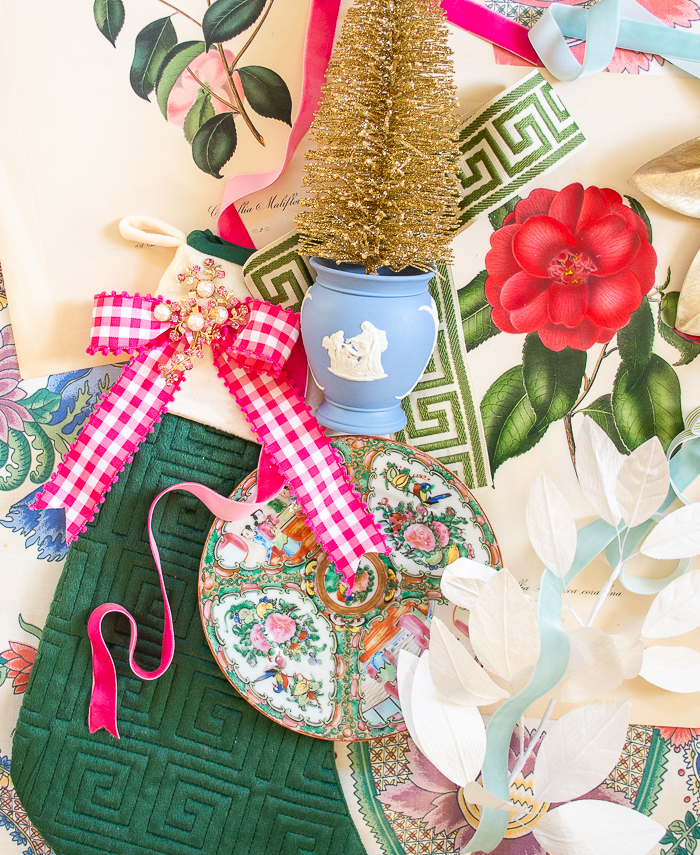 If Chinoiserie and Regency Classicism were to have a Christmas fairy this would be the result! Hahaha….And this is currently what is gestating in my formal living room for my Chinoiserie Christmas decorations.
Let me explain…
Emma is my favorite Jane Austen book (written in 1814-1815), and I was tremendously inspired by Autumn de Wilde's film version from earlier this year. The sets, decor, color palette, costuming, and florals are out of sight! I do have a few bones to pick with her regarding character portrayal and edits, but we shall leave that for another time. I have long adored Neo-Classical style and Georgian architecture, and I truly thought Wilde captured the chic exuberance and timeless appeal of the period.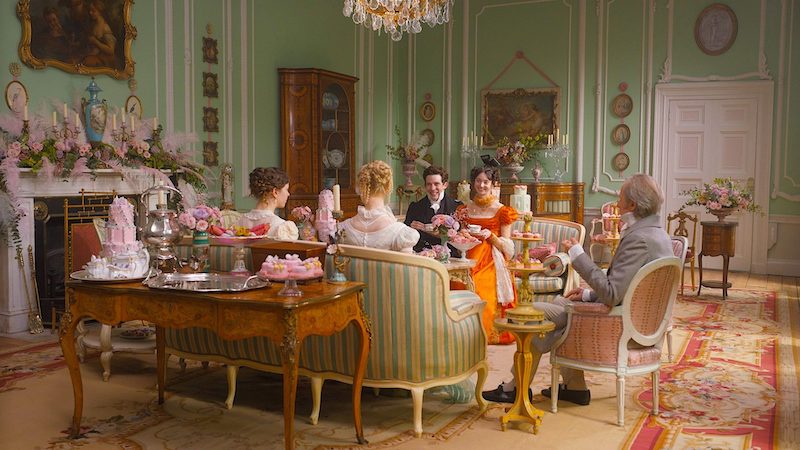 Chinoiserie was very much in vogue during the Georgian era as well, so what better inspiration for my Christmas decor than to combine the two?!
Emma was filmed at Firle Place. To learn more about the set and how the house was altered read this.
Feminine florals, Classical motifs, sherbet hued pastels, and Wedgwood collide in what I'm calling my Georgian Chinoiserie Garden theme! This look is so grandmillennial and so fun, I'm literally beside myself with excitement about this. Of course I had to add some nods to Southern Christmas classics with some golden magnolia leaves, gingham ribbon, and camellias.
My December 3rd and 10th sales on Instagram will feature decor and tableware inspired by this theme. Those sales will include: loads of Wedgwood, Rose Medallion, and emerald Greek key stockings. I am also partnering with the fabulous Veronica from Vintage Meet Modern to offer a specially curated selection of vintage jewelry. More details coming soon!
A Few Tips on Incorporating Chinoiserie into Your Christmas Decor
So have I convinced you yet that Chinoiserie is the way to go for this year's Christmas decorating? If yes, read on for a few tips on how to make it work for you!
Tip No. 1 Pick One Chinoiserie Motif & Run With It
As I mentioned earlier, Chinoiserie style offers so much inspiration, it might feel a bit overwhelming. I recommend picking your favorite motif (blue and white ceramics, pagodas, dragons, Imari, etc.) that you think will coordinate with your Christmas and home decor. If like me, you already have Chinoiserie accents in your decor, it is simply a matter of dressing those up for the holidays.
Tip No. 2 Invest in Quality Chinese Ceramics
Rose Medallion, blue and white, and Imari are timeless Chinese ceramics that can be used year round and for multiple holidays. Buying a pair of blue and white double happiness ginger jars or a statement bowl will have more of an impact on your Christmas decorations than a few cheap Chinoiserie trinkets. You can shop my sales, thrift stores, eBay, Etsy, and estates to find beautiful pieces at reasonable prices.
I just launched my collector's guide for Rose Medallion all about the history of this porcelain style and how to collect – read it here!
Tip No. 3 Pair with Classic Christmas Accents & Winter Florals
I obviously believe that Christmas decor doesn't need to be all red or green, Santas, and elves, but you do want your holiday decorating to feel Christmas-y and evoke the reason for the season. I recommend pairing Chinoiserie accents with classic winter botanicals and florals: camellias, poinsettia, pine, red berries, amaryllis, etc. I also like to use traditional Christmas motifs: stars, snowflakes, reindeer, angels, doves, and nativity scenes.
Check back soon as I will begin sharing how my inspiration manifests in real life with loads of Christmas tips, DIYs, and tours.