How to Brine a Turkey for Thanksgiving
Want to cook the perfect turkey for Thanksgiving this year? Yes, then you need to learn how to brine a turkey! I'm sharing tried and true tricks, the recipe, and what you need to know to brine a turkey for Thanksgiving.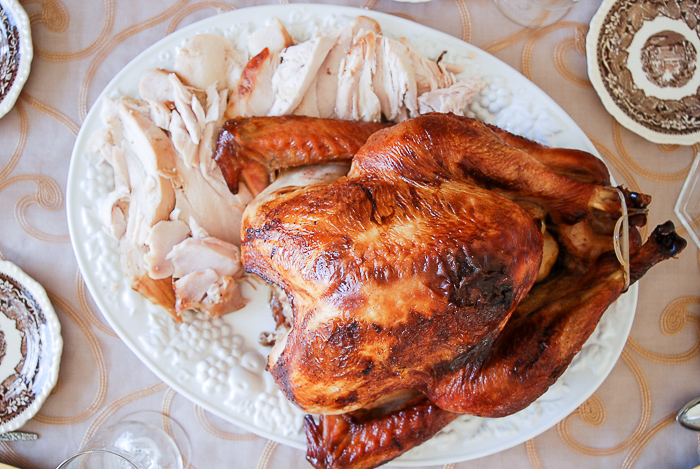 Y'all this maple brown sugar brined turkey will melt in your mouth and wow your guests! Guaranteed!
What is a brine?
A brine is a solution of salt and water as well as additional spices or flavors. Brining helps reduce moisture loss as the meat cooks.
Benefits of the brine:
Golden, crispy skin
Moist, tender meat
Delicious flavor
Easy carving
Ok, you've convinced me – how do I brine a turkey?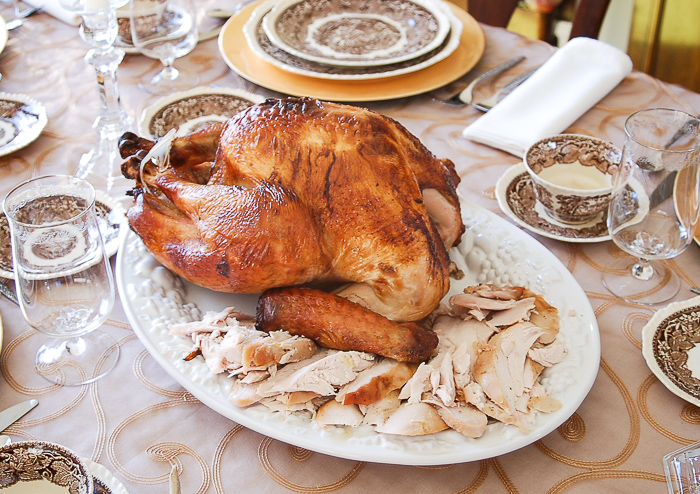 Tools:
A 5 gallon food safe bucket or other food safe container
A cold space to store the bird if refrigerator space is minimal. One idea: you could place the container with the brining turkey in an ice chest.
Food safe string to tie drumsticks together
Meat thermometer
Paper towels
Open shallow roasting pan
Ingredients for Maple Brown Sugar Brine:
1 1/2 gallons of Water
1 1/2 cups pure maple syrup
1 cup coarse salt – like Diamond Crystal kosher salt
3/4 cup packed brown sugar
1, 10 – 12 pound turkey
Tried & True Tricks
Don't swap out table salt for the coarse kosher salt – ratio to water won't be the same. If you must use table salt, reduce the amount by half.
Thaw out your turkey before putting it in the brine. The general rule of thumb is 1 day for every 4 lbs.
Plan ahead for the turkey to soak in the brine for 12 – 24 hours. The longer it soaks the more maple-y and salty it will become. I recommend just 12 hours, so that you can use the turkey drippings for your gravy.
Rinse the turkey in cold water for about 10 minutes once you remove it from the brine to rinse off excess salt.
You do not want to brine a kosher, self-basting, or pre-salted turkey, so just buy a regular turkey.
Steps to Brine a Turkey
Mix your coarse salt, maple syrup, sugar and water together, stirring to dissolve.
Rinse turkey inside and out, removing any excess fat or giblets from cavity.
Place in brine with legs up. Store in refrigerator for 12 – 24 hours.
Remove turkey from brine. Discard brine and sanitize container. Then rinse turkey in cold water to remove excess salt. Be sure to sanitize sink after rinsing.
Pat dry with paper towels and secure drumsticks together.
Brush with oil and insert meat thermometer inside thigh.
Cover turkey loosely with foil and roast in a 325 degree F oven for 2 to 3 hours until thermometer registers 180 degrees F.
At about 2 1/4 hours remove foil.
Remove turkey from oven and let stand at room temperature for about 20 minutes before carving.
Maybe you have heard this before, but seriously once you brine a turkey you will never want to cook a turkey any other way!
Looking for more Thanksgiving tips? Head to this Checklist to Host Thanksgiving! I'm also sharing some very pretty tablescapes perfect for this gathering here and one with roses and persimmons here.
Happy Thanksgiving Y'all!
Pin this for later: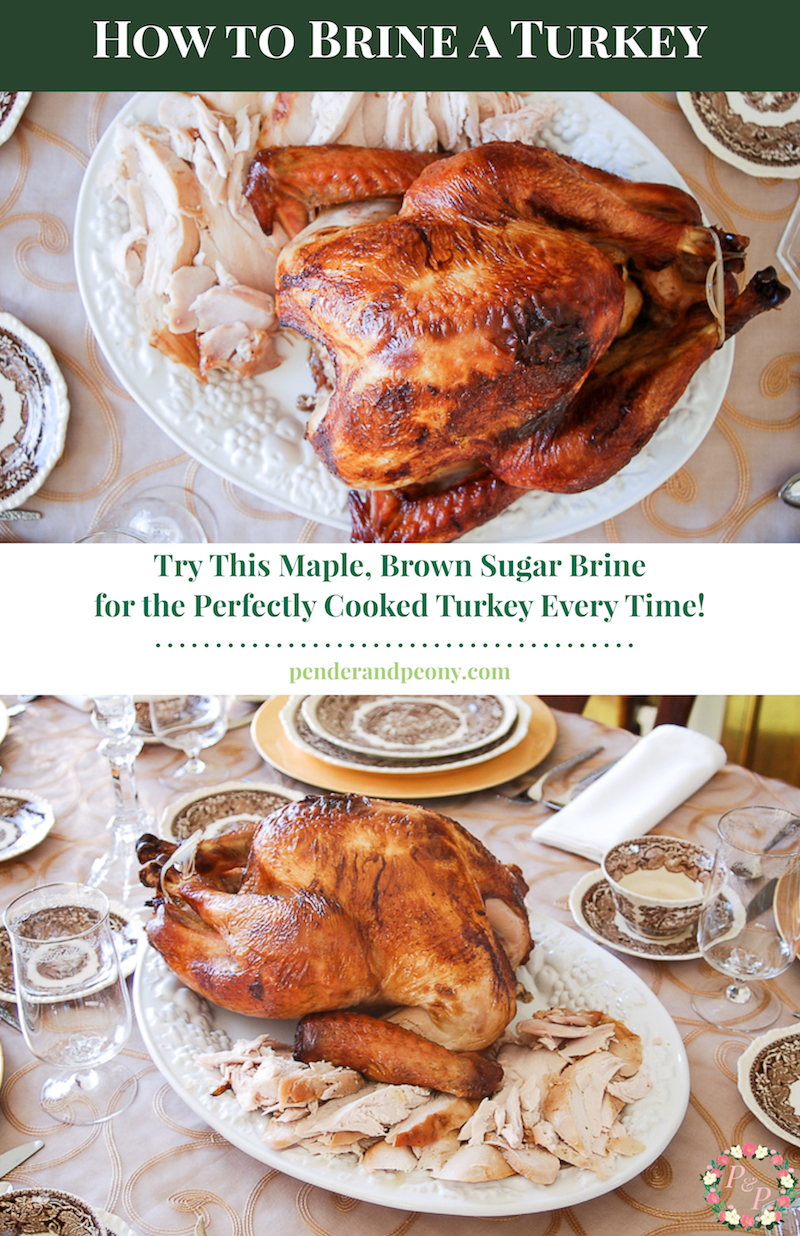 Partying with Pumps & Pushups…Between Naps on the Porch…The Dedicated House…