My Mama's Chicken Salad with Grapes & Pecans
A favorite summer dish perfect for picnics and dining al fresco — chicken salad with grapes and pecans!
We all have a favorite dish from our mama's kitchen….you know that dish that no one can make better than her! It's one you get a craving for and can never make as tasty as she does.
Well…my mama's chicken salad with grapes and pecans is one of those dishes for me. It is creamy and refreshing with a punch of sweet flavor from the grapes and her secret ingredient cinnamon! It is simply one of the fresh delights of summer!
I love to make it for picnics and serve with lots of fresh fruits for a light meal that is quintessentially summer.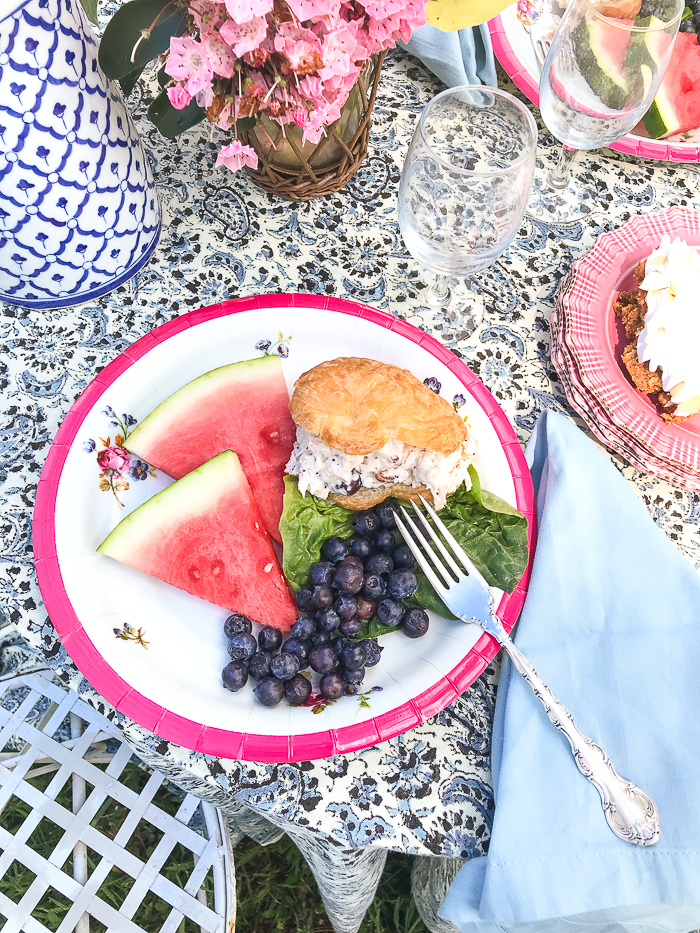 Recipe for

Chicken Salad with Grapes & Pecans

Serves 8
Ingredients
4 cups cooked, chopped (or shredded) chicken – We usually bake chicken breasts or if we are short on time grab a rotisserie chicken from the store.
1 cup chopped celery
1/2 cup chopped sweet onion
1 1/2 cups red seedless grapes halved
1/2 cup toasted pecans chopped
1 cup Duke's mayonnaise – Yes, she insists on this brand!
1/2 teaspoon salt
1/2 teaspoon ground black pepper
1/2 teaspoon cinnamon — This is her secret ingredient that really enhances the sweetness of the grapes!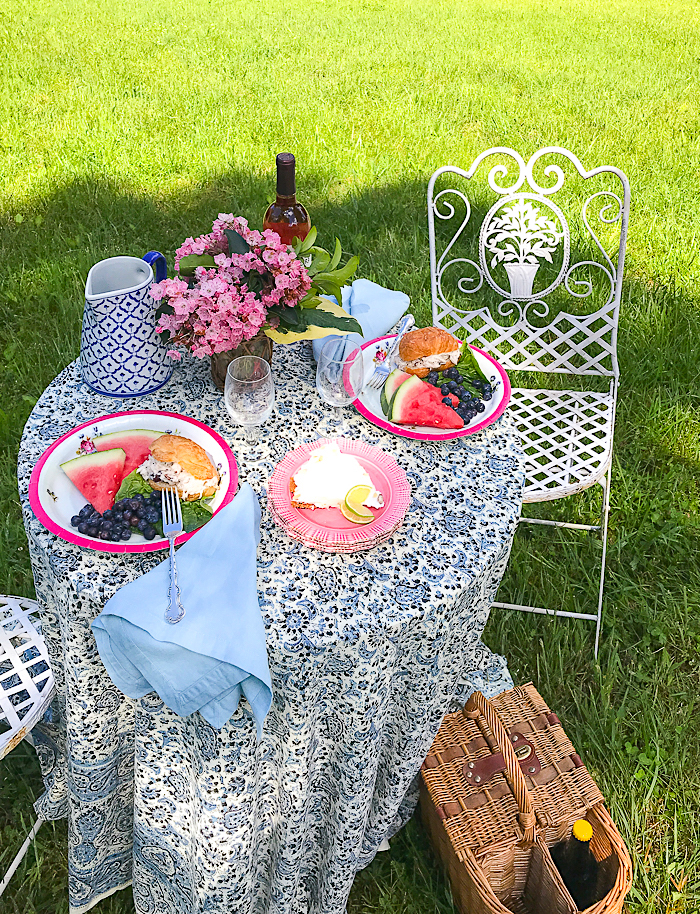 To Make
Mix together in a large bowl the chicken, celery, onion, grapes, and mayonnaise until everything is evenly coated. Add seasonings of salt, pepper, and cinnamon. Stir well. Top with toasted pecans.
Let sit in refrigerator for 15 to 20 minutes to allow flavors to marry.
Serve with honey wheat crackers or make a sandwich with croissants.
You can see more of this picnic set up here.
I also have several sets of these antique china style paper plates left. Shop the dinner plates here and the aqua salad plates here.
I hope you enjoy my mama's chicken salad and take it on your next picnic!