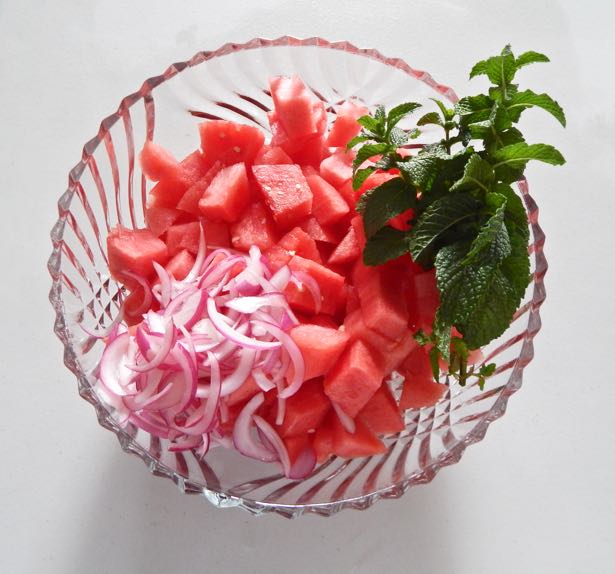 Watermelon is generally our go to summer fruit. It is refreshing, crisp, and sweet, which is just right for those sultry summer evenings. Occasionally, I do get tired of eating it just plain, so I tried this watermelon salad the other night, and it was a big hit. Adding the pickled onion to the watermelon gives the salad this zesty, tangy flavor, and the mint makes the watermelon salad even more refreshing if you can believe it.
You'll need to prep for this salad ahead of time as the onions have to pickle for about an hour.  If you like really tangy flavor profiles, you can also toss in the pickled onions with the cubed watermelon and let the mixture marinate for a while (15-20 minutes).  Don't let it sit too long as the watermelon will start to breakdown and get slimy.  Hope you enjoy this take on watermelon salad!
Ingredients:
1/2 Cup Red Wine Vinegar
1 Small Red Onion
2 Tablespoons Honey
Pinch of Salt
4 Cups Cubed Watermelon
3 Sprigs Fresh Mint – Chopped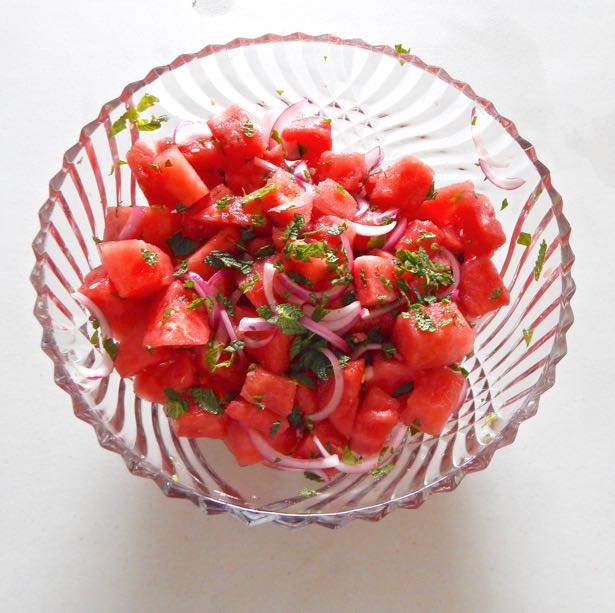 Slice red onion into thin crescents and combine with vinegar, honey, and salt. Let this marinate in the refrigerator for an hour or more to pickle the onions.
Combine the watermelon, mint, and pickled onions. Give mixture a good toss.