We are about to hit the four month mark living in our new house! While S. is busy replacing all of the old technical/electrical systems, I am daydreaming about decor and tackling the dated wallpaper. There's so much that I've been thinking about, like how about some ceiling lights for the bedroom? But I just don't want to go too overboard. In general, I have vague ideas for what each room in the house will look like or how it will feel, but the design for our master bedroom has been the easiest to solidify. However, I've not decided whether to update the door yet or not. One of my friends was telling me about the Georgian Doors she's had installed all around her house, they add a really nice touch to each room. Perhaps I'll have to think about how I can fit those timeless doors into the design I've got planned for the bedroom. Whilst I think about that, here is a look at the mood board for our master bedroom design: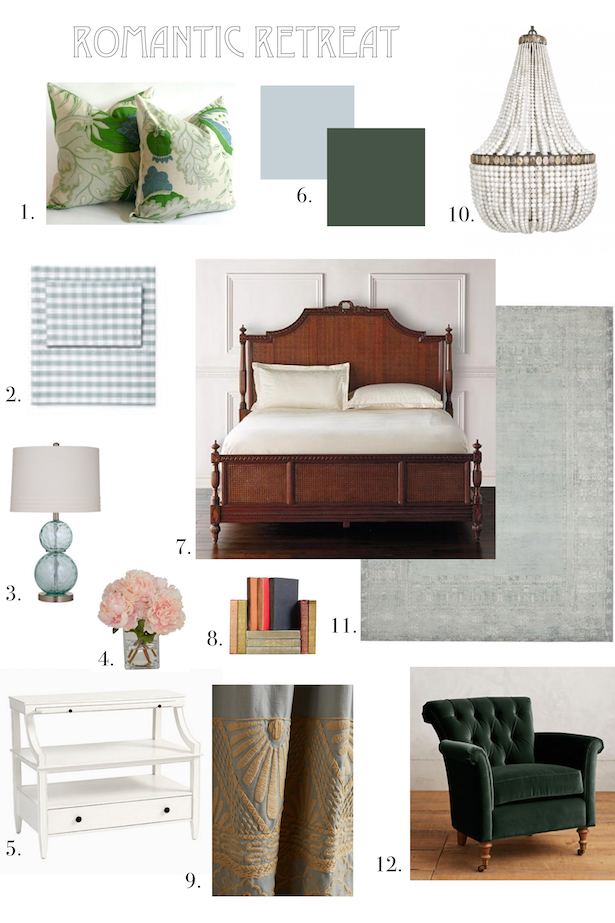 I want the room to have a romantic, vintage feel with a plush rug, comfy chairs, and airy curtains. I plan on finding an antique french style or sleigh bed in a king as S. and I want to upgrade. I must make sure to get a comfy mattress to enhance the experience of my decor. I've heard from friends that Mattress Battle can steer me towards the right mattress for me. I will have to read some of their reviews so I can make the right choice for the room. The walls are going to be a soft blue grey color called Tradewind Blue, and then I want to use a deep green accent like Coriander & Olive (both from Sherwin Williams HGTV collection) for fabrics and art. I think an empire style chandelier with natural elements will really add to the romantic feel, and I love the juxtaposition of the gingham sheets with the carnival fabric pattern by Christopher Farr on the pillows.
Master bedroom design inspirations: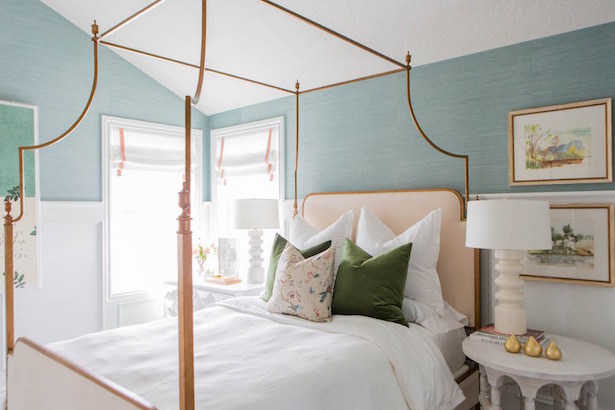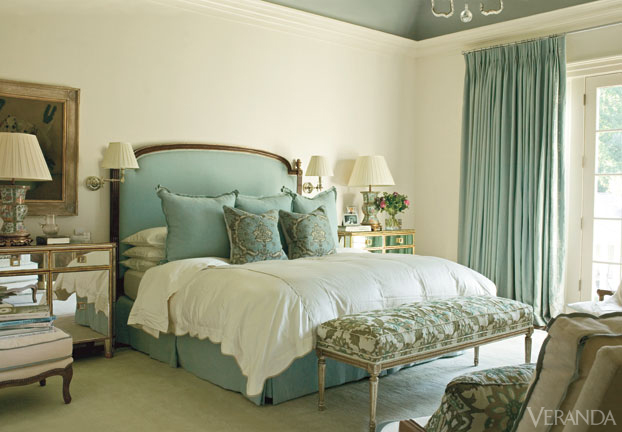 For more inspirations check out my Pinterest board Bonne Nuit.
WestEndAccents Christopher Farr Cloth Pillow Cover in Carnival $75; 2. Serena & Lily Gingham Sheet Set $258; 3. One Kings Lane Glass Table Lamp Sea Blue $139; 4. One Kings Lane Pink Peonies in Glass $165; 5. Ballard Designs Sidney Open Side Table $449; 6. Tradewind Blue and Coriander & Olive; 7. Frontgate Beauvier French Cane Bed Mahogany $2795; 8. One Kings Lane Booth and Williams Mini Classics $139; 9. Anthropologie Embroidered Edge Curtain $89 – $119 in Grey; 10. Marjorie Skouras Design White Empire Chandelier; 11. Pottery Barn Kailee Printed Rug starting at $449; 12. Anthropologie Velvet Gwinnet Chair $1048.