My Williamsburg Inspired Southern Christmas Decor
Dressed in comfort and joy! This Williamsburg inspired Southern Christmas decor features red velvet, magnolia, orange pomanders, and pine for a traditional look that is warm and sophisticated.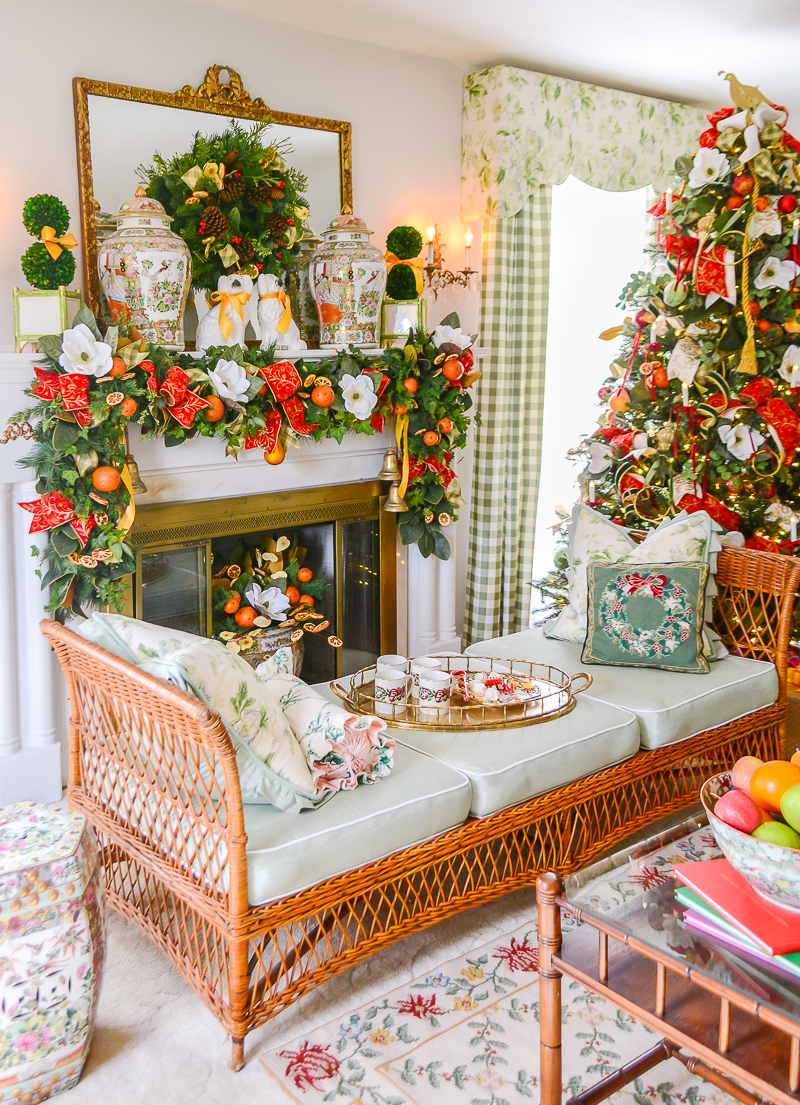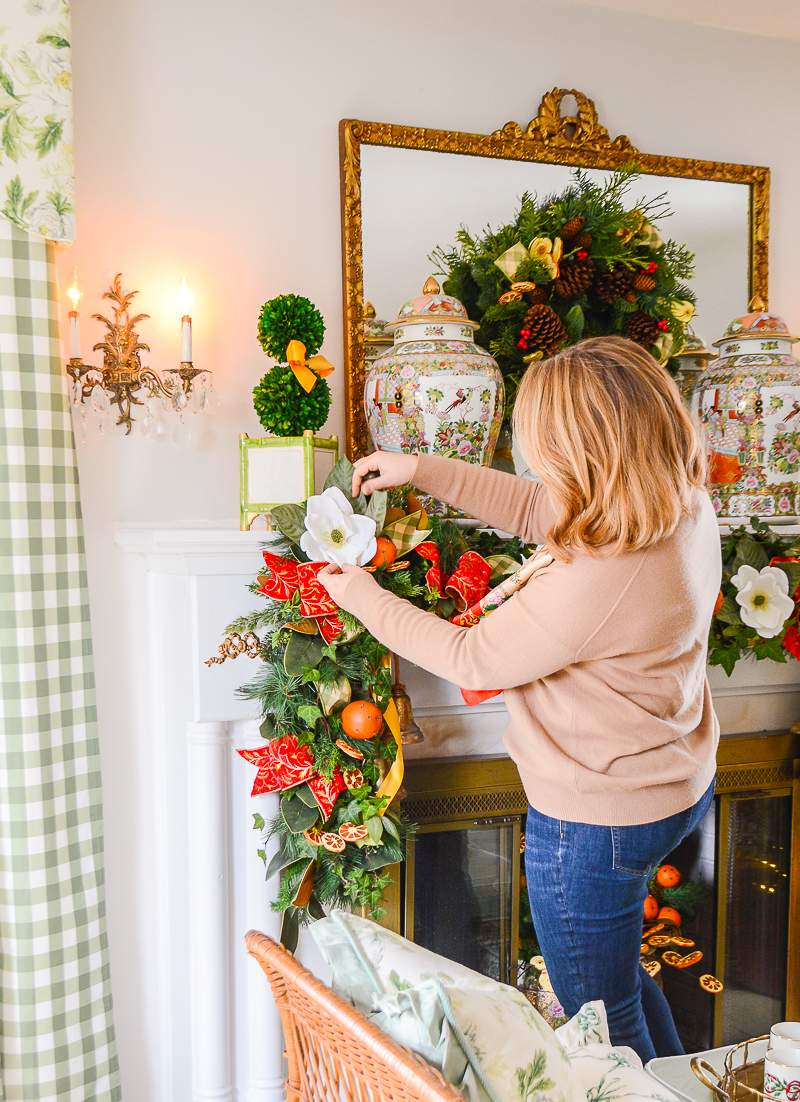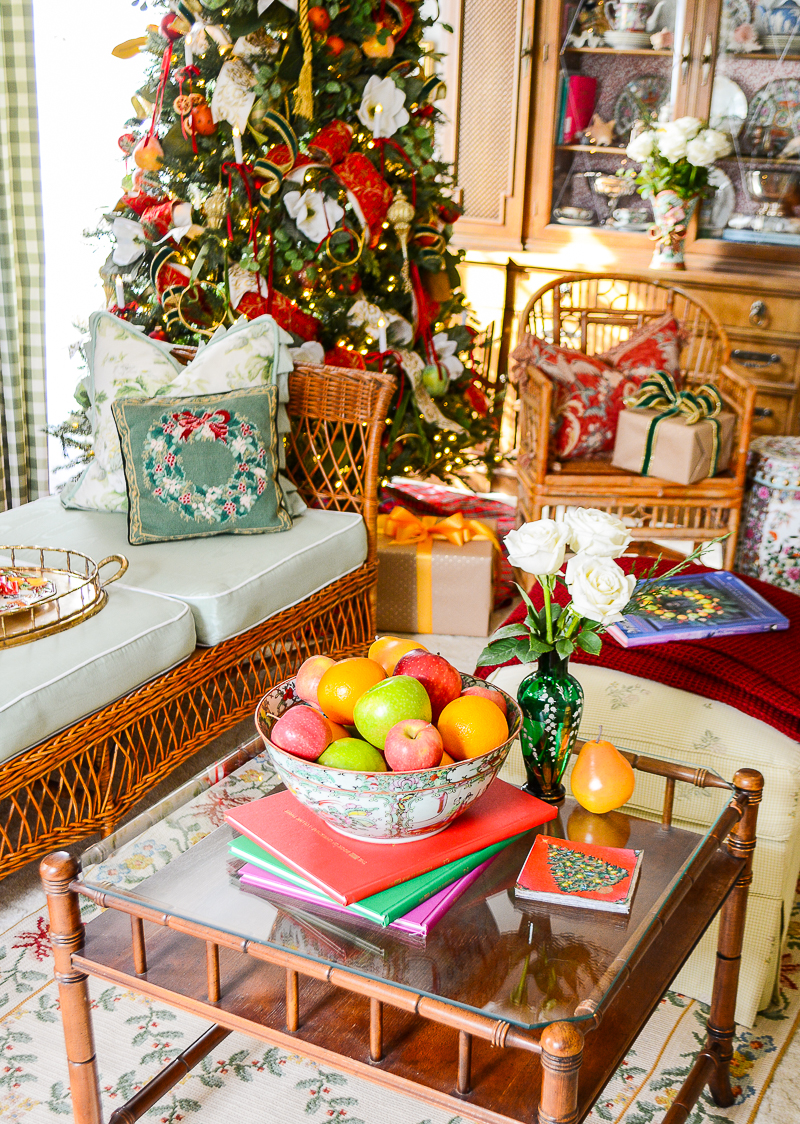 🎶
God rest you merry, gentlemen,
let nothing you dismay;
remember Christ, our Savior
was born on Christmas Day
to save us all from Satan's pow'r
when we were gone astray.
O tidings of comfort and joy, comfort and joy,
O tidings of comfort and joy.
🎶
What else should Christmas bring but feelings of comfort and joy? We rejoice at the birth of Jesus Christ and take comfort in our salvation.
Christmas is a celebration and a solace!
As I was planning my Christmas theme for the living room this year, I kept coming back to this phrase "tidings of comfort and joy" and like a buzzing bee it wouldn't leave me alone. How could I manifest this lyric from a Tudor Christmas carol in my decor? What embodies comfort and joy?
When I distilled comfort down to its necessities and thought about what adds to the comfort of Christmas, nostalgia and tradition loomed large in my mind. While joy, for me, is best expressed with vibrant colors and lush florals.
With all this in mind, I was soon drawn to the Williamsburg Colonial Revival style of Christmas decorations. The use of lush fruits and foliage in the wreaths and garlands feels so classic and inviting. They beckon with merry abundance and natural beauty.
I quickly fell in love with the idea of orange pomanders, red velvet ribbon, and milky white magnolias. My Williamsburg inspired Southern Christmas theme was born!
Let's take a look...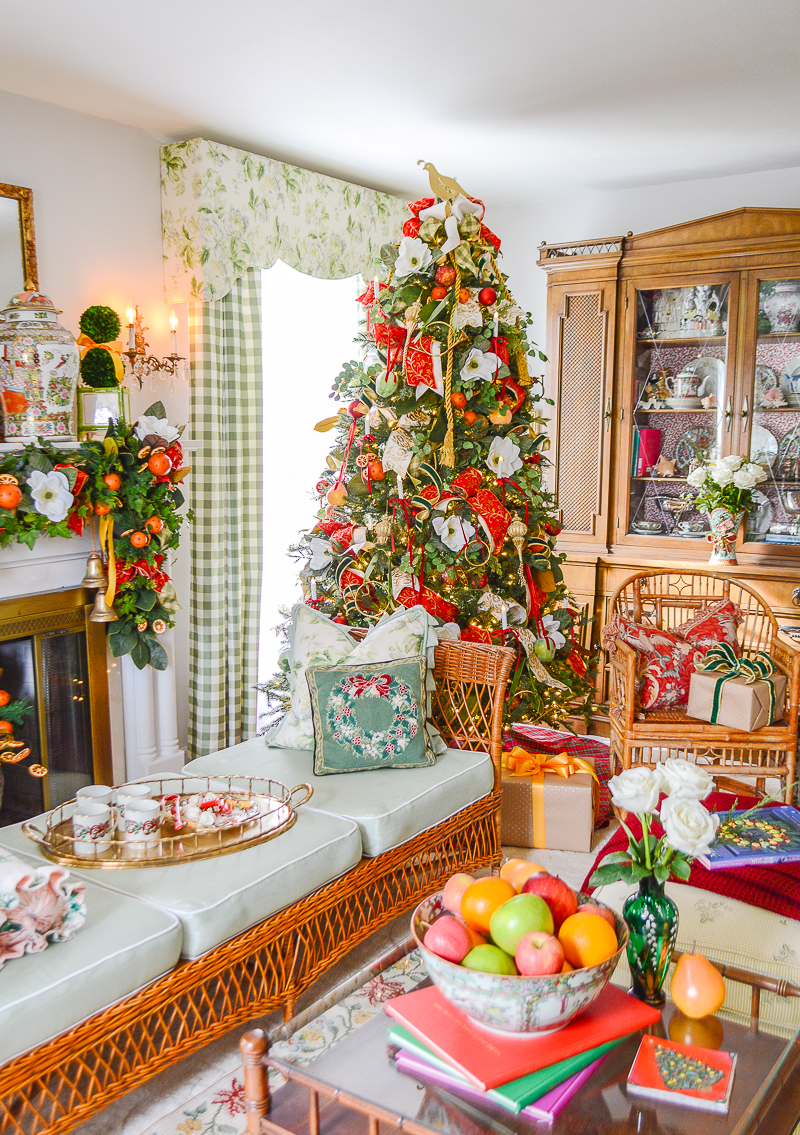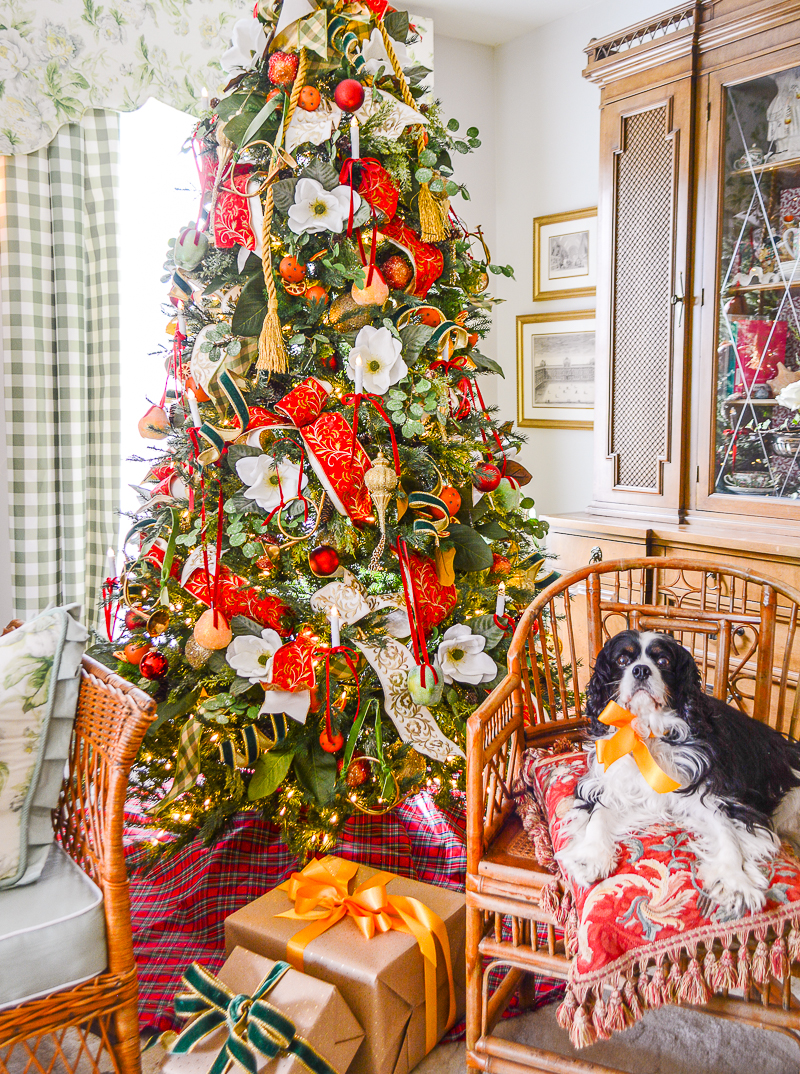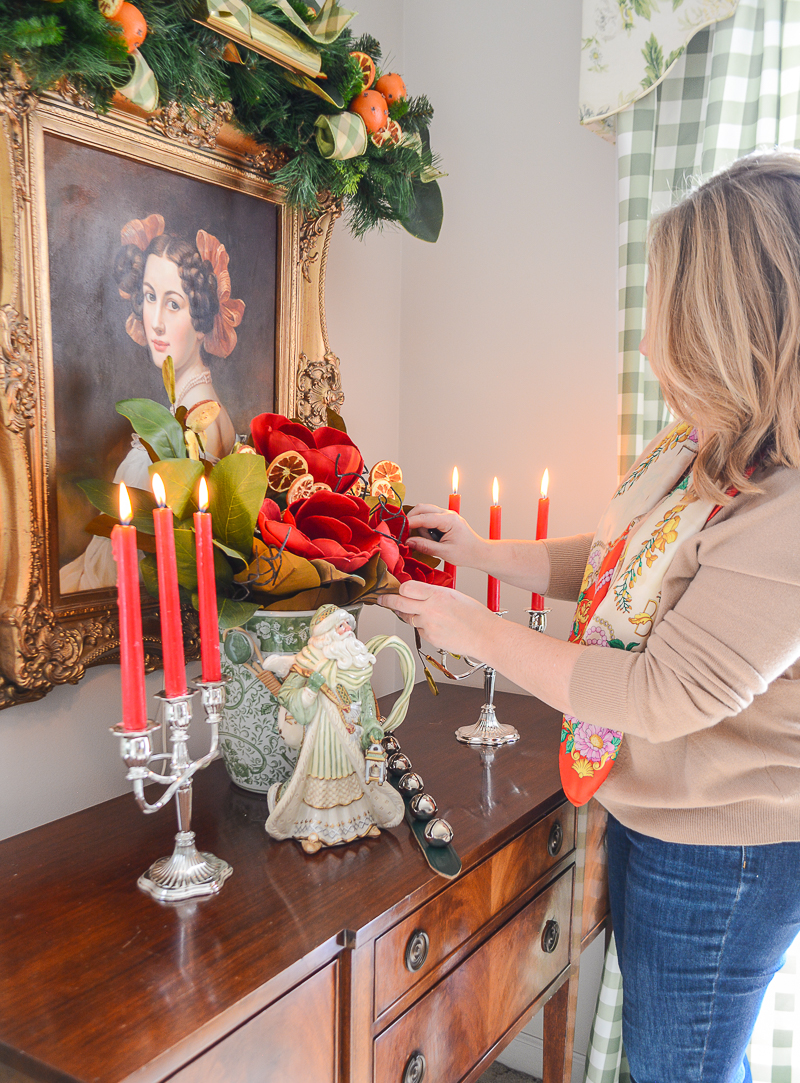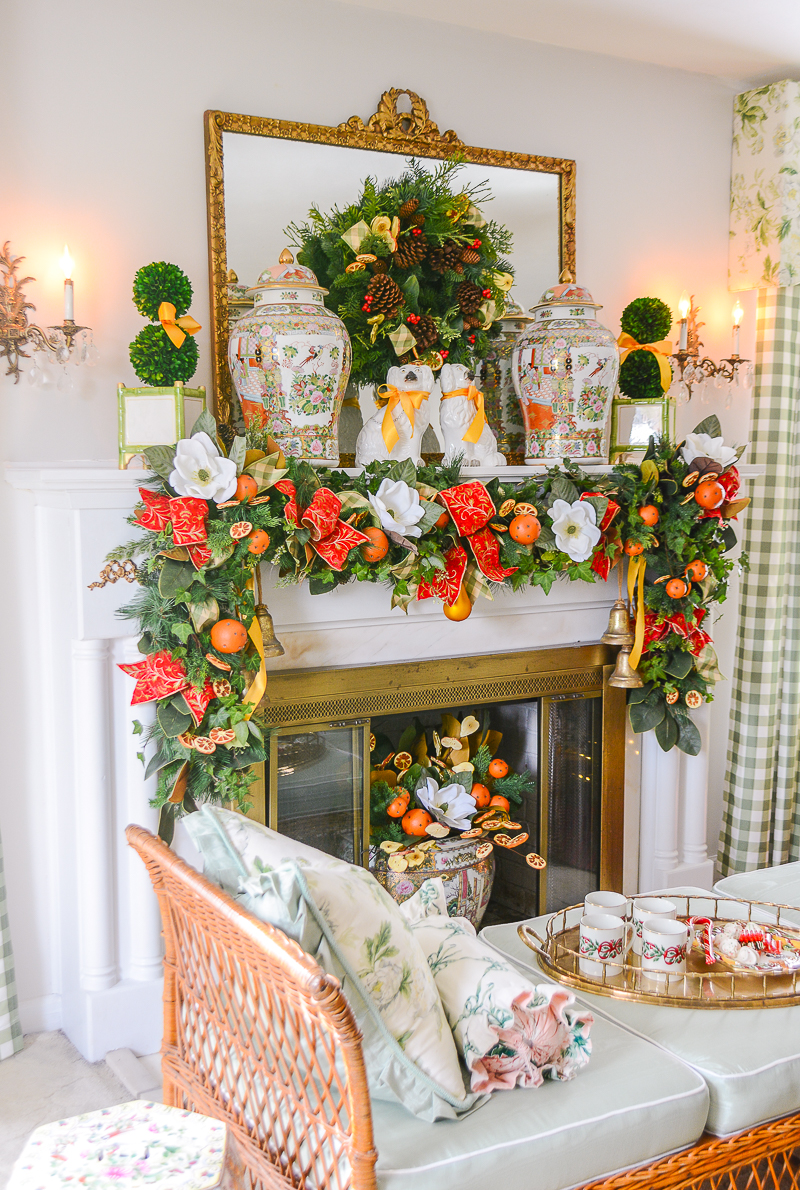 A Modern Take on Williamsburg Garland
A festive swag of pine, ivy, cedar, and magnolia greens adorn my mantel with white magnolia blooms, orange pomanders, and luxurious floral red velvet ribbon twisted in amongst the boughs. I created this lush look for this year's garland kit idea, and I simply adore the result.
Yes, 95% of everything fruit, floral, or foliage used in my Christmas decor is faux. While the beauty of fresh fruit is undeniable, it's simply too impractical with the advanced decorating necessary for the blog and shop schedule, and I prefer to invest money in decor I can use year after year in new ways. The cost of uneaten fresh fruit decaying and replacing it every week from now till January 6th further makes me shutter much as it would Colonial Virginians if they saw the fruit wasted on outdoor decorations at Williamsburg.
This year's Christmas decor is not an attempt to replicate the gorgeous decorations found there, but rather a reinterpretation on the della Robbia style wreaths and garlands that inspired Louise Fisher when she was tasked with creating Christmas decorations with an old fashioned feel for Colonial Williamsburg in the 1930s.
I created a traditional look in festive red and green with nods to the past:
The pomanders, which were once believed to have curative properties as they warded off disease causing odors.
The ivy vines are a nod to the English Tudor tradition of bringing the vines into your home during Christmas to represent eternal life.
If you feel inspired by my decor this year, head to my collection of Christmas florals to shop this look, and don't miss the classic Christmas sale on Instagram Thursday November 17th at 8PM EST.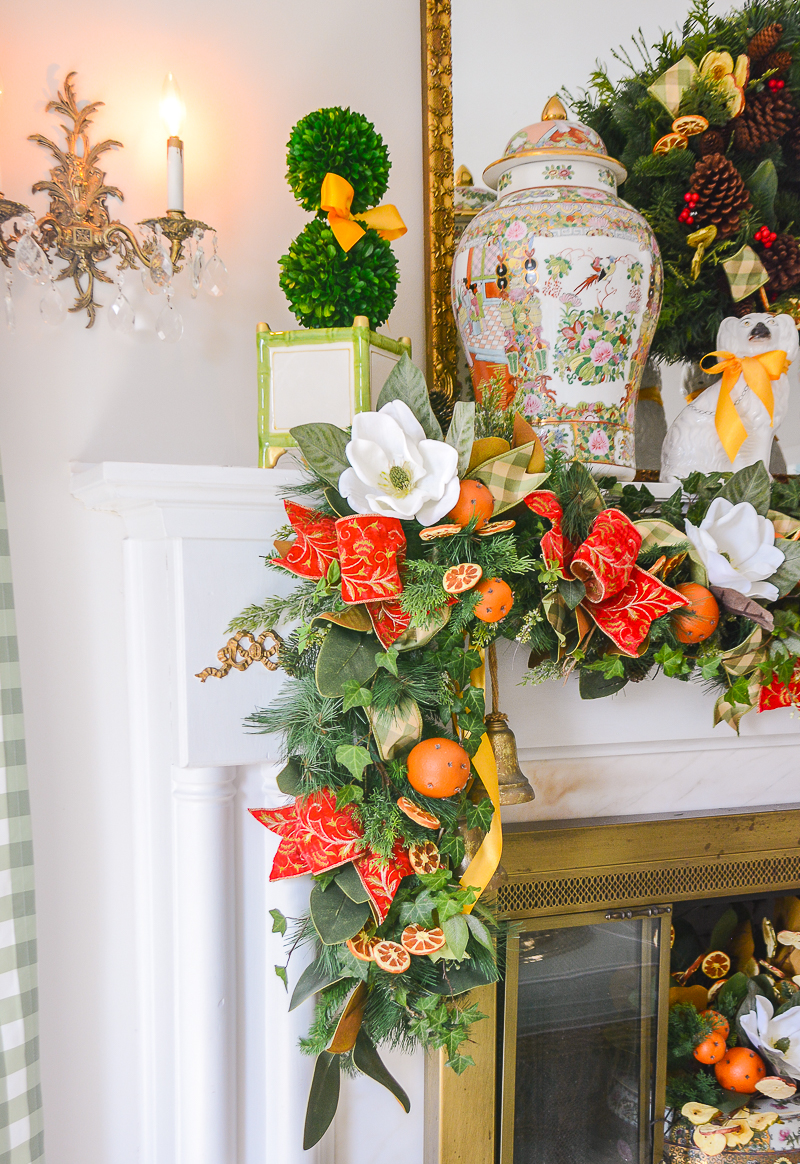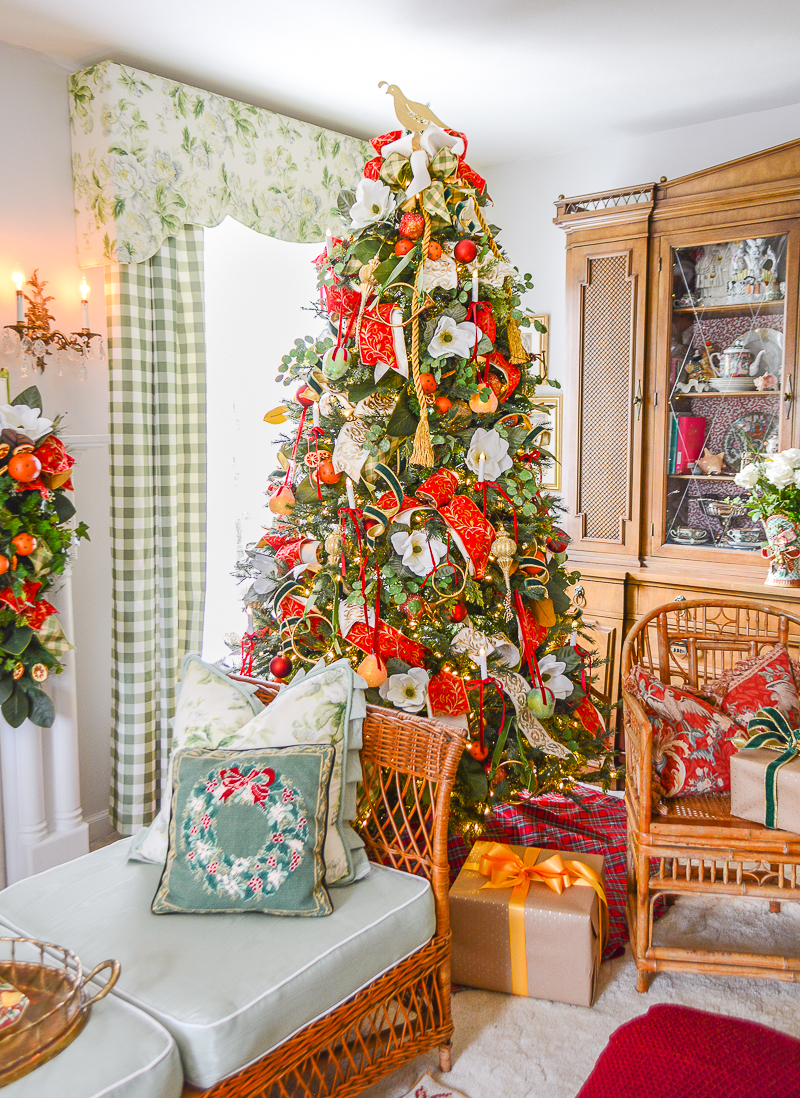 A Partridge in a Pear Tree
This traditional Christmas tree is decked in more red velvet ribbon with white magnolia and orange pomanders. To fill in the branches I used faux eucalyptus and magnolia sprays Do you see the dangling sugared pears and golden partridge topper? Hehehe...
Once I crafted those faux pear ornaments, I couldn't help but start thinking of this Christmas tree as a pear tree and then singing of "The Twelve Days of Christmas" soon followed. Maybe I should have called this my Christmas carol themed room! I hunted online for a charming partridge and ended up ordering this metal one from Amazon then painting him gold.
I also have this darling wrapping paper on order to complete my subtle nod to this tune, but it didn't make it in time for the photo session.
Finishing off the tree are spirals of this green velvet ribbon, white and gold floral bows, a smattering of ornaments in red and gold, and these vintage style candles (mine are battery powered with no fear of fire).
I love that this tree continues the Williamsburg inspired Southern Christmas look but lightly flirts with a classic Christmas song. It brings some whimsy and playfulness to this otherwise very sophisticated theme.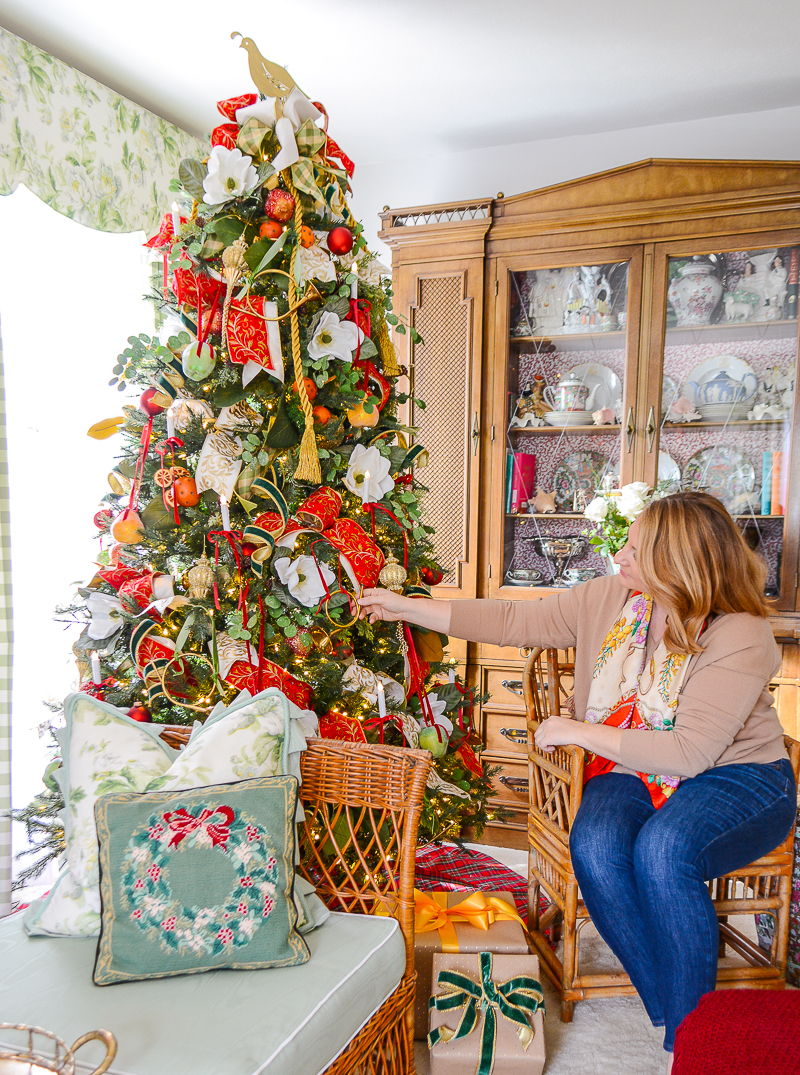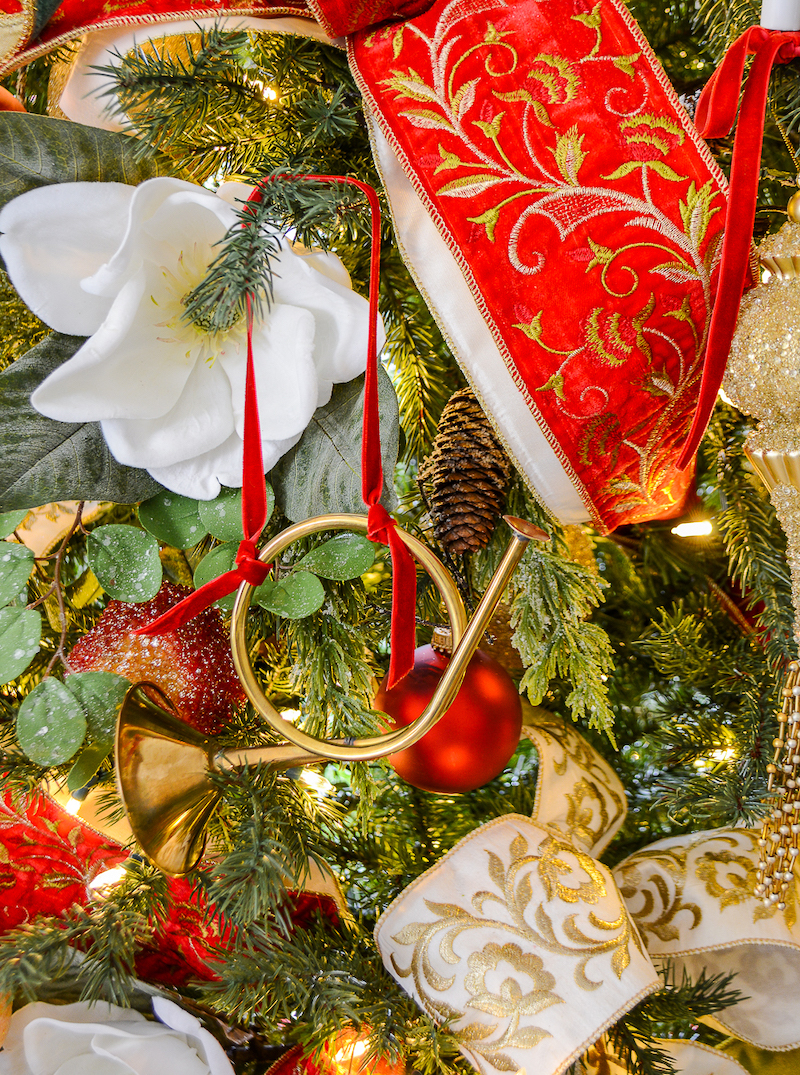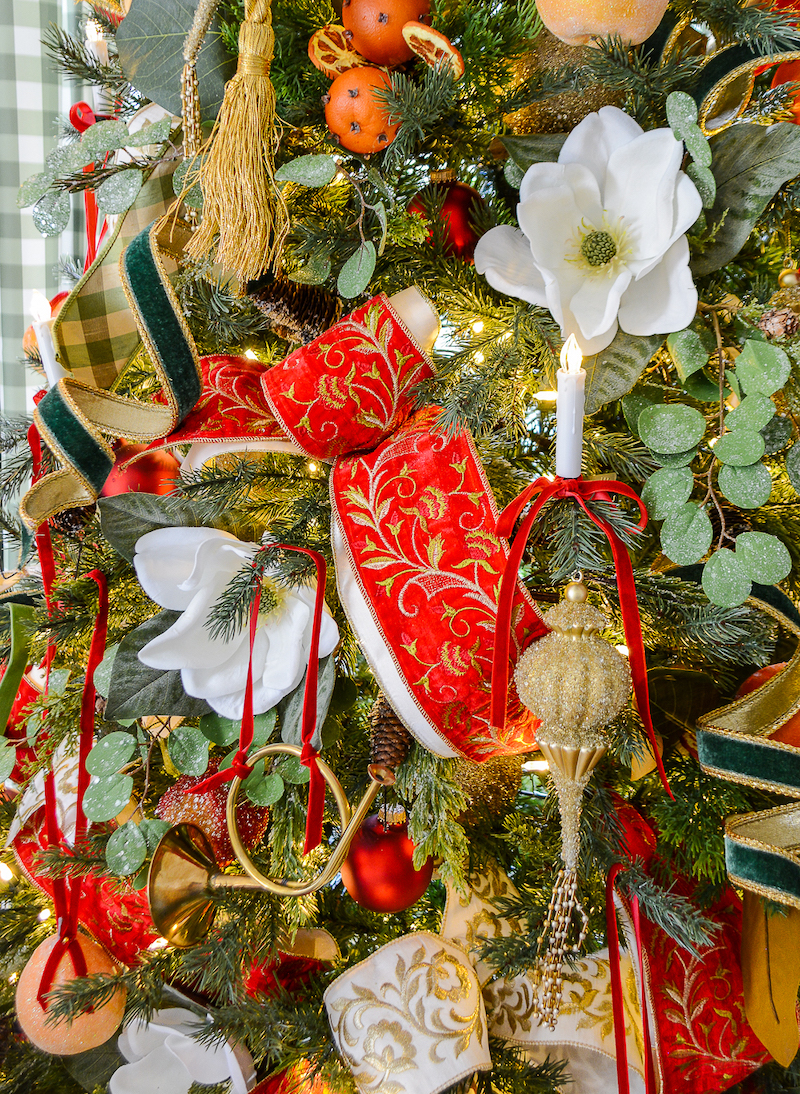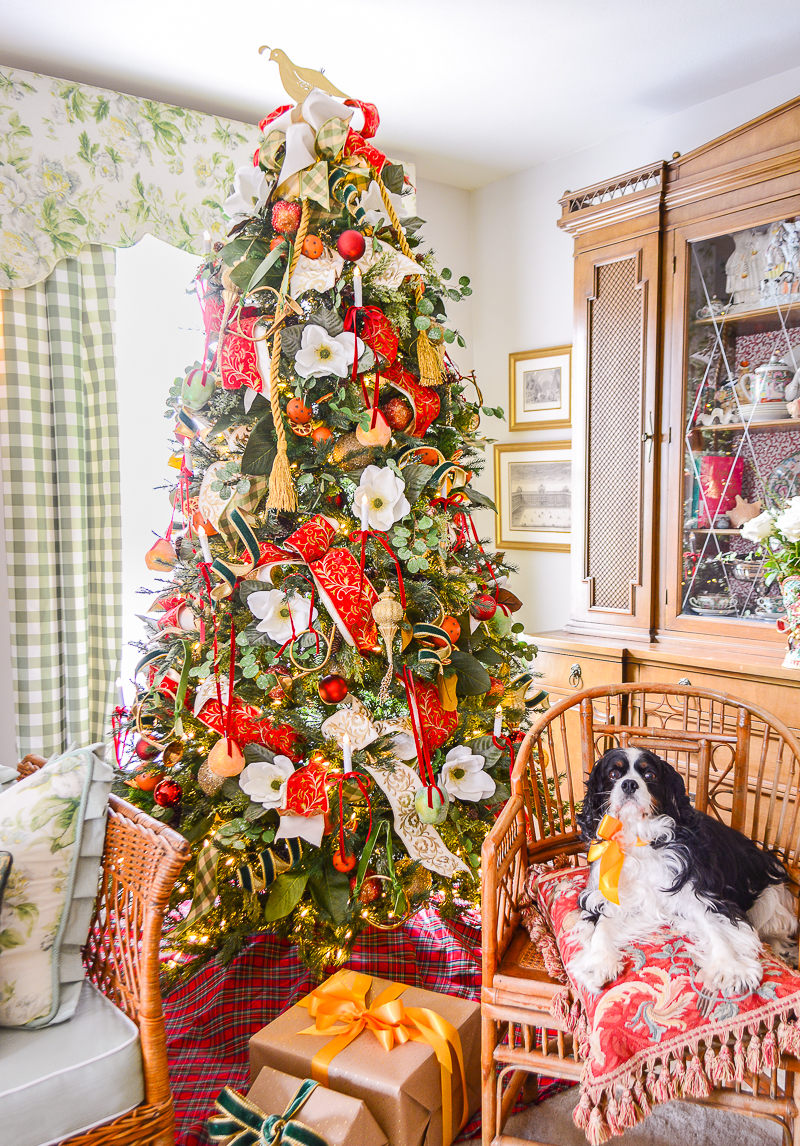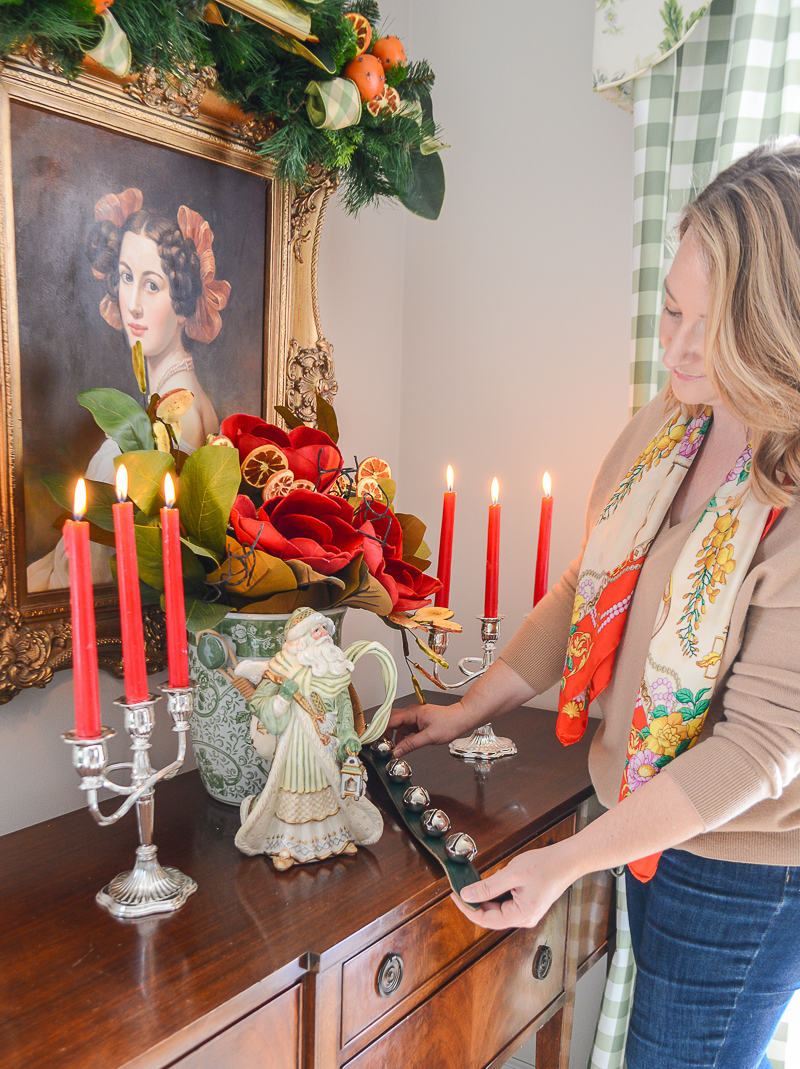 Additional Festive Touches
Not every surface has to be covered in Christmas themed decor, but I did add a few festive touches to my sideboard and coffee table. Both of these spaces will be used while entertaining this holiday season, so I like to keep everything easy to move aside and simple.
On the sideboard I added a floral arrangement in this gorgeous green and white floral cooler, a pair of silver candelabras with red candles, my Fitz & Floyd Santa, and a strand of Belsnickel sleigh bells. These bells have the most joyous sound! Just a strand of them placed on a table or hung from a door immediately adds some elegant festive spirit.
For the coffee table, I styled this antique Rose Medallion punch bowl (available in the P&P shop) with fresh fruit. It sits on top of a stack of Life books about the history and traditions of Christmas that I love to get out this time of year. Some festive cocktail napkins and a little bouquet of white roses completes the look.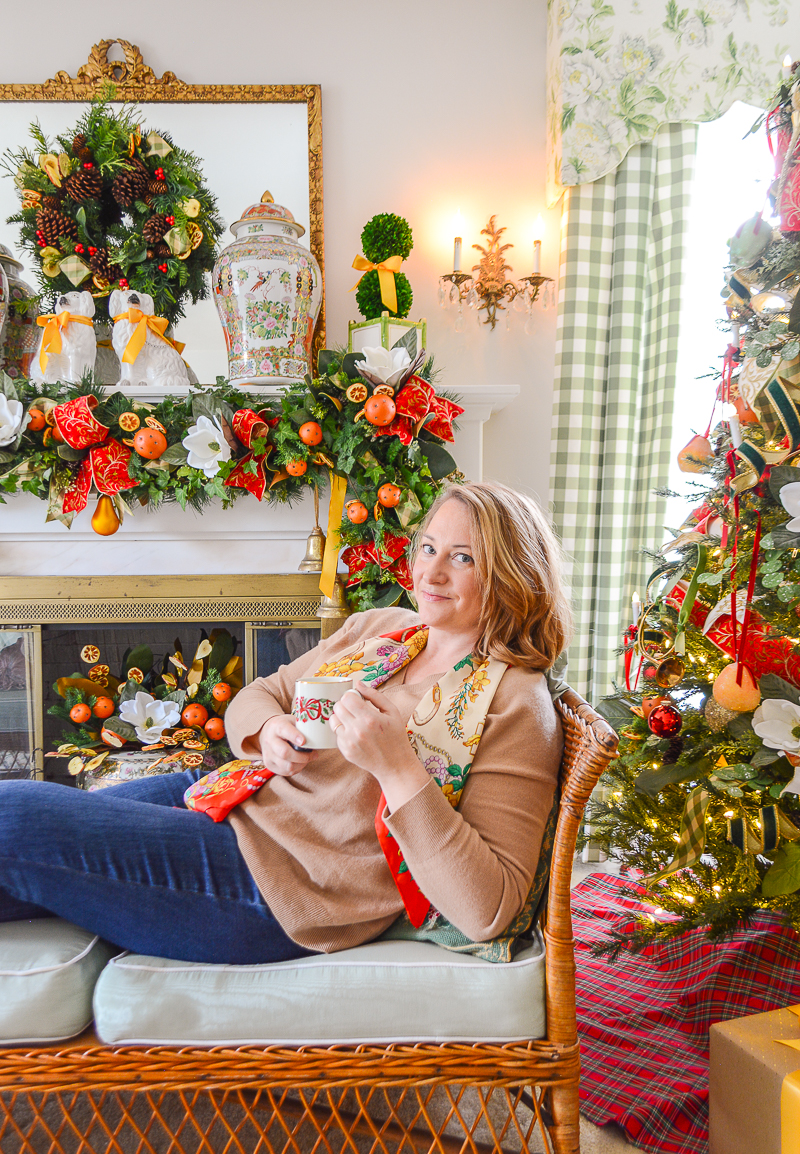 Friends, I truly hope you feel the comfort and joy of my Williamsburg inspired Southern Christmas decor! I love to celebrate the Christmas season with my decor and enjoy providing inspiration for you.
It's not enough to keep the spirit of Christmas to yourself. We have to spread the tidings!
May your holiday season be filled with comfort and joy!
If you have questions about a source or how I did something, please leave me a comment below.