Welcome guests for autumn entertaining with a Chinoiserie fall table filled with elegant Royal Doulton china, sparkling metallics, lush fabrics, and colorful florals.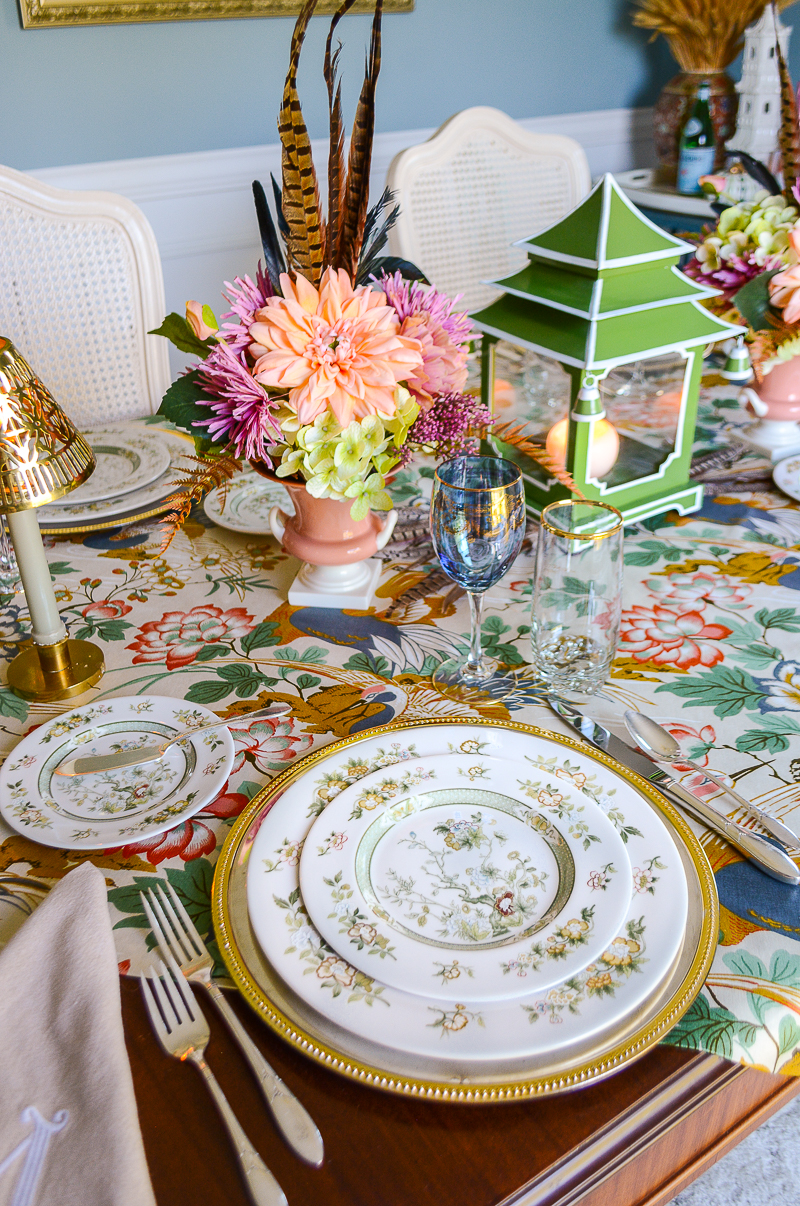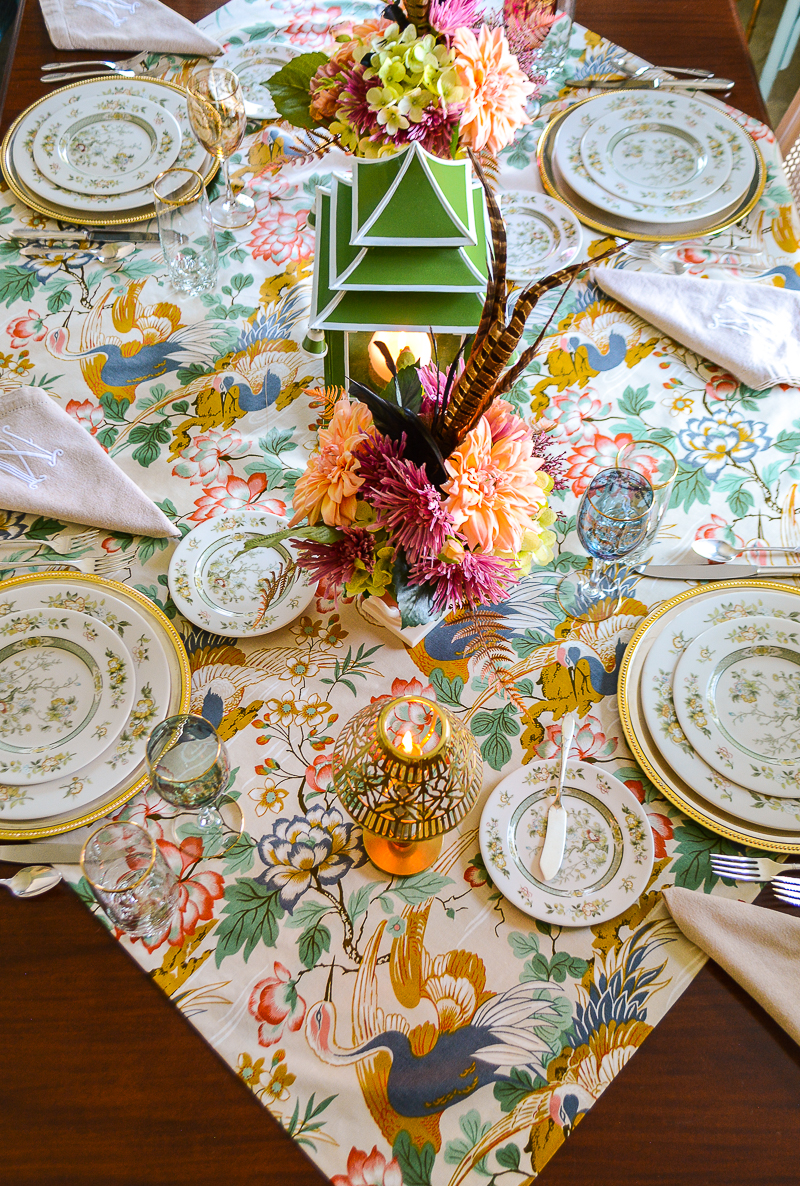 The soft crooning of jazz is tinkling in the air…
A pork roast is browning in the oven…
The wine is chilled…
The dessert's been bought…
And the table is set with sparkling metallics, Chinoiserie accents, and sumptuous florals.
Ahhh…it's the perfect crisp autumn night for a dinner party!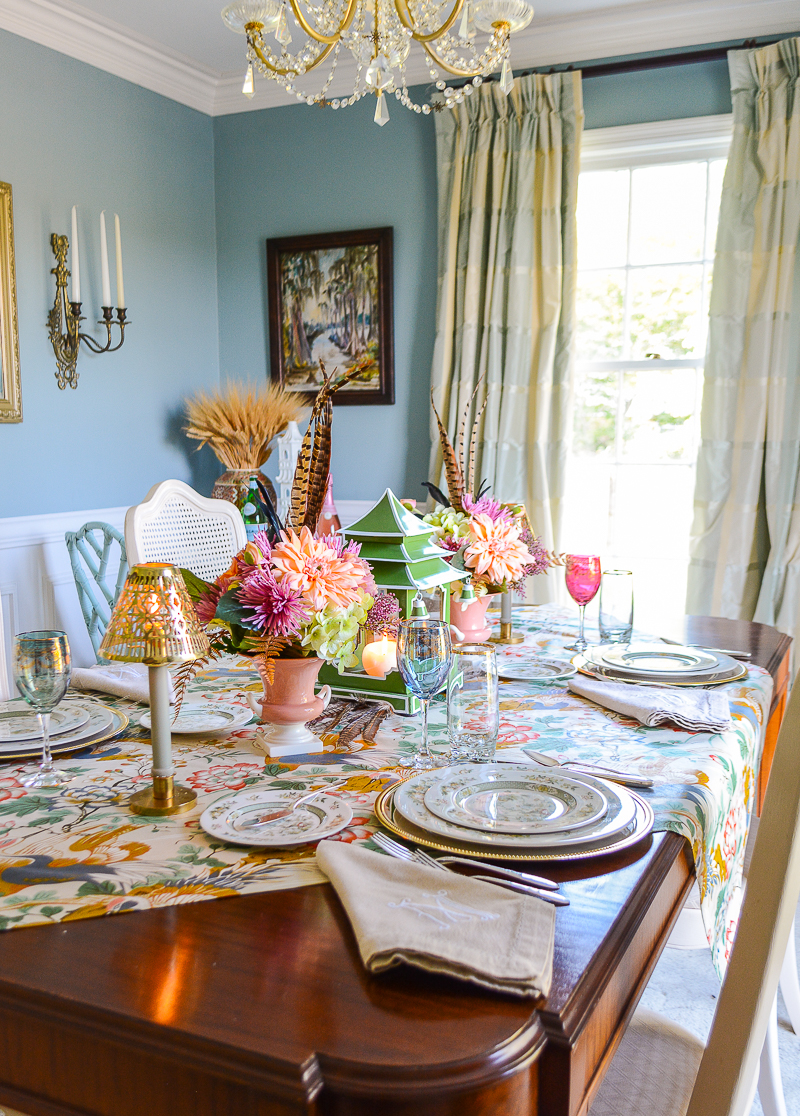 Ok, in realty it's 96 degrees here and that crisp cool air feels weeks away! But a girl can dream, and this girl is prepping for those oh so charming fall parties ahead.
Who's with me?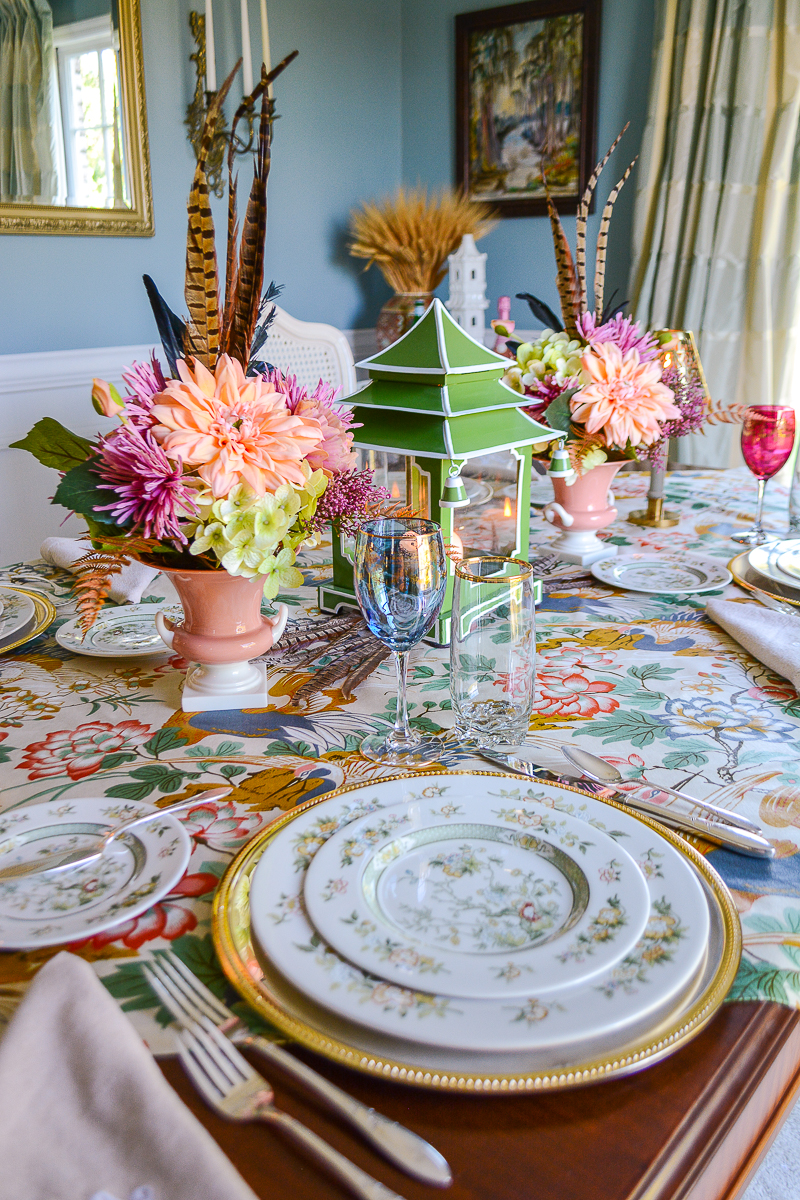 Chinoiserie Chintz
As is so often the case with me, my inspiration for this fabulous Chinoiserie fall table came from this vintage chintz I sourced from an estate sale. I find the colors to be so eye catching and the perfect tones for autumn decor with the rich golds, smoky blues, vibrant corals, and soft greens. The design features cranes flying amongst tree peonies and lotus flowers. It is simply enchanting!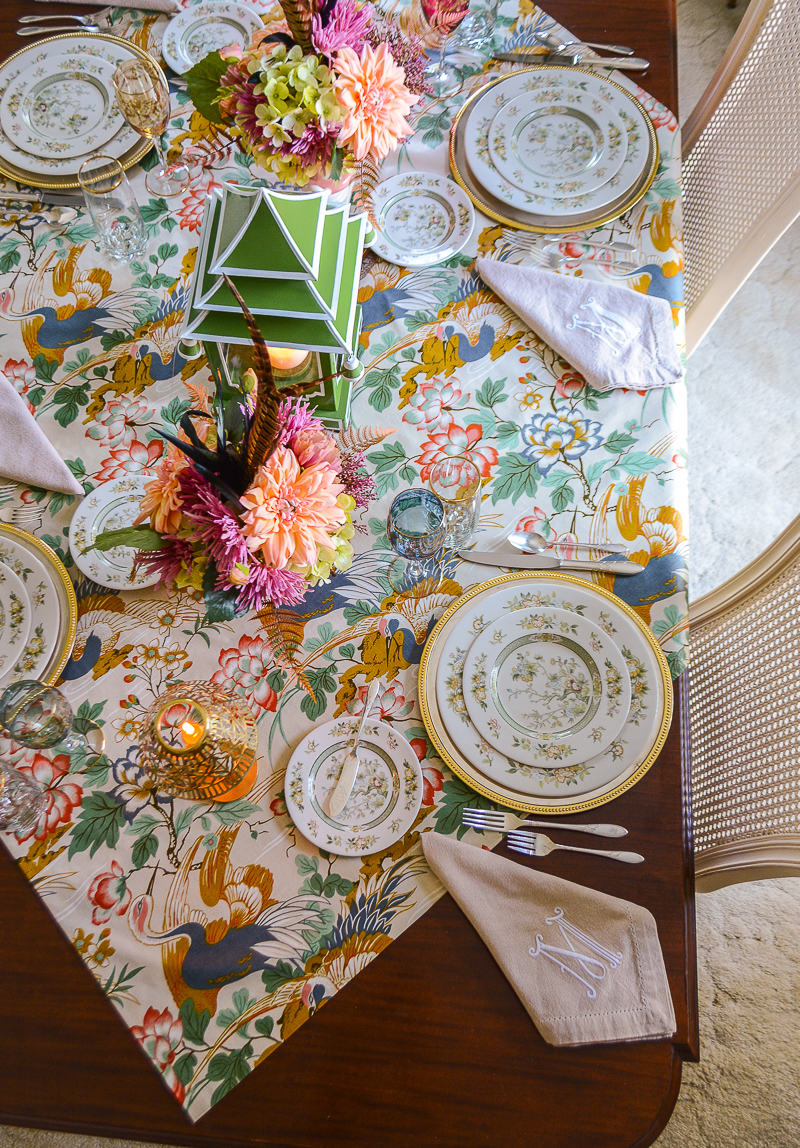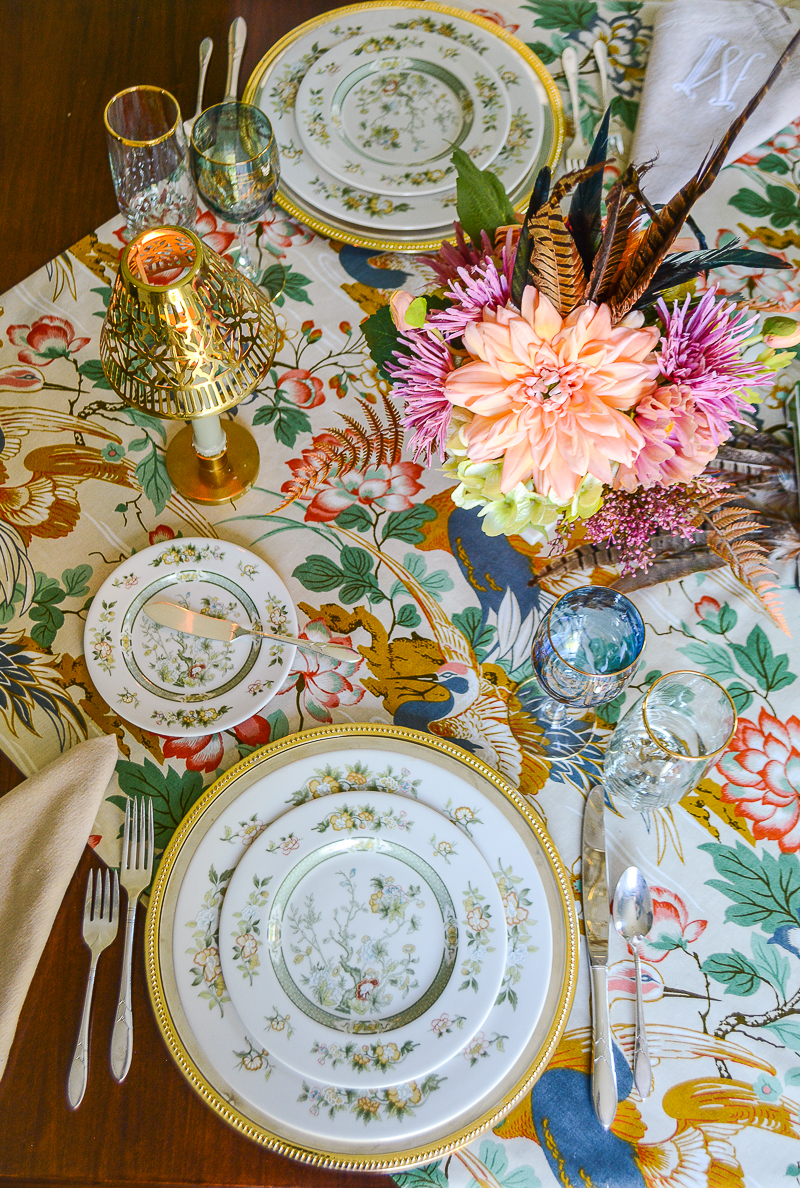 Chinoiserie China – Royal Doulton
The next element that I discovered to complement the crane chintz was this elegant Indian tree porcelain from Royal Doulton. The pattern is called Tonkin, and it was first produced in the 1970s and discontinued in 1992.
The soft greens with touches of burnt umber, gold, and pale blue are so right for autumn, and this china pairs beautifully with gold and silver metallics like the silverplate and gold chargers underneath.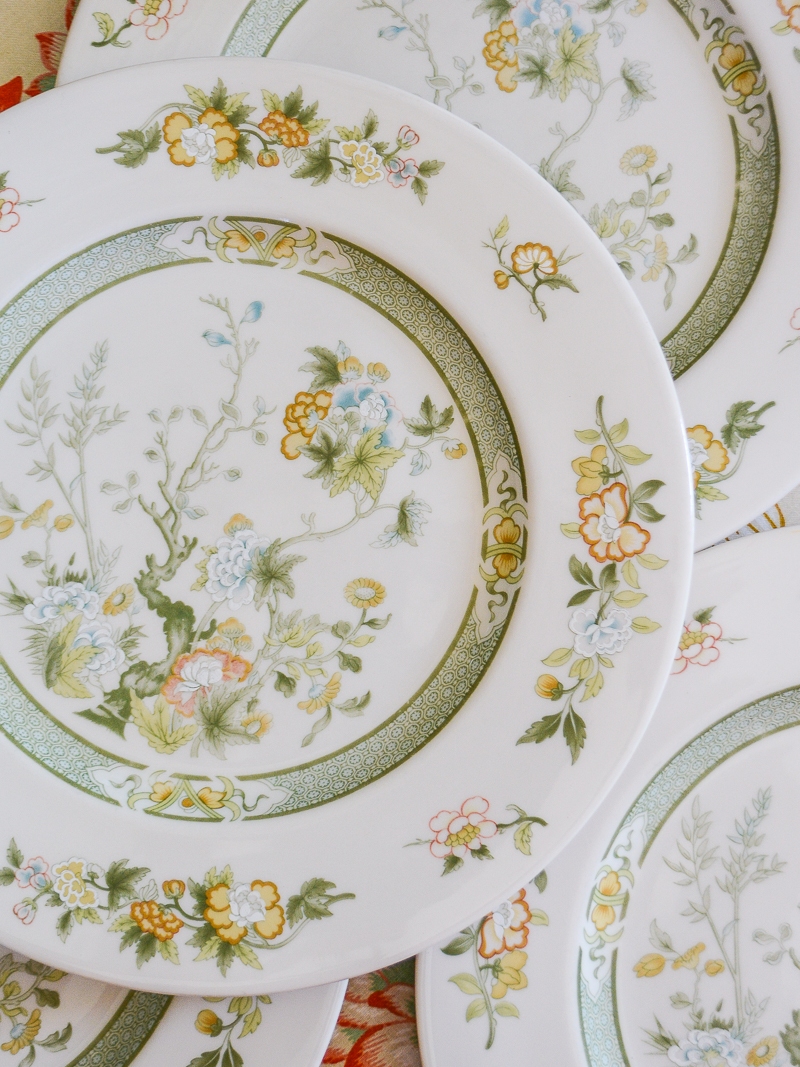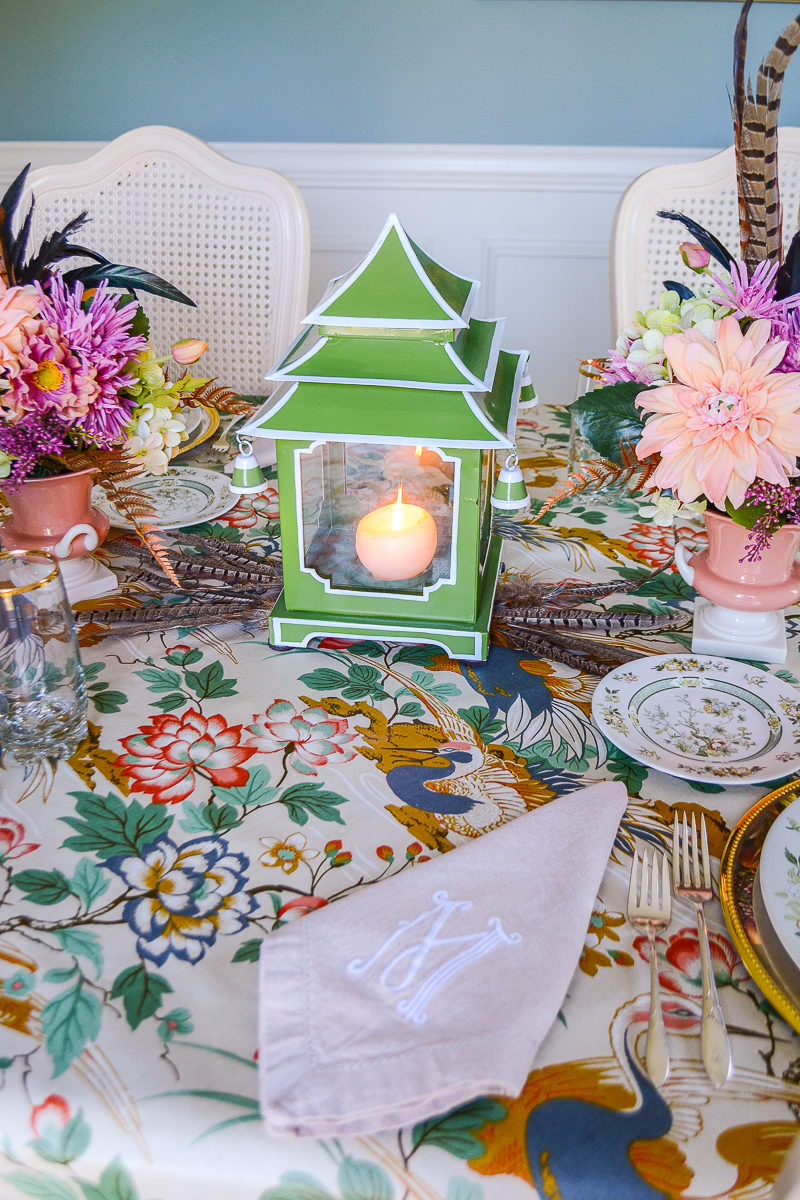 Chinoiserie Fall Centerpieces
The centerpieces are low and simple but dazzling with a green toleware pagoda lantern from The Enchanted Home in the center. To either side, I created faux floral arrangements in these elegant coral hued urns from Lenox. A mix of peach dahlias, lilac asters, hydrangea, and pheasant feathers feel autumnal and lush ( I am happy to sell the floral arrangements with the Lenox urns just email me).
At either end of the table a pair of gold candle lamps add just the right flickering glow!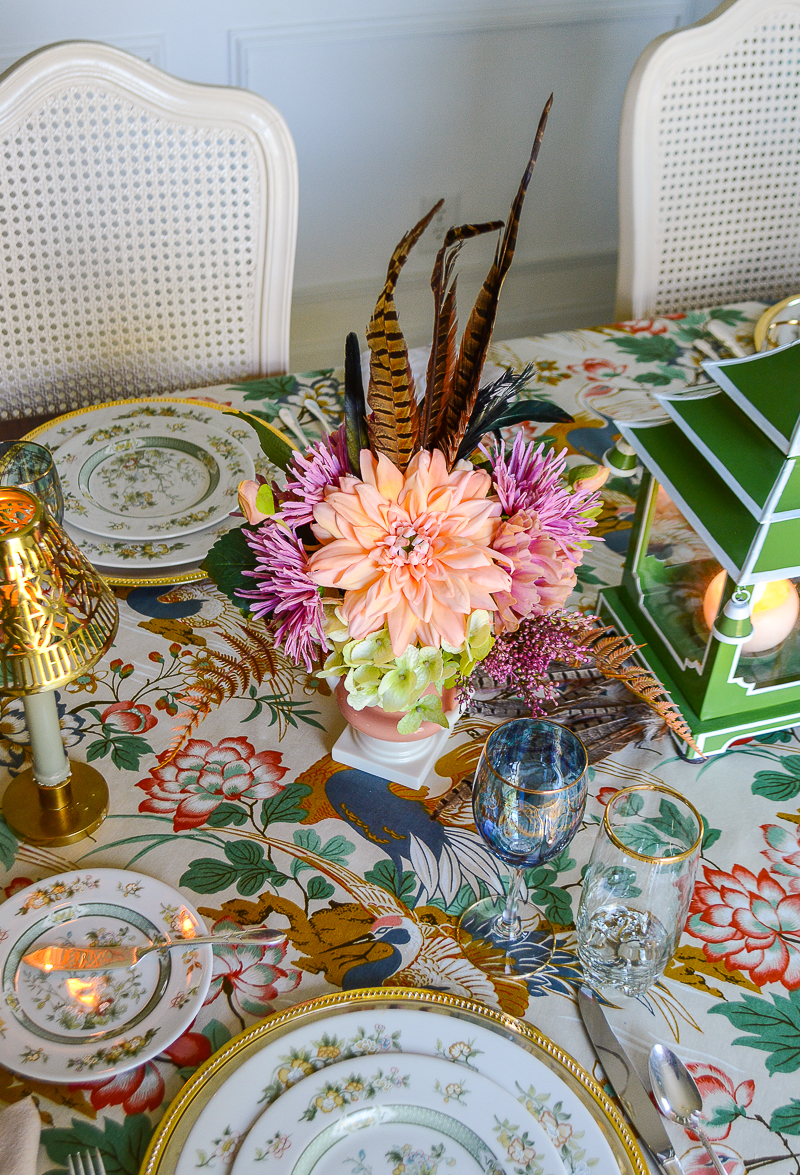 Shopping Resources:
Please join me Thursday evening September 8, 2022 at 8PM EST on Instagram, if you are interested in shopping the tableware from this Chinoiserie collection. The following pieces will be available:
Royal Doulton Tonkin china – 6 dinners, 4 salads, 4 BB plates
Bohemian colored wine glasses
Silverplate chargers and Lady Hamilton flatware
Chinoiserie chintz – 5+ yards
Gold candle table lamps
& More!
Additional Picks for a Chinoiserie Fall Tablescape: