Elevated Essentials: Bar Cart Decor & Basics
Style an artful mix of vintage and new barware to make it both functional and chic, so you can mix yummy drinks in style. Here are the 10 essentials you need for bar cart decor!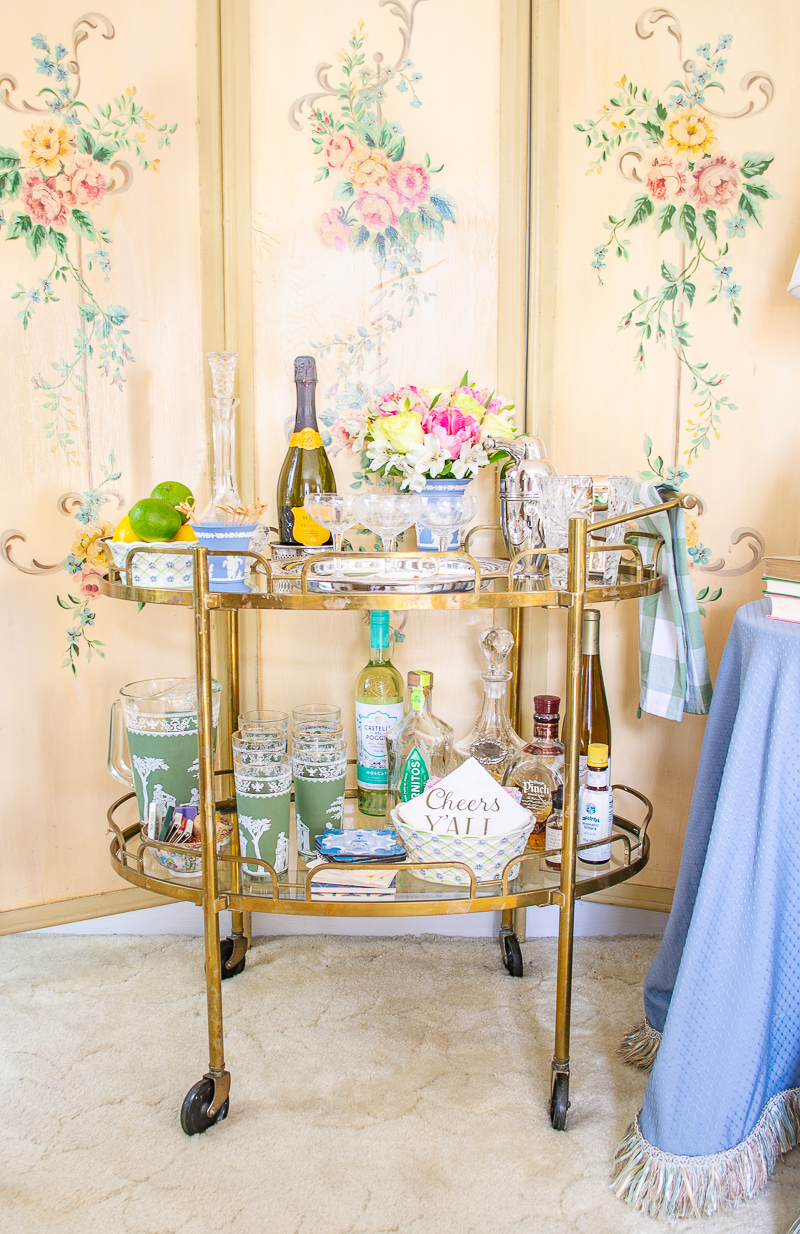 When I say bar cart what comes to mind?
For me I immediately hear the crooning dulcet tones of Dean Martin and the swoosh and tinkle of a cocktail shaker.
I think of boozy confections and fizzy champs…
Chic glassware and tumbling ice…
Vivacious hostesses and merry guests — basically a Betty Draper approved fete!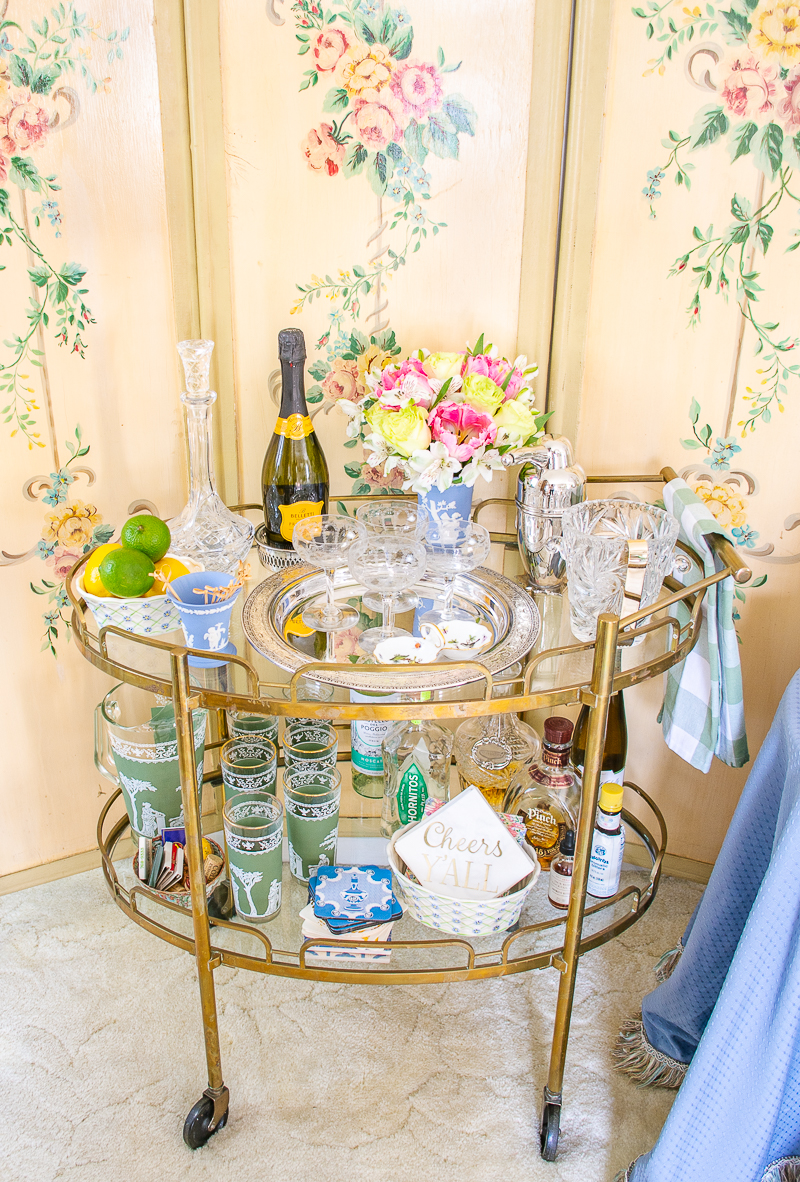 From its heyday in the 1950's and 60's, the bar cart has re-emerged as an entertaining staple in the past decade or so. For those of us without full home bars decorating smaller homes or apartments, the bar cart is a versatile furnishing that we can harness for entertaining friends and family in a compact but cool way. It is storage and finesse all in one!
There is now a diverse selection of styles available at reasonable prices, and beaucoups of advice on how to decorate one. But if you want to avoid that cookie-cutter straight from a catalog look that seems ubiquitous these days, where do you turn?
To an artful mix of new and old with vintage & antiques that distinguish your cart!
You probably knew I was going to say that, right?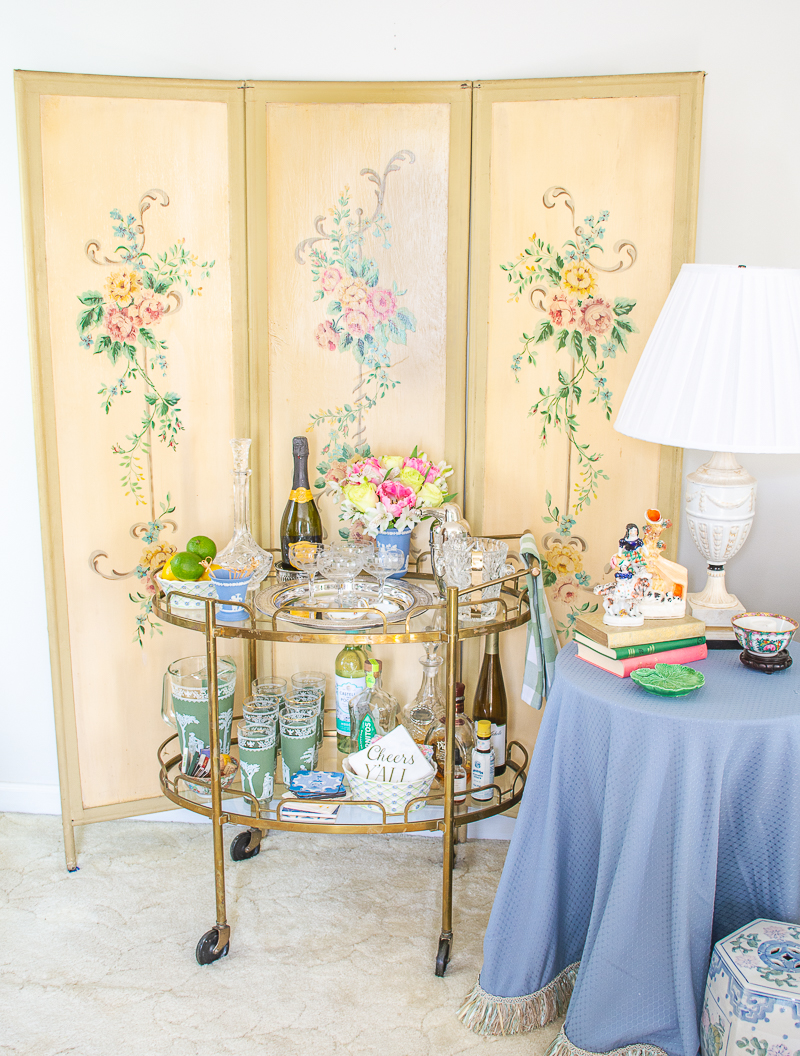 In this post, we're going to talk about how to choose and style your bar cart decor for a look that is grandmillennial and oh so ready for your next swanky gathering because in-home entertaining is on its way back friends!
I'll be sharing the 10 essentials your bar cart needs to be both functional and chic, shopping sources, and how to put it all together.
When choosing your cart consider the room or rooms it will live in and how to complement the style of that space. For a true classic, shop local estate sales for a brass and glass version from the 60's like mine, a textural rattan version for palm beach vibes, or an elegant mahogany tiered server. Can't find a color that works, paint it yourself. See my DIY bar cart tutorial here.
If mobility isn't desired, don't be afraid to turn an elegant console table or chest into a bar station. If you don't already have a bar cart, here are some stylish options for a classic look:
10 Essentials for Bar Cart Decor
Bar cart decor should be both functional and chic, so most of these 10 essentials are the barware basics you need for mixing and making yummy drinks on your cart. If you choose charming options for these, you don't need a lot of extra decorative elements.
My next bar ware sale is Thursday March 3, 2022 on Instagram 8PM EST!
Trays
Let's begin with a foundational piece that starts your bar cart styling — a great tray! I almost always have a tray on the top shelf of my cart with glasses arranged and ready for a drink because trays are functional and save your cart surface from wear and tear and spills. Choose a tray that is easy to clean and pick up in case you need to pass around drinks.
Trays also work well for sorting and organizing bottles and other tools.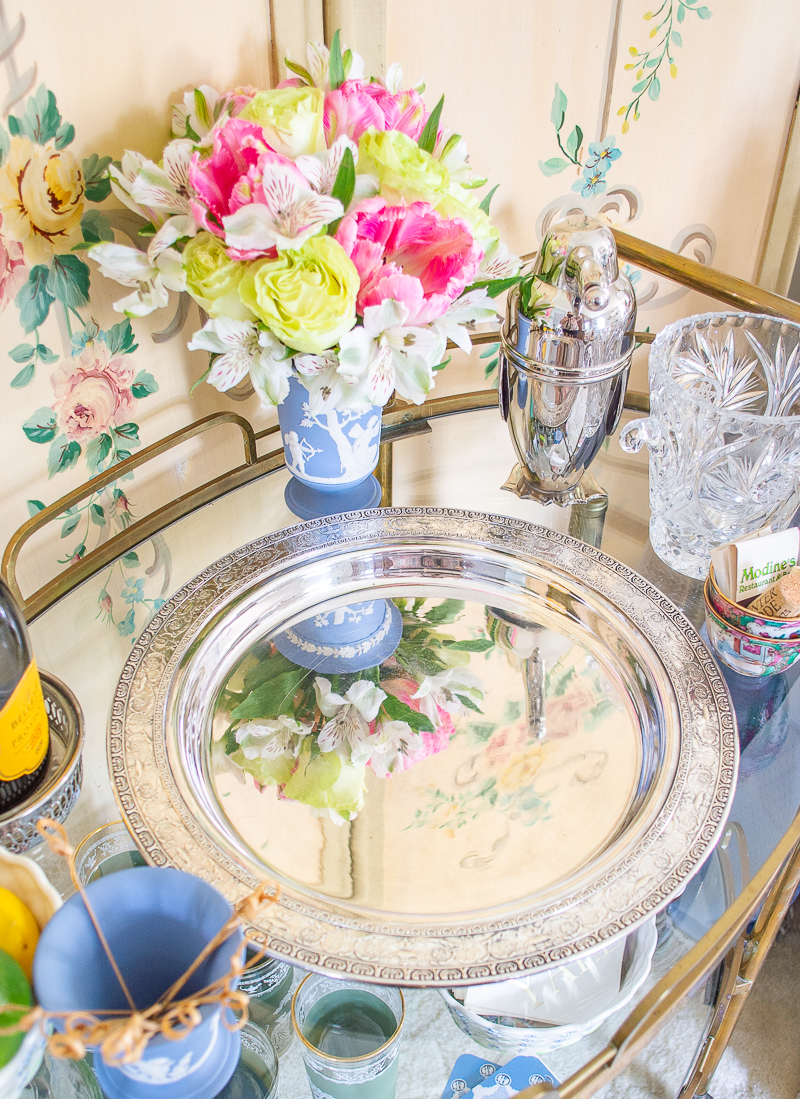 How to elevate this essential:
Use the tray as an opportunity to bring in color, texture, and pattern to a more simple cart. A lacquered treatment in a bold color is one great option or look for a large ceramic platter in your favorite china pattern.
If you want to keep it traditional then a silver tray with an elegant rim or reticulated gallery is the key! The tray in my pictures has a charming Neoclassical rim with urns and scrolls. Don't miss it at the May 6th Instagram sale!
Chic Glassware
There is function, color, shape, and size to consider when choosing chic glassware for your bar. I recommend at least 3 types of glasses that will serve you for a wide variety of cocktails:
Tumblers – necessary for on the rocks drinks like bourbons and scotches
Coupes – charming option for champagne, champagne cocktails, and martinis
High balls – classic for mixed drinks like Tom Collins, Bloody Marys, Spritzers, etc.
How to elevate this essential:
I recommend glassware from classics like Fenton, Fostoria, Mosser, Portieux Vallerysthal, Waterford, and Murano. For a more retro look, hunt for glasses by Blendo, Culver, Jeanette (like the sage green Jasperware style above) or Libbey. These lily of the valley high balls are perfection! Always opt for glasses with vintage flair in classic shapes or that are hand-blown. For modern brands, I love Veitri, Johnathan Adler, and La Rochere.
Ice Bucket
A practical necessity for the bar cart for fixing drinks and to avoid guests dashing back and forth to the fridge. You can opt for an open bucket like the crystal one below or a closed version with insulated sides. Keep in mind the sweat factor — glass and silver buckets will release condensation, so have a bar towel underneath or near by to keep the liquid wiped up.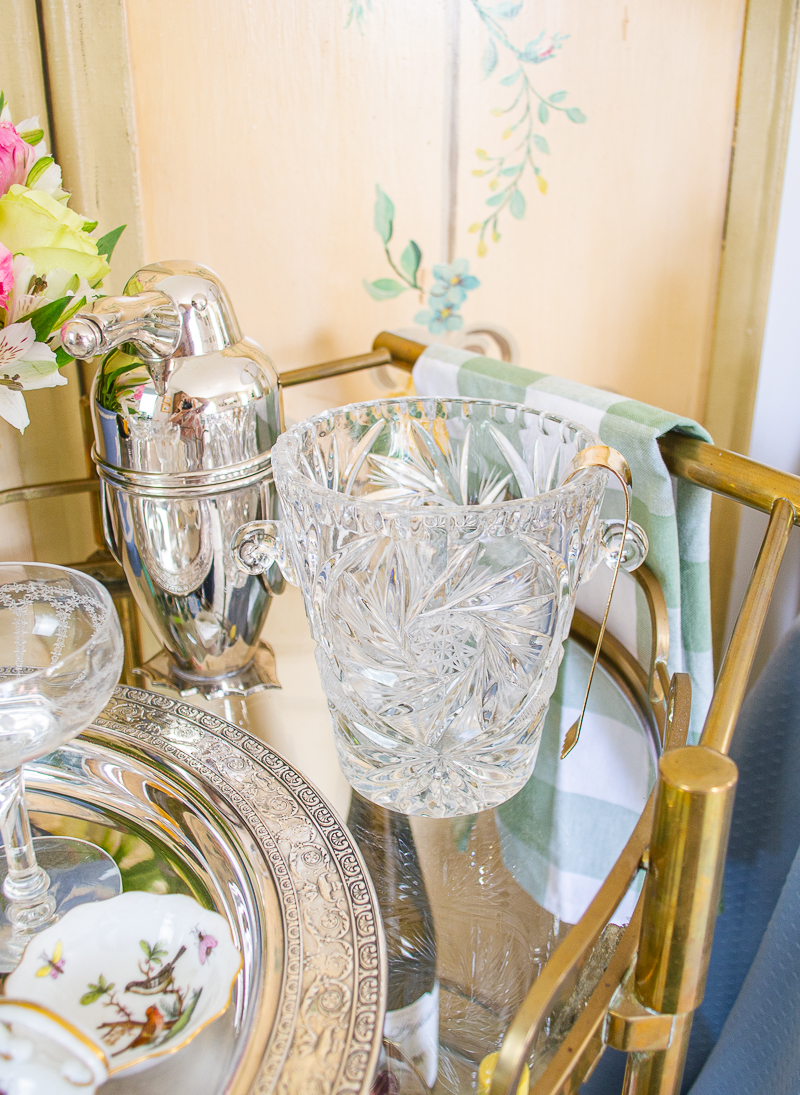 How to elevate this essential:
There are lots of lovely options available for vintage ice buckets. If you want to take your bar cart decor more elegant and refined, I would choose a cut crystal or silver plate one. If you want more preppy chic with a pop of color, opt for a vintage insulated one. This yellow with cane trim is giving me all the vintage vibes!
Catchalls
These are little bowls, vases, and dishes that help you organize and corral the barware accessories from picks and straws to corks and matches.
How to elevate this essential:
Catchalls are definitely the perfect chance to bring in some personality and play up the style of your cart. Chinoiserie classics like Rose Medallion and Peacock Imari work well for bowls and dishes, while more traditional ceramics like Wedgwood and Herend are great for vases and trinket dishes. To avoid going too eclectic work with patterns in similar colors.
Cocktail Shaker
Shake up your favorite martinis in a fun but functional cocktail shaker! Two things to keep in mind when selecting your shaker: easy clean up and a tight fitting lid.

How to elevate this essential:
If you want to elevate this bar cart essential, find one in a whimsical shape like the penguin one here! Look for the pretty glass and stainless steel versions or add your monogram to one!
Decanters & Labels
Nothing says stylish bar cart like cut glass decanters! You can put just about any liquor in a decanter, but I find that bourbon and scotch are the best because you can see their gorgeous honey hue that way!
Decanter shapes vary widely although they originally started as carafes for wine and if you are decanting red wine, be sure to choose a wine specific shape. Otherwise select decanters that show off your spirits to best advantage.
How to elevate this essential:
Add a vintage silver, pewter, or porcelain label to your decanter to really bring in that vintage flair to your bar cart. There will be several options for pretty vintage labels at the IG sale!
Lighting
Add warm glow and some height to your bar with the right lighting. Think either a charming lamp or candles. For larger bar carts that will be stationary, a lamp is the perfect way to get that extra glow and improve visibility for mixing and pouring cocktails, but if you are working with a smaller cart or have a lamp nearby go for the candle light.
How to elevate this essential:
This is another great chance to add personality and color. Create contrast with your cart by choosing a lamp or candlesticks in a different material. I've selected a range of pretty porcelain candlesticks below plus some great smaller lamps or tall skinny style buffet lamps:
Cocktail Napkins & Coasters
Remember functionally chic is our goal, so always have a stack of cocktail napkins and coasters on your cart for guests to grab and use with their beverages.
How to elevate this essential:
Bring in some grandmillennial sass with a witty cocktail napkin or amp up the color and pattern on your cart with a charming set of coasters. I'm loving these Wedgwood Jasperware inspired ones from Prints by Kitchen. She also has versions in Rose Medallion, turquoise Qianlong, and tobacco leaf! Talk about some pretty color!
Organic Element
Fresh flowers or a lovely plant are one of those little luxuries that instantly brighten up your bar cart decor.

How to elevate this essential:
Match your florals or living element to your signature cocktails, so if you are serving a drink with mint in it add an over flowing bundle of mint sprigs. This can be both useful and attractive. A bowl of citrus is another charming way to bring in that organic touch!
Tools
Of course every mixologist needs a practical set of bar tools. I usually like to keep a jigger, stirrer, bottle opener, ice tongs, muddler, and small knife at hand. You can encourage guests to mix their own concoctions with these tools on the cart.

How to elevate this essential:
Well friends…I hope you feel inspired to get your bar cart in order and all spruced up for the coming summer season. It will be so delightful having friends and family over again for casual drinks and parties as well!
Cheers y'all!