Songbird & Tulipiere Spring Centerpiece
Create a whimsical tablescape perfect for March with a baby's breath, songbird and tulipiere spring centerpiece!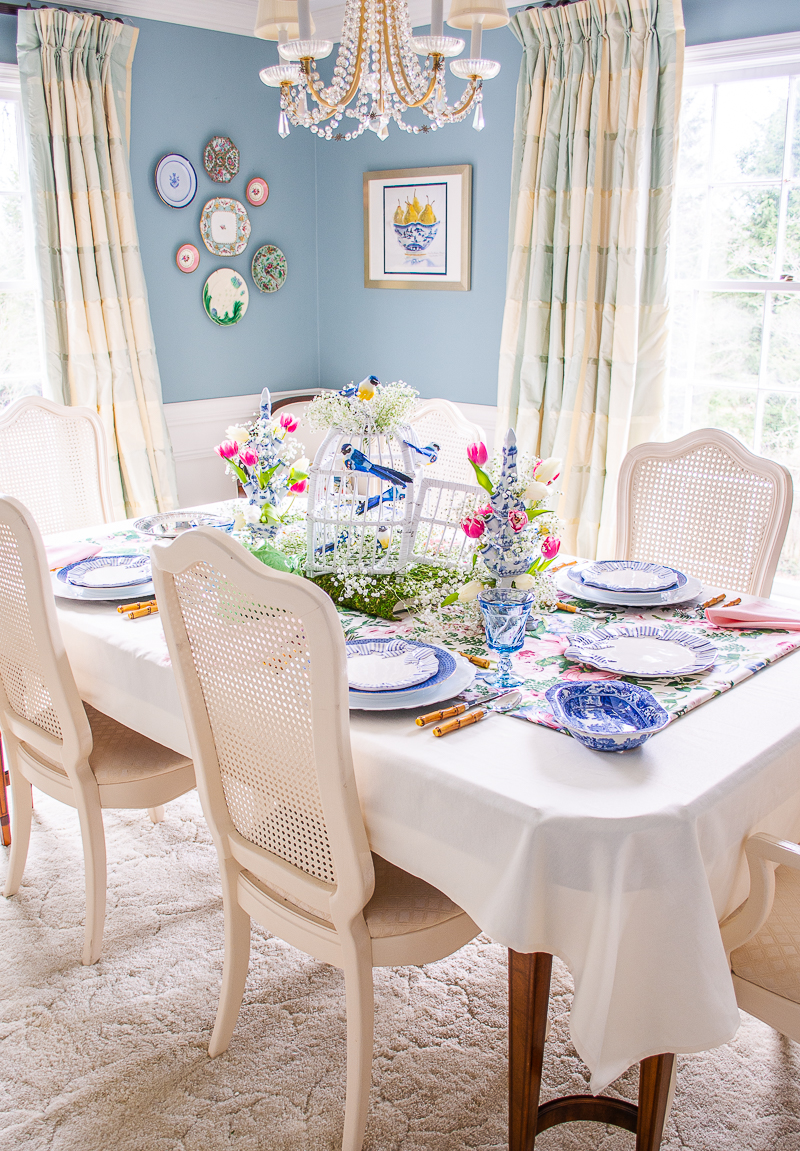 Ah spring! You just delight me with your popping buds, delicate unfurling leaves, and twittering songbirds!
In celebration of all the promise and joy you bring, I'm setting a whimsical tablescape with a fanciful baby's breath, songbird and tulipiere spring centerpiece.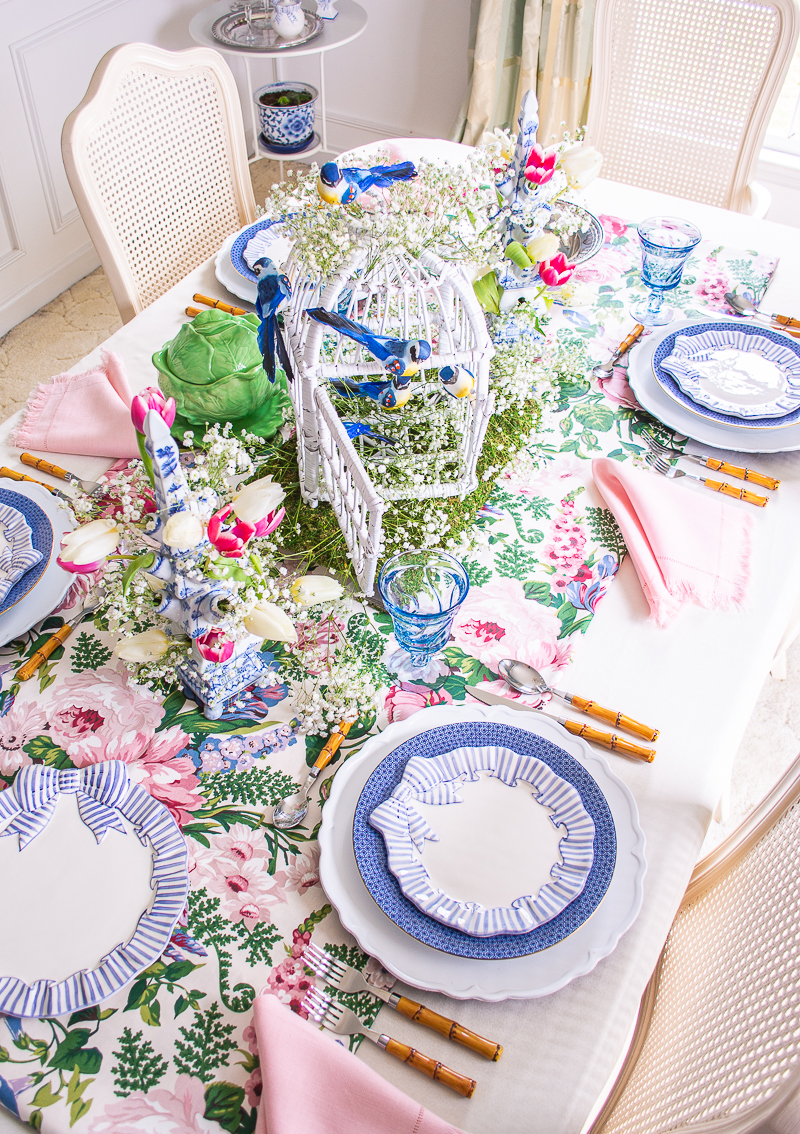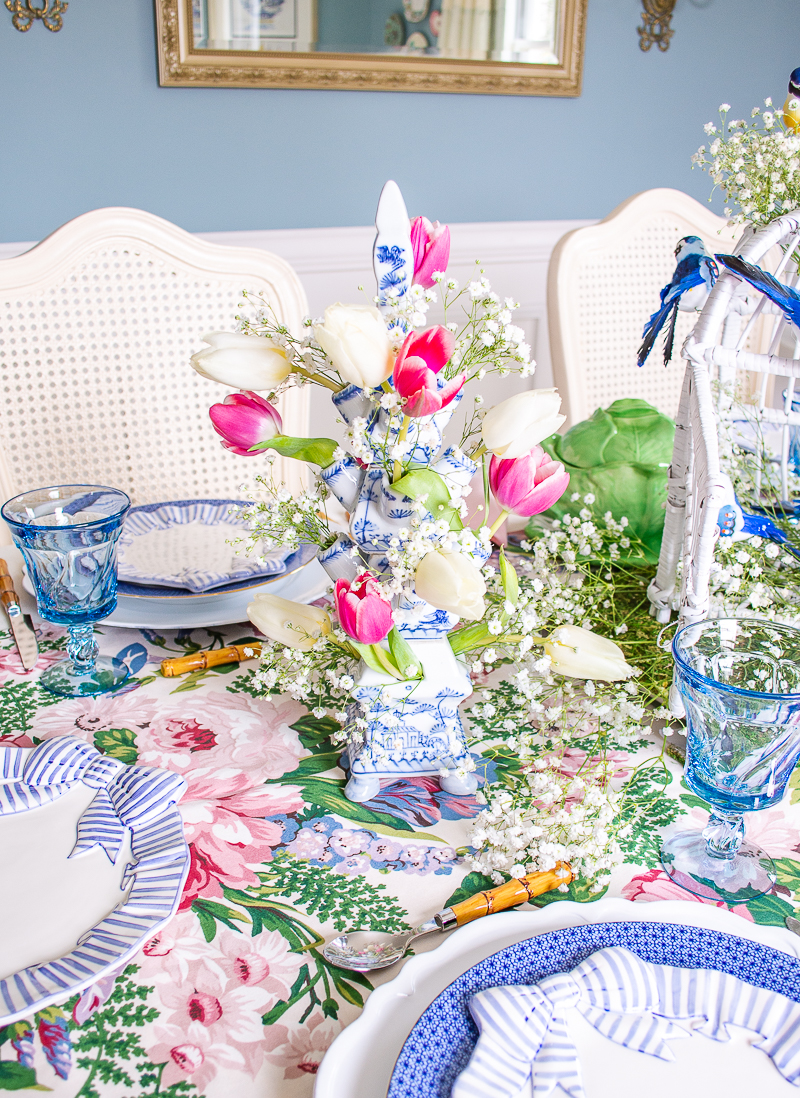 As many of my favorite tablescapes often do, this setting started with a beautiful fabric — "Spring Fever" from Waverly! I just couldn't resist the unfurling ferns, the striped tulips, pink daffodils, and other blushing blooms. This textile is truly a riot of spring!
Using it as the backdrop for my spring table, I let my imagination go and ended up with a romantic, whimsical tablescape filled with florals, blue and white, pretty songbirds, wicker, and delightful dashes of pink.
Magic happens when you let yourself dream and just play with a setting, forgetting convention or practicality!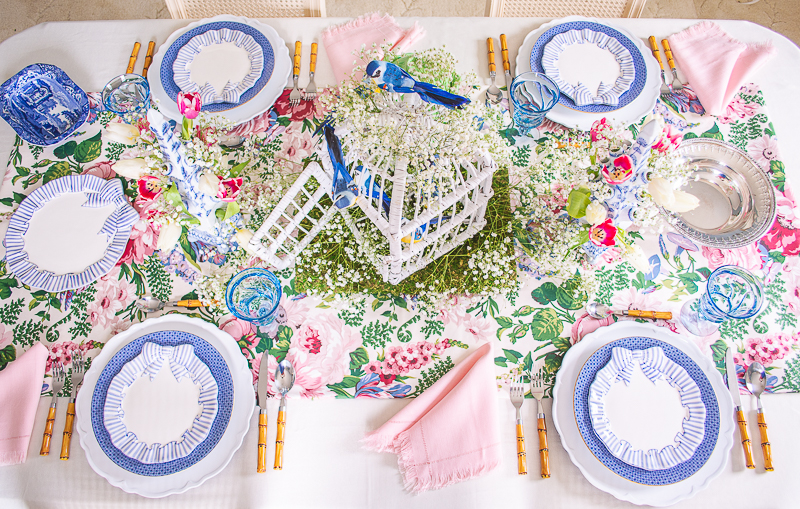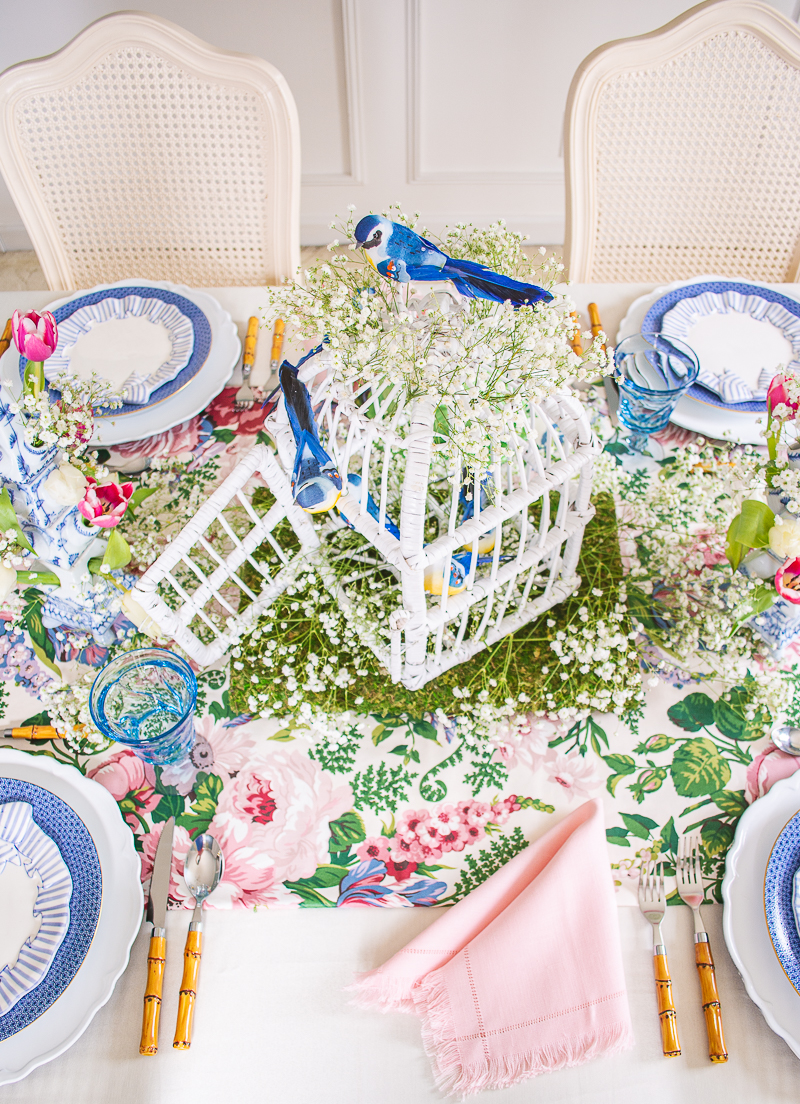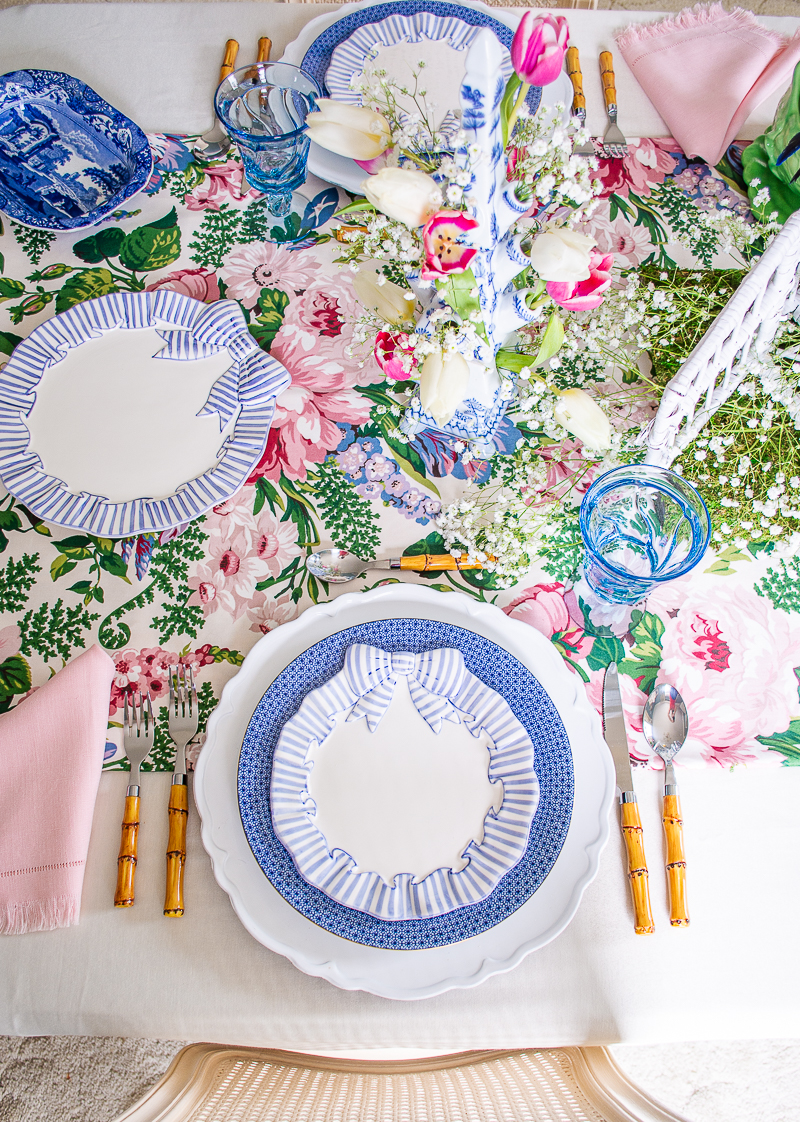 To offset the predominately pink and green table runner from Waverly, I created a place setting in blue and white, which compliments the tulipieres perfectly. The plate stack features Haldon Group striped bow salad plates and Mottahedeh blue lace dinner plates on top of a simple scalloped edge charger. Faux bamboo flatware adds a natural element and a pretty pink napkin casual placed to the side enhances the color palette.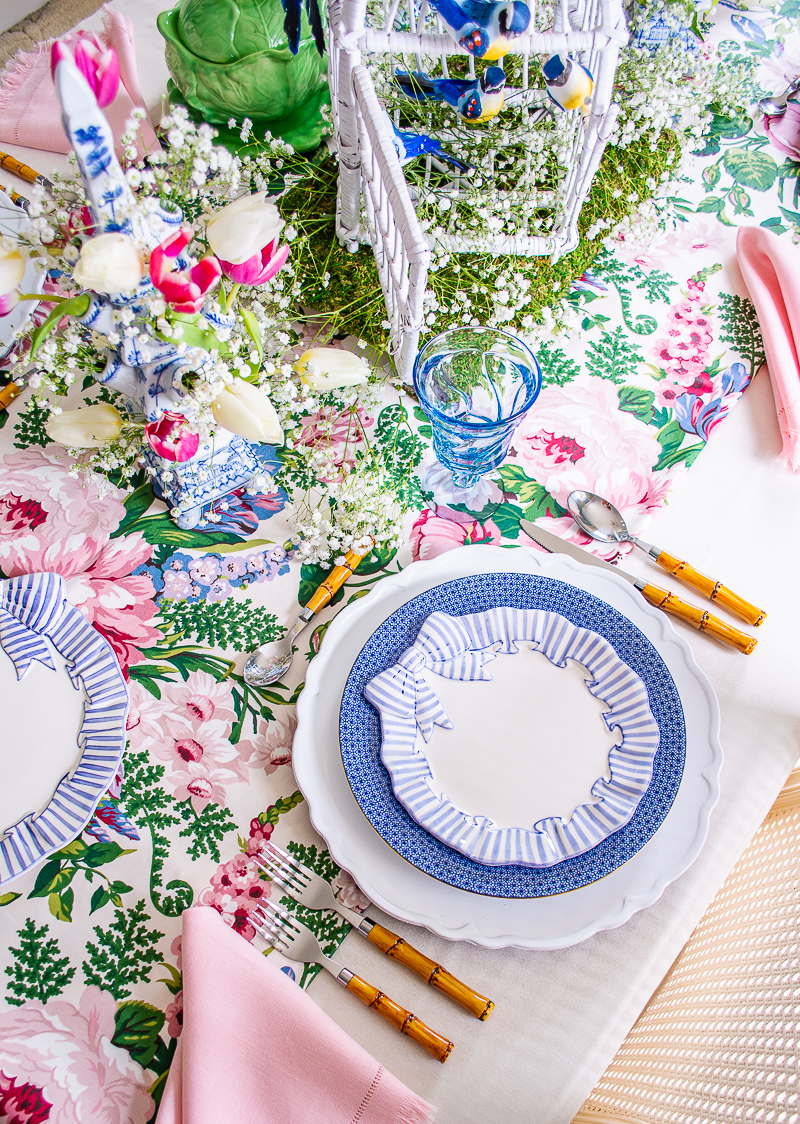 The end result is a gorgeous spring tablescape that would work beautifully for ladies' luncheons, wedding or baby showers, and of course Easter! The songbird and tulipiere spring centerpiece is easy to recreate with bunches of baby's breath, moss, tulips, a pretty birdcage, and feathered birds.
This tableware was sold March 2021 in Thursday night's Instagram flash sale at 8PM EST. I've linked to similar items here:
I hope the whimsy and romantic flair of this table inspires you to go for it this spring with your own fanciful tablescape!