The Traditional Designers Every Grandmillennial Should Know – Part I
Have you heard about…
The Prince of Chintz?
The legacy of American country style?
The timeless appeal of the English country look?
But not really sure who or what this all refers to.
Love traditional interiors and the grandmillennial look, but unsure which traditional designers to go to for inspiration?
This series is for you!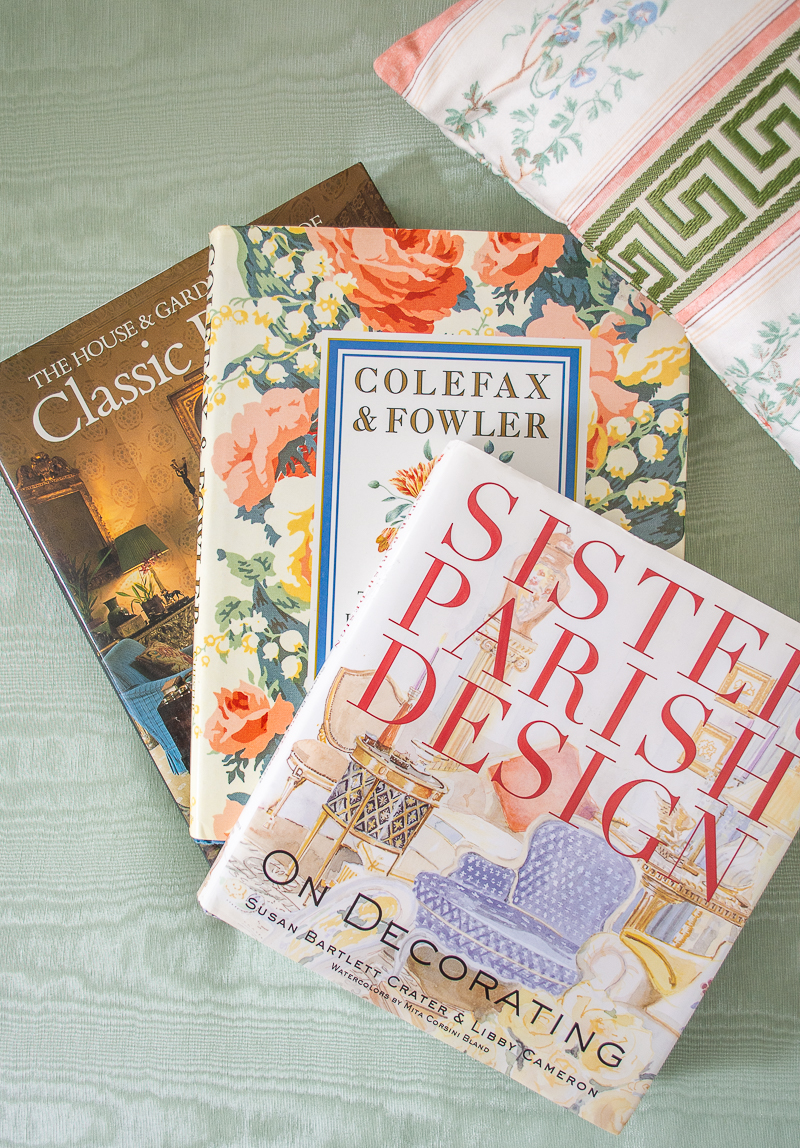 A significant component of grandmillennial style is looking to the past, particularly those classic designers who laid the groundwork for our aesthetic. Start by familiarizing yourself with the designs of Mario Buatta, Sister Parish, and Colefax & Fowler.
3 Traditional Designers Every Grandmillennial Should Know:
No. 1 Mario Buatta
Lauded as the "Prince of Chintz" and the "King of Clutter", Buatta is loved for his exuberant designs that melded English country style and American enthusiasm. Born and raised in Staten Island, New York Buatta longed to renounce his parents 1930's modern chrome and glass filled home for interiors with more antiques, more color, and more pattern. While he briefly explored architecture as a career path, he recalled:
"I went in for decorating—I didn't want to learn mathematics. I wasn't interested in how a house was constructed; I wanted to know about elements like moldings, columns, and shapes of rooms."
Buatta opened his own design firm at 28 years old and quickly became a star in the interior design world. Well known clients included the publisher Malcolm Forbes, Southern Charm's Patricia Altschul, society columnist Aileen Mehle, newscaster Barbara Walters, Jacqueline Onassis, Vogue fashion editor Gloria Schiff, and even pop star Mariah Carey.
What Buatta is known for – chintz (he even had suits crafted out of his favorite Lee Jofa floral); jaunty silk bows; walls laden with porcelain on gilt shelves and ornately framed paintings of dogs; humorous quips; color, color, color!
Grandmillennial Takeaway:
The effortless mix of color and pattern! Look at the way Buatta blends bold color and pulls it all together with pattern and art.
Read this:
Architectural Digest's Remembrance Article
Mario Buatta: Fifty Years of American Interior Design
No. 2 Sister Parish
Sister Parish, born 1910 Dorothy May Kinnicutt, is an American design legend synonymous with traditional interiors who put the American country look on the map. Her preppy, New England interiors were whimsical, eclectic, light and imperfect in the best of ways. She mixed high and low: ticking stripe fabric with Chippendale antiques; Aubusson rugs with patchwork quilts; and exotic woods with white-washed wicker.
Part of a well-connected, prominent New England family, Sister was exposed to good art and antiques early on, but she was a largely self-taught decorator who first garnered clients among her own social circle that loved what she had done with her own home. After some three decades designing on her own, she joined with Albert Hadley to create the firm Parish-Hadley Associates in 1964. Their client list reads as a who's-who of the American social scene: Astor, Getty, Vanderbilt, Whitney, Paley, Mellon, and Rockefeller not to mention Jacqueline Kennedy and the White House.
What Sister Parish is known for – a lived-in whimsical aesthetic that reached in to the past for the best in furnishings, but felt decidedly American and cheery. As Sister put it:
"Innovation is the ability to reach into the past and bring back what is good, what is beautiful, what is useful, what is lasting."
Grandmillennial Takeaway:
The cozy eclecticism that feels collected and carefree. Look at the way Sister Parish blends mis-matched furniture and humble textiles.
Read this:
Sister Parish: The Life of the Legendary Interior Designer
Sister Parish Design: On Decorating
Architectural Digest's "Sister Parish"
No. 3 Colefax & Fowler
"I like the decoration of a room to be well behaved but free from too many rules; to have a sense of graciousness; to be mannered, yet casual and unselfconscious; to be comfortable, stimulating, even provocative, and finally to be nameless in period – 'fantaisie' expressing the personality of the owner." – John Fowler
You might recognize the name Colefax & Fowler in relation to beautiful fabrics and particularly the much coveted bowood chintz. But Colefax & Fowler, has contributed so much more than fabric to the design world, and in fact most credit this design firm with the English country house look of the 20th century. The firm was a partnership started in the 1940s by Lady Sibyl Colefax and John Fowler.
Colefax was a London society hostess known for her exceptional taste, and after a devastating financial blow from the events of 1929, she decided to start a decorating business catering to her highborn friends. She helped develop a 'mend and make do' aesthetic that infused comfort into the stuffy formality of English ancestral homes. This style was then further developed by John Fowler and Nancy Lancaster, who bought the firm in 1948.
What Colefax & Fowler is known for – a refined blend of elegance and comfort, mixing prized family heirlooms with modern amenities. Some staples: faded chintz, cozy sofas, applied paint finishes, curated details.
Grandmillennial Takeaway:
The orchestrated yet comfortable arrangement of furniture. Look at the way Colefax & Fowler blend antiques and modern furnishings to create conversational groupings.
Read this:
Colefax & Fowler: The Best in English Interior Decoration
"Style File: Sibyl Colefax & John Fowler"
"Decorators to Know: The Founders of Colefax & Fowler"
Stay tuned for Part II of the traditional designers series!