How to Turn Trinket Dishes into Ornaments
Try my simple 3 step process to turn vintage trinket dishes into ornaments for Christmas like I did with my collection of Wedgwood Jasperware.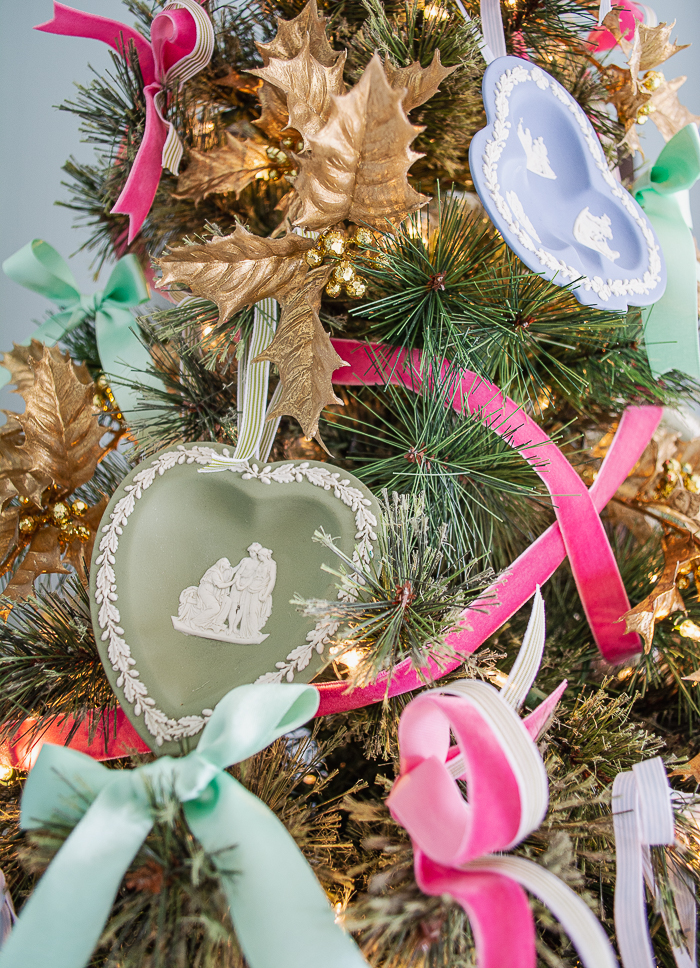 You can take beautiful vintage trinket dishes, butter pats, ashtrays, or small plates and turn them into Christmas ornaments in a snap with my easy method, and the best part is you won't damage the dishes at all! They can be turned back into trinket dishes for tables or hung up on a gallery plate wall!
If you read my Chinoiserie Christmas inspiration post, you know that one of my themes for 2020 is Georgian Chinoiserie Garden. Wedgwood's Jasperware line with Classical scenes and motifs was greatly influenced by the rage for all things Greek and Roman in the Georgian period. Of course, I had to use some of these charming ceramics in my Christmas decorating for this theme!
Small Jasperware trinket dishes and ashtrays are pretty easy to find at reasonable prices. They come in beautiful pastel colors, and the design is timeless, elegant, and the high contrast silhouette cameos have a graphic quality that is modern feeling. I love Wedgwood Jasperware, so I decided to turn these sweet little novelties into Christmas ornaments.
I think my Wedgwood Jasperware tabletop Christmas tree turned out beautifully! What do you think?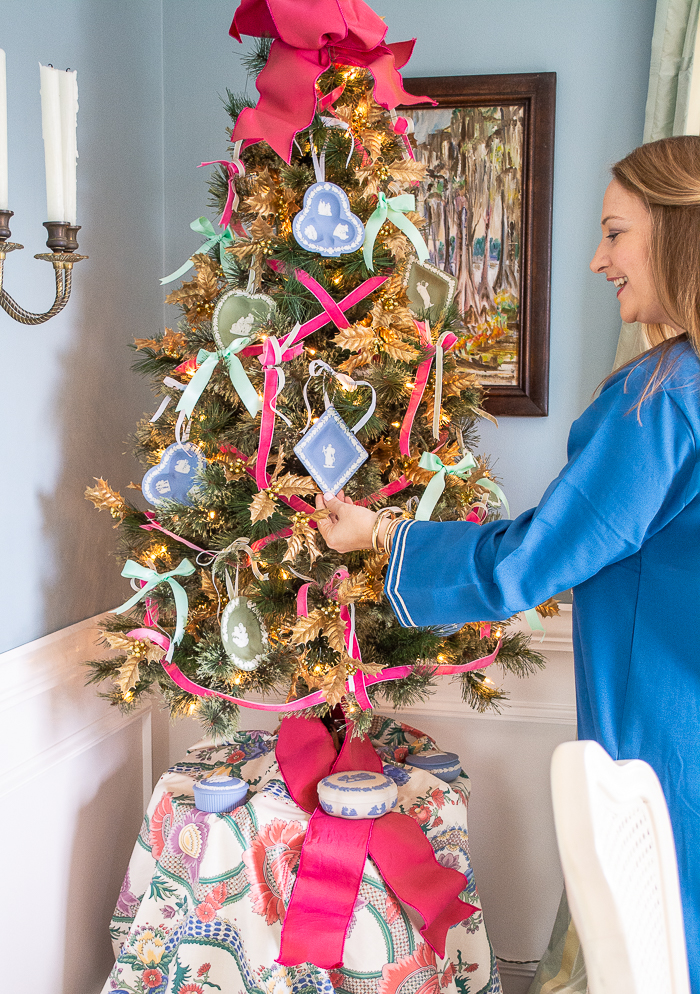 Materials to Make Trinket Dishes into Ornaments
A collection of small dishes: Jasperware nut dishes or ashtrays for example. You could also use porcelain butter pats or other small dishes in a pattern and style you love.
Flatirons disc adhesive plate hangers – 1.25″ or 1.5″ diameter
A small bowl of water
Ribbon and scissors
3 Steps to Turn Trinket Dishes into
Ornaments for Christmas:
Set up a little bowl of water. Dab your finer in the water and then wet the back of the disc plate hanger where the glue is. Wet the disc until the yellow fabric becomes flexible.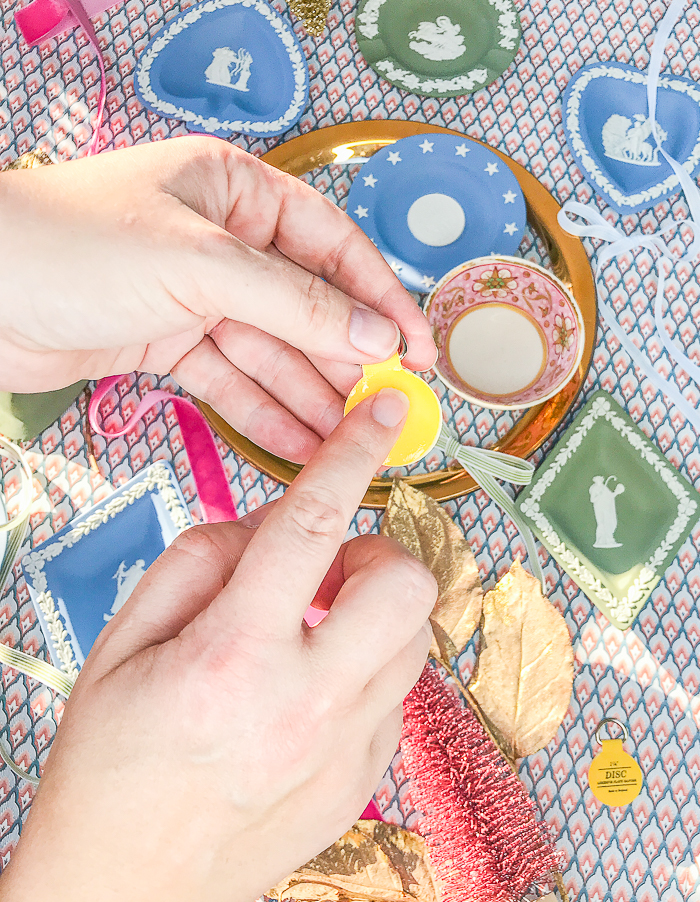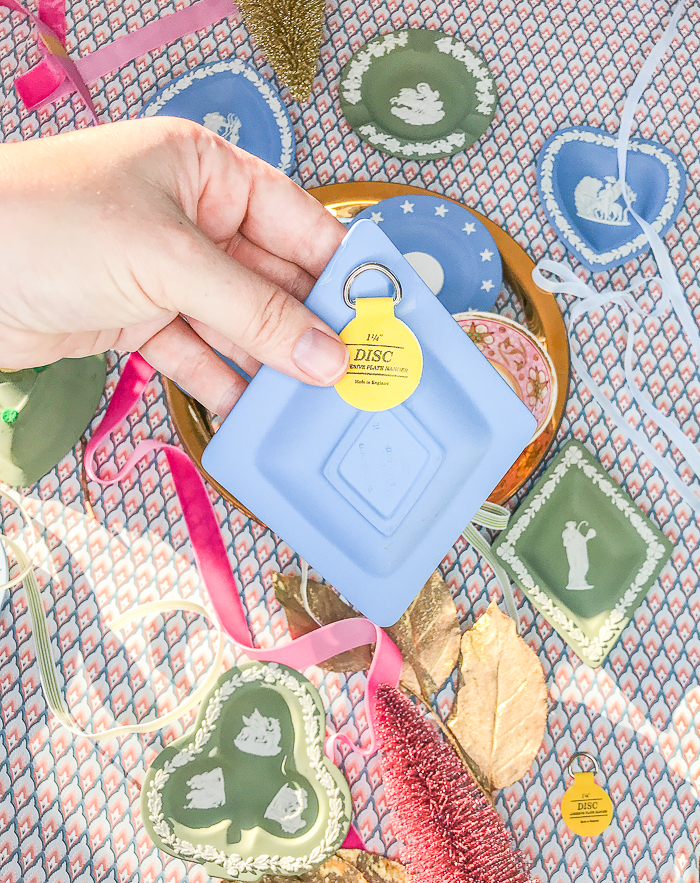 Step No. 2 Place Disc Hanger on Back of Trinket Dish
Put the hanger near the top of the dish with metal ring just below top edge. The hanger needs to be near the top so the plate hangs level once on the ribbon. Firmly press the yellow pad on the back of the dish and hold down until the adhesive sticks. You may have to double check it stays down for a few minutes.
Set aside in safe place and let it sit over night.
Step No. 3 Cut Ribbon & Tie Bows for Hangers
Choose coordinating ribbons for your trinket dish ornaments. Cut about 12 inches of it to make bow hangers for each trinket dish. I tied my bows at the top, but you could also put the bow down near the top of the plate.
Hang them on your Christmas tree and enjoy!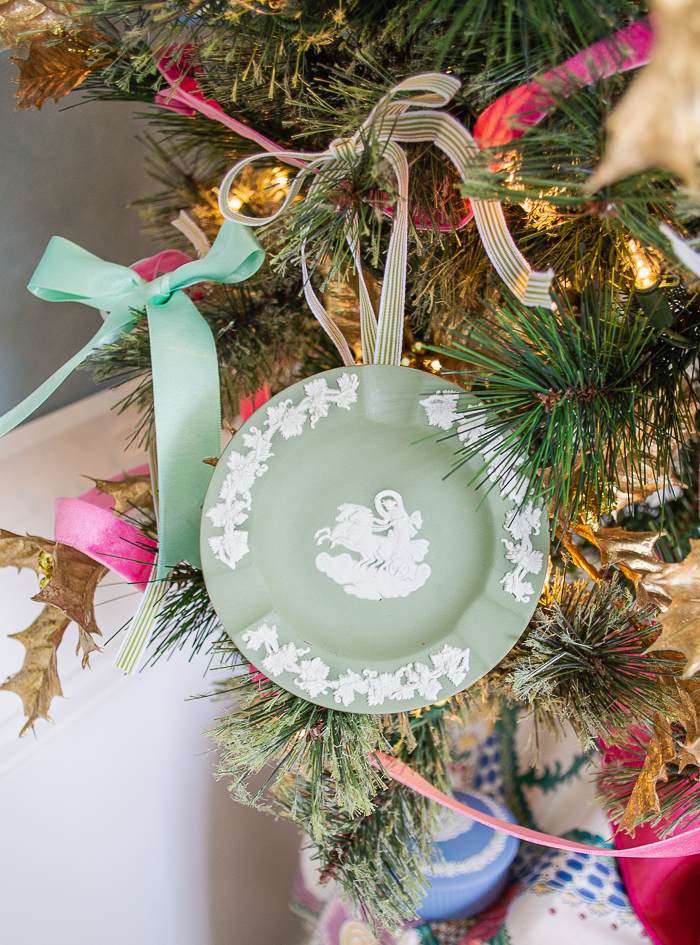 What an easy method to turn vintage trinket dishes into ornaments for Christmas, right?
The best part is you can do this with any pretty plate you want. If you choose to make ornaments out of larger plates like bread and butter size or bigger get Flatirons discs in a bigger diameter. Looking for other unique Christmas ornament ideas made out of vintage pretties? Check out this post!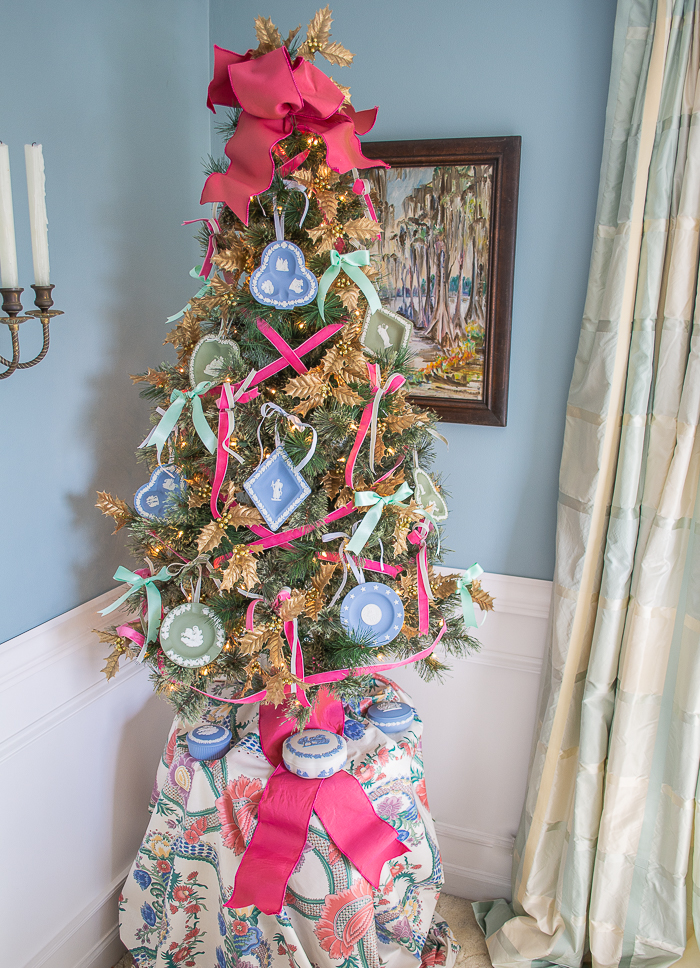 I hope you all have fun with these DIY ornaments and feel inspired to create your own! If you want to replicate this DIY with Jasperware, I will be offering several trinket dishes for sale in a special Christmas ornament sale on Tuesday November 24th on my Instagram.
Merry Christmas Lovelies!
This post is part of The Southerner's Guide to Charming Christmas Decor. Sign up for the P&P Social Circle for access!