Patriotic Table Decor for July 4th
Mix antique china with Indian block print and rustic wicker with cheery hydrangeas for festive patriotic table decor this July 4th celebration!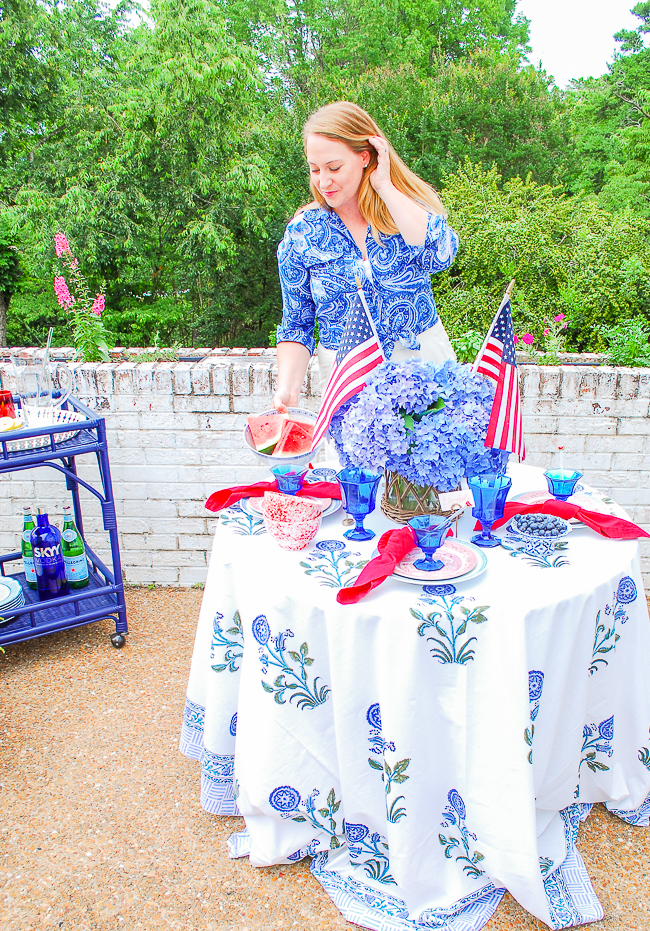 The official start to summer is just days away. It's time to start thinking about Independence Day celebrations and backyard BBQs!
The smoky smell of roasting pork…
The crackle and fizz of sparklers…
The juicy sweet drip of watermelon…
The sultry heat…
The red, white, and blue…
July 4th is absolutely one of my favorite holidays, and it makes me nostalgic for big family gatherings, festive parades, chasing fireflies, and blankets under the stars as the bright flash of fireworks explode. As a kid out in the country on our family's farm, there weren't any big fireworks displays close by. Instead my older brother and his friends would talk mom and dad into funding our own show.
The boys would pick out fire crackers, fountains, and their favorite…Roman candles for an exciting if modest show. We sure did enjoy the noise, bright lights, and running from the lit fuse!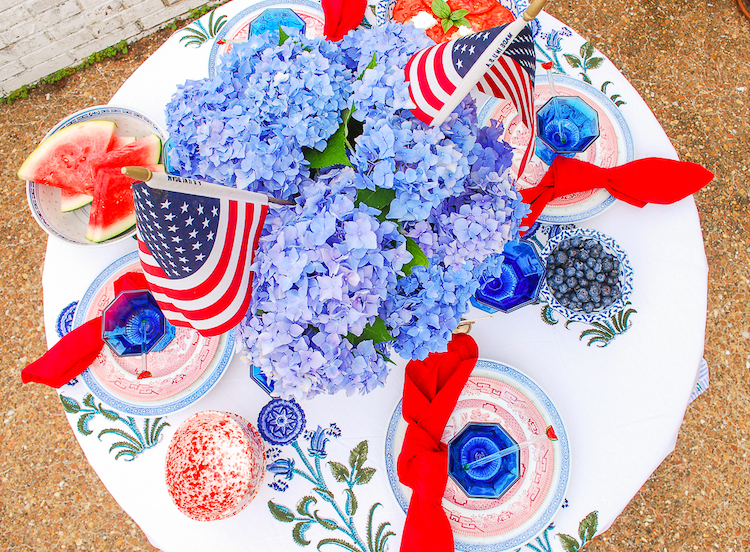 I couldn't remember the last time I set a patriotic tablescape for the 4th, so I decided to go all out this year, heaping on the red, white, and blue!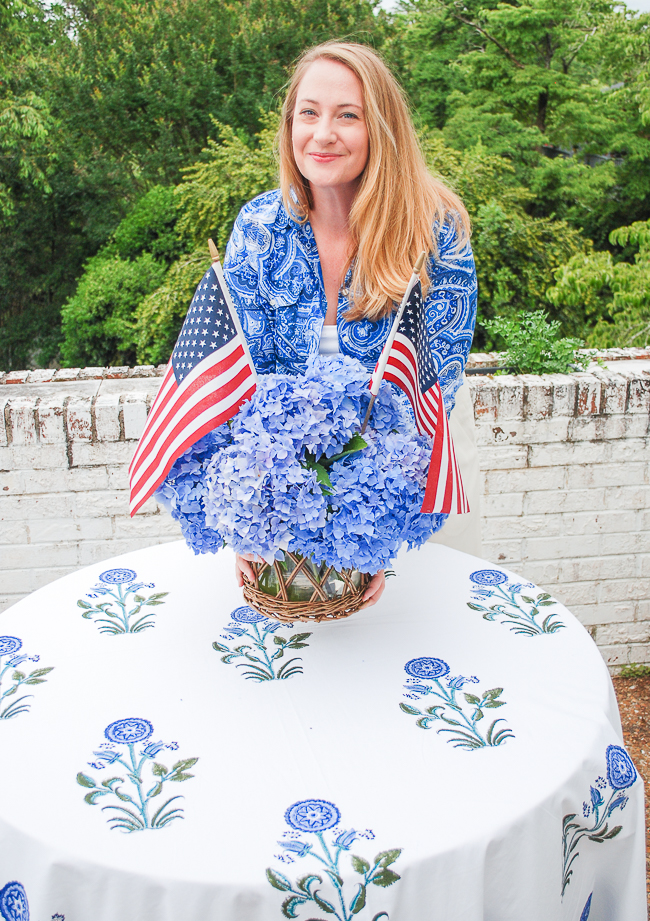 July 4th Tablescape Stars
The whole table started with this blue hydrangea centerpiece. Thanks to the previous owners of our home in Clinton, we have two magnificent hydrangea bushes in the yard. Each summer I cannot wait for them to bloom, so I can clip stems and fill our house with their glorious color. I nestled these hydrangea in a rustic chic wicker wrapped vase with two U.S. flags.
If you are lacking a bush in your yard, politely steal from the neighbors or you'll find most groceries are carrying these beautiful blooms year round!
I adore wicker wrapped vases for floral arrangements and to use as hurricanes for candles. Recently, I found a wholesaler offering reasonably priced versions.
The other show stopper for this July 4th tablescape is this gorgeous Indian block print tablecloth. I have honestly been looking to add this style tablecloth to my collection, and this seemed like the right occasion. I love the big bold abstract floral pattern in blue and white with touches of green. It is just such a chic look that can be used for so many other occasions. The tablecloth is a real steal and on sale here!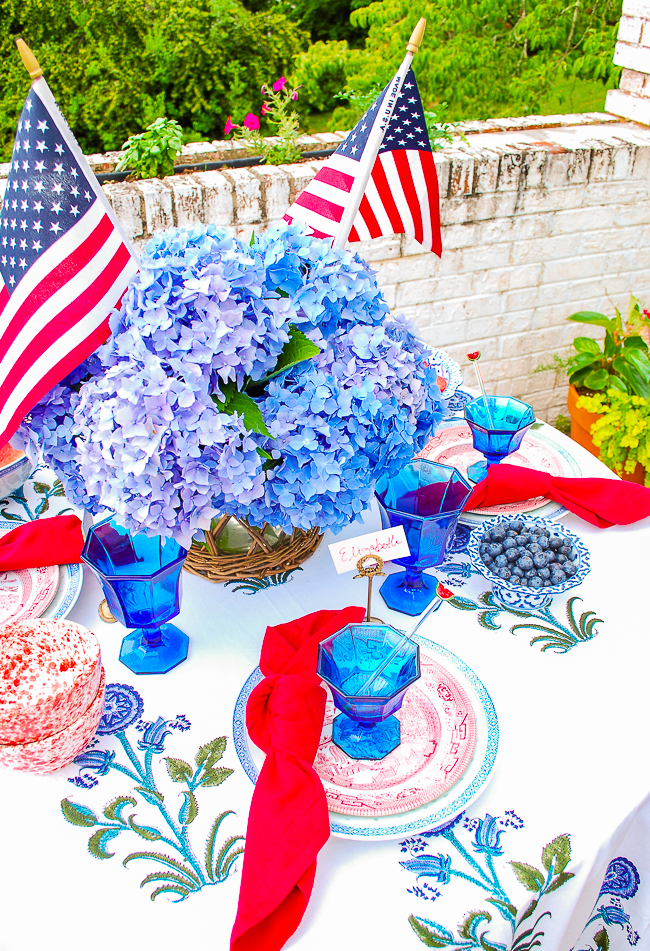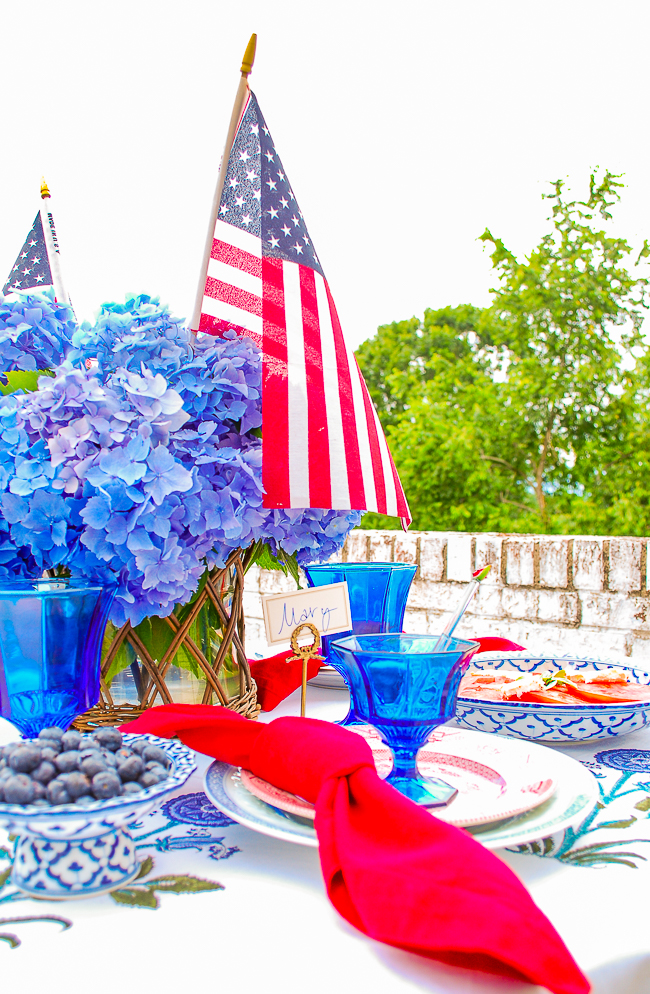 For my patriotic table decor I chose to stick with a red, white, and blue theme to celebrate the U.S.A and Independence Day, but I avoided using star and stripe patterns in the tableware, so that the table feels sophisticated and not kitschy. The mix of chinoiserie accents also ups the sophistication.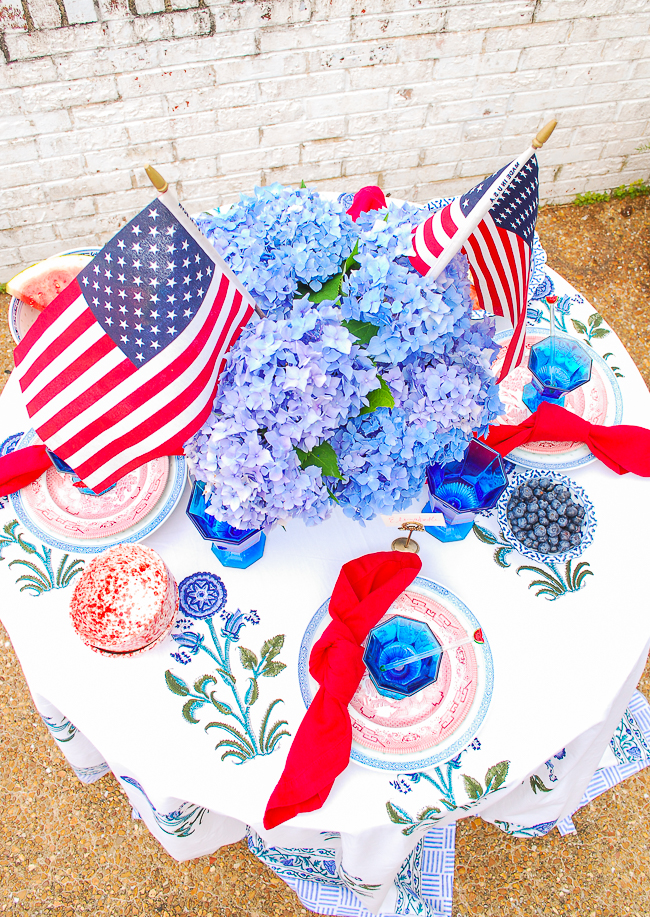 Patriotic Table Decor Details
Available at my June 25th Instagram Sale:
8PM EST 6/25/2020 — Follow me on IG
Cobalt Blue Independence Crystal Water Goblets – Set of 4
Cobalt Blue Independence Crystal Sherbets – Set of 8
Red Willow Churchill Salad Plates – Set of 3
Rice Eye Chrysanthemum Dinner Plates – Set of 4
Thai Pineapple Pattern Serving Pieces
Laurel Wreath Place Card Holders
Glass Watermelon Drink Stirrers
Red & White Splatter Ware Bowls – Set of 2
Additional July 4th themed tableware and decor will be available not pictured here.
Buy Online:
Indian Block Print Tablecloth – (shipped from India allow 10 or so days)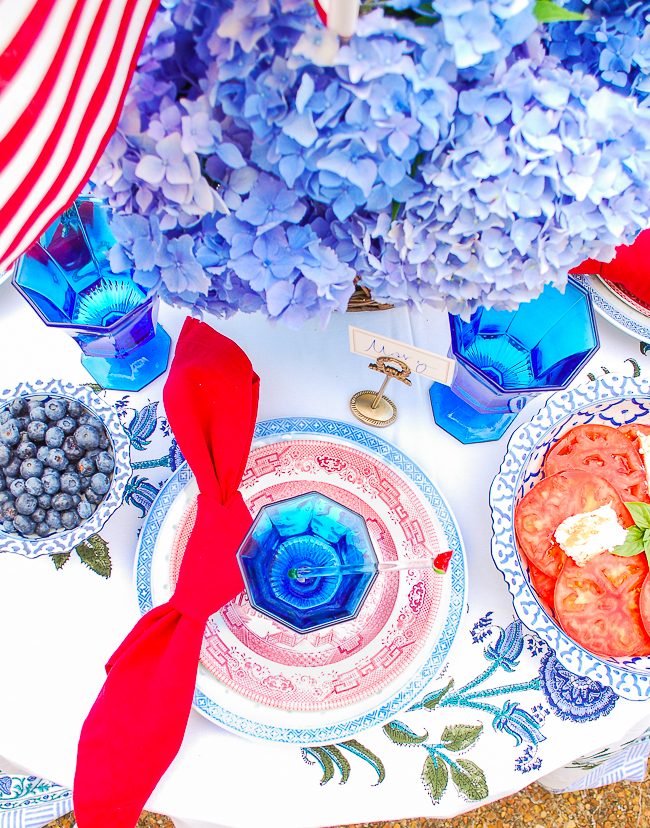 Y'all know how I love a charming china stack, so I couldn't resist paring these blue rice eye dinner plates with a set of red willow Churchill salad plates. For a fun twist I placed the Independence Crystal cobalt blue sherbets on top. You can use these for fruit, desserts, or of course cocktails! For that finishing touch, I tied a cherry red napkin in a knot and placed it to the side. At the head of each setting is a classic laurel wreath place card holder and that completes my July 4th tablescape with all the elegant patriotic table decor.
Additional Tableware Picks for Your July 4th Table: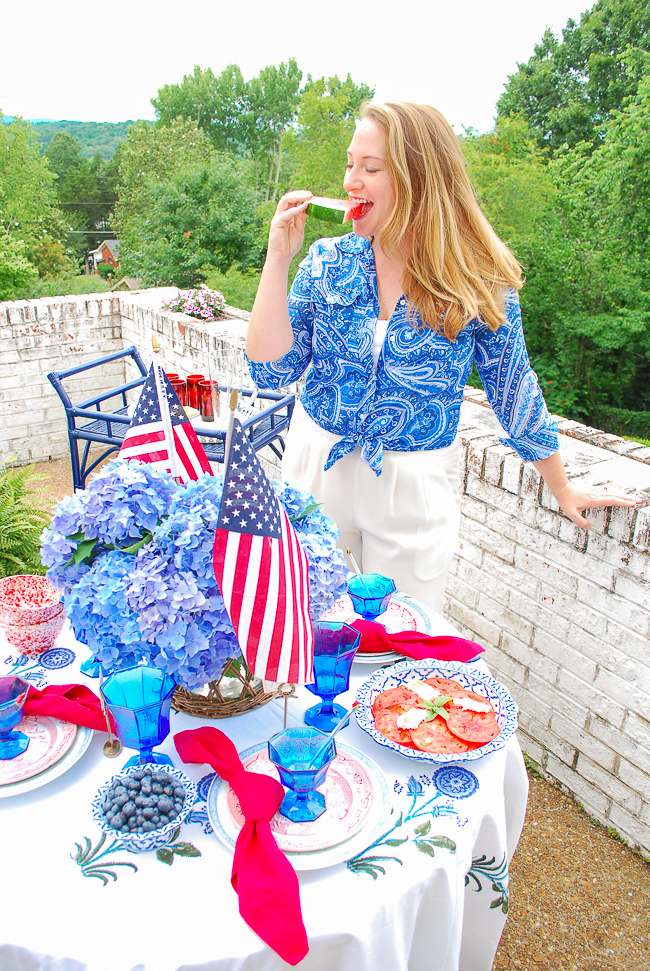 Let's dig in to the watermelon y'all!
Happy Independence Day!