2 Easy Recipes for Tostadas
Tostadas: an easy summer meal with endless possibilities.
With all the extra meals I've been preparing at home lately, I am looking for recipes that are simple but versatile — easy to make but special. I've discovered that tostadas match those wishes perfectly!
Tostados are a Mexican deep-fried tortilla topped with a seasoned mixture of beans, ground meat, and/or vegetables. The endless possible toppings and combination of toppings are what make this dish versatile and special. The cooking is straightforward and rather limited actually since many of the toppings are best raw.
Today, I'm sharing two recipe versions of chicken tostados that you can make within 45 minutes or less and customize the toppings to suit you and your family.
The Chicken Tostadas Basics
First, let's start with the foundation for both of these recipes: corn tostadas and stewed chicken and tomatoes.
Serves 6
Ingredients:
Package of corn tostadas like Guerrero
1 lb pack of boneless and skinless chicken thighs
1 10 oz can of Rotel – tomatoes and green chilies
1/4 cup chicken stock
1 Tbs fresh lime juice
To Make:
In a medium pot mix your chicken thighs with the can of Rotel and 1/4 cup of chicken stock. Bring to a boil then reduce heat to simmer covered for 30 minutes to an hour. Cook until chicken starts to fall apart and you can shred it with two forks.
Note: you can also do this in a crockpot if you want to dump it and leave it.
The chicken mixture should be fluid but not soupy, so if there is too much liquid after shredding turn up the heat and bring to a low boil uncovered to burn off some of the liquid.
Finish with a squeeze of lime juice.
If you like spicy foods, you can add jalapeños or other hot peppers into the chicken mixture when cooking.
Toast the corn tostadas in the oven until crispy, usually about 3-4 minutes.
Layer the tostada and then the chicken and tomatoes. This is the foundation for these two recipes, and really you could mix up any toppings your tastebuds desire. It might be fun for kids to have their own tostada bar where they mix and match different toppings.
Chicken Tostadas with Lentils & Zucchini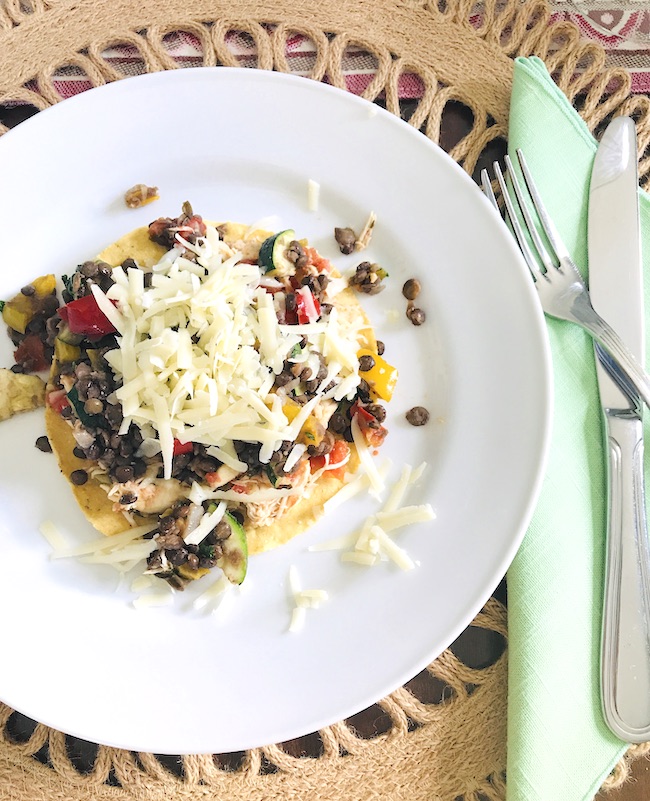 One of my favorite toppings to add to chicken tostadas are lentils and zucchini. Lentils add a nutty earthy flavor and extra protein, while zucchini punches up the health factor and adds a sweet note.
Cook the lentils according to the package instructions, usually takes about 15 minutes.
While those are bubbling away, sauté 1 whole large sliced zucchini; 1/4 of a cup yellow and red bell pepper each; and 1/2 a cup diced onion in a pan with some EVOO, salt and pepper to taste, and a pinch of cumin.
Grate a cup of sharp white or yellow cheddar cheese.
Once the lentils are cooked, layer those and the veggies on top of the chicken tostada then sprinkle a bit of cheese to finish.
Chicken Tostadas with Cabbage & Radish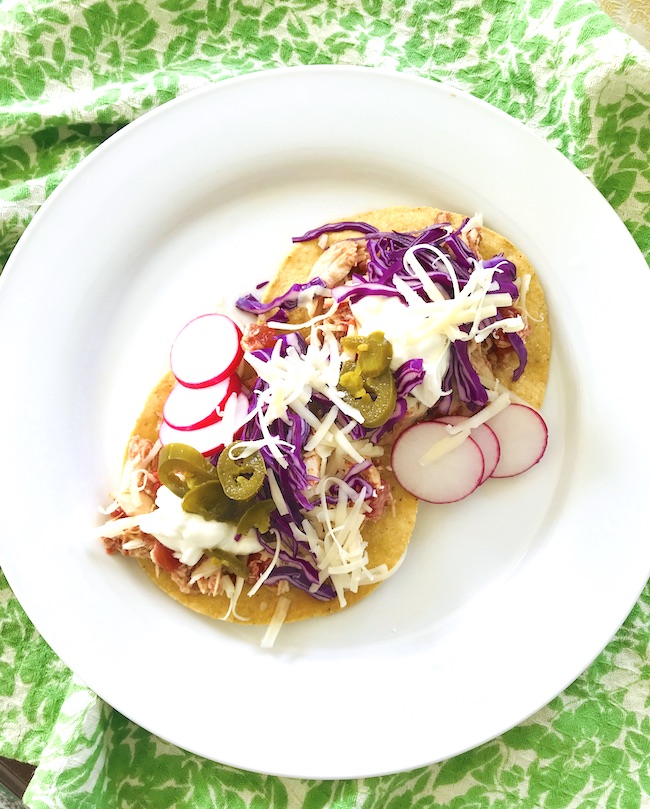 Another unique tostada combination that has extra crunch and unexpected spice involves shredded purple cabbage and radishes.
This combo is especially easy because there is no extra cooking just slice up about 2 cups of purple cabbage and 3 to 4 large radishes.
Don't forget to grate some cheese.
Sprinkle cabbage on top of chicken tostada then add a dollop of sour cream (or plain Greek yogurt), a pinch or two of cheese, several radish slices, and pickled jalapeños as desired.
You'll be shocked by how pleasing the crunch of the cabbage is with the earthy spice of the radish!
Really the possibilities of tostadas are endless. I also love to mix in black beans, avocado, and/or fresh salsa. You can base the toppings off of your tastebuds and preferences and what you have available in the pantry.
These are so great for summer evenings when it is hot and you don't feel like cooking much. Make an extra pack or two of the chicken and tomato mixture for freezing or for meals over the next several days.
Happy Cooking Y'all!