The Perfect Summer Picnic for Two
Throw the perfect summer picnic for two this July 4th with the right picnic food, portable baskets, gingham accessories, and sunflowers!
S. and I love to go on picnics. Sometimes it is as simple as grabbing a Bo-box (yes, one of our guilty pleasures is Bojangles fried chicken) and heading up to the parkway, and other times our summer picnics are more elaborate affairs. July 4th presents the perfect opportunity for one of these more polished picnics, since we usually head out to a POPs concert or fireworks display. Today, I'm sharing 5 secrets to throw the perfect summer picnic for two and a recipe for my Italian orzo salad.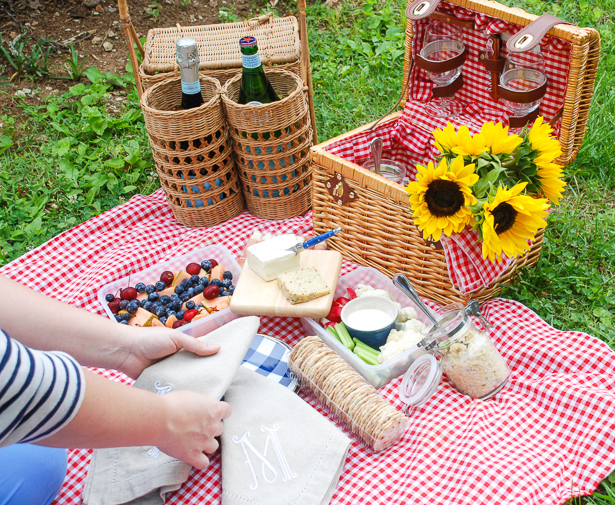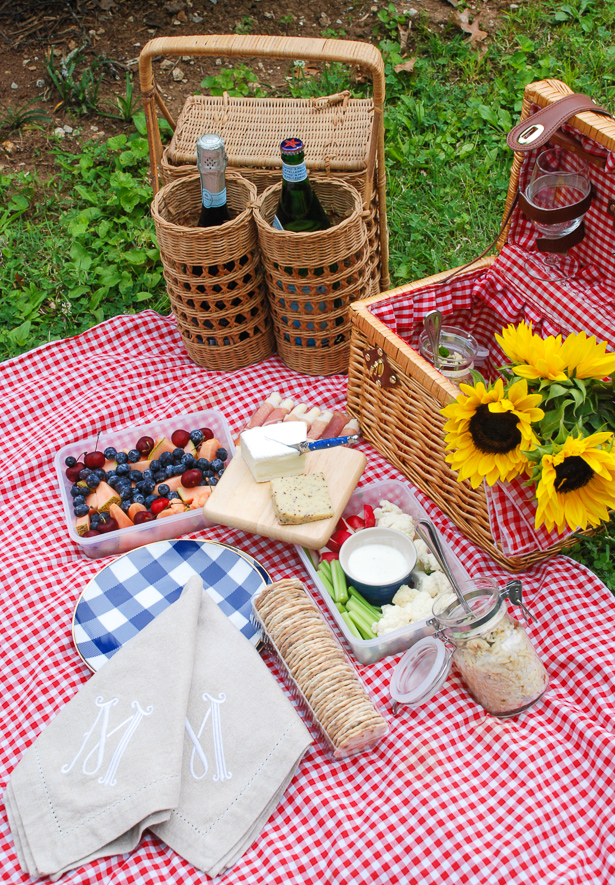 *This post contains affiliate links.*
Summer Picnic Secret No. 1
A well executed picnic is basically a small transportable party, so you have to think it through from the food and drinks to the eating utensils and seating. Start with a picnic basket set and the right sealable containers. A set makes it easier on you when packing everything up, and sealable containers are vital for transporting your picnic food with out mess.
Both of my picnic baskets are vintage finds from antique stores that I purchased very cheaply ($30 for the picnic basket set and $12 for the wine basket). The picnic basket set includes 2 glasses, a wine opener, a cutting board and knife, 2 napkins, and a table cloth. This way I never have to worry about packing those items each time we picnic because they are already in the basket. Here is a similar set for two and one for four. If you want something more elaborate check out this one and this one.
Summer Picnic Secret No. 2
Set a romantic scene. Choose the right picnic area on fairly level ground in a pretty spot preferably in the shade. You can even do it in the comfort of your own garden if you'd rather not have to be out in public, that way you can choose between your teak garden bench or setting up on the grass. If you are at an outdoor concert or fireworks display, see if you can find a spot a little removed from the crowds. Then set a pretty picnic "tablescape." Choose stylish and festive linens and serving ware. Add in some pretty sunflowers, and voila a romantic picnic for two!
Don't you love my blue gingham plates? I got them last summer from Mark & Graham.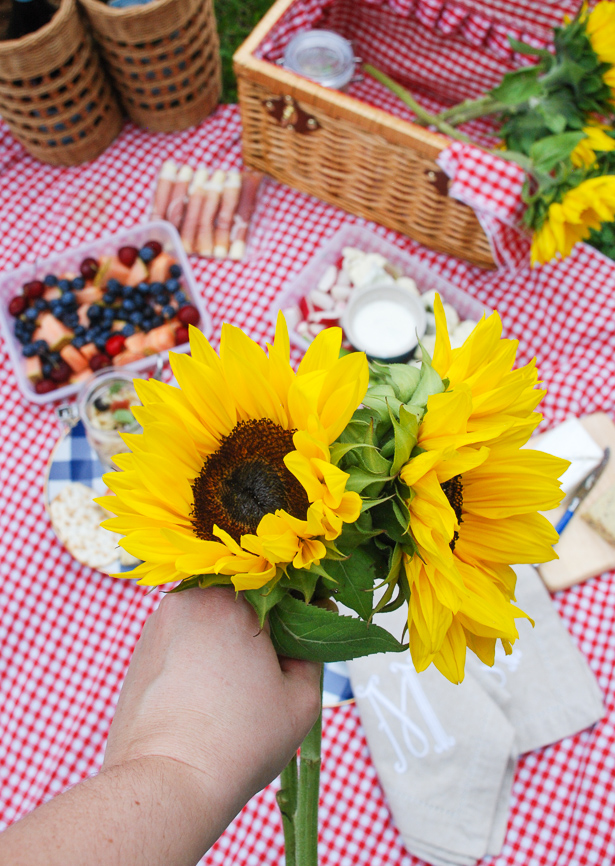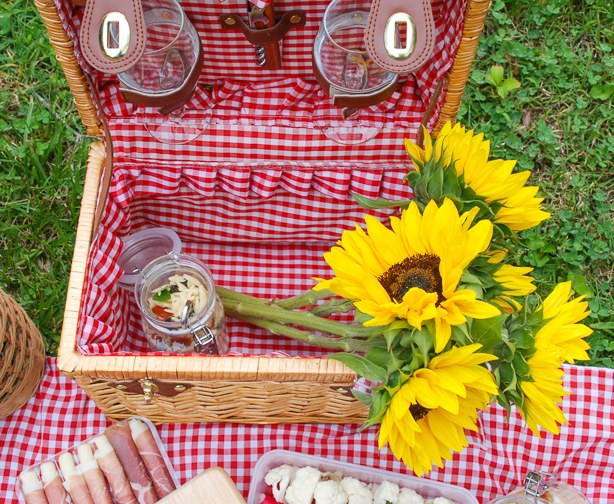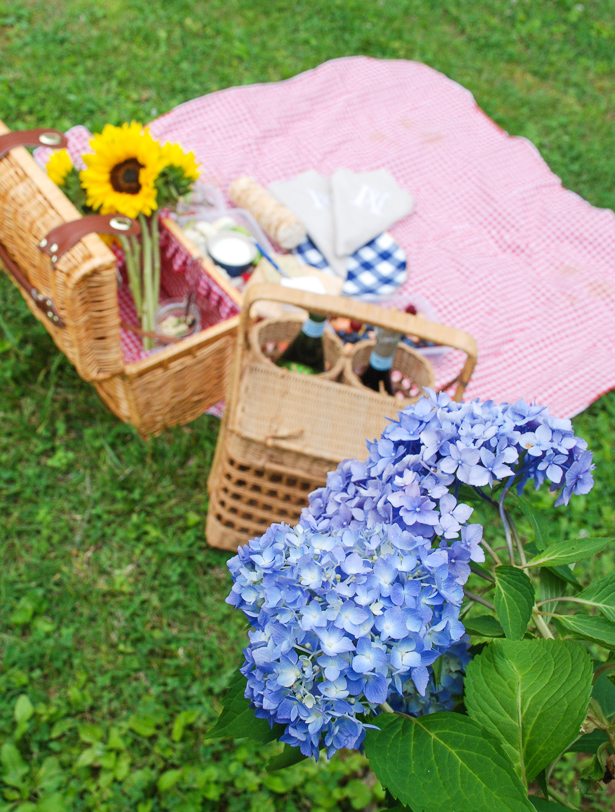 Summer Picnic Secret No. 3
This may seem obvious, but be sure and plan to take picnic food that is easily portable, mess free, and summer appropriate. You want finger foods and easy to serve options. Furthermore, since it will probably be hot, you want light foods that are safe outside in hot weather. Think fruit, sandwiches, veggies, pasta salads, and cheese boards.
For our July 4th picnic, I packed assorted fruit, veggies with a ranch dipping sauce, cheese and crackers, and prosciutto wrapped mozzarella. I also made my Italian orzo salad and packed it in individual mason jars. This pasta salad is light and refreshing with tomatoes, pesto, and olives. I'm sharing the recipe for it below!
Summer Picnic Secret No. 4
Think about comfort while picnicking. You want to enjoy the moment and being outside in each other's company not swatting at bugs, so pack plenty of sunscreen and insect repellent. Plus think about throwing in some pillows to lounge on. Be sure to take plenty of water in addition to your celebratory drink of choice. You don't want to get dehydrated while outside.
Oh, and wet wipes are good!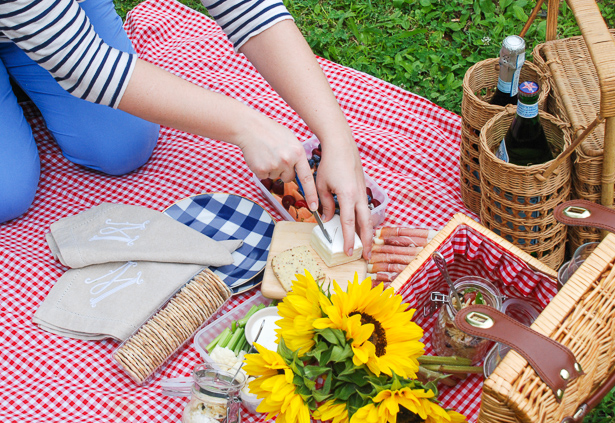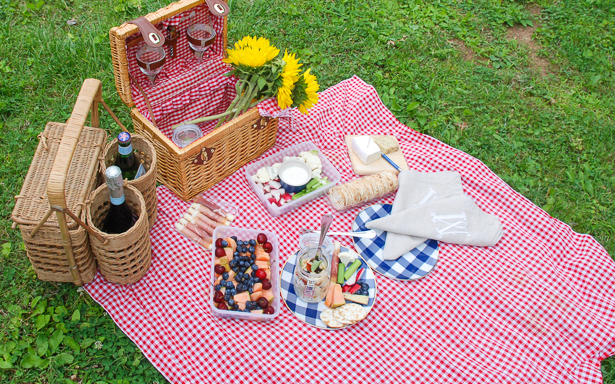 Summer Picnic Secret No. 5
Plan for the unexpected. I cannot tell you how many times S. and I have been enjoying a picnic and a summer thunderstorm blew in. Take an umbrella out with you and a few garbage bags. The garbage bags are perfect for covering up things you don't want to get wet, and if the storm passes quickly you can use them to cover the ground and sit on.
Here are some other picnic accessories I'm loving:









Pillows // Drink Table // Plates // Chair // Barbecue Tools // Blanket // Water Bottle // Picnic Recipes Book // Picnic Basket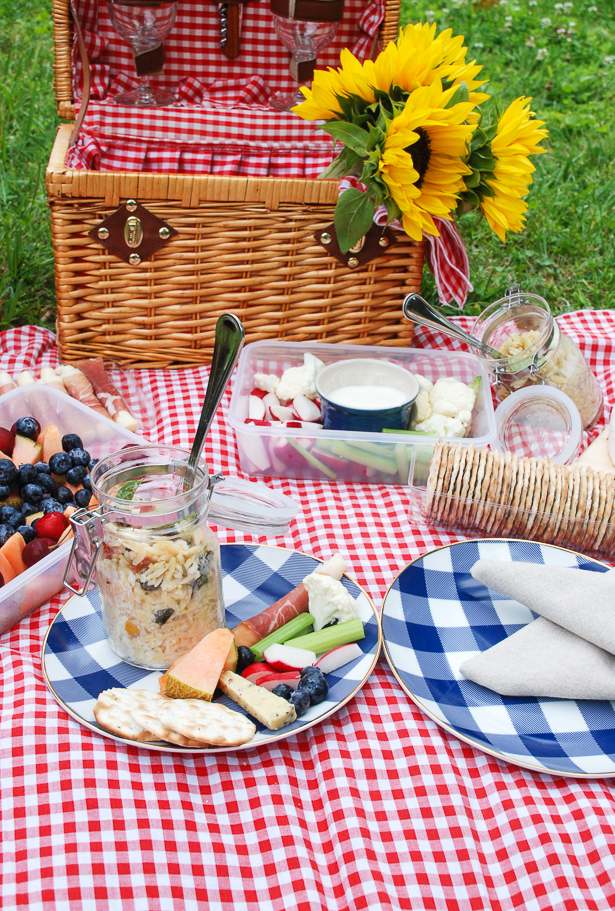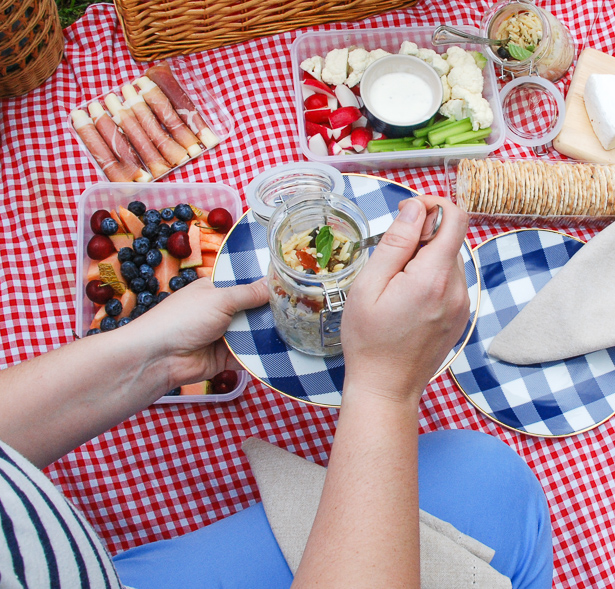 Italian Orzo Salad Recipe
Ingredients:
2 Cups Orzo
8 Cups Water
2 Tbsp Pesto
1 Tbsp Lemon Juice
Handful of Fresh Basil- Chopped
Cup of Halved Grape Tomatoes
3.5 Oz Can of Olives
1/3 Cup of Feta
To Make:
Boil water and add orzo. Cook until tender about 10 to 12 minutes. Drain well and let cool slightly. In large bowl mix together orzo, pesto, lemon juice, tomatoes, and olives. Top with feta and fresh basil.
Happy 4th of July Y'all!!
Partying at The Dedicated House…Wine'd Down Wednesday…Between Naps on the Porch…
SaveSave
SaveSave
SaveSave
SaveSave
SaveSave
SaveSaveSaveSaveSaveSave
SaveSave
SaveSave
SaveSave
SaveSave
SaveSaveSaveSave
SaveSave