Styling Your Home with Sentimental Decor
Display your keepsakes, layer your travel mementos, and give family heirlooms pride of place: learn how to style your home with sentimental decor.
As Southerners we are undeniably partial to sentimental decor whether it's childhood keepsakes, travel mementos, or antique heirlooms passed down for generations. These treasures tell our stories. They make up the fabric of our homes and connect us to family members long passed and memories long since made. What can I say, we have this thing for nostalgia down here.
Sure we've heard about Danish minimalism and maybe even thought a few less dust-catchers sounded nice. Some of us adventurous ones even tried the KonMari method…with limited success (I swear everything I picked up just practically sang to me). But de-cluttering to that extreme for a Southerner is like cutting off an arm — not going to happen! Now that doesn't mean we want our keepsakes to monopolize our homes or resemble an episode of hoarders. Heavens no! The neighbors would talk.
The dilemma is – how do we decorate with these heirlooms and keepsakes, create that oh so coveted layered look, and achieve a contemporary aesthetic?
My response: I love to use sentimental decor in my home, especially heirlooms passed down to me from my grandmothers and great aunts. It gives me joy to use these items and reminisce. I apply three decorating tips to style my home with sentimental decor:
No. 1 Do More with Less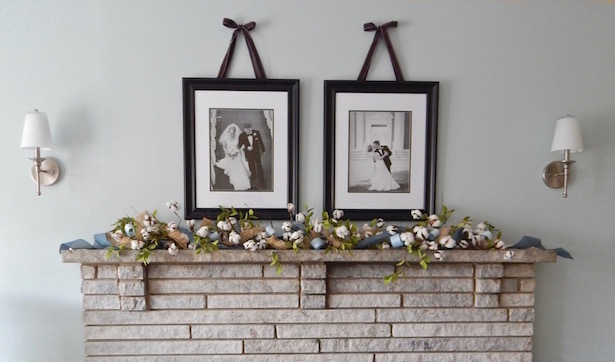 What do I mean by this? Choose one or two of your most important keepsakes or heirlooms and place these in prominent places in your home. A prominent place is a focal point. Think about the locations your eye lands when you first enter a room or if seated where your eye is drawn — that's the focal point of a room. Common focal points for living rooms are above the mantle; for an entryway the wall opposite the front door or the wall above the stairway; and for a dining room the center of the table and above the sideboard.
My wedding pictures are some of my most important sentimental decor. S. and I printed and framed our favorites after our wedding to hang in a gallery wall. Here in our new house we don't have a great space for that display, so I picked my favorite two and hung them over the mantle in our family room. By giving this paired down display a prominent place in our home, I've shown how important this day is to us, and we get a daily glance at these memories as we relax in the space after work.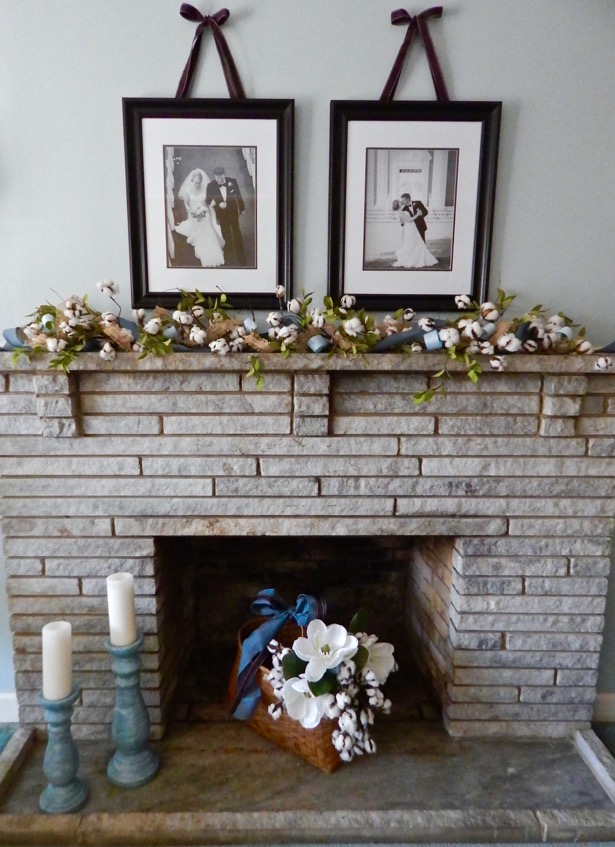 No. 2 Display Sentimental Decor Temporarily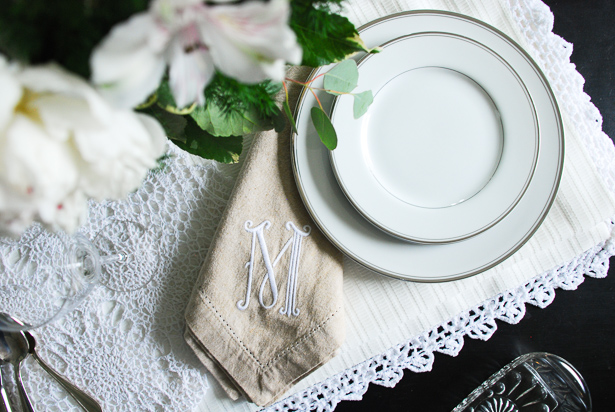 I admit I have a small obsession with seasonal decor. I love to change things up and make my home feel special for a holiday, and part of that is pulling out significant keepsakes and heirlooms to display for a season or holiday. This is the perfect time to use family heirlooms and personal keepsakes. You can get these treasures out for a limited time, reminisce while decorating, and then safely stow them away.
Entertaining is another great opportunity to use sentimental decor. Much of what I inherited from my grandmothers and great aunts is table ware: china, table linens, glasses, etc. I love to set a beautiful table with these special heirlooms. It is so loaded with meaning for me. Not only am I using the serving ware and linens they used, but I'm also continuing the tradition of Southern hospitality they taught me and often using recipes I learned to make standing on a stool at their side as a little girl.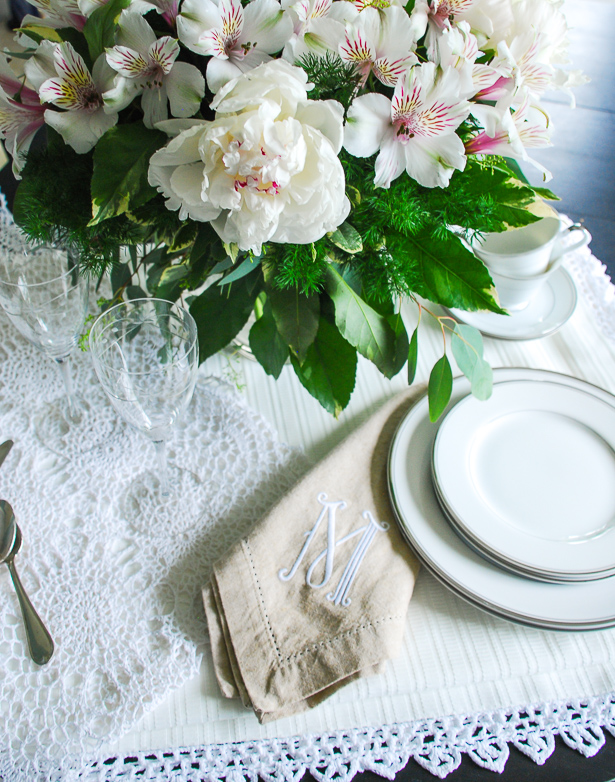 Psst…this is my great aunt's china, and I literally use it all the time. See more tablescapes with it here and here.
No. 3 Style Bookshelves with Mementos
Styling bookshelves has become a decorating craze here lately. Just search the phrase on Pinterest if you don't believe me. There are guides and how-tos galore. My one addition to all this helpful decorating advice is don't go out and buy decor to style on your shelves. Instead use the mementos and sentimental decor you already own.
Bookshelves present the perfect opportunity to display and organize these memories. Whether your keepsakes are a collection of family photographs or a hodgepodge of travel mementos, you can create the layered, collected look by styling books and sentimental decor on your shelves. On my bookshelf you can see my cloisonné collection, yearbooks from my alma matter, travel mementos, my grandmother's cookbooks, and wedding keepsakes.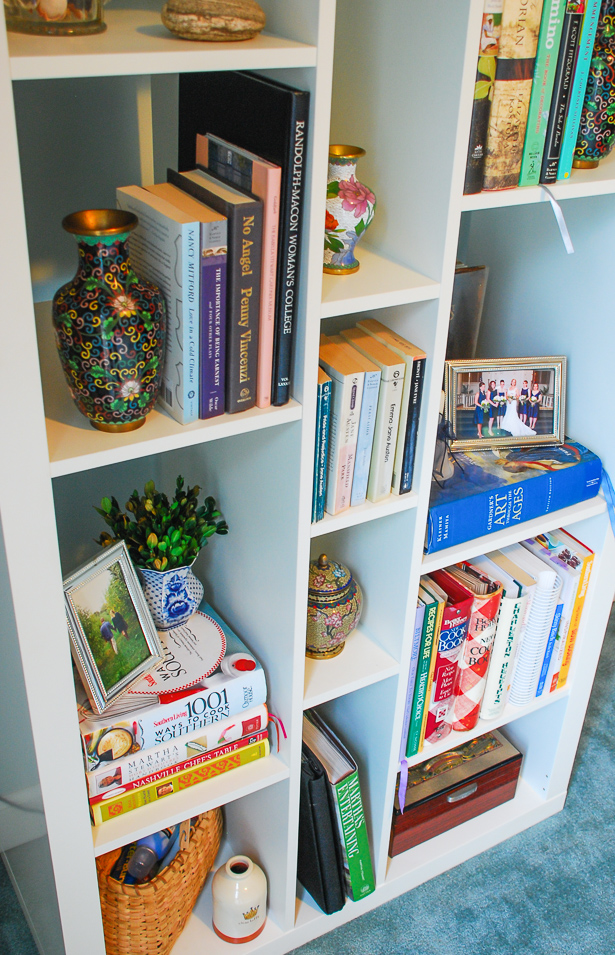 So darlings, don't be pressured to de-clutter your home in this latest minimalist craze. It will pass. You're a Southerner! We value our heritage and want our homes to reflect that. I say display your keepsakes, layer your travel mementos, and give those family heirlooms pride of place. If your sentimental decor is something you truly love with connections to wonderful memories, it will never be out of style.
Pin this for later: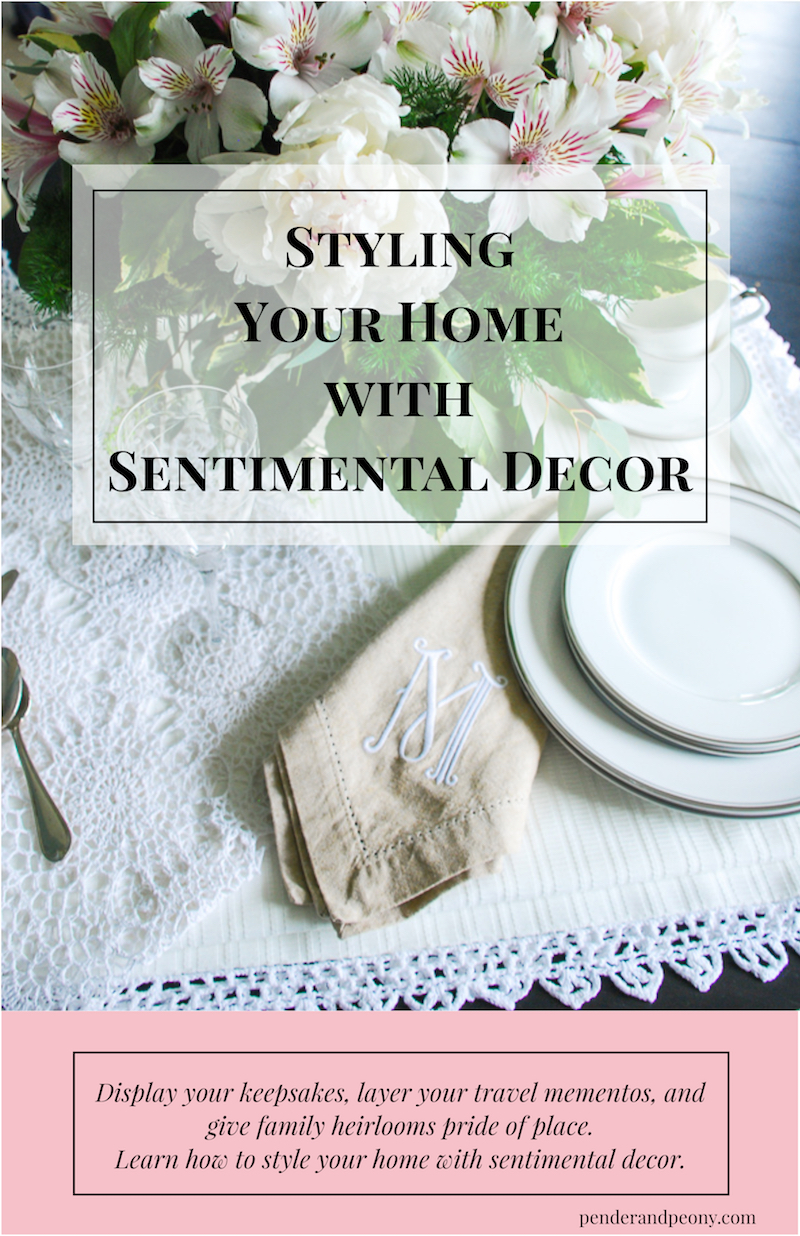 Partying at The Dedicated House…Between Naps on the Porch…A Stroll Thru Life…
SaveSave
SaveSave
SaveSave
SaveSave
SaveSave
SaveSave
SaveSaveSaveSave
SaveSave
SaveSaveSaveSave
SaveSave