Grab a Guinness for This Lucky Green Saint Patrick's Day Tablescape
Saint Patrick's Day (March 17th) is exciting for many reasons not least of which are lots of bold, kelly green, Guinness, and the imminent arrival of spring! This year I'm celebrating with a Guinness beer tasting party, yummy shepherd's pie, and one lucky green Saint Patrick's Day tablescape.
For my Saint Patrick's Day tablescape, I went casual but festive, decorating with bold green, yellow carnations, white hydrangeas, and some themed felt cutouts. In keeping with the casual vibes, I used a piece of green polka-dotted wrapping paper for the tablecloth that I had left from Christmas wrapping. Isn't this a cute idea? No worrying about spilling, simple clean-up, and it is so inexpensive!
The carnations and hydrangeas were fun to arrange in my milk glass vases. For the center vase, I used a piece of floral foam to keep the stems in place. If you are lacking in the flower arranging skills department (me included?), use floral foam it makes everything so much easier.
For the menu, I choose a traditional Irish meal of shepherd's pie, which is one of the ultimate comfort foods (recipe below). I also served a side salad and offered a selection of Guinness to enjoy. When I went on the hunt for Irish beers, I was shocked by the variety Guinness is offering currently. They have more than just Stouts and Porters available now in the U.S., including IPAs and an Irish wheat beer, which was delicious! So I decided to limit my Irish beer tasting to Guinness, we were not disappointed.
Enjoy this Saint Patrick's Day Tablescape!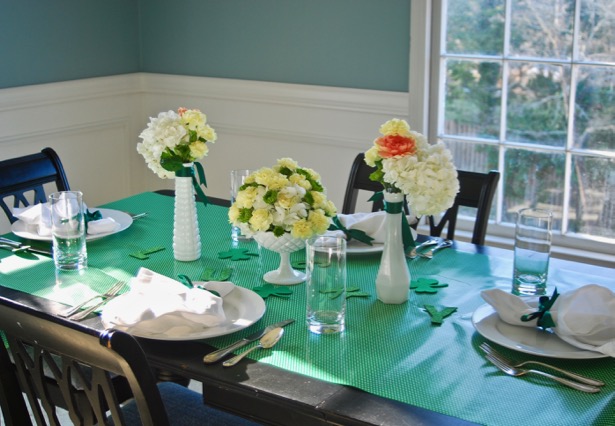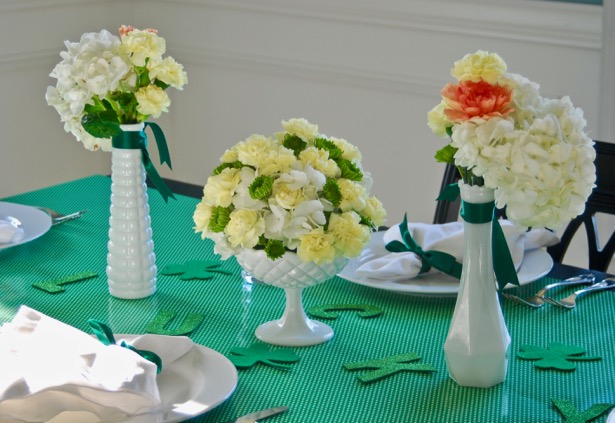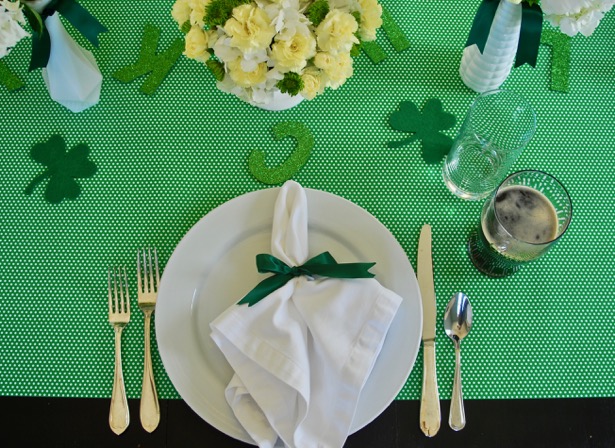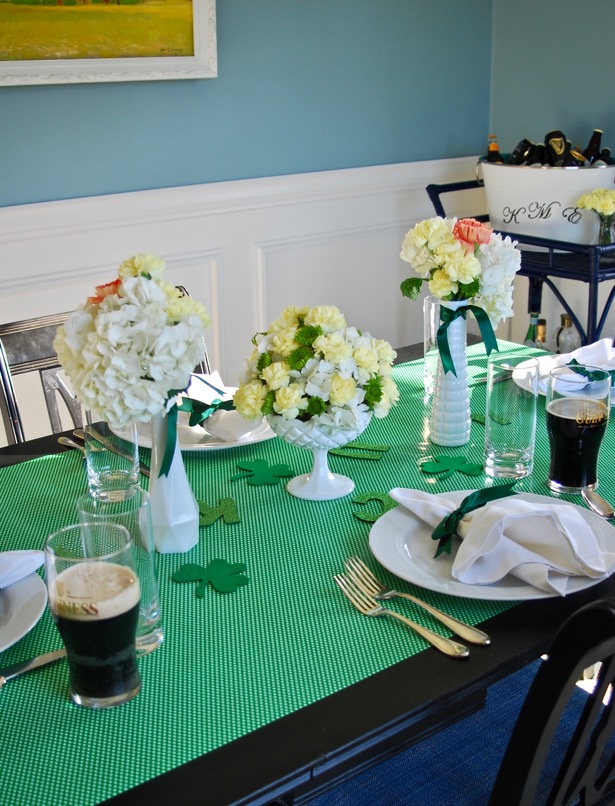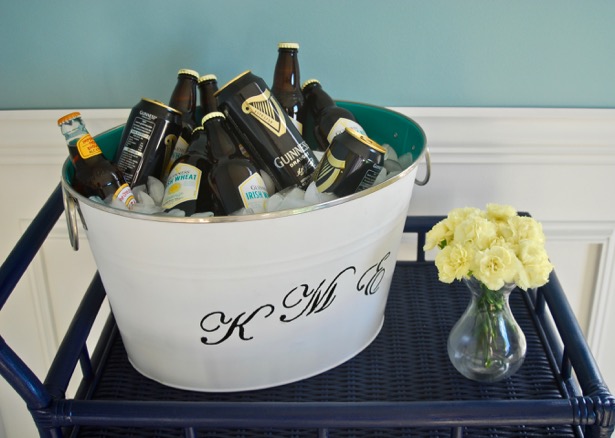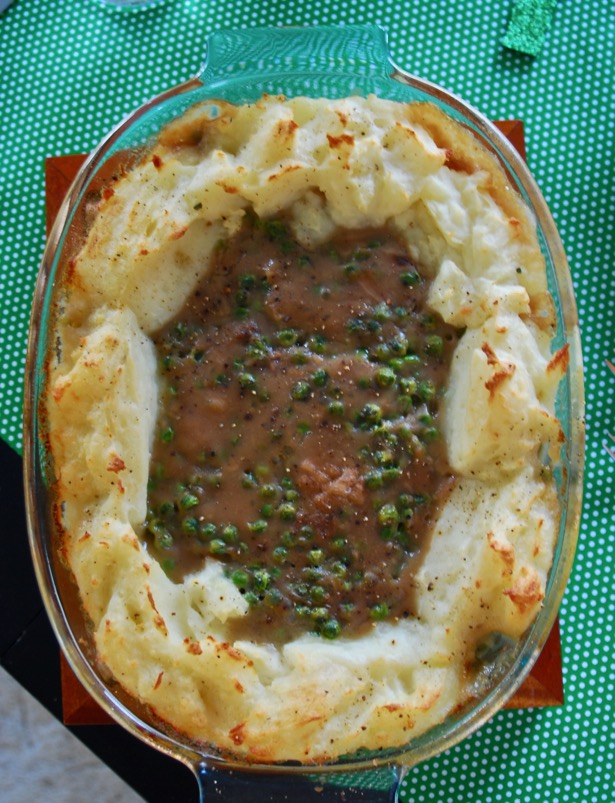 Shepherd's Pie Recipe
serves 6
Ingredients:
1 lb. ground beef and 1 lb. ground lamb
1 cups peas
1 cup chopped carrots
1/2 cup chopped onion
1/2 chopped celery
3 large potatoes for mashing
1/3 cup of milk
1 tbsp of butter
2 tbsp Worcestershire sauce
Knorr onion soup mix
Salt and pepper to taste
Instructions:
Start by boiling your potatoes until fork tender. While the potatoes are cooking, brown the beef and lamb in a large skillet. Add the Worcestershire sauce. When meat is cooked drain and hold to the side.
Pre-heat oven to 350 degrees.
Sautee onion, carrot, celery, and peas together in pan.
Prepare your mashed potatoes: drain liquid, add milk and butter, salt and pepper, and mix until smooth.
Mix up the onion soup mix with a cup of water.
Spray a large baking dish with non-stick spray, and then start to layer your ingredients first pouring in half of the meat. Next layer your veggie mixture. Then put the rest of the meat on top.
Pour the onion soup mix over these layers, and top with mashed potatoes.
Bake for 40 minutes until brown and bubbly.
Serve and enjoy.
Happy Saint Patrick's Day!
Partying at A Stroll Thru Life…Between Naps on the Porch…Designthusiasm…