Summer Reading: The Museum of Extraordinary Things

The Museum of Extraordinary Things is a slow burn.
You know almost from the beginning that the two main characters, Coralie and Eddie, are going to meet and fall in love. Hoffman follows their life paths through flashbacks and diary like entries as these characters mature and slowly, ever so slowly, draw closer and closer to each other. What you don't know is how or when this will happen or if Coralie and Eddie will have a happily ever after.
Coralie Sardie is the daughter of a menacing impresario, the Professor, who runs a freak show billed as a museum. Trained from childhood to swim in frigid waters and hold her breath for long periods, she is the mermaid in her father's emporium. Eddie (Ezekiel) Cohen is a Russian immigrant who renounces his father's Orthodox faith and community to pursue photography. Hoffman uses the slow burn deliberately to convey the evolution of Coralie and Eddie's personalities. Coralie matures from a fearful, dreamy girl to a determined young woman, while Eddie learns compassion and purpose. They both come to accept the jagged qualities of themselves.
My desire to flip ahead and find out how and when and if was painful, but beautifully so, and Hoffman's striking language is worth the attention. She is a master manipulator of words and her descriptions let you see and feel what the characters do. One of my favorite descriptive passages is when Eddie describes one of his mentor's photographs: "Trees so tall and wide they were true giants, their limbs saddened by the sorrows of the world, filled with the sepia shades of songbirds." Her use of alliteration and anthropomorphism is on point.
The novel takes place in New York City during the early 1900s. Hoffman captures the gritty underbelly of the city along with the spectacular potential. The atmosphere is mournful and mystical, typical of Hoffman's other works. Dark elements permeate the book: the Triangle Shirtwaist Factory fire, Hannah Weiss's death, the Professor's laboratory. But Hoffman provides balance with the loyal and perky Mitts, the kindness of Coralie, the dedication of Eddie, and the hopefulness of love. As Maureen persuades Coralie:
"If we had no hurt and no sin to speak of, we'd be angels, and angels can't love the way men and women do."
"And what of monsters?" Coralie wished to know…."Can they love?"
"We know quiet well they can," she murmured. "For we know that they do."
The slow burn ignites at the end, and was entirely worth the wait. I recommend reading The Museum of Extraordinary Things with a glass of patience and bowl of treats. You won't be disappointed in this summer read.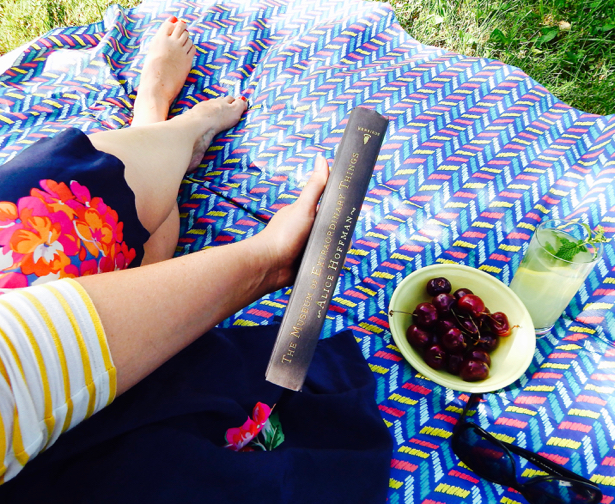 *This page contains affiliate links*
Overview:
Plot – Slow Build to Surprising Revelations
Characters – Noble and Unusual
Romance – Aching and Hopeful
Writing – Compellingly Descriptive and Imaginative
Themes – Substantial
Check out my Summer Reading List and other reviews!
I'm partying over at A Stroll Thru Life.