Try these 6 fall beauty finds for healthier skin and hair as the fluctuating weather of autumn ensues!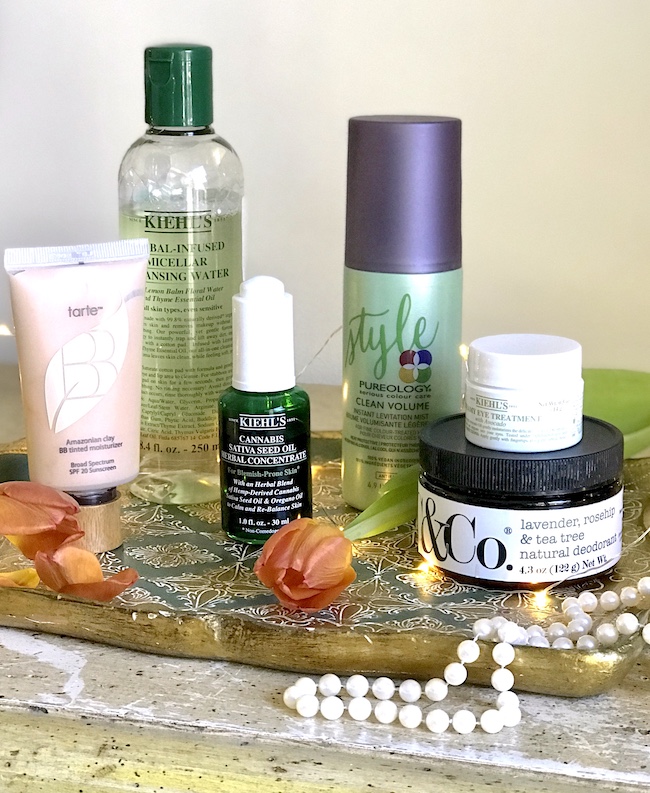 It's hot…it's raining…it's below freezing! Heellllooo fall!
I don't know about y'all, but my love of fall does not extend to what it does to my skin as the temperature and humidity yo-yo like a sorority girl picking out her shoes.
To combat this, I've been on the hunt for calming skincare products and that special moisturizer. Of course, I turned to my old friend Kiehl's as well as a relatively new-to-me brand, Tarte, for relief.
Here are my 6 fall beauty finds to combat autumn's craziness:
*This post contains affiliate links to the beauty products I use and recommend.*
No. 1 Tarte BB Tinted Moisturizer
This oil-free, vegan tinted moisturizer hides imperfections and nourishes my skin with Amazonian clay (skin balance), vitamins A &E (antioxidant, moisture, anti-inflammatory), and chamomile (anti-inflammatory). I use this everyday for a clean "no makeup" look with a bit of finishing powder from It Cosmetics.
My skin looks more even in tone with less redness since I have been using this product! A great fall beauty find!
No. 2 Kiehl's Micellar Cleansing Water
I am picky about make-up removers. Some I feel are too harsh and others just don't cut it.
Kiehl's micellar water is mild but effective. It does take a little getting use to, since you soak a cotton pad with the water and then gently dab and swipe it over face to remove makeup.
No. 3 Kiehl's Cannabis Sativa Seed Oil
This is the best new facial skincare product I have found in years! I cannot recommend this enough y'all! I know some people are skeptical when it comes to using products that contain cannabis because they are unsure of its effectiveness and price.
It is a hemp based product – 100% natural. It soothes skin and helps combat acne. Over the past 4 months I have been breaking out from hormonal acne around my mouth and chin and nothing was helping. Enter this Cannabis Sativa oil! Acne gone and redness reduced all over my face.
No. 4 Pureology Clean Volume Spray
Another great fall beauty find and vegan product is this volume spray from Pureology! This volumizing spray lifts roots without making hair stiff or oily. It is also a heat protectant.
After washing and towel drying my hair, I spritz this into my roots, lifting up my hair to get underneath various sections.
No. 5 Kiehl's Avocado Eye Treatment
This eye treatment is part of my everyday beauty routine that I've been using for years. Dab a small amount along your orbital bone at night before bed for brighter eyes in the morning! Awesome moisturizer!
No. 6 C&Co Natural Deodorant
Fall's yo-yoing weather calls for a good deodorant y'all! One minute you're freezing and throwing on more layers, and the next your cozy sweater has become a hot box of humidity!
I made the switch to natural deodorant without aluminum several years ago. I used Tom's for a while, but then found it stopped working. Either my body chemistry changed or I became immune to it. I don't really know.
Crystal's version works for low exertion days, but I notice an unpleasant odor if I workout with this one.
C&Co's lavender, rosehip, and tea tree deodorant works every time all the time! C&Co is probably a skincare line you haven't heard of yet as they are a small business based out of Asheville. I love their products! They are plant-based with simple, straightforward formulas – basically organic but affordable!
I hope these fall beauty finds help you combat our yo-yoing weather here in the South!