The Staffordshire Spaniel: The Best Mantle Accessory since 1840
Decorating mantles since the 1840s the Staffordshire spaniel is a winsome figurine adding charm and style to any room.
---
Southern Heirlooms Series Part I
In collaboration with my college chum, McKenna, P&P will be featuring a new post series about Southern heirlooms. We will be delving into attics, rummaging in our grandmothers' china cabinets, and hunting through linen presses to discover and explain treasured family antiques.
As Southerners we have strong ties to the past and cherish our family's treasures passed down through the generations, but we don't always know much about the objects themselves. Our aim is to explore these antiques and shed a little light on what they are and why they are important.
---
By McKenna
Who doesn't love a good costume drama, especially one produced by the Brits? I've fallen head over heels for the new lavish PBS Masterpiece series, Victoria. Based on true events, the eight-part series explores Victoria's reign from her ascension to the throne in 1837, through her courtship and marriage to Prince Albert. The show opens on the princess's imprisoned youth in a derelict Kensington Palace where she was held by her mother, the Duchess of Kent, and her mother's overbearing comptroller, Sir John Conroy. Her only companions and sources of true love were her beloved governess, Baroness Lehzen, and her Cavalier King Charles Spaniel, Dash or Dashy, as he was affectionately referred.
The Cavalier King Charles Spaniel, named after Charles II of England, has been a beloved lapdog of the British monarchy for centuries, and has appeared as companions in paintings by Old Masters dating back to the fourteenth-century. However, the popularity of the Staffordshire spaniel figurine is largely due to Queen Victoria's dear Cavalier King Charles Spaniel, Dash.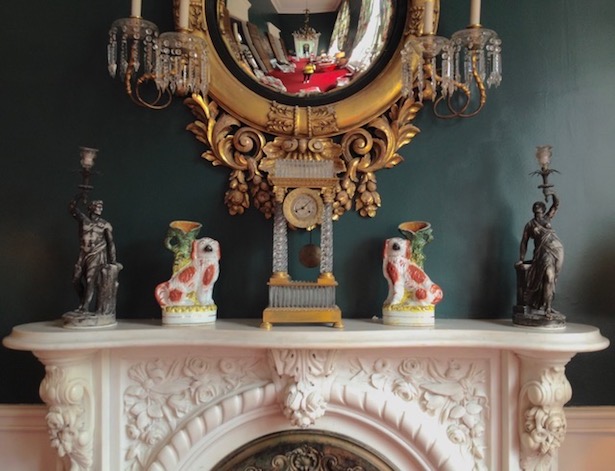 Staffordshire spaniel figurines are seated in pairs and don a gold chain and locket. Most of the porcelain figurines vintage and antique collectors seek today are from the nineteenth and twentieth centuries, when England's Industrial Revolution fortuitously coincided with the reign of Queen Victoria. The mass production of goods created a profusion of wealth, and the rise of a robust middle class of consumers.
Eager to emulate the aristocracy and flaunt their new wealth, the Victorian middle class domestic interior became overstuffed with stuff. Victorians loved excess and virtually every conceivable piece of furniture showcased figurines, vases, and various overly ornamented objects. Furniture such as étagère's or "whatnots" were specifically created to display their wanton knick-knacks.
A pair of Staffordshire spaniels was considered the crown jewel on the mantelpieces of most nineteenth-century middle class Victorian parlors, usually flanking an ornate mantel clock and other curios. Mantelpiece figures were also referred to as flatbacks, as their unfinished backsides were usually placed against a wall or hearth.
A cheeky legend, derived from the Scottish poem "The Wally Dug", has it that the lady of the house would display Staffordshire spaniel figurines in her windowsill to relay a surreptitious message to her lover. If the spaniels were placed back-to-back, her husband was at home, keeping him at bay, but if seated face-to-face, her husband was at sea, welcoming her lover ashore.
Staffordshire Porcelain
Staffordshire porcelain was established in the early eighteenth-century in the county of the same name. It became the great ceramic center of England largely because of its wealth of Devonshire clay, a key element in the formula of most English ceramics. The area's close proximity to water, coal deposits, and transportation also solidified its establishment as a manufacturing hub for several porcelain townships, the most well known being Stoke-on-Trent.
As Staffordshire objects became cheaper, the fine, detailed craftsmanship of the eighteenth-century gave way to a simple, charming, almost folk-like quality. The production of glazed and brightly painted exotic and pastoral animals, domesticated dogs, as well as famous figures in literature, the military, politics, and the royal realms became especially haute.
Because they were produced en masse, and intended for the average consumer, precision was not a priority. While the finer pieces were hand painted by professional male artisans, most of the mass-produced, press-molded figures were decorated by women and children, owing to the vast difference in size, decoration, and overall quality.
Most people believe the absence of a maker's mark screams reproduction, when, in fact, most of these pieces were fashioned by unknown locals and remained unsigned. Of all the readily available knick-knacks fabricated during the Victorian era, the Staffordshire spaniel became the archetypal middle class object d'art, and was not only representative of ones station, but of Staffordshire ceramics.
Real vs. Repro Staffordshire Spaniels
As Staffordshire Spaniel figurines continue to flood the market, the amateur collector may have a nagging suspicion about authenticity. Below is a list of the top four differences between real and reproduction Staffordshire figures.
MOLDS. The main difference between old and new figurines is that earlier figures were made in press molds, while more modern figures were made with slip molds, which left a dime-size hole in the base.
LABELS. As previously discussed, old figures were unsigned, while most reproductions have labels that will say "Made in England" or "Genuine Staffordshire".
COLOR. The earlier figures have a creamy white base coat with hand-painted brushed patches of russet, copper luster, or black. The old gold trim is soft and muted, and shows some signs of wear, while new gold trim is shiny, with a mirror-like quality.
UNIFORMITY. Authentic pieces have slight variations from being handmade. If you look closely at the photo of my Staffordshire Spaniels, you can see the curled tails are very different. A pair of dog figurines that mirror each other are most assuredly a modern reproduction.
Interested in learning more? Check out Real or Repro, The Antiques Almanac, Staffordshire Spaniels: A Collector's Guide to History, Styles, and Values by Adele Kenny.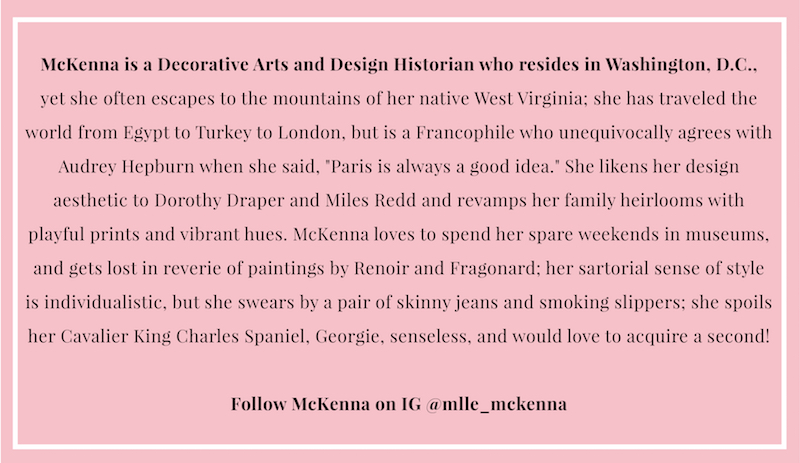 Partying at Between Naps on the Porch…