5 Steps to Makeover Your Entryway Closet
Create an organized entryway with these 5 steps from my entryway closet makeover
A few weeks ago I let y'all in on a little secret – my entryway closet chaos! That's right I confessed to creating a total disaster zone in the three closets that line the wall of my entryway. There was a jumble of hats and coats; cleaning supplies thrown in disarray; and stuff still in moving boxes. Not only was it hard to find things, but the chaos was affecting my mental health. Dis-organization has a tendency to do this, you know!
With a lot of sweat, some muscle power, and carpentry skills (that was just S.'s contribution) plus an organizational plan, new storage solutions, paint, and some much needed weeding out the closet chaos has been conquered! Go team Medlin!
In this post, I'm sharing before and after pictures of two of the closet makeovers (miscellaneous and coat) and 5 steps to help you makeover your entryway closet(s).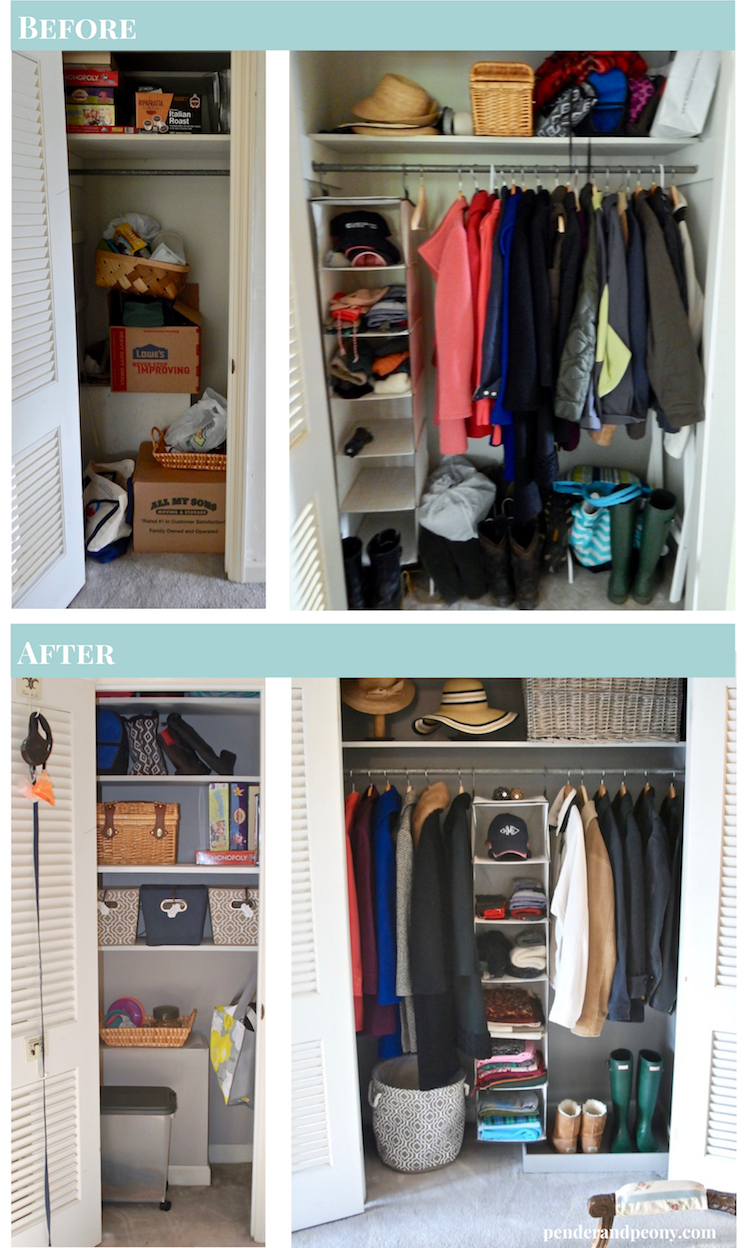 I truly believe an organized entryway with an efficient drop zone is essential to the organization of your entire home. Otherwise keys, handbags, coats etc. get scattered throughout the house and then misplaced or lost. Not to mention that this disorganization makes it harder to get out the door in the morning. Part of the dilemma, of course, is changing our habits. You have to make it a priority to come in the door and deposit your stuff in the right place. But with the right organization system and storage solutions, you can make this action easy!
A coat closet is an important component of an organized entryway, especially during the winter months. The coat closet needs to be functional and accessible, so that storing outerwear is simple. Making a closet functional is a lot harder than it sounds, you actually have to figure out the right storage solutions for the stuff you need to contain.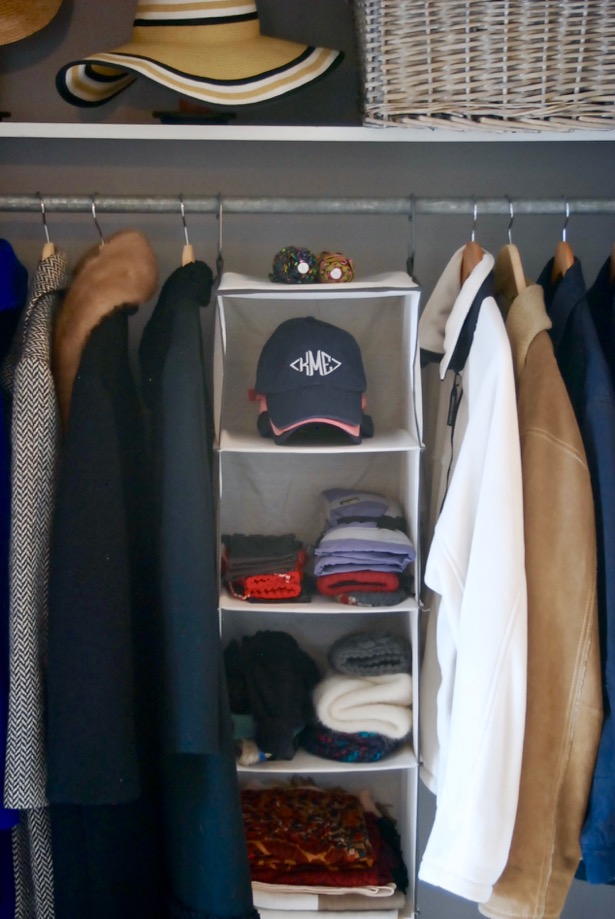 Step #1 Assess the Contents of the Closet
Pull everything out and look at what you are storing. Group like items and remove stuff that doesn't belong. Designate trash and donation piles to get rid of un-used, broken, or out-grown items.
You should also consider what's missing. For example, as I did this weeding out and grouping process, I realized I wanted to store my winter scarves and all my handbags in the coat closet, so that I could easily access these accessories as I headed out the door. Plus, I needed to alleviate the somewhat cramped conditions in our master closet.
Next consider the actual space you've got to store everything.
Step # 2 Evaluate the Closet Space
Consider the size of your closet and the items you need to store in it. Ask yourself: Does the space need repair or refreshing? What improvements could I make to better utilize the space?
Once everything was out of the closet, S. and I realized how grimy the walls looked. So we decided to paint the inside walls a soft, neutral gray. This little bit of paint instantly refreshed the look of the closets and made it more cheerful. After the paint dried, it was time to make an organizational plan.
Step #3 Plan an Organization System to Make Efficient Use of Space
This is when your tetras skills come in handy. The goal is to fit everything back in the closet space but in a way that is functional and easily accessible. Look at each group of items and consider its function, shape, and the frequency of its use in order to determine location within the closet and how to store it.
To make the most efficient use of our space in the miscellaneous closet, S. and I determined we needed more shelves. We added 3 wooden shelves, which created tons of storage space and all it took was plywood, a saw, paint, and basic carpentry skills. I then utilized bins to organize Henry's (our dog) paraphernalia, putting his food, treats, and toys we need everyday at lower levels in easily accessed bins and less frequently used pet supplies in a bin higher up.
Step #4 Think Outside the Box – Literally!
Get creative with your storage solutions. Bins and shelves are great organizational tools, but they are not the only options. Consider the following criteria when selecting organizers: space saving capability, accessibility, storage capacity, ease of installation, and aesthetics.
For our closet makeovers we used a variety of storage solutions, including hooks, baskets, trays, and hanging organizers as well as bins and shelves. I have two favorite creative solutions that I added to our entryway closets:
A hanging shelf caddy – I used it to store hats, gloves, and scarves, which makes it super easy to reach in and grab these items when headed out the door. This caddy really maximizes vertical storage without sacrificing hanging space.
Vintage thread spools – I picked these up at an antiques market years ago not knowing quite what to do with them, but thinking they were really neat. In trying to organize my sun hats, I realized the spools were the perfect stand!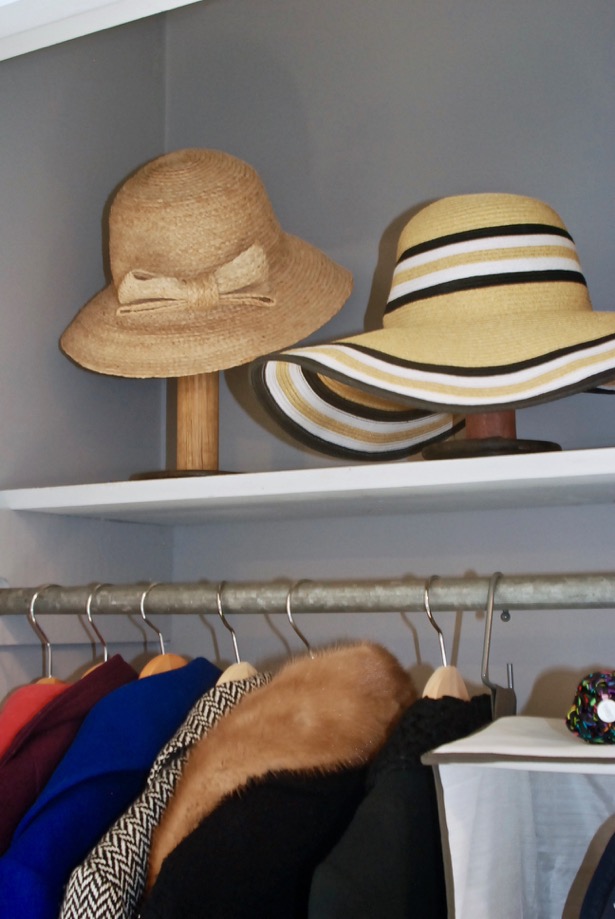 Step #5 Test Your Organization Solutions as You Go & Re-arrange
Often there is a disconnect between how we think a storage solution will work and the reality of actually using it, so try out your solutions as you re-house the contents of your entryway closet. Actually go through the steps of taking out a coat, grabbing a pair of gloves, and pulling on boots then assess how easy it was. Think about how others in your family will behave too.
Ask yourself: Can my kids reach the hangers? Is it easy to open this bin? Am I ok with getting a step stool to access the upper shelves? Is it too much work to fold this that way?
As I used my newly organized coat closet over the last few weeks, I realized I don't like the hanging caddy in the middle. It seems to take up more space in this location, so I shifted it to one end and put the coats all on one side. Perfection!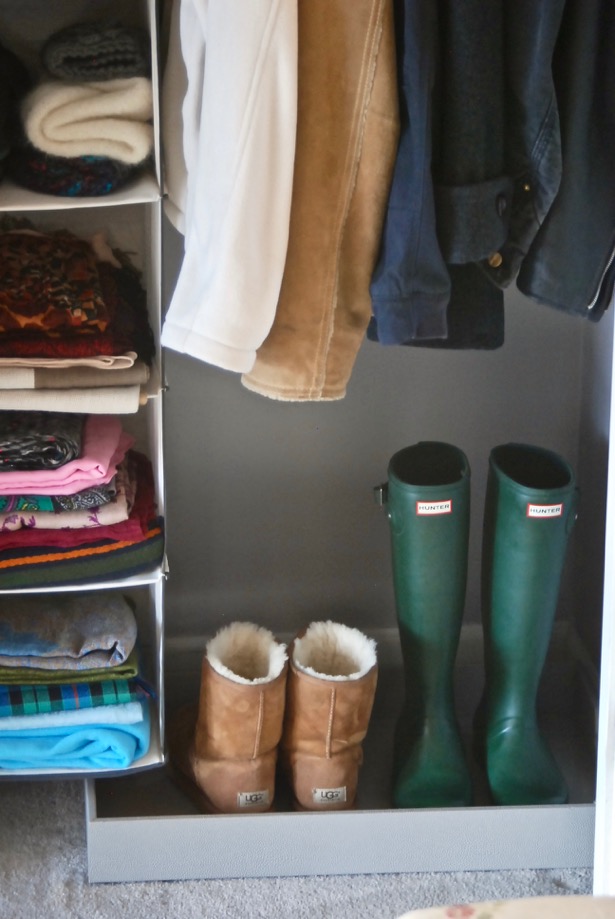 ---
I hope my 5 tips and entryway closet makeover help you create a more organized entryway. Having an efficient drop zone has improved my home's organization and eased the hassle of getting out the door in the morning. I know it will help you too!
Check out my utility closet makeover here.
Pin this for later: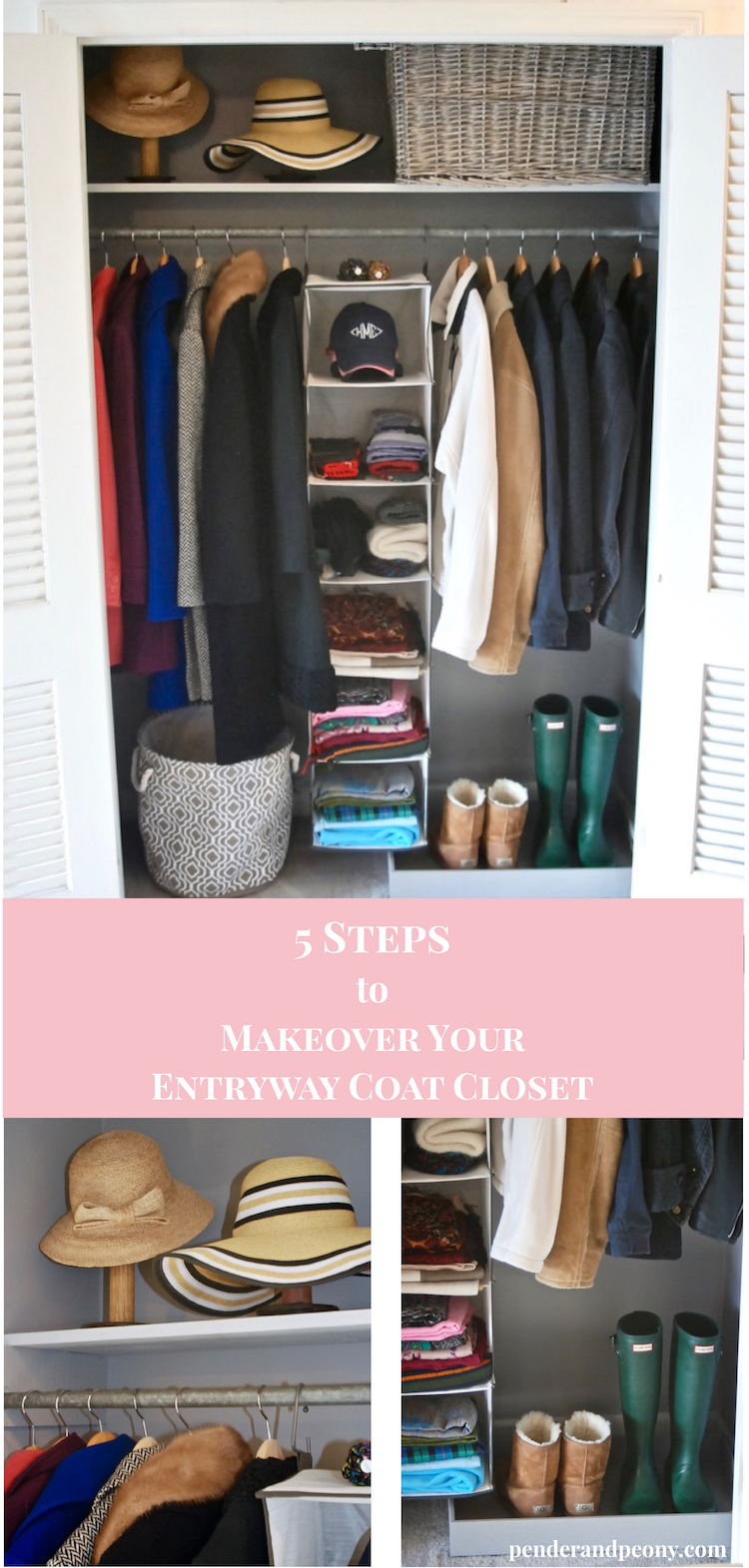 Partying at Between Naps on the Porch…A Stroll Thru Life…
SaveSave