The highways and byways of the Southern states are filled with road signs announcing towns and cities with often unusual, sometimes baffling, and on occasion gloriously outrageous names.  On family road trips and vacations headed to the beach or to see some relative twice removed, my mother and I have made it a game to read out these quirky appellations.  We beam with great pride to be the first one to draw attention to a truly unique or difficult name – almost as if we had really accomplished something.  The fun really sets in as we test different pronunciations and spin a yarn about how this or that town got its name.
For instance, how did the founding fathers and mothers of Benevolence, Georgia pick that one out?  Was there some great benevolent act involved in the town founding? Did evangelical fervor sweep through the area at the time? Or were the founders trying to inspire their neighbors to greater morality in deeds and words?   Up in Virginia they seem to like odd descriptive appellations as well.  West of Richmond travelers can drive through a place called Eureka where surely there must have been some kind of great discovery, but east of the city you'll find a community apparently so commonplace they just called it Ordinary.
Least you think these two states have some kind of monopoly on such names. Louisiana's got Triumph down on the Gulf and North Carolina has a place so hospitable they couldn't emphasize it enough, so they named it Welcome.  Signs entering the community proclaim "Welcome to Welcome, A Friendly Place."  Then there is one of my personal favorites Whynot, North Carolina where apparently someone got so frustrated by the naming debate and repetitive phrase "why not call it…" that why not is the only thing that stuck.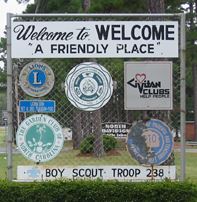 Now the South's coasts can really boast of a wealth of tongue twisting, elocution defying place names — most of which we owe to Native American languages.  On the Gulf you'll find Tallahassee, Ponchatoula, and Pascagoula to name just a few.  Around the Chesapeake you can visit Weyanoke, Kilmarnock, Wachapreague, and Nassawadox.  The Carolinas have Wanchese, Ocracoke, Meggett, Yemassee, and Chocowinity.  Seriously, try that last one "CHOCK-uh-WIN-uh-tee." Pretty hard to keep a straight face – no?
If you ever questioned the special place animals hold in Southerners' hearts, you need only look at a map.  Tennessee, North Carolina, Kentucky, and even Mississippi are littered with communities named after beloved animals.  You've got Ducktown, Blue Goose, Frog Jump, and Goat City in Tennessee alone.  Even more peculiar choices are out there with Boar Tush, Alabama, Lizard Lick, North Carolina, or Rabbit Hash, Kentucky.  Whether Southerners' choice of animal appellations result from obsessions with hunting, cooking, or pets I'll leave up to you.
I hope this humble little ode has conjured up memories of past family road trips and driving on back country roads or even up I-95.  I hope you pay attention to all those road signs along the way, and I hope you feel astounded by the South's gloriously outrageous place names.