The Multifaceted Blue & White Christmas Tree
Save money without sacrificing creativity by choosing a blue and white Christmas tree. This color scheme is versatile and festive and here's why...
The three photos above show the exact same blue and white Christmas tree decorated with the same blue and white ribbons; the same blue baubles; and the same frosted evergreen picks.
The only thing I changed were the accent colors. First pastels, second red, and third orange. Wow! Talk about versatile!
We love blue and white around here and regularly sing its praises. This color scheme is always classic, and it really is a decorating powerhouse! One of the main reasons for this is blue and white's versatility. You can pair almost any other color with this duo and have a beautiful charming palette.
Let's take a closer look at mixing different colors with your blue and white tree...
If you love to create a themed tree every year and change your decor up, a blue and white Christmas tree is a great solution to saving some money and time. Invest in blue and white ribbon, florals, and ornaments you can re-use year after year, and let this be your backdrop to each year's new theme or accent color.
Blue and white is perfect for any of these themes: Chinoiserie, winter wonderland, starry night, Williamsburg, pastel candy land, tartan, and so many more!
Another benefit to a blue and white tree is that you can "shop" your own house to gather blue and white ceramics, fabrics, or other accessories you can use on or near the tree!
It also means you can shop outside of the holiday department at decor stores! You will find lots of blue and white themed ribbons, fabrics, and decor that you can use to create a unique look that is entirely your own.
Blue & White with Red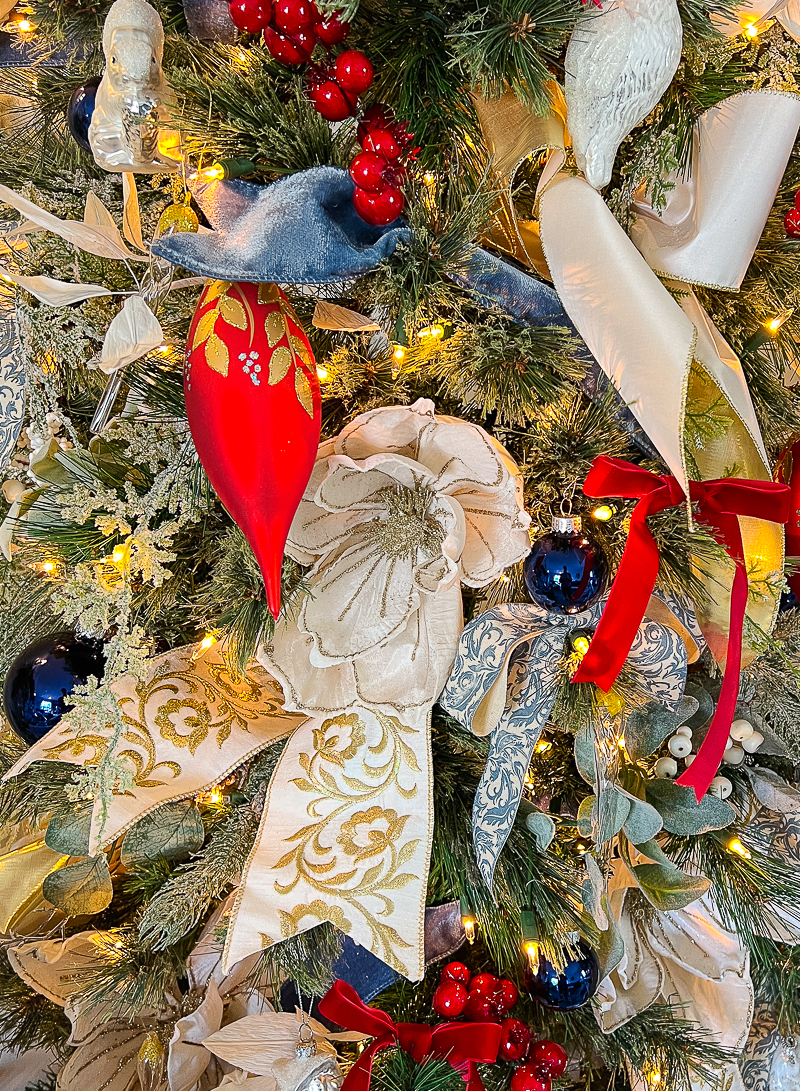 Red just pops against a blue and white Christmas tree. It won't take many red accents to change the look either. Try adding some red berries, velvet bows, and a few special red ornaments.
Blue & White with Pastels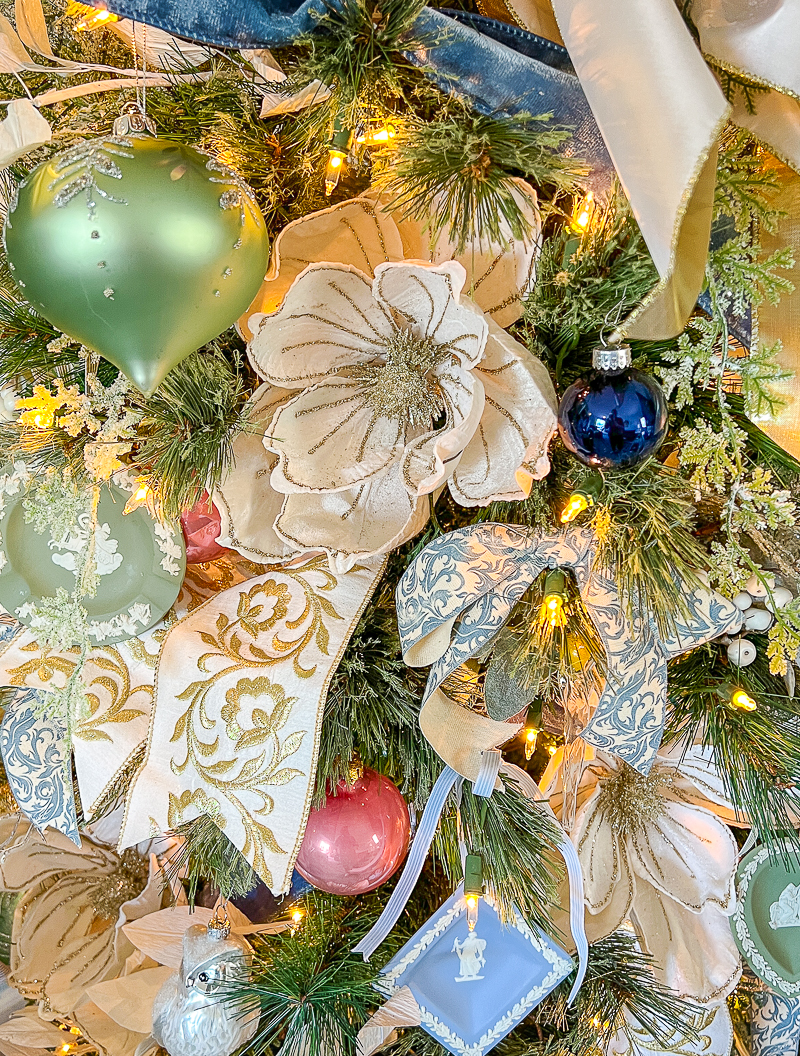 If you are a lover of softer more pastel shades, try pairing your blue and white tree with pastel ornaments. Here I mixed in these DIY Wedgwood dish ornaments with pink balls and pale green teardrop baubles. For this look to really work, also choose some lighter blue hues.
Blue & White with Williamsburg Orange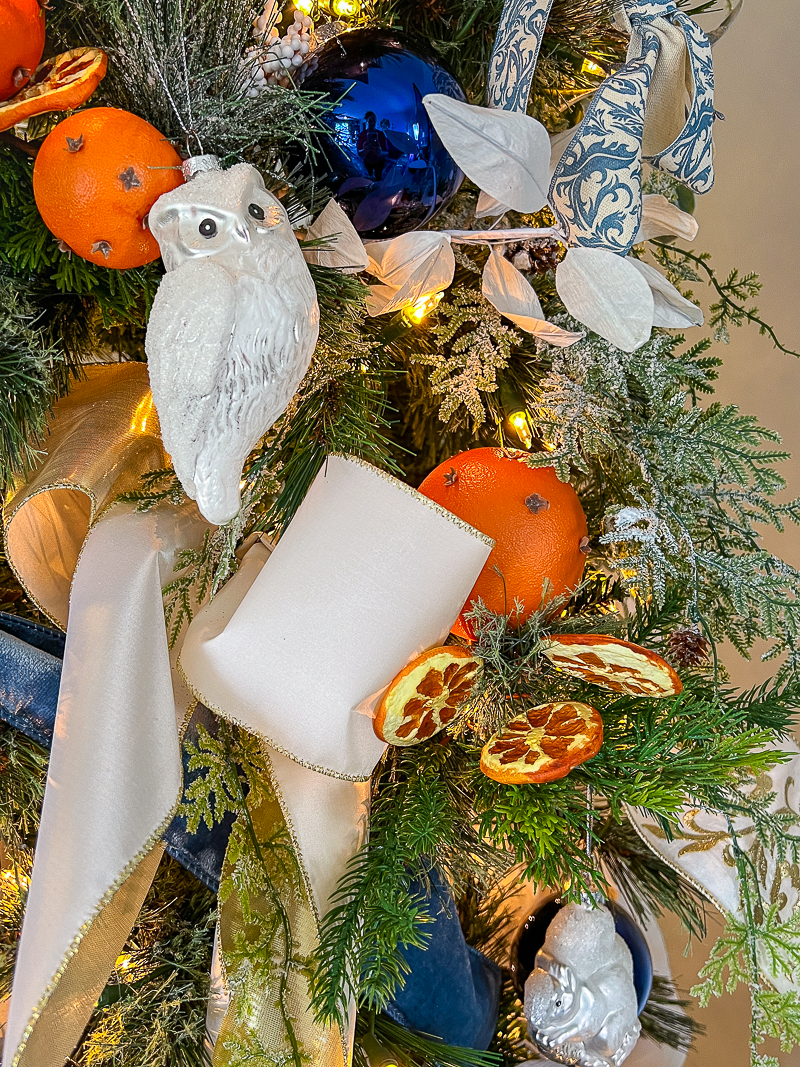 Feel inspired by the Colonial Williamsburg look with fresh and dried fruit like orange pomanders? Mix those vibrant hues with a blue and white backdrop! Also bring in lots of gold accents to make this combo really sparkle.
Sources:
Red Teardrop Ornaments - available in my IG Flash Sale Thursday 11/10/22
White Animal Ornaments - available in my IG Flash Sale Thursday 11/10/22
---
Can you guess which accent color I chose for this blue and white Christmas Tree?