Grandmillennial Cues for Decorating with Blue
Don't ignore these cues for decorating with blue to achieve that classic Grandmillennial style in your home! And a little advice from my fellow "grannies"!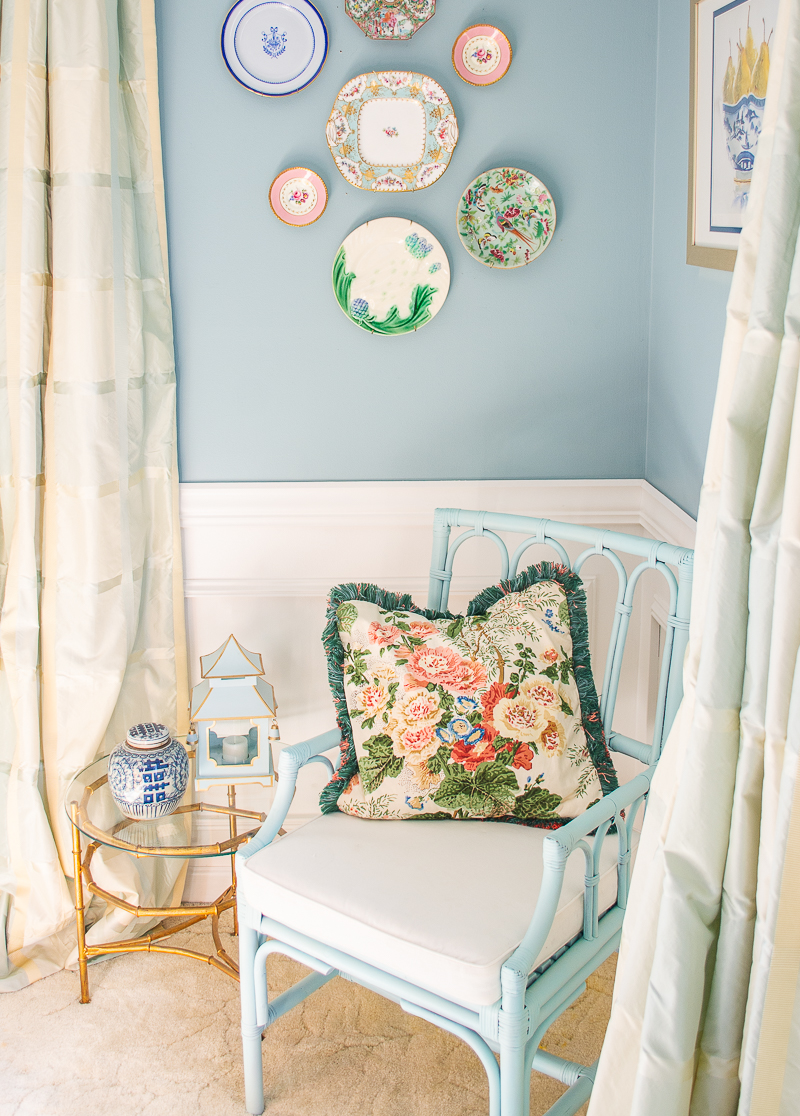 Are you a fellow "granny" who loves blue? Yes…well let's talk about how to incorporate this hue into your home decorating!
As you know Grandmillennial interiors are all about that traditional style with classic elements mixed in new and interesting ways to create a colorful feminine space that feels fresh. Blue in all its shades from deepest midnight to palest robin's egg, is a definite favorite with us.
I love to use blue because it feels classic and bright. It's an elegant color that feels happy but not too fussy or flashy. Blue is a fabulous backdrop to my beloved collections of Chinese export porcelains and to be perfectly frank I like how blue plays with my skin tone and coloring. It sets off my eyes and blonde hair. Yes, it is absolutely appropriate to choose colors in your home because they make you look and feel good!
When decorating with blue, here are 10 simple tips for Grandmillennial style: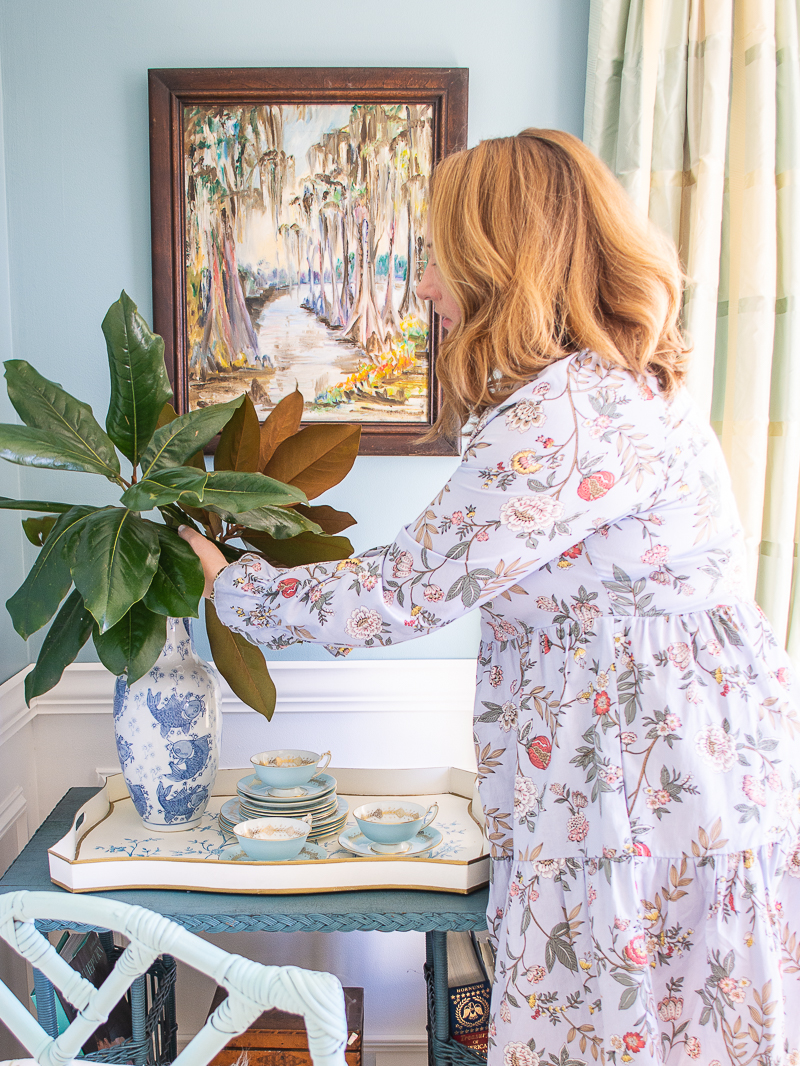 My blue walls in the dining room are SW Interesting Aqua
No. 1 Blue Loves Green
Blue mixed with green always feels natural and fresh. You can do something as simple as adding fresh magnolia in a blue room for that pop of green. When pairing these two in fabrics and furnishings opt for a blue that has green undertones. Not sure what I mean, head to this post.
No. 2 Mix Different Shades
A monochromatic room in varying shades of blue feels like you are walking among the clouds and can have a very soothing effect. Don't let the shades get too icy though you don't want the room to feel cold.
No. 3 Use Rich Wood Tones
Using rich woods like mahogany, maple, and ebony with blue creates a timeless aesthetic that feels really elegant. The warmth of the wood grounds the airy-ness of the blue and makes it feel less icy.
No. 4 Go for Contrast
Blue works particularly well with high contrasts either bright white or dark shades of navy or black.
No. 5 Warm Up with Gold
If a blue room feels too cold and airy, bring in glints of gold with gilt accessories to warm it up just like I did here in my dining room.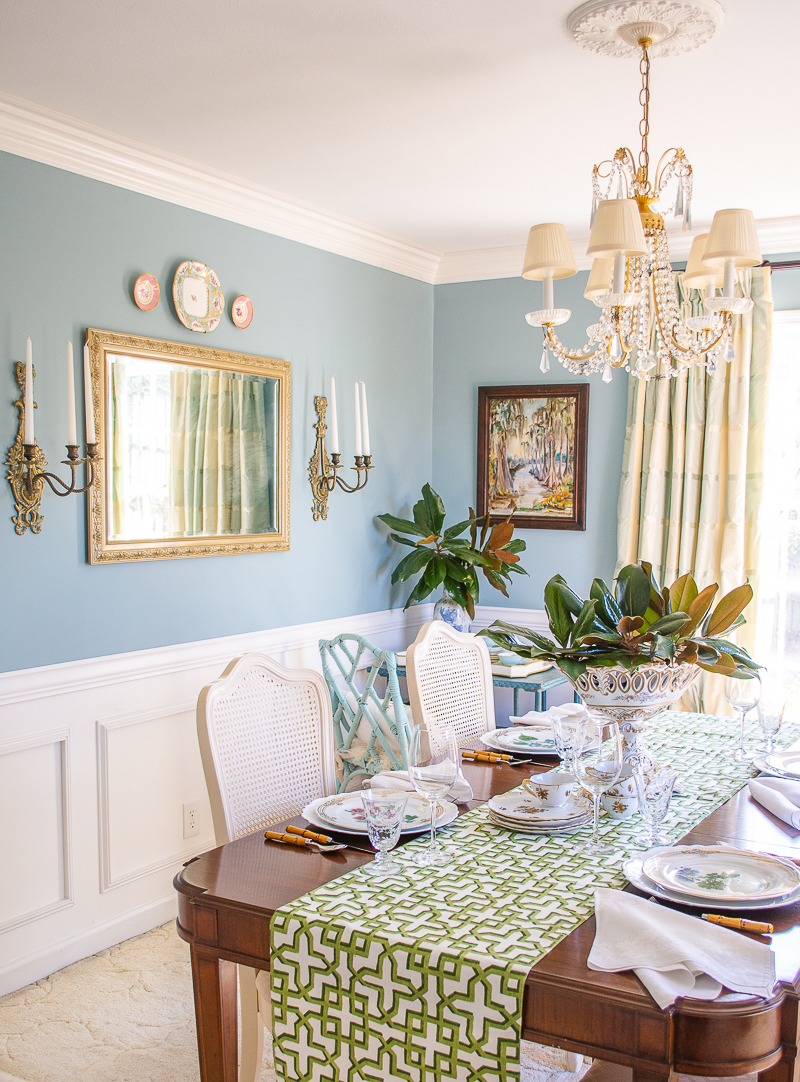 No. 6 Dine in Blue
Blue is the perfect color for dining rooms. It looks lovely in flickering candlelight and will feel gracious and appealing to almost every guest, since blue has universal appeal.
No. 7 Add a Spot of Sun
A yellow and blue color scheme is very traditional when decorating with blue. For a more Grandmillennial approach, opt for pale yellows with a cooler more citrine feel.
No. 8 Go for Classic Ceramics
Think of all those classic blue and white ceramics like Wedgwood Jasperware, Delft, Chinese porcelain, and American spongeware. These classic accessories are the perfect way to decorate with blue and add a touch of history to your Grandmillennial style room.
No. 9 Put It in the Bedroom
Blue has the power to sooth and calm like no other color. It calls up images of sky and ocean, so it is the perfect color to use in your bedroom to create a serene escape.
No. 10 Mix Liberally with Rattan & Wicker
The texture and garden feel of wicker is a beautiful compliment to blue hues. It helps bring the outside in and will work in white or natural wood tones.
I hope these tips for decorating with blue help you incorporate it in your home. For some additional advice, I asked some of my favorite grandmillennials to share their take on using blue…
Here's what some of my favorite fellow "grannies" have to say about decorating with blue: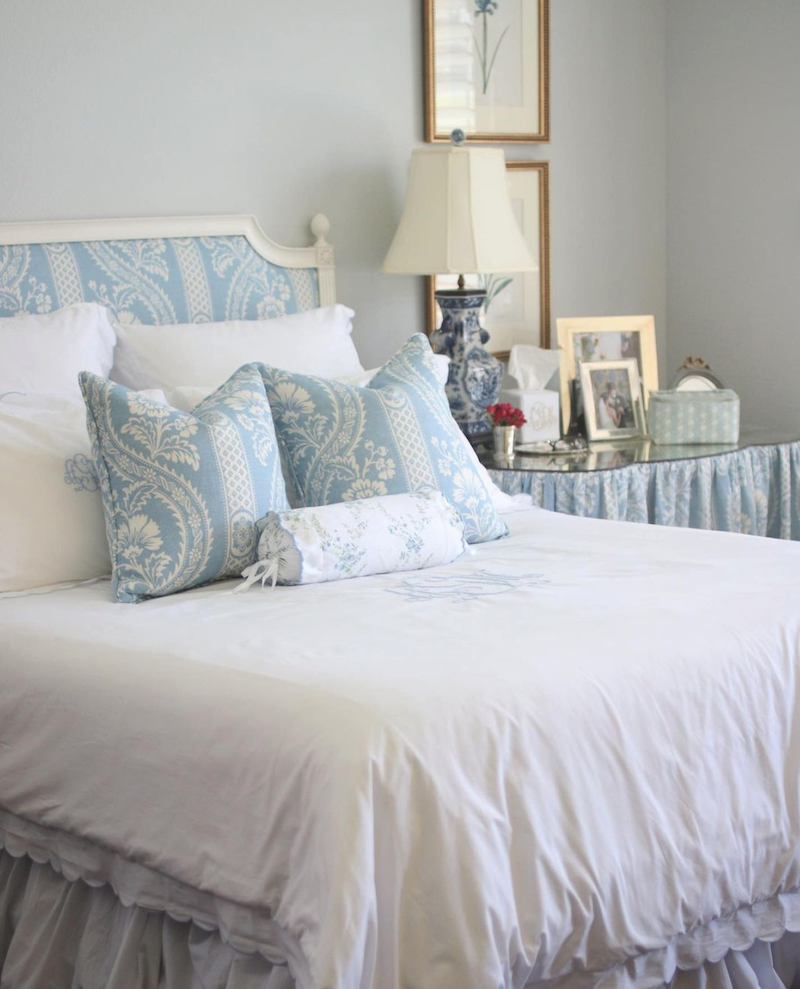 There are so many great ways to use blue in your home to create a classic and timeless space. Adding touches of chinoiserie, like ginger jars and blue and white porcelain, is an easy way to incorporate blue into any room. And while you may think of chintzes as being primarily pink, there are SO many classic beautiful blue chintzes you can add in either a subtle way, like throw pillows, or in a more dramatic way, like drapery, upholstery, or wallpaper.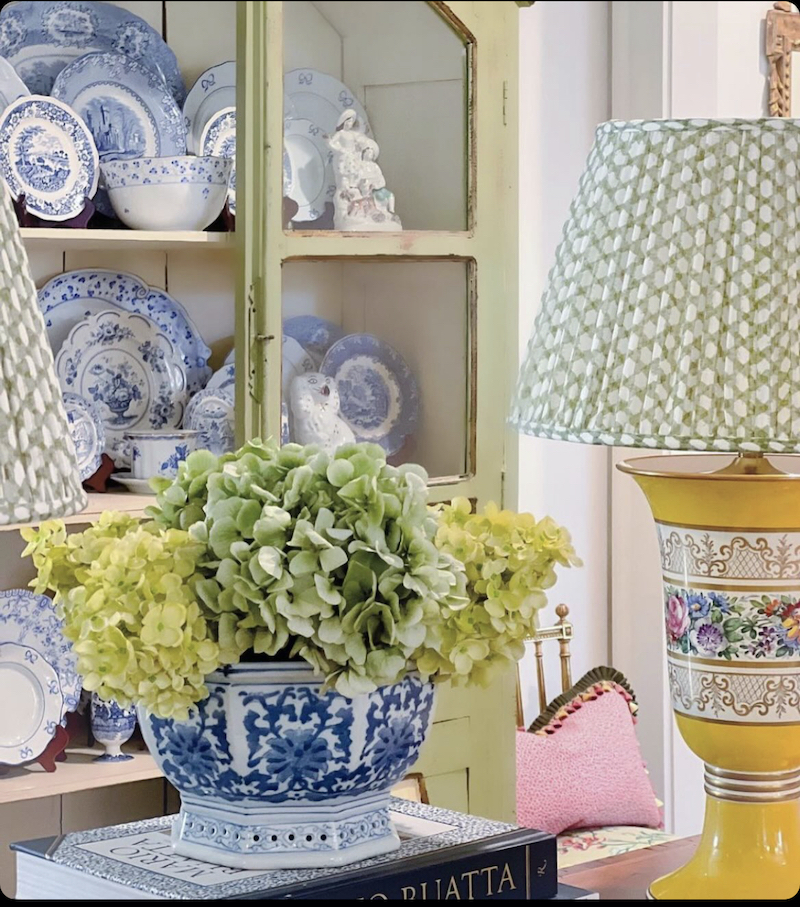 One of the most beloved staple combinations is blue and white. I love to add pops of blue with other colors throughout my home. It's a classic pairing that always blends traditional and sophisticated. Blue decor is timeless, and one of the most classic interior design elements in the home. When combined with the pinks, greens and other colorful backdrops it just brings it all together, and for me, makes the house a home!
Check out Laurie's Etsy shop for beautiful stationary and gifts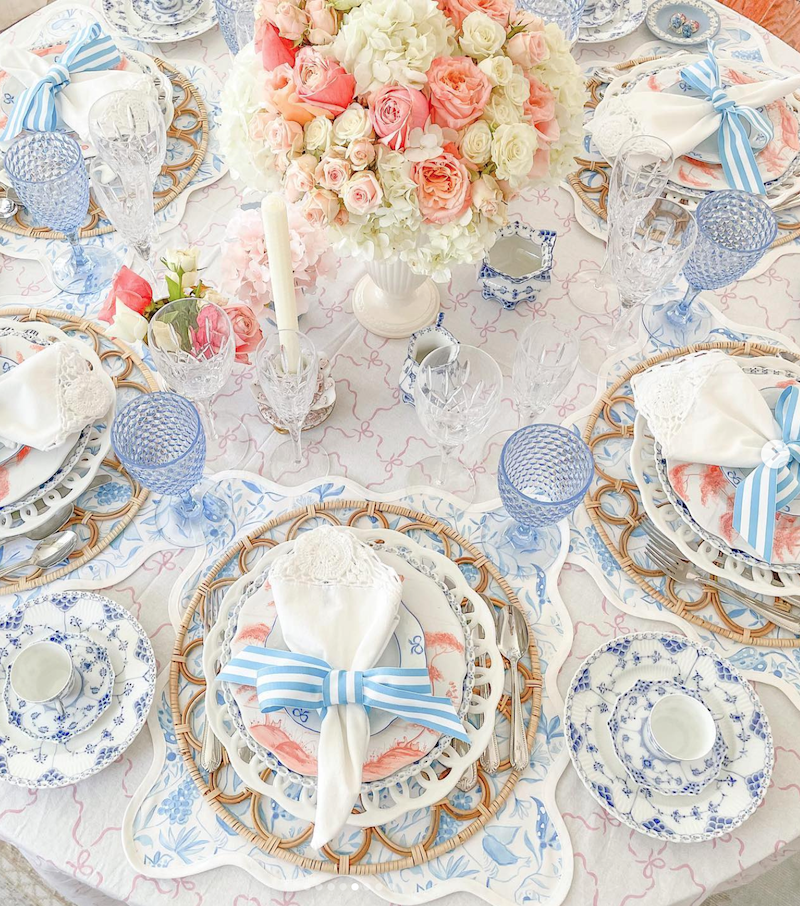 When I create a tablescape it becomes sculptural in itself. I use layers of different blue colors through porcelain patterns in my dish ware. I start with a table linen that incorporates blue, a blue toned charger and or placemat, and then I typically work my way up with a dinner plate, salad plate, and an appetizer plate. I often implement white china to balance the subdued blue tones. I enjoy using complementary blue and crystal glasses and coordinating tea cups and saucers to complete the look.
Adding velvet or satin ribbon in this primary color wrapped around a napkin finishes off the setting. Linens featuring blue and white patterns adds interest and brings an inviting display together as well as one with an intricate monogram. For a fabulous finishing touch I recommend blue and white hydrangeas as a floral arrangement to create height and dimension in an incredible tablescape.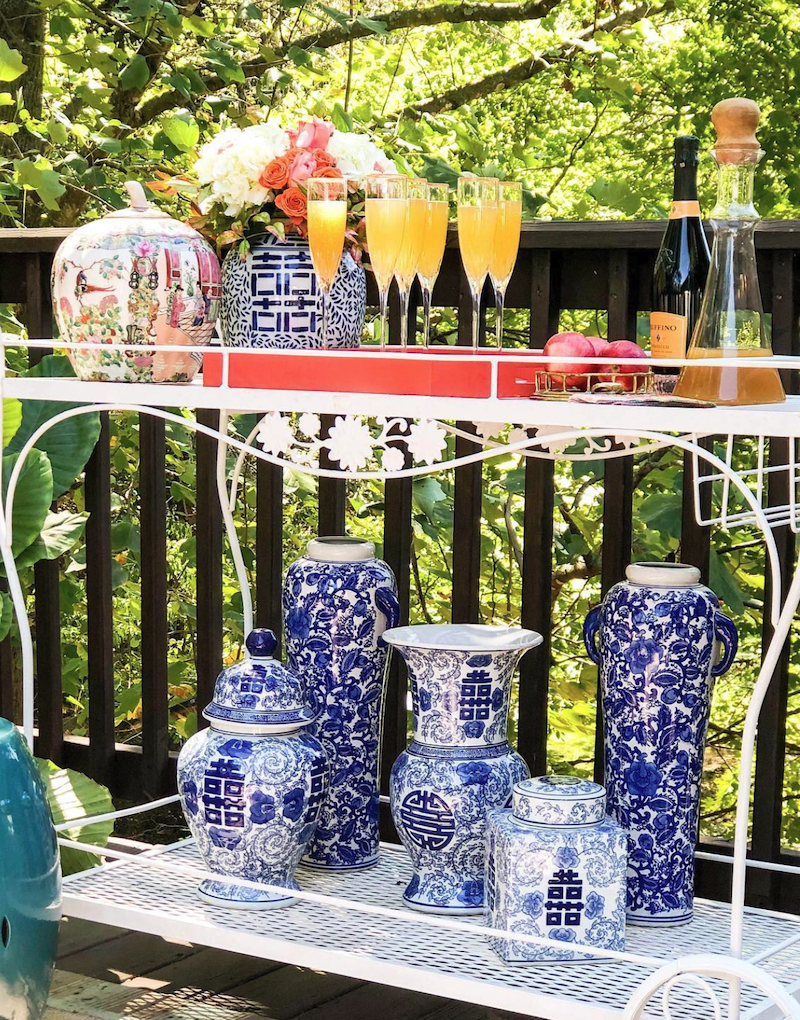 Blue is my favorite neutral — particularly navy blue. It's the color that makes all my other colors pop. Dark enough to make other vivid hues stand out, and bright enough to feel warm. Adding touches of navy blue throughout my living room anchor the space and allow it to all flow with the other colors.
Give Anna Louise a follow on IG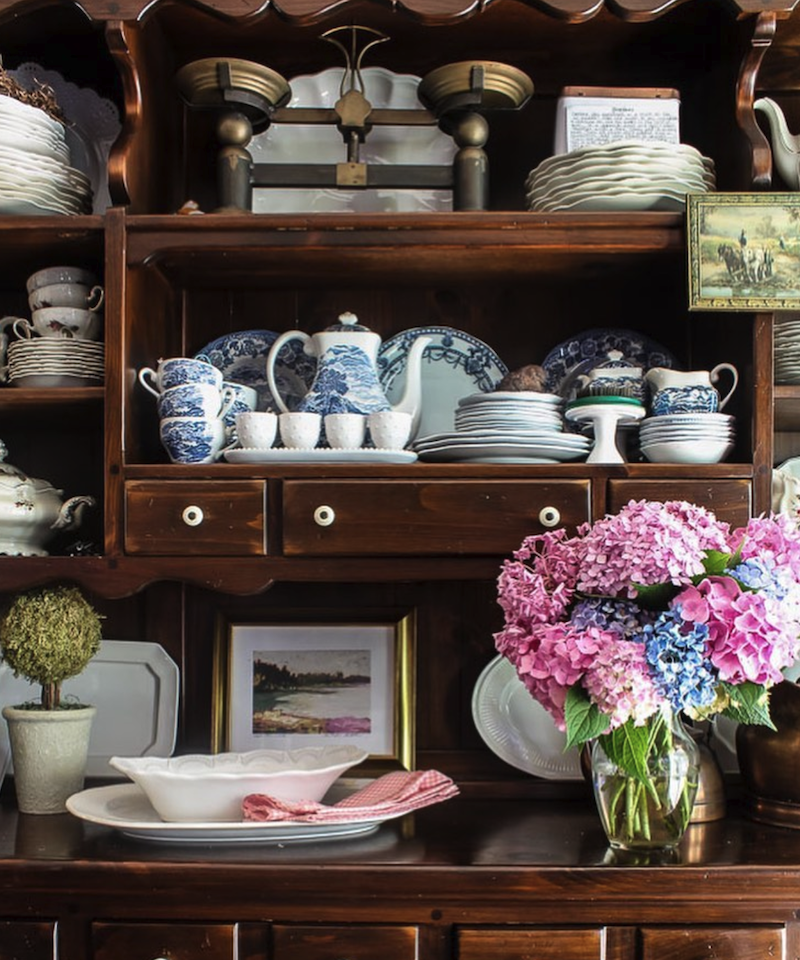 I tend to treat blue and white as a neutral – it can go with any color palette. I scatter it throughout our house in the form of ceramics, lighting and fabrics. It's a constant in our home, even as the seasons change.
Are you ready to embrace the blue? I bet so after this inspiration! I'm sharing more on choosing blue paint colors and avoiding mistakes in this post about how to decorate with blue.