What I Learned From Redecorating Our Family Room
Redecorating a room? Consider these 4 interior design principles to solve bad decor and redesign a room you'll love.
Y'all it has been just over a month since I finished our family room refresh, and we are loving it! LOVING IT!
If you haven't seen the reveal with the before and afters, check it out here.
Before the refresh this room felt drab, dark, and mismatched. With the help of some new textiles, lighting, and art, I redecorated our family room, and now it is brighter, happier, and much more coordinated. The issues with our family room were largely caused by too much brown and black in the furnishings, while some of the furniture either felt completely mismatched or was just boring. I set out to reduce the dark colors, bring in brighter hues, add pattern, and make the space feel cohesive.
Family Room Before:
Family Room After Redecorating:
As I made these changes to our space, it dawned on me I was enacting some key interior design principles that I had simply neglected to use in this space due to apathy or lack of time and money. But these tenets are essential tools I would employ in a client's room without hesitation.
I just had to turn my critical decorator's eye on my own space to realize why the room felt so blah and heavy then clarity dawned! These design principles re-asserted themselves — jumped up and said,
"Hey! Remember me? I'm important! Use me!"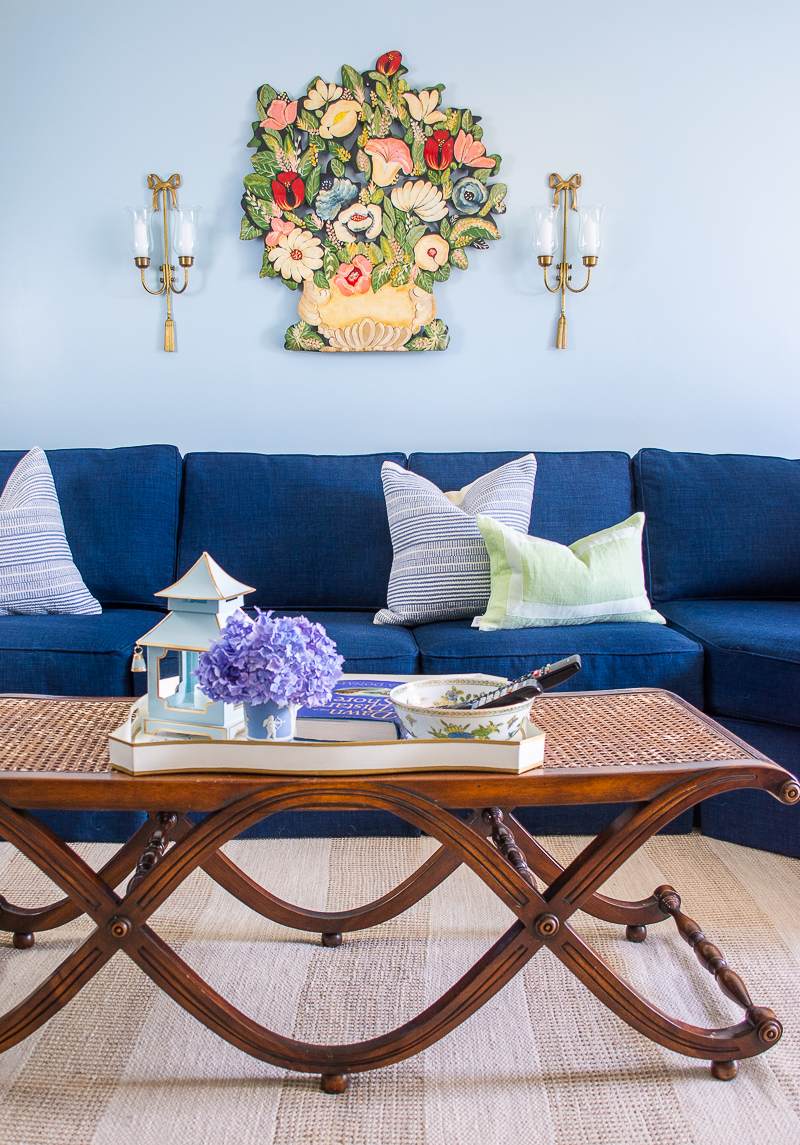 We can all become blind to the spaces in our homes and fail to see the causes of a room's dissonance, but chances are you still feel it. The space feels drab or dark or too heavy or just not uplifting.
Recognizing what is not working in a room design is half the battle to redecorating, and the rest is figuring out exactly how to change those problems. If your budget is tight and inspiration low, it is even more of a challenge to find creative solutions.
But what I learned from re-doing our family room decor is… go back to basics!
If you've got a space that just isn't working, try implementing one or all four of the interior design principles listed below. They just might be the solution for your room!
I utilized all of them to liven up my family room, and now it is more visually interesting and coordinated.
4 Interior Design Principles to Solve Disappointing Decorating
No. 1 The Power of White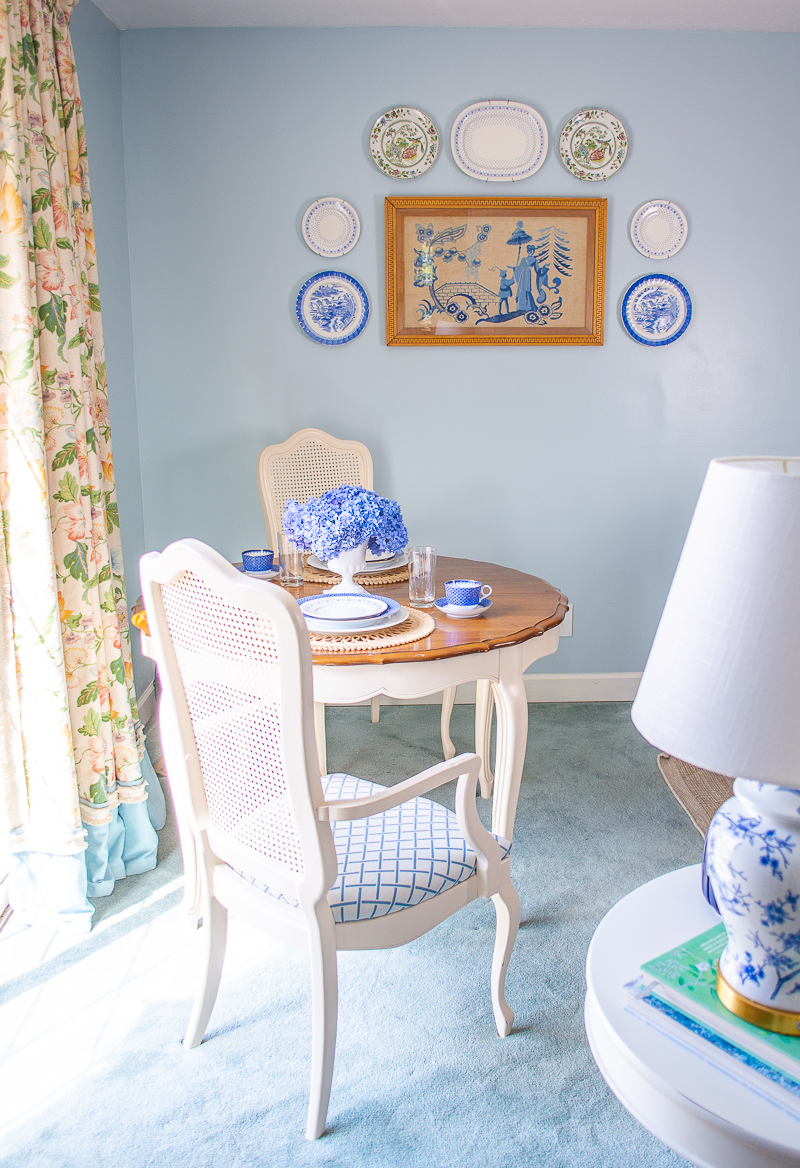 I said we were going back to basics, and this one is Kindergarten level! If a space feels dark and heavy, add white! It instantly brightens a room and makes the space feel light. In our family room redecorating, I ditched all the black frames and furniture for lighter colored woods or white. This simple switch made all the difference!
The other thing to keep in mind about white is that it sets off your other colors, making them feel brighter and more vibrant. If you have colored walls, be sure you use plenty of white in your furnishings and fabrics to keep the space bright.
No. 2 Get Rhythm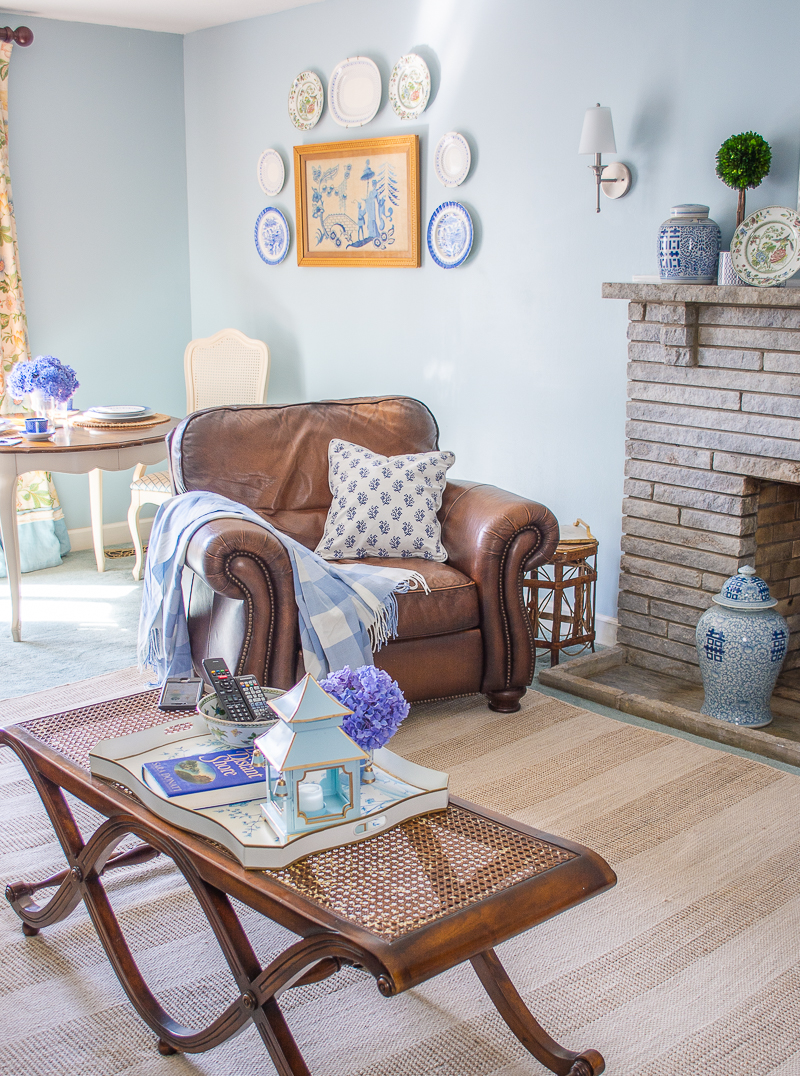 The rhythm of a room has to do with a series of repeating elements like a color, pattern, shape, or motif. Using this element throughout a space moves the eye around the room and makes it feel cohesive. While I had always intended to decorate my family room in blues, I had failed to systematically repeat it across the whole space. By bringing in more accessories and fabrics in shades of blue the room now feels coordinated and like the color was an intentional design choice.
Another key element that I've repeated throughout to create rhythm is the Chinoiserie motif. From the blue and white ginger jars to the pagoda lantern and the Chinese garden scene embroidery to the Blue Willow plates, the Chinoiserie style is emphasized across the entire room.
No. 3 Layer Pattern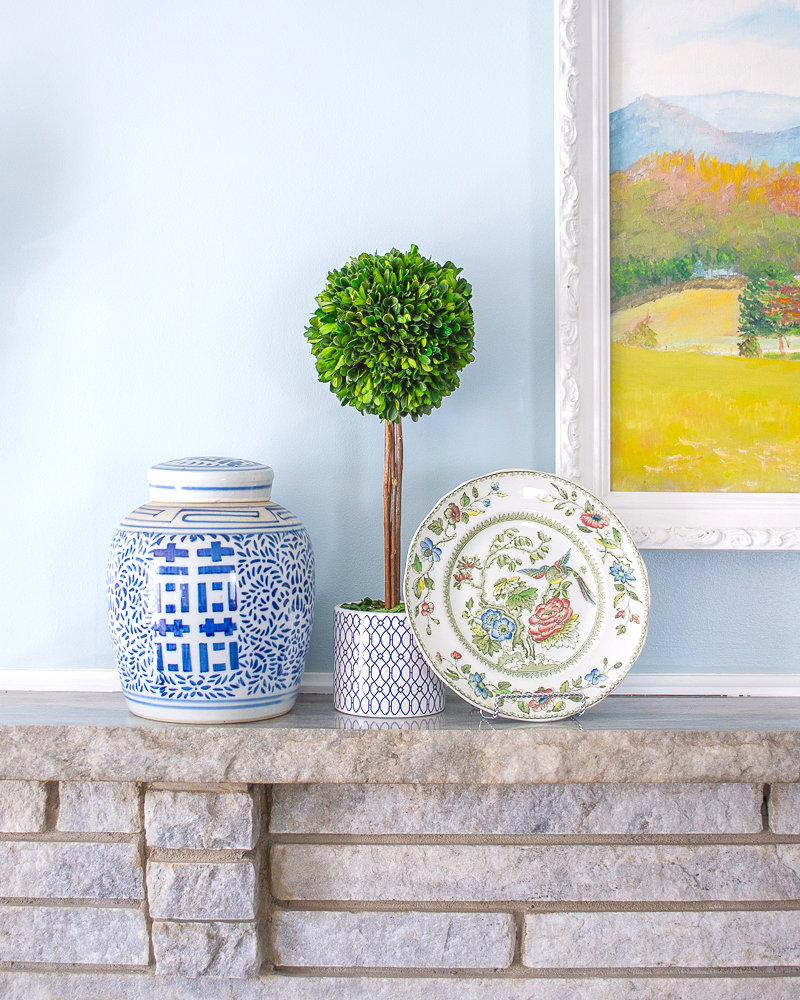 If your room is lacking visual interest, bring in pattern! Solid blocks of color can feel heavy and one dimensional even if they are boldly colored. Layer in multiple patterns to bring in character and create a style or personality in your room design.
I like to coordinate different patterns using color and shape, so that when patterns collide there are elements of similarity between them in the palette and/or the shape of the prints.
No. 4 Create Focal Points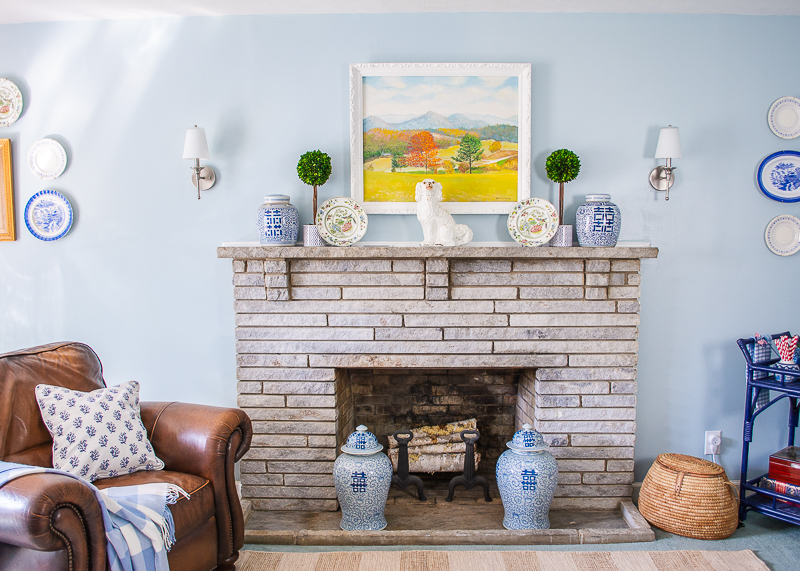 Focal points are areas of a room that draw the eye or help establish division within a room. The mantel and fireplace area for instance is almost always a key focal point of a room. In my family room, the fireplace is on the long exterior wall, and I've emphasized the space with a vibrant piece of art, symmetrically placed ginger jars, and a central Staffordshire spaniel figure.
But I also used focal points on this wall to divide up the space because there are three main zones along this wall: the breakfast table on the far left, the lounge seating area in the middle, and on the far right the bar cart. I used unique art on the wall behind each zone to create a focal point for that area.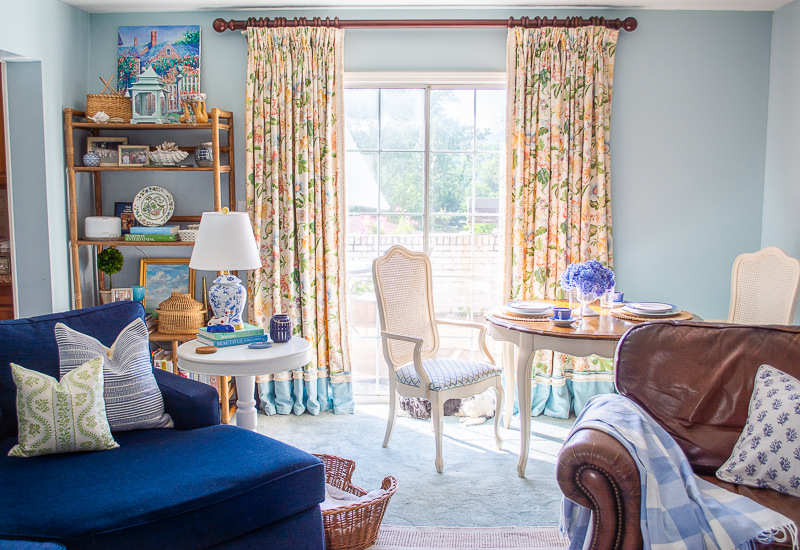 When facing a room that just doesn't feel right or has obvious decorating issues, turn to these four interior design principles! They just might be the key to redecorating success!