Love & Toile Tablescape for Valentine's Day
Get inspired by my love & toile tablescape to create a romantic setting for your at home dinner this Valentine's Day! Mix faux florals, candlelight, red toile, pink plaid, and Dresden style china for an elegant table that celebrates all things love!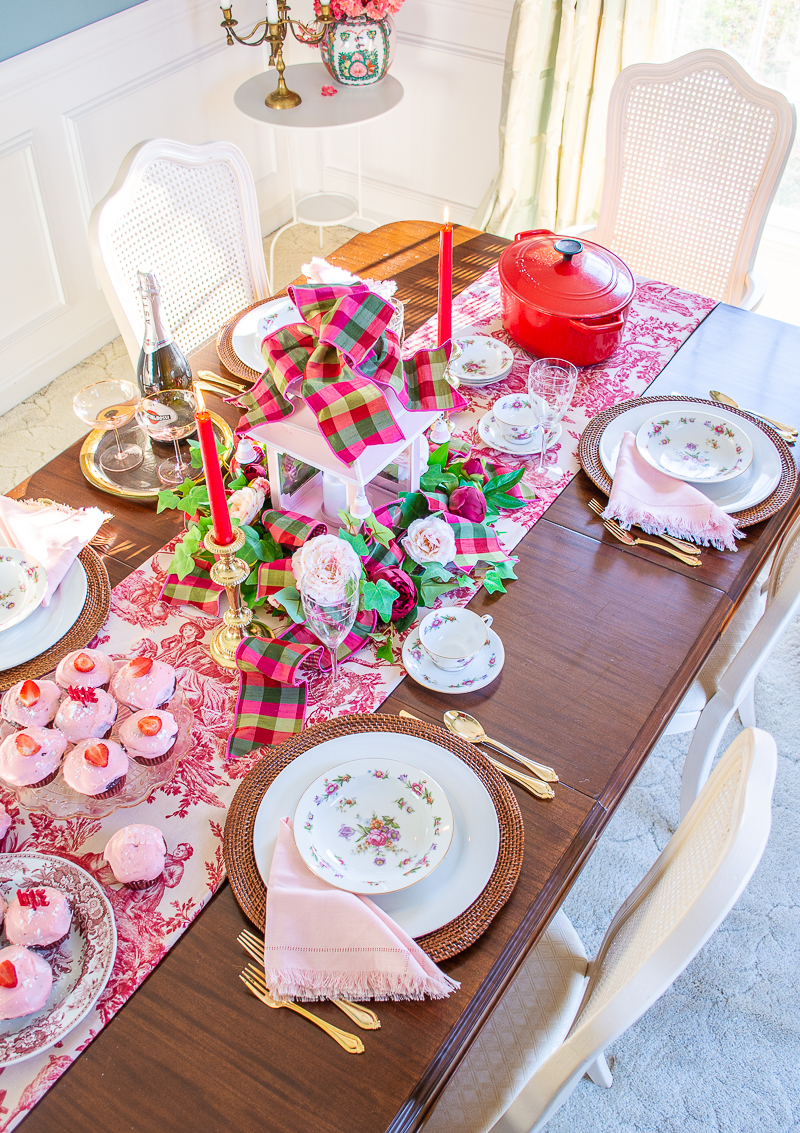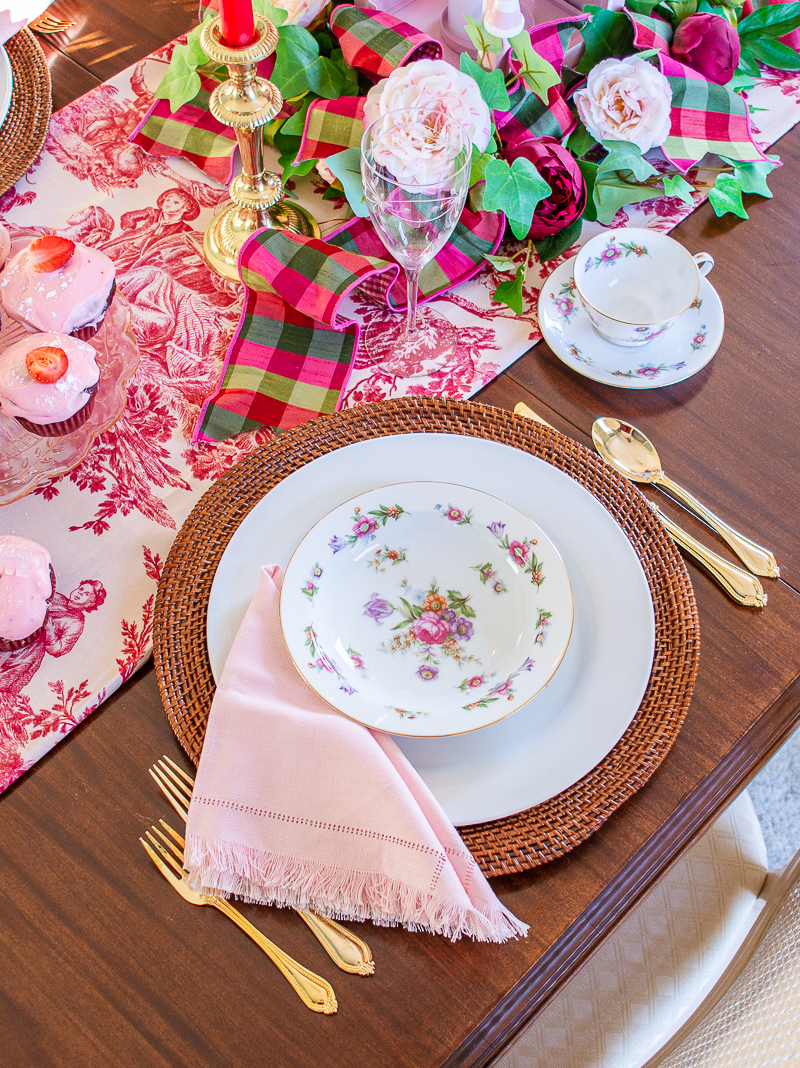 Toile Tablescape with a French Provencal Vibe
I wanted this year's Valentine's Day table to feel romantic and warm, sumptuous and elegant since we are again at home for this special occasion. French Provencal embodies all of these adjectives, so I utilized some elements from this style to create my romantic setting:
An elegant red toile runner – toile is a classic fabric pattern that feels old world and refined in its narrative design and two-tone color scheme. I love the bold pattern it brings to the tablescape. This fabric is actually a curtain panel I picked up at the thrift and tri-folded to make the runner.
The pink and green plaid – plaid always echos rustic vibes and this pink, green, and red taffeta ribbon (D. Stevens, sold out, similar here and here) version is whimsical and vibrant. It adds to the Valentine's theme feel without being kitschy.
Rustic rattan chargers – wicker, rattan, and rustic basketry is a staple of French provencal style, so these chargers bring in a woodsy, earthy touch.
& Hints of gold – from the brass candlesticks to the gilt wash flatware, the hints of gold on this table create warmth and add to the sumptuous feeling.
You may recognize several of the love & toile tablescape elements from my Christmas decor, and indeed I have repurposed the toile, flowers, and ribbon from the holidays. I believe in being practical about the decor I buy and keep.
It has to be multi-purpose and useful for more than one holiday, which is why I always invest in decor and tableware in red, pink, and green. Red can be used for Christmas, Valentine's Day, and the 4th of July, while pink I use year round. Green matches a lot of my home decor as well as being appropriate for Christmas, Easter, St. Patty's, and Thanksgiving.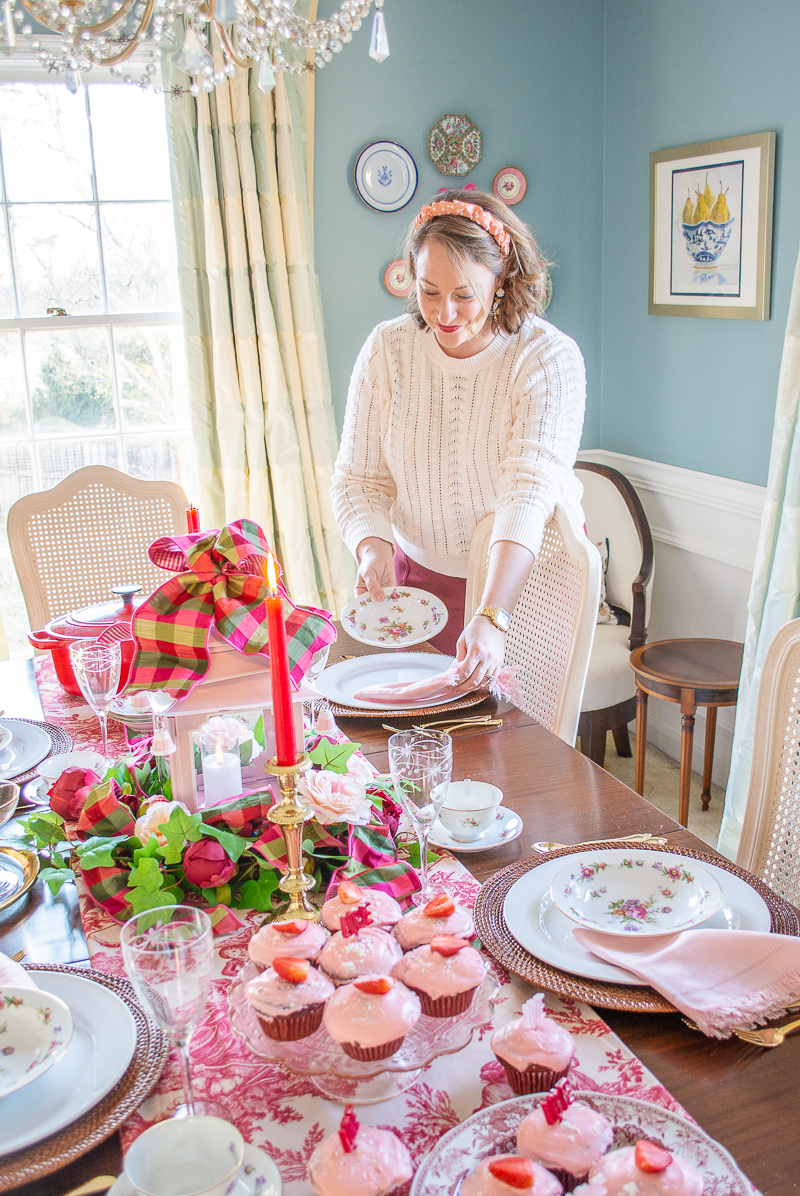 The lovely floral china is Dresdenia by Sango. I adore the sweet Dresden style floral design with peonies and tulips in pink, purple, and orange. The dishes are porcelain with gilt rims, and will be available in the February 4th Sale, Thursday at 8PM EST on my Instagram.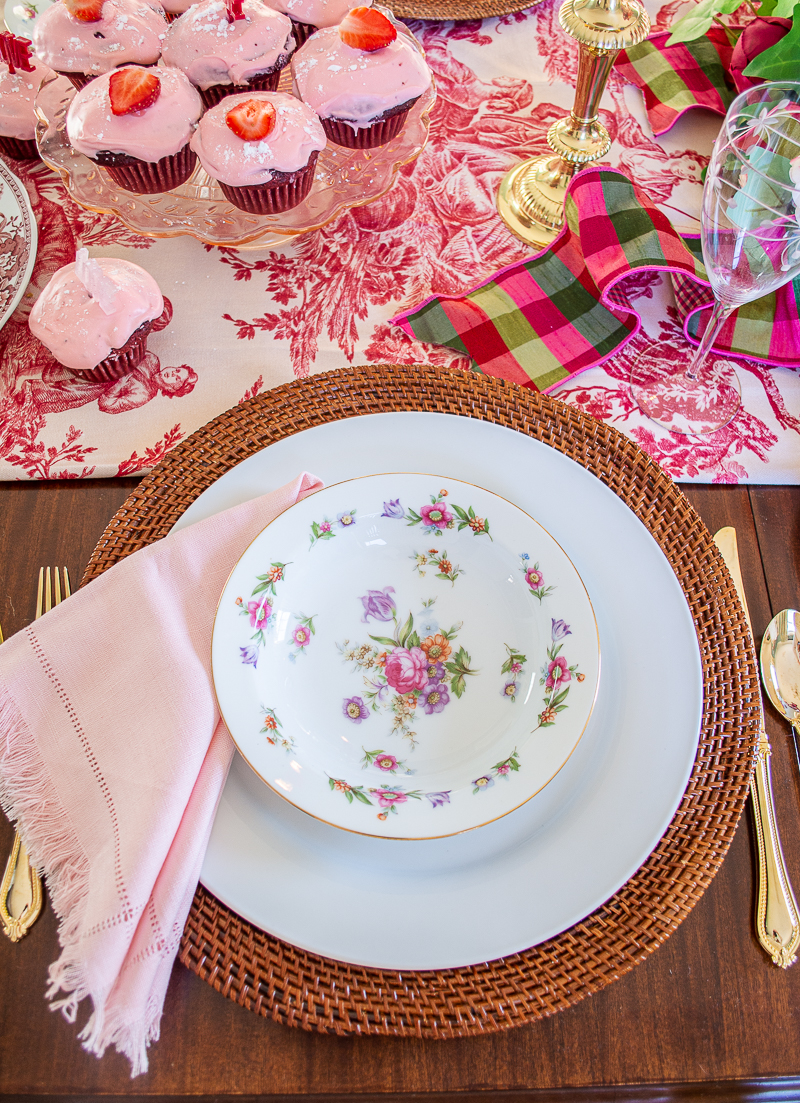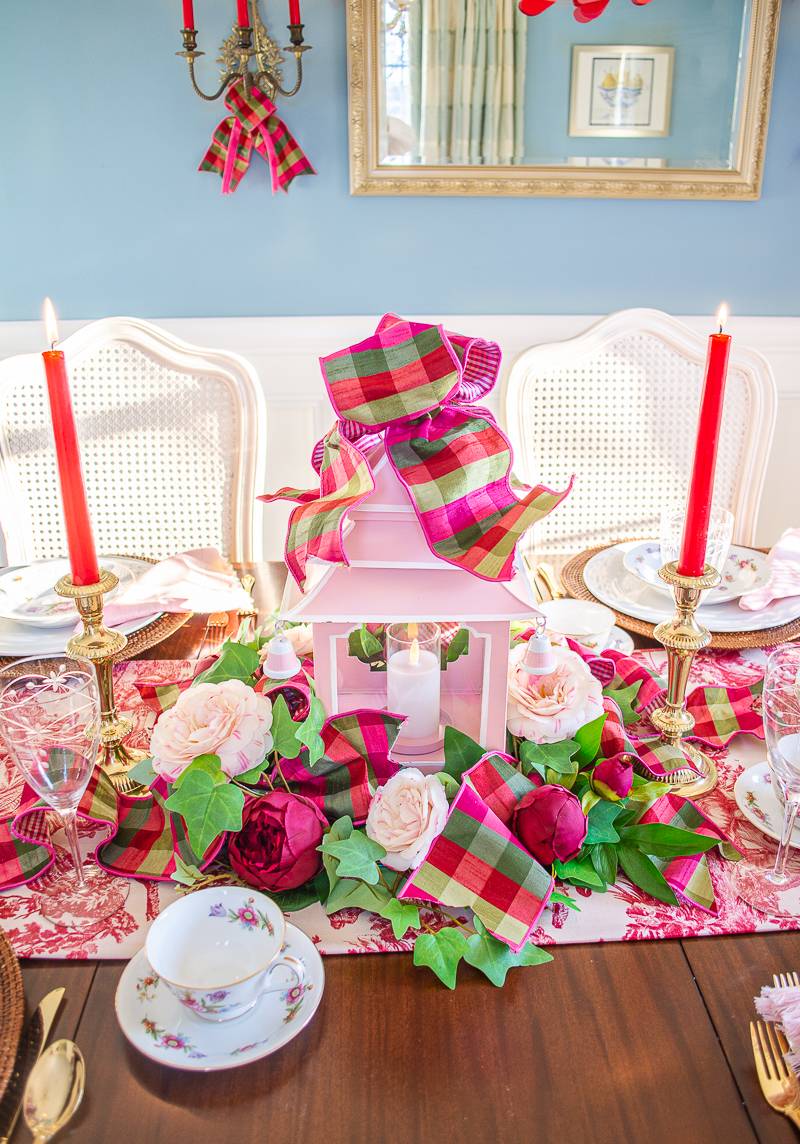 Faux Floral Centerpiece with Pink Pagoda Lantern
In the center of the table, shines a charming pink pagoda lantern nestled in a wreath of faux camellias, peonies, and ivy with trailing streamers of the plaid ribbon. This is a very easy centerpiece to create, and you don't have to worry about wilting flowers, so it can last all February long!
To Make:
Twine the ivy and then the flowers around a wire wreath ring, securing some stems with pieces of floral wire to hold them in place.
Then place the wreath down on the table and position the lantern in the center.
Next fluff the flowers and ivy to stand up and face desired direction.
Use ribbon to fill in holes and stream outward from lantern down middle of table. Simply tuck one end in under flowers to hide.
This tole pink pagoda lantern will also be available in Thursday's sale.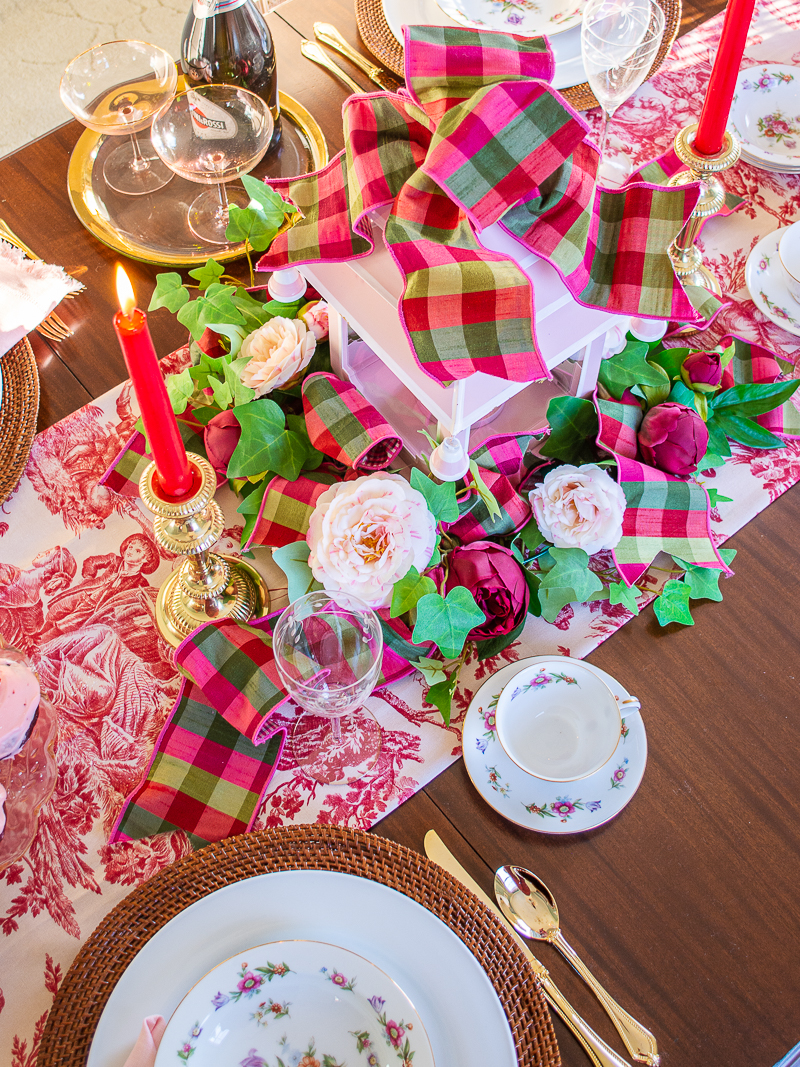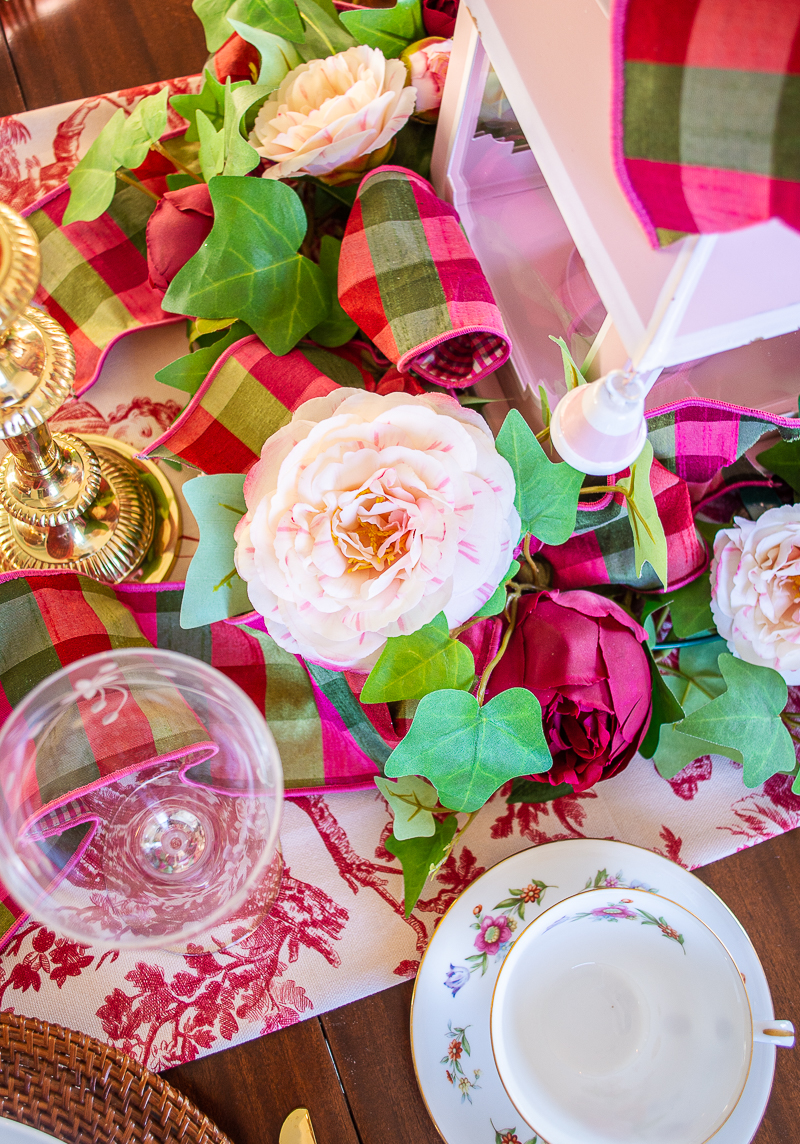 I tied a simple two loop bow with the plaid ribbon and perched it atop the pagoda lantern for a whimsical addition!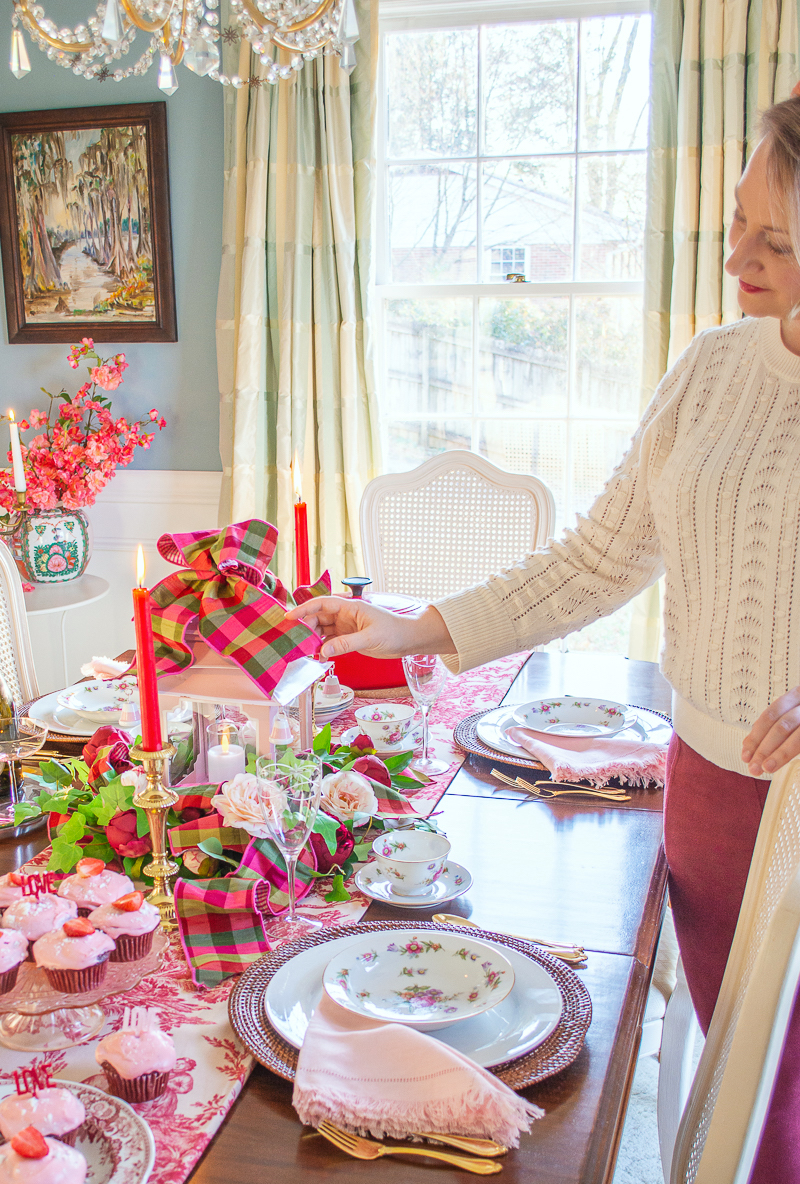 Do you spy something truly decadent on the love & toile tablescape?
Yes, those are red velvet cupcakes with strawberry cream cheese frosting! Oh my….y'all these are so good and easy to make. Here's my recipe. I'll also be sharing a full Valentine's Day menu idea later this week.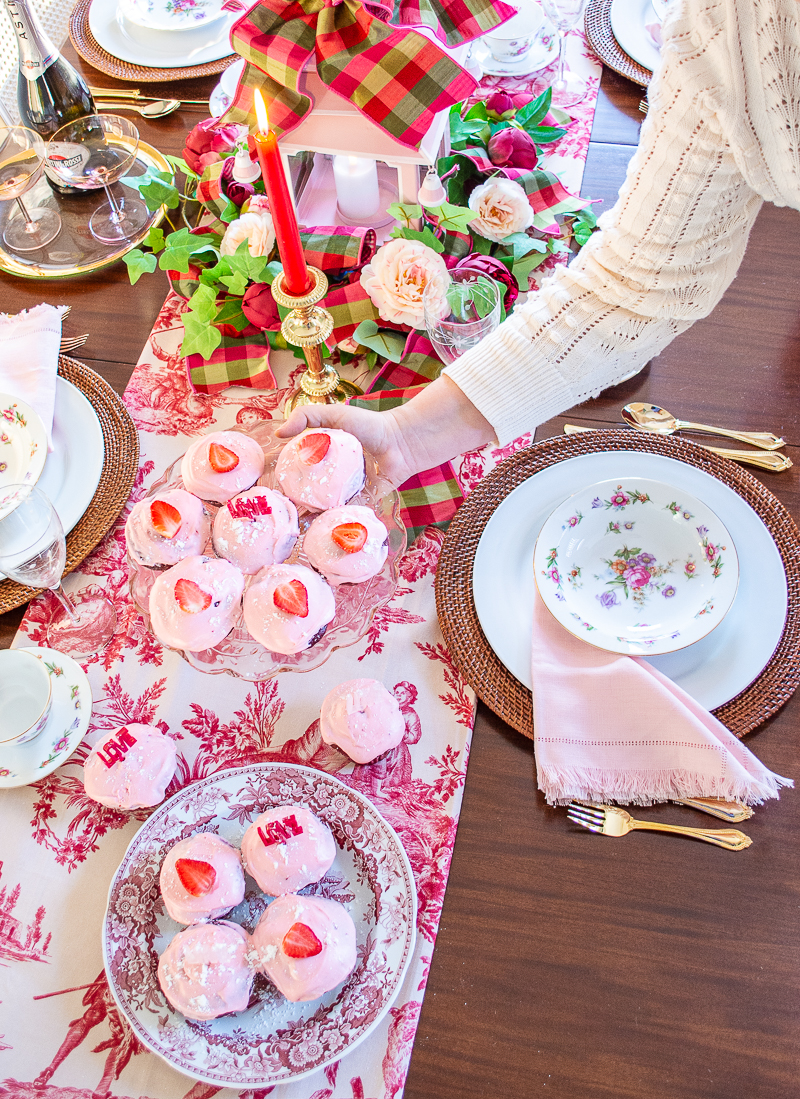 If you enjoy this Valentine's Day table, be sure to stop by the flash sale over on Instagram Thursday night February 4th at 8PM EST.
Happy Valentine's Day!