When Grandmillennials Decorate with Pink
10 tips exploring how to decorate with pink when you are a grandmillennial and lover of traditional decor!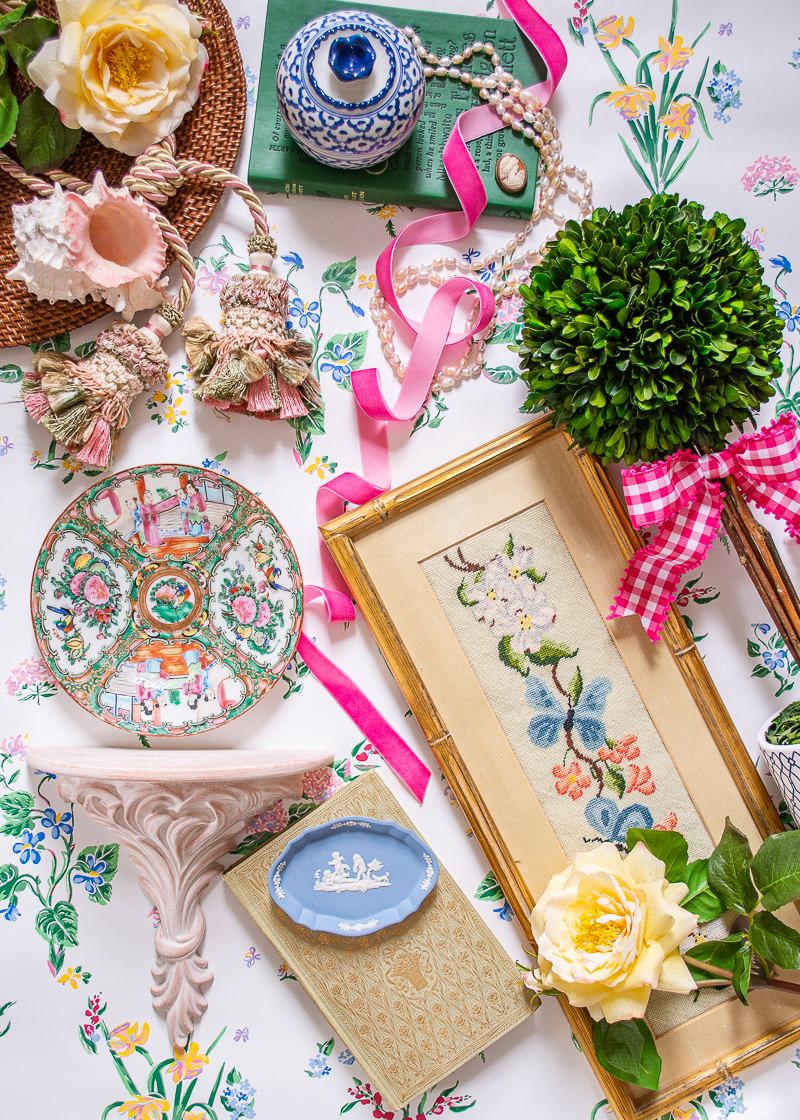 Whether you adore big bold intense doses of the hue or favor a more subtle approach there is a certain charm to pink that is undeniable. Even at its most subtle pale range, pink feels full of life. And that is what I most adore about the color!
Pink is also wonderfully versatile. You can easily dress it up with gold for glam vibes, make it earthy and casual for a bohemian look, or go delicate and floral for the ultimate in feminine style. Thanks to the rooms of Sister Parish, Leta Austin Foster, and Mario Buatta (among others) pink feels traditional but never stuffy.
For all of pink's many good qualities, it can be a tricky hue to incorporate. There is always the pitfall of making a room too youthful and fussy when incorporating pink, and this can be quite intimidating. Because pink is so distinctive it can also feel like too big of a commitment for a long term room design.
But we grandmillennials as embracers of color are not to be undone by the riskiness of pink.
Oh no! We are ready and able to champion its charm to the fullest!
Here's how…
10 Tips to Decorate with Pink
in The
Grandmillennial Style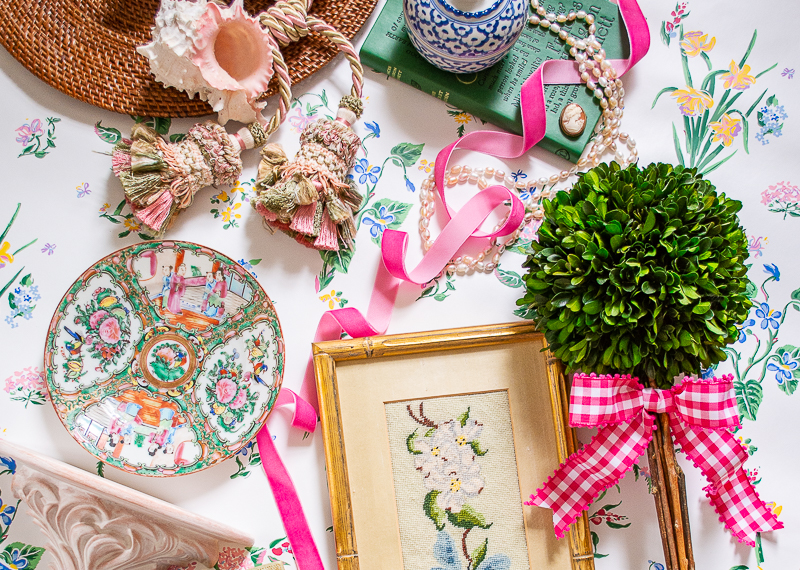 Tip No. 1 Use Pink Somewhere Unexpected
A pop of pink can be a delightful surprise when used somewhere unexpected like the fabric on a lampshade, the lining of a china cabinet, the interior of a drawer, or the seat of a dining chair. The use of a bit of unexpected color just adds to the joy of pink and allows you to use it sparingly to great affect.
Below is a stunning example of how this tip works. The pink upholstered seats freshen up the classic shield back chairs and create a fun moment. The dining room also features one of my favorite color pairings: pink and green!
Tip No. 2 Pair with Green
Nature got the marriage of pink and green right, so don't reinvent the wheel, instead be inspired to combine these two colors in your room design. In terms of color theory, green and red are contrasting colors, so pink as a toned down version of red works perfectly with the hue too.
Tip No. 3 Decorate with Pink as a Neutral
When pink is desaturated and used in its softest tones, it works beautifully as a neutral. The color then becomes soothing and peaceful. Mix in other neutrals like taupes and grays to really confirm neutrality on pale pink.
The dressing room below is a wonderful illustration of how pink can work as a neutral. I also love how the designer used pink but in a gender neutral way that feels very balanced.
Tip No. 4
Add a Masculine Note
If you are concerned about using pink because it will feel too "girly" add in richer, darker textures and colors for a more balanced approach. Think natural materials like bamboo, wicker and deep colored woods.
My Picks for Pink Decor
Tip No. 5 Mix Liberally with Blue
Pink and blue is an old school preppy combo that just feels right. The contrast of warm and cool tones can work together beautifully in a space to create harmony. Just see the space below!
Tip No. 6
Layer Pink in Different Hues
Sometimes pink is its own best complement, so use it in varying shades together in a space. When doing this consider the way the texture of the material in pink will help further the mix and add depth.
Tip No. 7 For Drama use High Contrast
If you like a boldly designed room and want high drama with your pink decor add high contrast. This can be done with the addition of blacks or browns but also deeper, bright shades of green, red, or blue.
Take a look at living room below. See how the black lamps and bold grass green coffee table add that high contrast to the pale pink walls and sofa?
Tip No. 8
Decorate with Pink Through Art & Accessories
If you are unsure of pink, use it in small doses on inexpensive accents. This will achieve a more subtle approach to decorating with pink. Art especially is a fantastic way to incorporate pink into a room that will feel purposeful and eye catching but low key.
Tip No. 9
Let Chinese Export Porcelain Rule
Speaking of using accessories to decorate with pink…I love to use Chinese export porcelain, particularly Rose Medallion to add small doses of pink. These porcelains are joyful little pops of color that bring in pattern and visual interest. A stunning collection of Famille Rose plates can liven up a wall or a set of vases can add symmetry and depth to a mantel area all while bringing in a lovely hue of pink.
Tip No. 10 Pull from Nature
Nature loves pink! You can find it in everything from flowers to clouds and seashells to birds. Incorporate these natural motifs into your room design to add pink in a relaxed way. For coastal vibes think more peachy and coral tones. A wide range of florals are available to suit almost any taste, but for us grandmillennials I recommend more botanical style patterns for a less fussy feel or busy chintz for a bold look.
Alright fellow grandmillennial! Are you ready to champion pink?
I hope these tips and inspiring images have given you more confidence and know-how when it comes to decorating with pink. This color gives me so much joy and delight. I just know it is or will be an essential hue in your decorating journey.
I've rounded up more affordable pink decor from Amazon & Etsy in this post!
Think Pink!
My Picks for Pink Decor